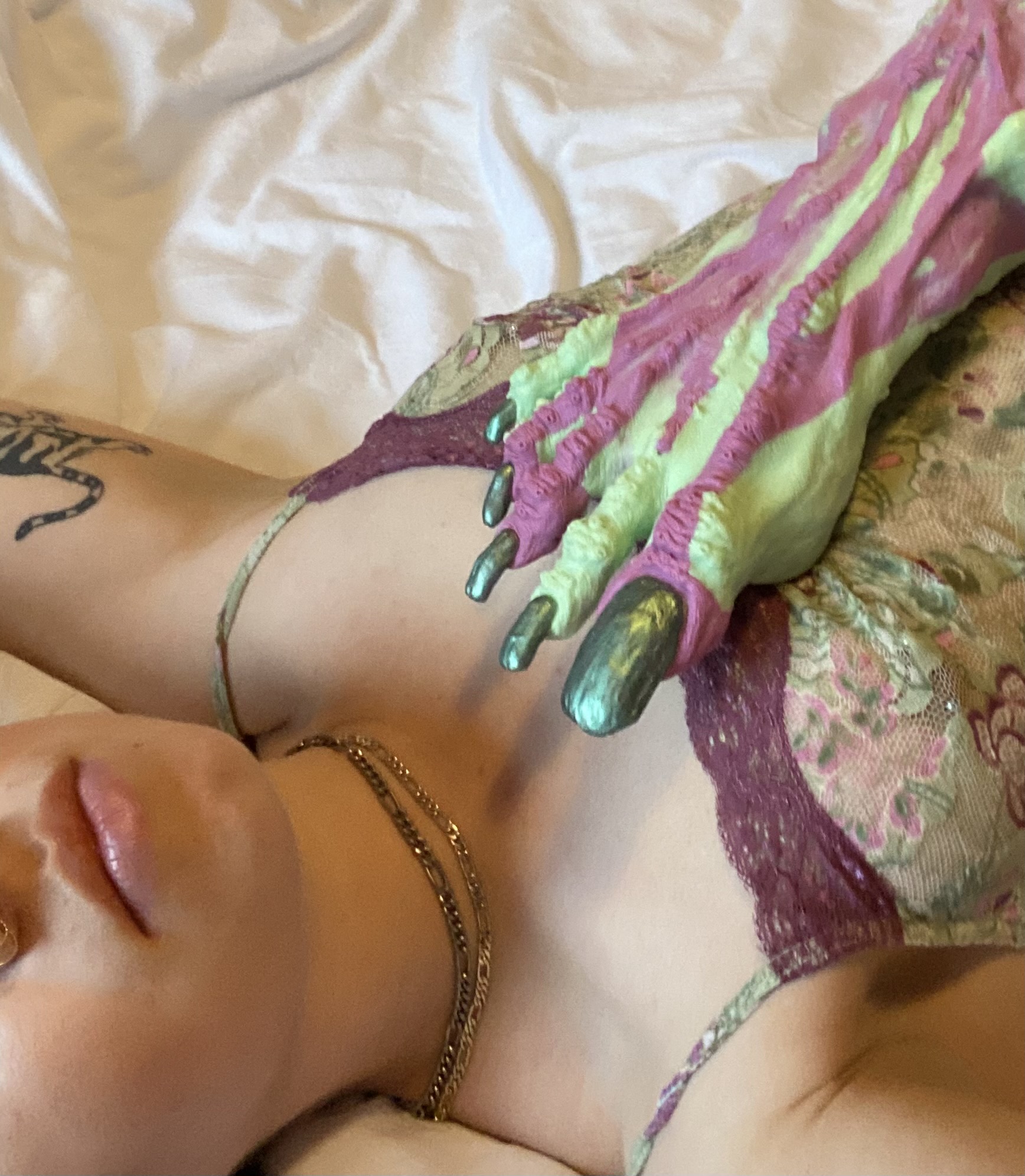 Like a cultural litmus test, you can generally tell something niche has hit the mainstream when the Kardashians are talking about it. In recent months, that thing has been foot fetishes. When Kim shared a (decidedly tame) Instagram post of her pedicured feet resting on then boyfriend Pete Davidson's chest in early July, her sister Khloé was quick to comment: "Do you guys have a foot fetish too? [blushing emoji]"
Khloé was referring, of course, to the podophilic PDAs of 'hot girl/alt guy' newly-weds, Kourtney Kardashian and Blink-182 drummer Travis Barker. The couple have undeniably been doing the most to push foot play into the public eye, from Tarantinoesque shots of Travis caressing Kourtney's velvet stilettos in their just married car to festive iPhone snaps of Travis inhaling Kourtney's foot as the pair cosy up in matching pyjamas.
Whether it's a full-blown fetish they're harbouring (a sexual fixation on a specific object or act that is essential to a person's gratification), or more of a kink, Travis is proving that he certainly finds Kourtney "yummy head to toe", to quote the immortal words of Gwen Stefani. Fans, however, are less keen on all the foot fondling. A recent photo of Travis snuggling Kourtney's toes triggered an entire Reddit thread titled "wtf": "I don't understand why they feel the need to share their love of feet," said one user; "Maybe it's some underground high-end cult shit," speculated another.
"Foot fetishes are among the most common sexual fetishes, and foot talk is pacing across the internet at speed"
Foot fetishes are among the most common sexual fetishes, and foot talk is pacing across the internet at speed. Celebrity foot database Wikifeet, with its Craigslist-style interface and questionable ethics of consent, allows you to rate foot pics of everyone from Mila Kunis to Liz Truss. #FootTok, meanwhile, lets TikTok users share pedicure tips, sensual slow-mos of socks being removed, and advice on the increasingly popular business of selling foot pics online.
Yet feet remain divisive in their ability to walk the line between fear and fetish, desire and disgust. Societally ingrained as dirty, smelly, and a bit gross, while being a remote and rather unknown part of ourselves, feet occupy a peculiar place in the politics of the body. It is a delicate relationship that is mirrored throughout art history, where their eroticism has been subtly etched for centuries.
Look at 18th-century depictions of Mary Magdalene washing Jesus's feet with her tears before drying them with her hair as an act of redemption (a biblical scene infused with sub/dom fantasies), or peek at the suggestive yet vulnerable arched foot of Frederic Leighton's sleeping subject in Flaming June (1895). Consume Tom Wesselmann's pop-art still lifes of plump toes with glossy nails, or trace Andy Warhol's gentle pen drawings of the feet of friends and lovers. And that's before considering the sexualisation of footwear: the Helmut Newtonian fantasy of the stiletto heel, for example, with its connotations of violence and desire.
"You can know someone for years without having seen their feet. One day they roll up with sandals and it's a shock to see their toes"
As to what makes the naked foot arousing, the theories are manifold. Freud unsurprisingly argued that people sexualise feet because they resemble penises. More recently, neuroscientists have proposed that foot fetishism may be caused by the feet and genitals occupying adjacent areas of the somatosensory cortex, possibly entailing some neural crosstalk between the two, while social psychologists like Justin Lehmiller believe fetishes are learned through specific sexual experiences.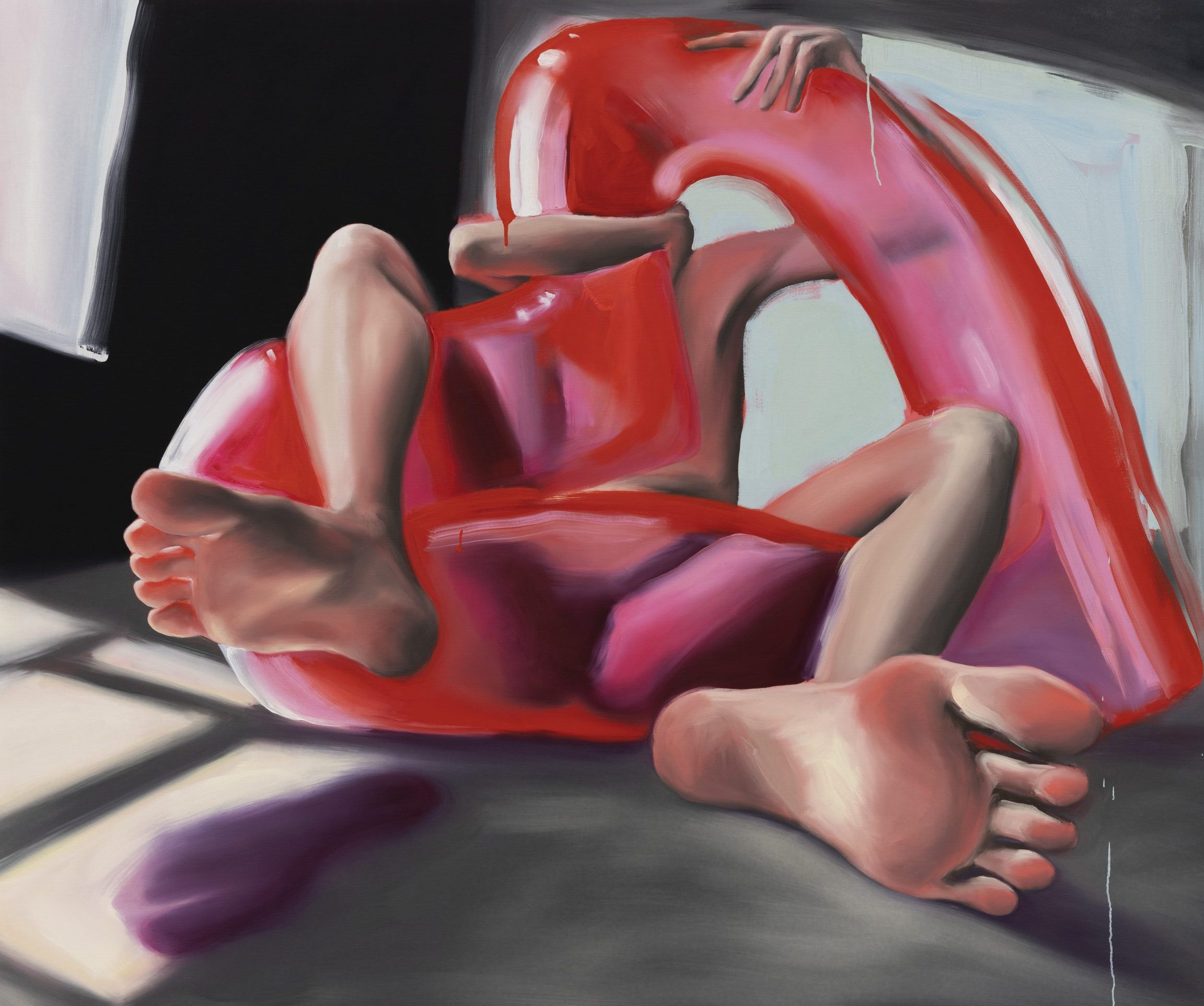 Erotic filmmaker Erika Lust, who directed Do You Find My Feet Suckable? (2014) and Dirty Feet (2018) as part of her XConfessions series, considers foot play in more tactile terms. "We accumulate a lot of tension in our feet since they're covered with nerve endings, so massaging them can be almost orgasmic by itself at times," she says. "Foot kissing and toe sucking are also considered very erotic by many, and I guess their component of supposed 'dirtiness' might be among the aspects that make them more arousing."
This dichotomy is explored by Shanghai-based painter Tao Siqi in her dripping depiction of toe-sucking, part of an exploration of the complexities of desire. On compact canvases, Siqi zooms in on sexual acts and interactions, preferring the small-scale format because it feels "intimate and warm, like a treasure easy to reach." In one feverish monochromatic painting, pink lips close around a blushing big toe as even pinker fingernails grip the foot, wet with drops of saliva. Another luminous scene features an upside-down pair of feet tied firmly by a rope.
"TikTok users share pedicure tips, slow-mos of socks being removed, and advice on the popular business of selling foot pics online"
"Feet are the lowest point of the body and get the least care, so they've become a symbol of inferiority, which is often reflected in BDSM culture," Siqi says. "I am attracted to this state of eroticised power in my work." Her highly charged renderings of foot play would cause any podophobe to convulse.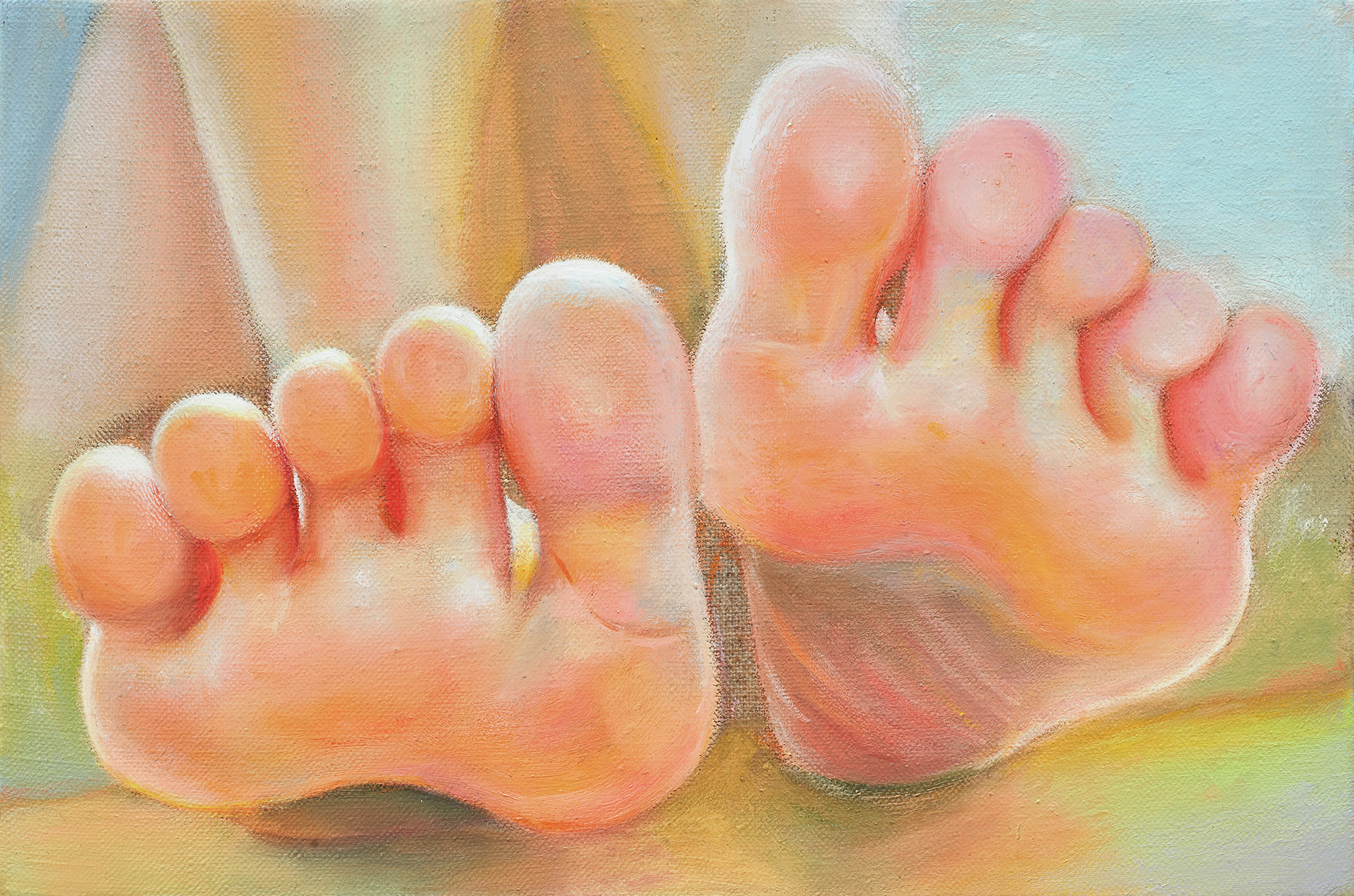 Self-taught LA-based painter Amanda Wall often foregrounds feet in her intimate yet uncanny nudes. "Feet are erotic in their vulnerability," she says. Her subjects are "versions of myself, my friends, random internet e-girls, sometimes a collapse of all three". Painted from below, accentuated arches, pink soles and tender toes first come into view, framing thighs and butts. "There's something perverted about a person on the floor, or maybe something broken," Wall muses. "I like the perspective that has developed with the use of the iPhone camera. I'm trying to get that same energy; it has a direct intimate or voyeuristic quality."
In more fetishistic works by Wall, a pair of bare feet are bound by a billowing bow in Pepto-Bismol pink. Wall contrasts lurid colours with fleshy tones to tease out themes of vulnerability, desire and control. "Feet are an interesting body part," she adds. "You can know someone for years without having seen their feet. One day they roll up with sandals and it's a shock to see their toes. You can suddenly feel like you know too much."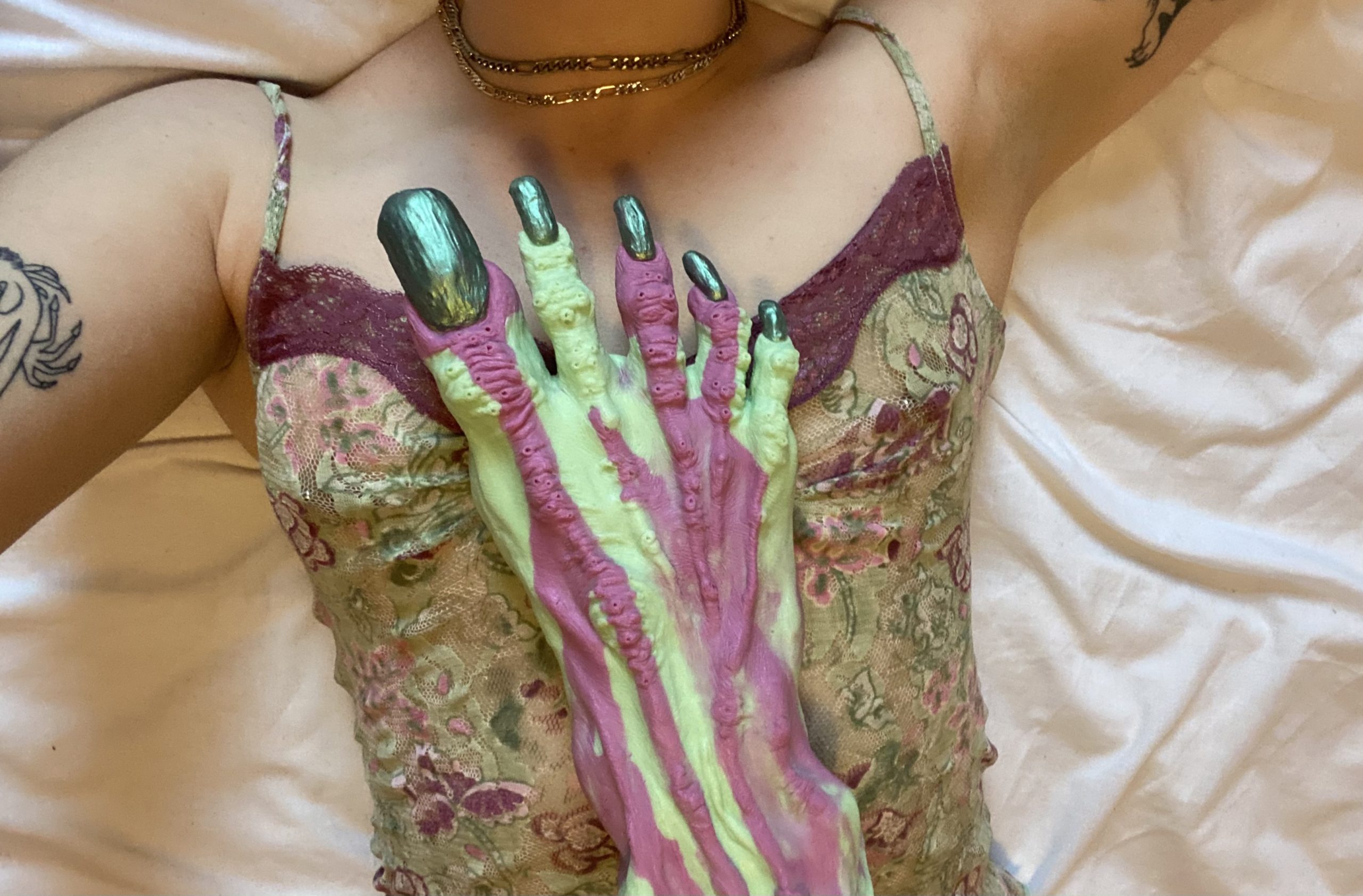 This sense of the unknown fascinates London-based prosthetic artist Eve Shashoua, who creates fantastical foot sculptures out of soap and candle wax. "Feet are often hidden, and hidden things create intrigue or repulsion," she says. "I think the same reason some people fetishise them is the same reason others are scared of them."
Shashoua, who spends her days at the studio "covered in slime and silicone", describes her style as "monstrous femme". It's a visceral take on hyperfemininity, influenced by theories of abjection and the grotesque body, with a focus on exaggerated forms from swollen lips to silicone breasts. Her foot-shaped figures, which she began making in 2020, are endearing in their gnarled glamour and claw-like glory. Creased skin sags around bones, alongside bunions and bulging veins, crowned with campy painted toenails.