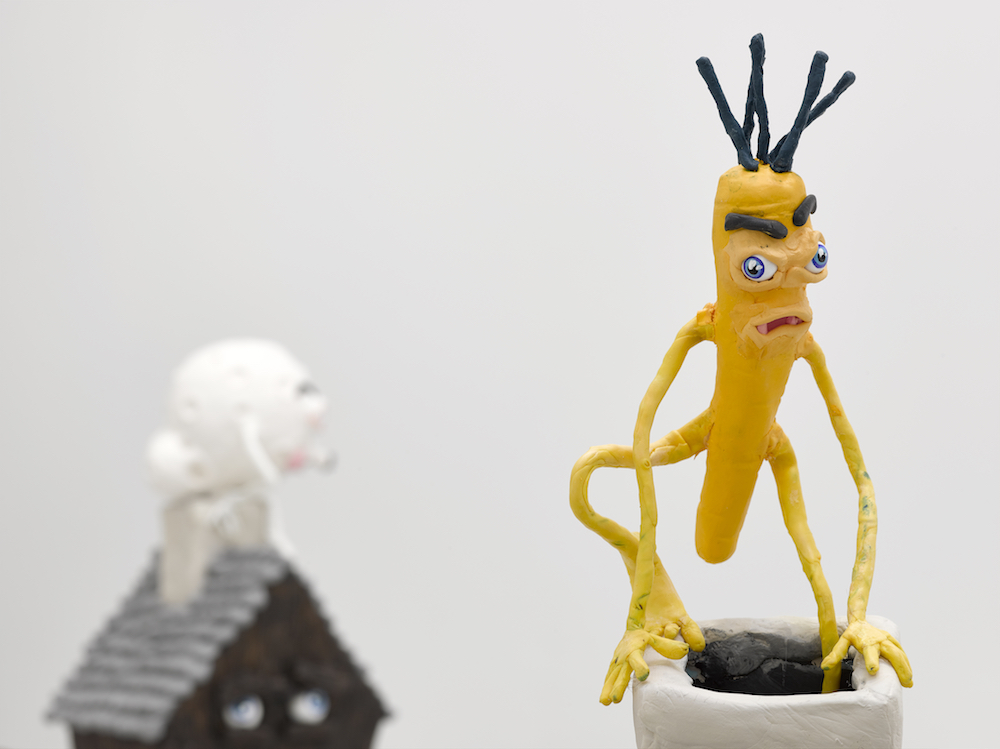 Firstly, what a brilliant cover! Are you pleased with it?
Nathalie Djurberg and Hans Berg: Yes, very much. So ugly and perfect.
This issue is our comedy issue—is that a theme you feel you can relate to?
ND: Yes. I don't try to make things funny but its impossible to not see the humour, especially in this medium (stop motion). There is a clumsiness to the medium and also in the way I work that makes the most serious issues somewhat detached so that it becomes humouristic. Humour allows us to look at situations that are sensitive and hurtful in a simultaneously detached and close way, because humour cuts through the thinking mind and concepts and preconceptions of how you are taught you should look at situations and the world.
HB: Yes, indeed.
Does the art world have a sense of humour?
ND and HB: The art world, to us, has very little humour (but it's just a concept), but some art has; we love that. When there is fear that there is something to lose, or when the want of getting something is too strong, there is not much space left for humour; the situation becomes serious, too much to lose to be able to laugh. But that is really just an illusion—and not, at the same time, just depending on the angle you look at it from.
The art world becomes incredibly boring if it's taken too seriously, and—Oh, my God!—it's difficult to not take it seriously, the ever-pending fear of other people's judgement.
Delights of an Undirected Mind, 2016
What is a typical day in your studio like?
ND: Sitting, painting, moulding, twining wire, eating, listening to music, falling asleep and repeat. If I'm animating, then animating, drinking tea listening to music, feeling the whole range of emotions, then more tea and too much tobacco.
HB: Coffee, lying on the sofa, fiddling around, connecting wires, creating, listening, more coffee, trying to stay away from any distractions. Then when the flow comes I just make until I run dry.
Do you have a favourite joke?
ND and HB: No.
Read our Encounter with Nathalie Djurberg and Hans Berg in issue 33
BUY ISSUE 33