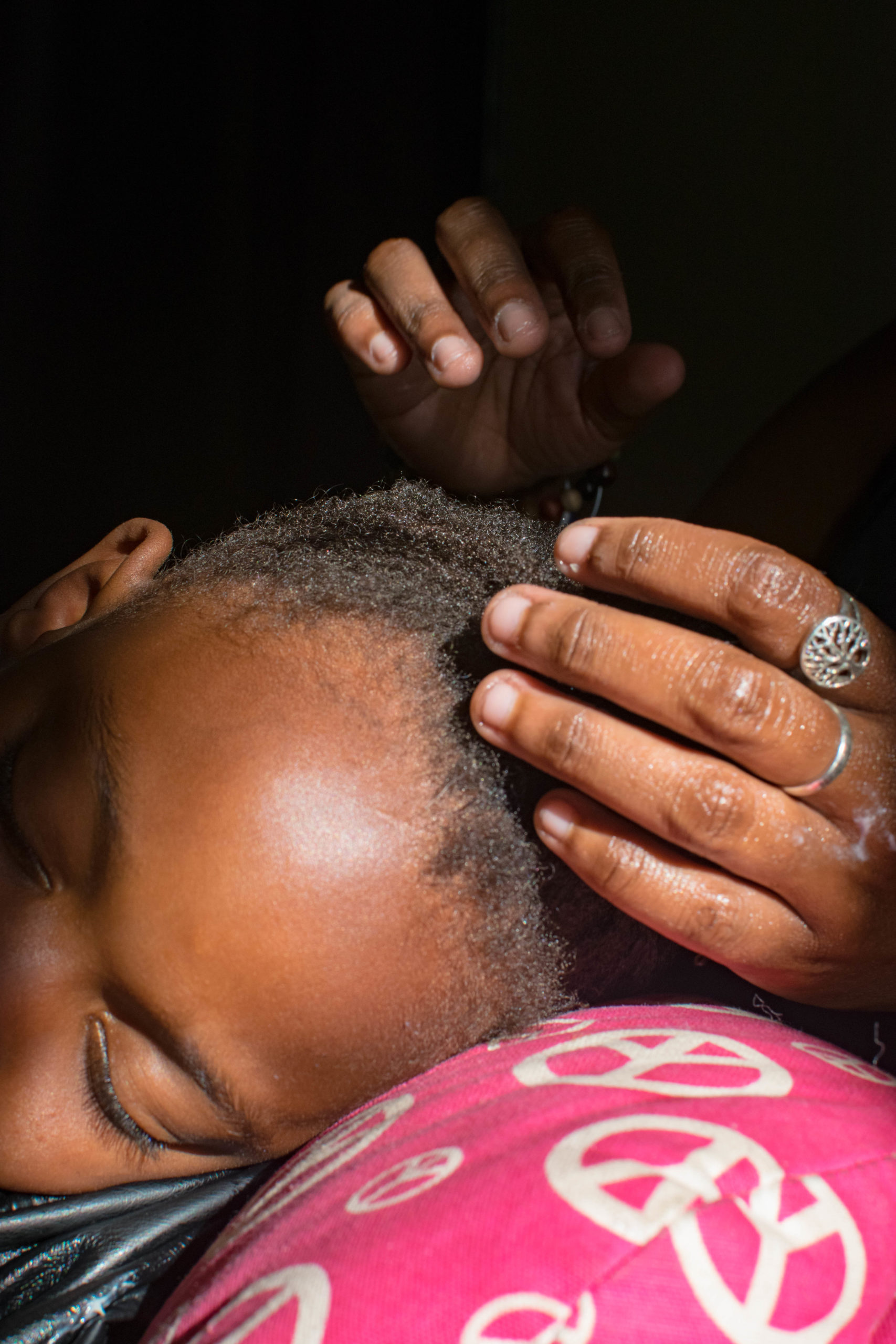 Abdu Ali and I are more than six feet apart. Cross continentally, as many of us have had to be in this time, we form a diasporic digital bond. Ali has just woken up on the East Coast of the US, and I'm winding down into the evening across the Atlantic. It's a Monday, the start of another week in the new world as a post-normal movement is being born. At the head of that movement, Ali has spent years honing their praxis and growing into their legacy as a nurturer of the Black artists of the future.
Founder of the cult, bi-monthly party Kahlon, Ali has spent five years creating a diverse underground space for musicians in their hometown of Baltimore, with a list of performers including serpentwithfeet, JPEGMAFIA and Princess Nokia. This Baltimore queen is a world-renowned musician in their own right. Last year, their album FIYAH!! took influence from the charged thoughts and offerings of the Niggerati's publication FIRE!!, created by Wallace Thurman and others during the Harlem Renaissance. Ali has a natural flair for storytelling, adapting the title's spelling in a nod to the current Black queer revolution.
"We're always thinking about the end result, the product, the exhibition, the book, the album… but what about the relationships, the intimacy building?"
As they lay is a new platform created by Ali to encourage a Black radical imagination. They recently curated an exhibition titled the softer I feel the freer I be…, which was hosted on the Baltimore Museum of Arts digital salon. Ali teaches us that during this time of resistance and uprising, born through a pandemic and an economic crisis, we must retreat within ourselves and learn how to be tender.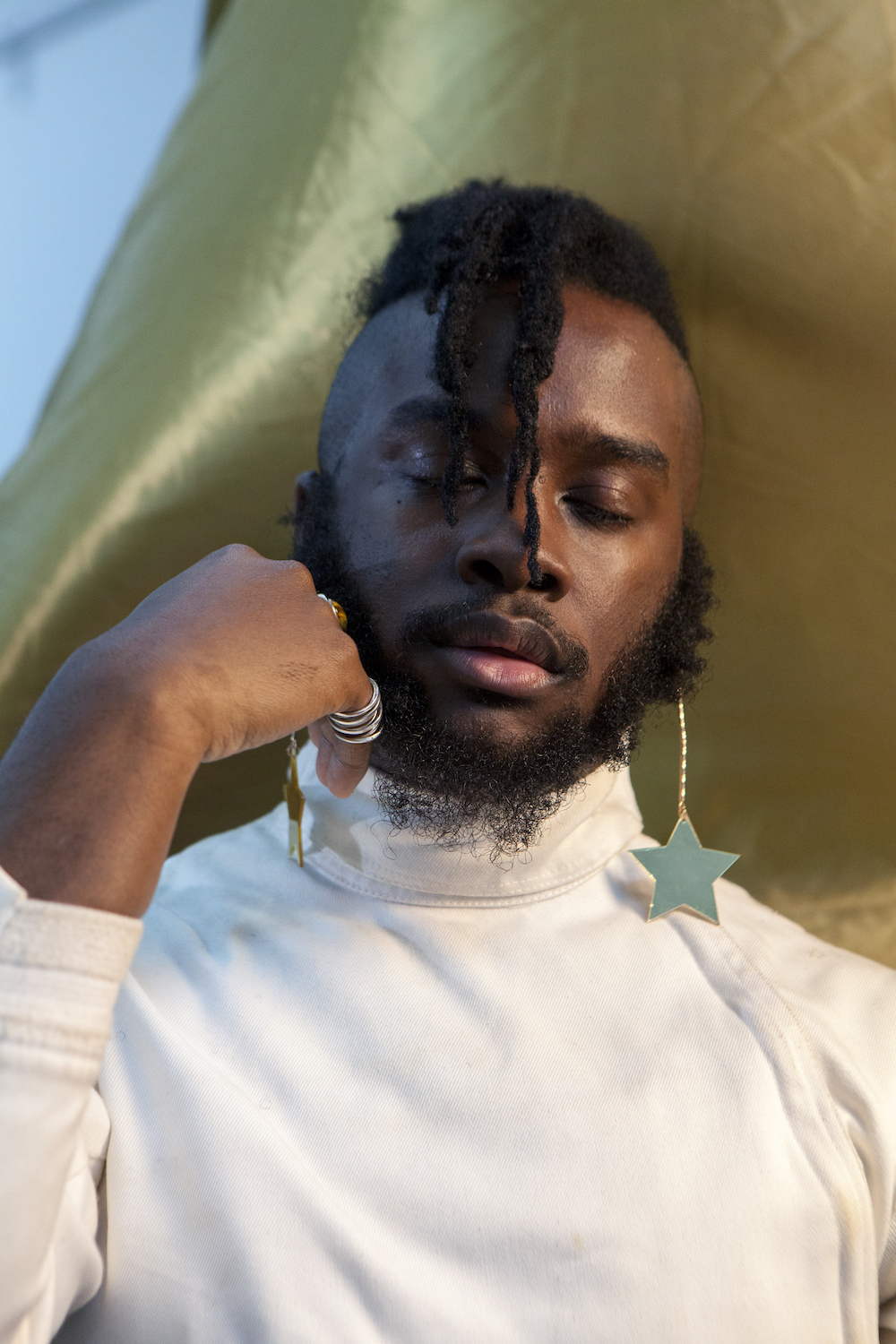 Who are you making work for? 
I'm making work for Black people. Period. Particularly young Black artists and creatives. I mean, I'm still young, but I'm thinking of those in their late teens to early twenties. When I was at that age, I didn't really have too many people advocating for me. It's no shade or anything, as across America, especially in Baltimore, arts advocacy for youth exists. But it's mainly for young children or high schoolers. I feel like the demographic between 18 and 24 years old is often just left out, because that's the college demographic. I guess people feel like the colleges or universities will be providing support for that age range. But we know universities and colleges are white as fuck and very anti-Black. So as far as being able to receive actual mentorship, it generally doesn't exist for Black students.
While we're talking about the institution, you previously spoke about not letting the capitalist society tame you. "That stuff is cute, but at the end of the day, what is your legacy?" How would you describe yourself and your art, thinking about the legacy you want to have?
I might have to write that down and answer that question every day! That's an important one and I think it's something we should all address more. I was telling a friend earlier that what really charges me is the combination of dialogue, food and care. You know how some people say they're a healer? Being a Cancer sun, and Gemini moon and Venus, I accepted the fact that I am a nurturer. In a surface level way, I will cook for you, I will take care of you, but beyond that, I'm really trying to nurture a whole movement of Black artists in my community. I think that spiritually my practice and my legacy is to be somebody who makes space for young Black artists to be beaconed and illuminated, and also to make sure that they are empowered. They need a sense of self-worth, and making sure that they believe in themselves is crucial for them to do their work and live to their fullest.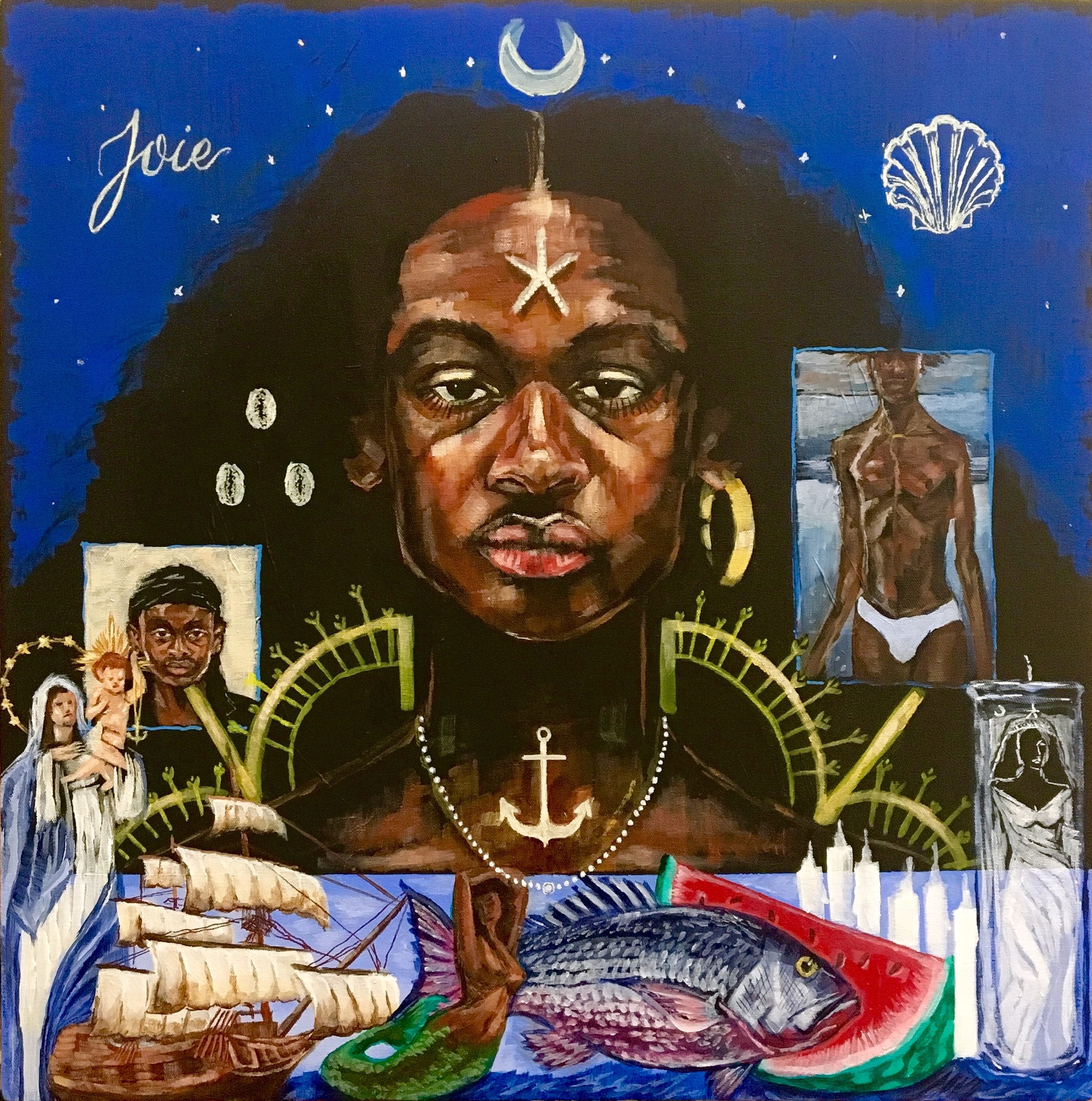 For the softer I feel the freer I be…, how did you tackle the fact that your audience would experience the art virtually? 
Knowing that it was going to be virtual, I made the narrative concept even more intentional, because I wanted viewers to know that they're going through a journey, a story, a movement. That's why I bookended the exhibition with poetry, to set the scene. You know how you watch movies sometimes, like Star Wars, where they start with a voiceover or a scrolling message, I wanted to give that. I was looking for work that not only created a micro story of its own within the story of the exhibition, but work that was really visceral in a narrative sense, that beacons the proclamation of tenderness and softness. I feel like each one of the works, even the poems, spoke to that proclamation.
"What really charges me is the combination of dialogue, food and care"
I wanted the work to show some form of interaction or dialogue. I want the audience to have conversations with themselves. That's why I put poetry in there, that's why every piece is cinematic. I wanted to hit all those points, and be very complex and layered. For example, Sydney J Allen's Care photograph [depicting a child lying back with two hands gently placed near their head] is just home. Oh my god, I love that piece. As Black people, we know what that moment is. Even if it was your mum, or sister, or neighbour, doing up your hair and it was painful, you still loved it! You loved that moment even if your hair felt like it coming off! You loved those moments not only because it was tender, but it was also a moment of care and love.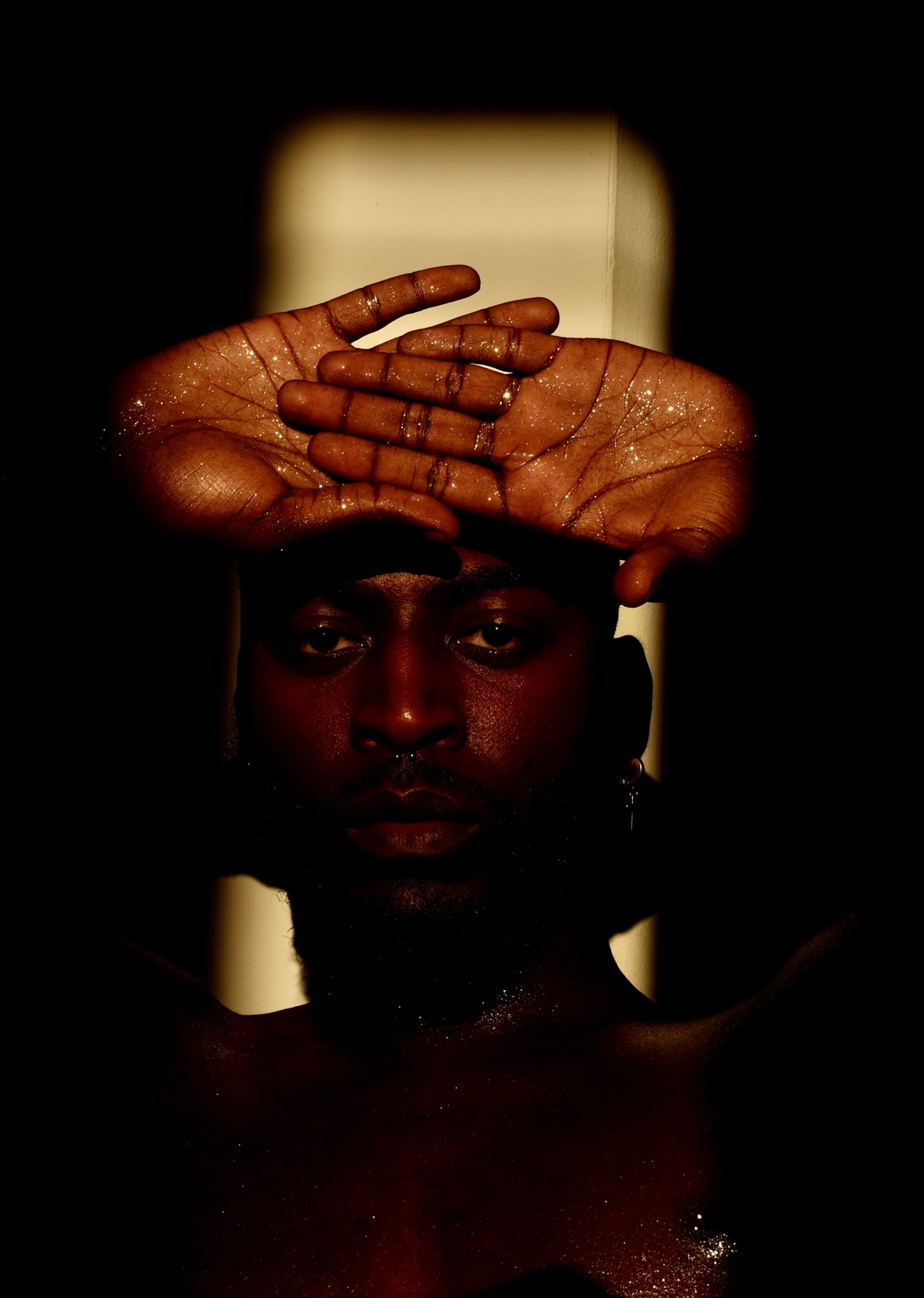 You have spoken about forming relationships with the artists before your shows over the years. What happens after the exhibition? How does as they lay strive to support the artists beyond the show?
I think that naturally it's going to keep growing out of friendship. The art world is very transactional. I think with me, the relationships keep up with themselves. The work is the relationship and the relationship is the work. The relationship is going to drive the work, and the work on the relationship is going to drive the work. That's what it's all about. In every aspect of our life: whether it's your personal art practice, your community or your relationship with yourself, that is something that we need to centre in anything we do. I think that's what we need to foster in creative Black movement building, period!
We're always thinking about the end result, the product, the exhibition, the book, the album… but what about the relationships, the intimacy building? We are each other's best resources. We are all we got! This correlates with how we need to stop centring trauma and victimhood within our lives, practices and revolutionary work. Wait, I have a quote from Robin DG Kelley, "What sustained enslaved African people was a memory of freedom, dreams of seizing it, and conspiracies to enact it—fugitive planning, if you will. If we reduce the enslaved to mere fungible bodies, we cannot possibly understand how they created families, communities, sociality; how they fled and loved and worshiped and defended themselves; how they created the world's first social democracy." He also said, "Resistance is our heritage. And resistance is our healing. Through collective struggle, we alter our circumstances; contain, escape, or possibly eviscerate the source of trauma; recover our bodies; reclaim and redeem our dead; and make ourselves whole."
Any time we've elevated as a people, it's always happened collectively. We enshrined our movements and our revolutionary work in the family structure and how we are intimate with each other as Black people.
It is so intrinsic to Blackness. With both Covid and the uprising there have been a lot of people saying they're tired only now. We've always been having to do double the work. So it is a continuation, a strengthening, a reigniting of what we already have in us to carry the extra load. I hope people realise that; it comes from reading the resources and histories of oppression. We have to keep pushing. Thinking about manifesting space for the conversation, and for relationships to be held, how do we inspire people to understand they have the space for that healing, especially within the restrictions of Covid? 
A Facetime call!
Were there any texts that helped you access that frame of mind? 
Maybe all about love by bell hooks. But honestly, I think what is making people feel this way is our enslavement to technology and social media. Of course it has its pros and cons, and in most cases the cons are amplified. I think trying to create that curiosity and that impulse to connect and foster relationships outside of the digital atmosphere is important. I think it's actually dangerous to the collective movement, our movement, if we don't.
"Any time we've elevated as a people, it's always happened collectively"
We don't have autonomy in the digital. I know there's a lot of work being done about working with the algorithms, and a lot of technological resistance work, but even whiteness doesn't have its own autonomy there. Technology is its own being; it's a different beast. You have AIs/computers creating their own languages. We gotta think that deep about it. So I don't like the idea of everything always being digital or virtual. I think that digital is a tool we can use but it's important and in our best interests to connect in real life. Now nobody's saying you gotta be out there talking to everybody.
As millennials and Gen Z, yes, we read the history, but we don't fully realise what our ancestors did and how they turned up. They died for us. Hella people died and are in jail for life because they fought for us. I think we are too comfortable being safe with this shit. You know this, "Ugh, I want to stop it there." That's some entitlement shit!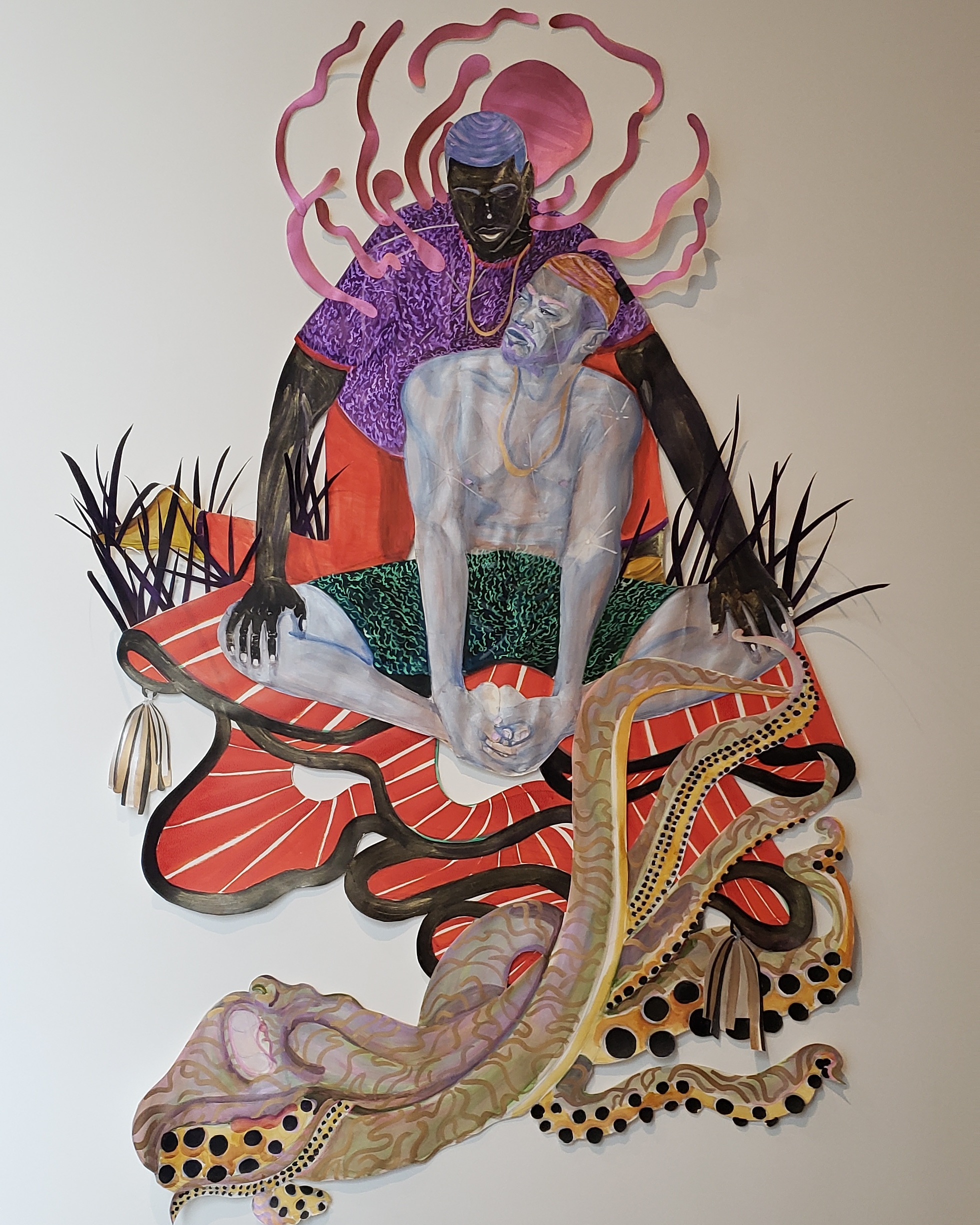 You're a Baltimore queen. As they lay is centred around Baltimore, breaking down the borders that have been constructed. Are you planning to branch out from your hometown? 
Oh yes, it's a global venture honey. I like this term my friend came up with of cultural conductors being train masters. The Underground Railroad operated with people in different cities, and those key people were deemed as train masters to house Black people and fugitive slaves. I like the idea of me being a train master and As they lay being the train that is connecting the global diaspora of Black people through creativity, art, projects and dialogue. Our minds and our creativity are the best resources that we have access to; not money, not infrastructure.
I want to bring this collective global consciousness together and create an even tighter knit relationship with the East Coast, the South, the Midwest, and people all over the world. I feel like that will not only give us more mobility as creatives having more collective power but also it will help us have more autonomy as people in the arts industry. It will help us be less attached to the nipple of the arts institutions and academia which is very rooted in whiteness and white power. It will make us less pressed to be at the MoMA, because we'll have our own MoMA, or institutions that we really love and have respect for. Just like how back in the day they started Motown or the Soul Train awards.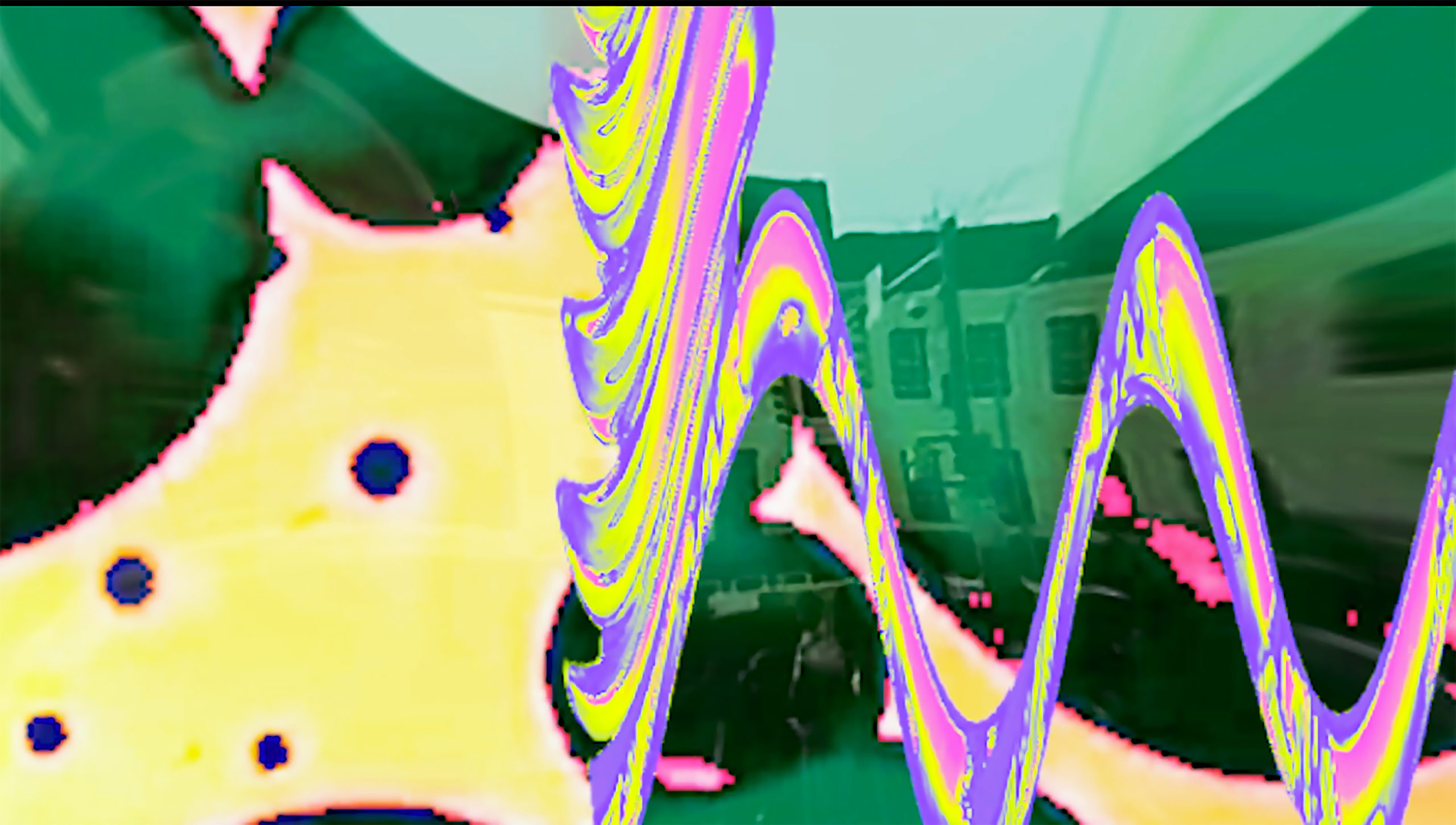 We need to realise that we ain't free till we all free. I don't want to say we're lazy because Black people can't be lazy. Period. But people in Baltimore be acting like it's such a drag to go to DC, yet its 40 minutes away. We need to get out of that. We need to be like, "Wait, what's going on in Harlem?! Philly?" We need to be connected. This interview is going to be the start of that global dialogue.