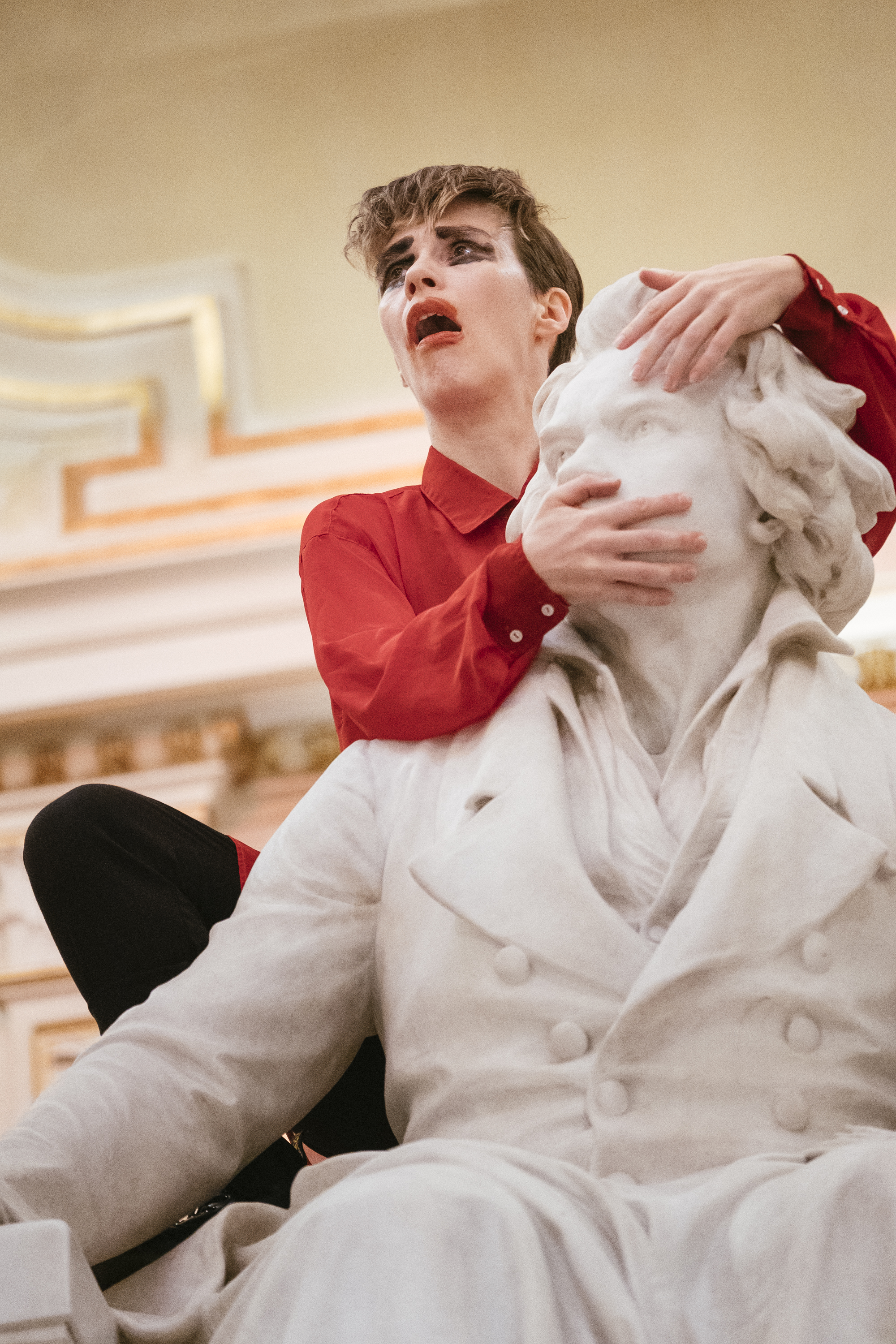 An opera singer hits crescendo as a glob of her drool splatters onto the polished marble mezzanine of the second floor of Congress Graz. Across the room, a man in a caterpillar suit grinds his fluorescent green ass into a column, while a champagne-hustling waitress collapses onto the floor, folding her arms like a sulky teenager. One level below, a trio of ripped, glittery, genderfluid bodybuilders coated in gold leaf and Austrian-red body paint pose with bougie ceramics in tune with a seductive techno beat. On the ground floor, consulting booths buzz with visitors lining up for a crash course on feigning expertise at art world dinner parties, and in the psychedelic tiki bar-bar mitzvah fusion next door, the holographic post-gender avatar Sonja Khalecallon laments the mundane and absurd pitfalls of embodiment. It was the best of times and the worst of times at the opening extravaganza of Grand Hotel Abyss, the 2019 edition of Steirischer Herbst art fair in Graz, Austria.
"A beautiful hotel, equipped with every comfort, on the edge of an abyss, of nothingness, of absurdity," penned the philosopher György Lukács in his quasi-satirical 1933 text, Grand Hotel Abyss. Here, Lukács critiqued the timidity with which artists, writers and other on-the-nose intellectuals of the Frankfurt School approached the fascist uprising in Europe. The metaphorical "hotel" has obvious parallels with the rise of alt-right and neo-fascist regimes in the West, which have manifested in an era of peak mindfulness and pseudo-wokeness in the art world.
These overlaps are the departure point for Ekaterina Degot and David Riff, Steirischer Herbst's director/chief curator and concept leaders for 2019. In the festival's opening essay, they localize that paradox, dissecting the Austrian obsession with wellness culture (Graz being the "pleasure capital" of Styria) amid the rise of the neo-nazi Freedom Party in Austria. They tether Austria's political situation to global-scale systems of economic inequality, the lavish lifestyles and wellness drive that grows ever more maniacal as the gap between the ultra-rich and destitute continues to mushroom.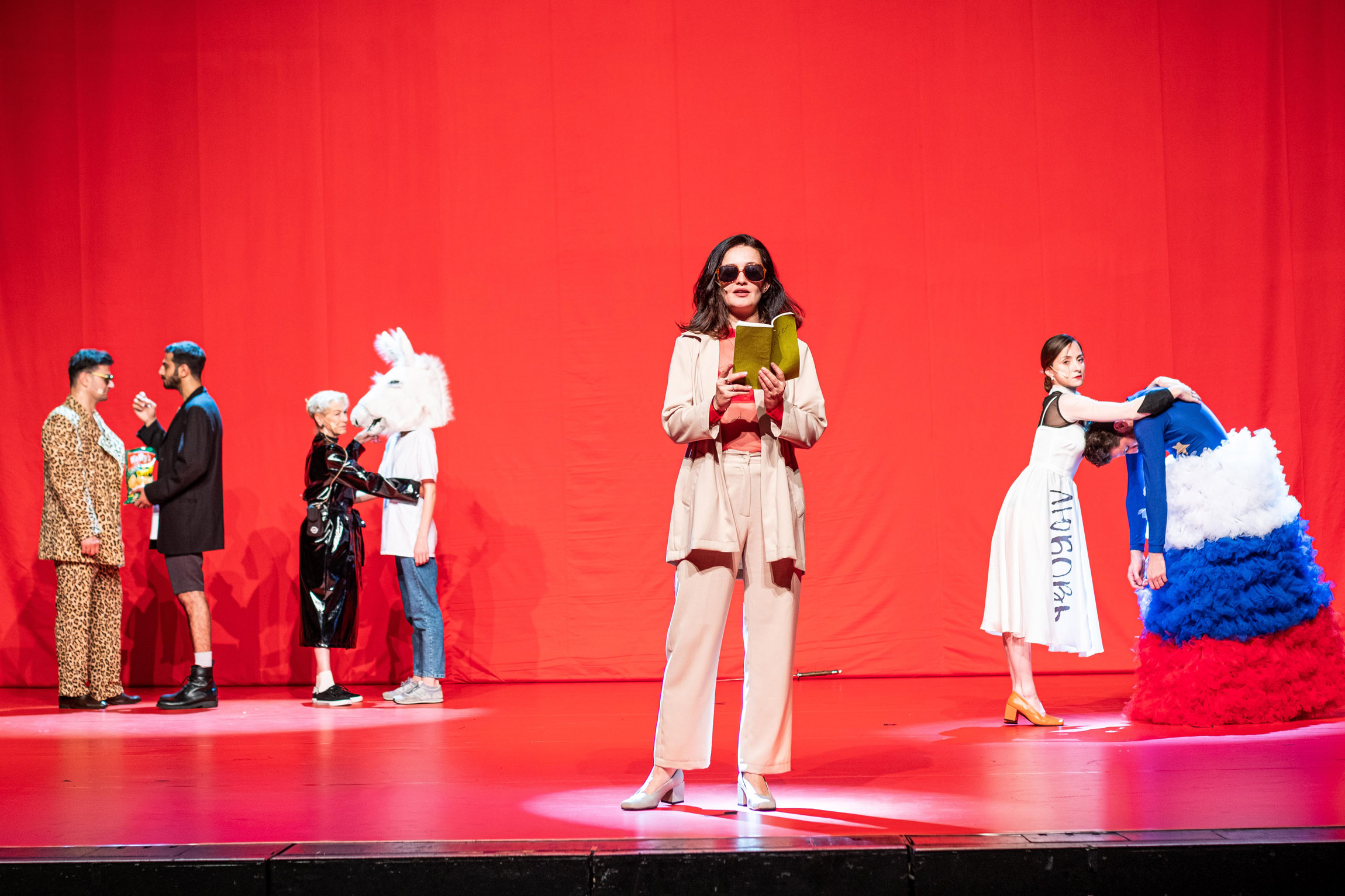 With a ten-page-long sponsor list and shareholders including the Styrian government, Steirischer Herbst offers up an undeniably impressive cornucopia of specially commissioned performances, moving image works and sculptural installations. Big names like Oscar Murillo, Elmgreen & Dragset and Jeremy Deller, alongside celebrity academics like Eva Illouz, are all on the menu with freshly commissioned work. The opening launch is a series of provocative performances occurring throughout the palatial Congress Graz. But does this seductive cabaret of experience tell us anything new? Beyond all the hedonistic handwringing, does it offer any survival strategies for after the apocalypse?
Jakob Lena Knebl and Markus Pires Mata, The Style Council, 2019. Performance at Congress Graz. Photo by Liz Eve
History shows that catastrophe and political extremity go hand in hand: one fuels the other until it is inevitably consumed by its own complex. The role of the artist, according to Jasmina Cibic's new film The Gift (2019) at Graz Künstlerhaus (a tomb-like building rumoured to be a departing "gift" from British occupation forces in 1951), is to poke a hole in that cycle and allow a new political reality to take shape. Shot inside the heavenly dome of the French Communist Party Headquarters by Brazilian architect Oscar Niemeyer, the elegance of Cibic's work belies its dark dystopia. The artist serves as creative consultant for a populist government bent on restoring order via a new public "gift"; it proves Lucaz's claim of artists as agents of soft power.
"Beyond all the hedonistic handwringing, does it offer any survival strategies for after the apocalypse?"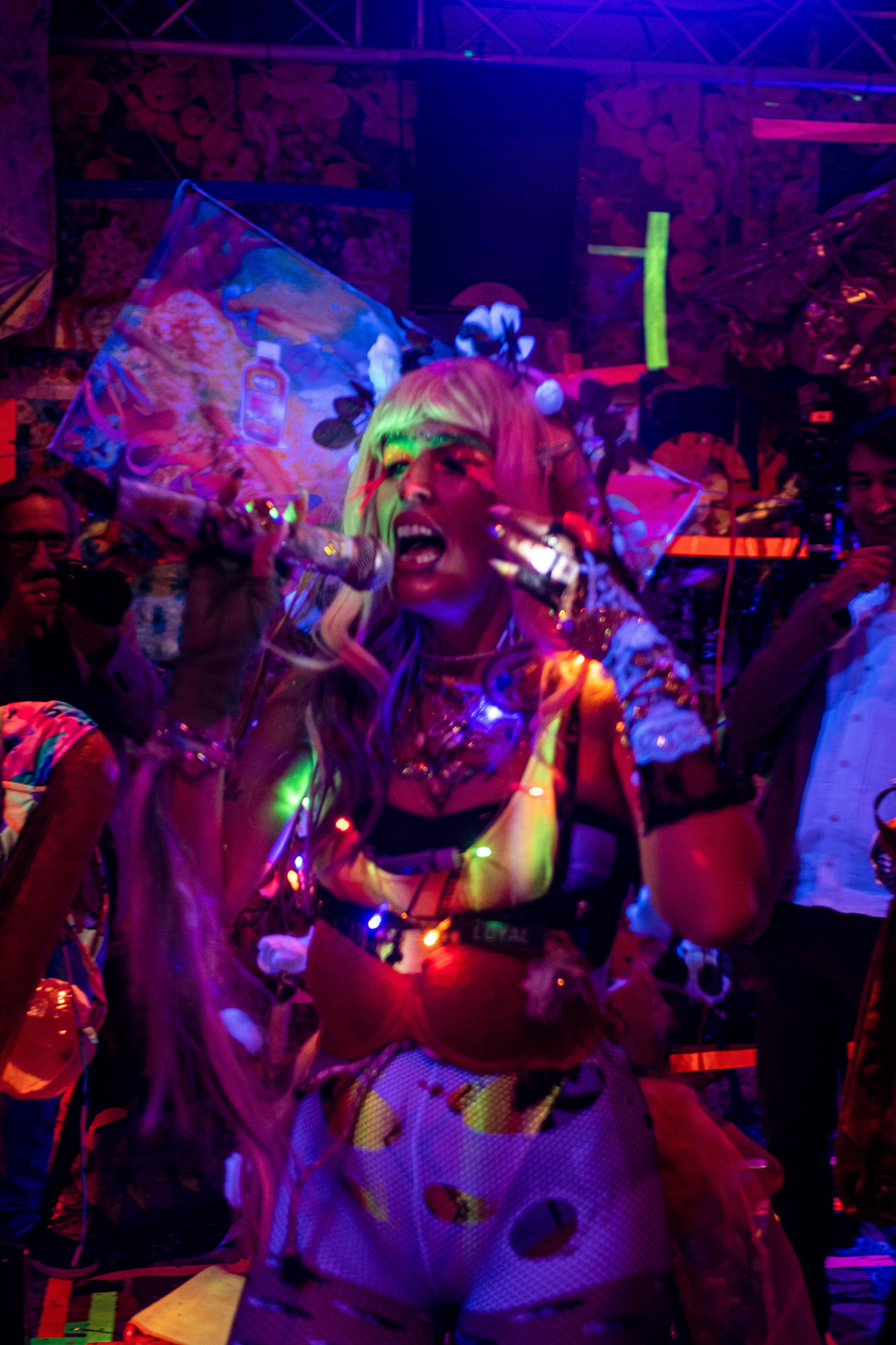 Other works are less abstract. Jeremy Deller's latest video Putin's Happy (2019) sticks to the uglier underbelly of populism, revealing little else except that the Brexit situation in the UK is just as bad as you feared. Elmgreen & Dragset's contribution, a redux of the Austrian "Mozartkugel" candy, switches out the famed musician on its packaging with revolutionary thinker Thomas Bernhard. But it doesn't stray far from its art market boss—a box of eighteen costs almost €50. Many of the works in Grand Hotel Abyss sit at a 1:1 level with the prevailing panic of a doomed present, reinforcing an end-of-the-road mentality instead of making space for alternative futures.
"Criticality can only come from a point of privilege," spitballs one of the glamorous "artist academics" of director Guram Tsibakhashvili's rendition of Keti Chukhrov's play, Global Congress of Post-Prostitution (2019). In a gruelling 100-minute-long performance that starts with a bang but ultimately fizzles into something more pretentious, cliché and problematic than The Square (2018), the piece gets stuck in its own fake wokeness, with some post-gender, "post-colonial" (but actually insanely racist) theorizing. It's an old joke dressed up in new vocabulary.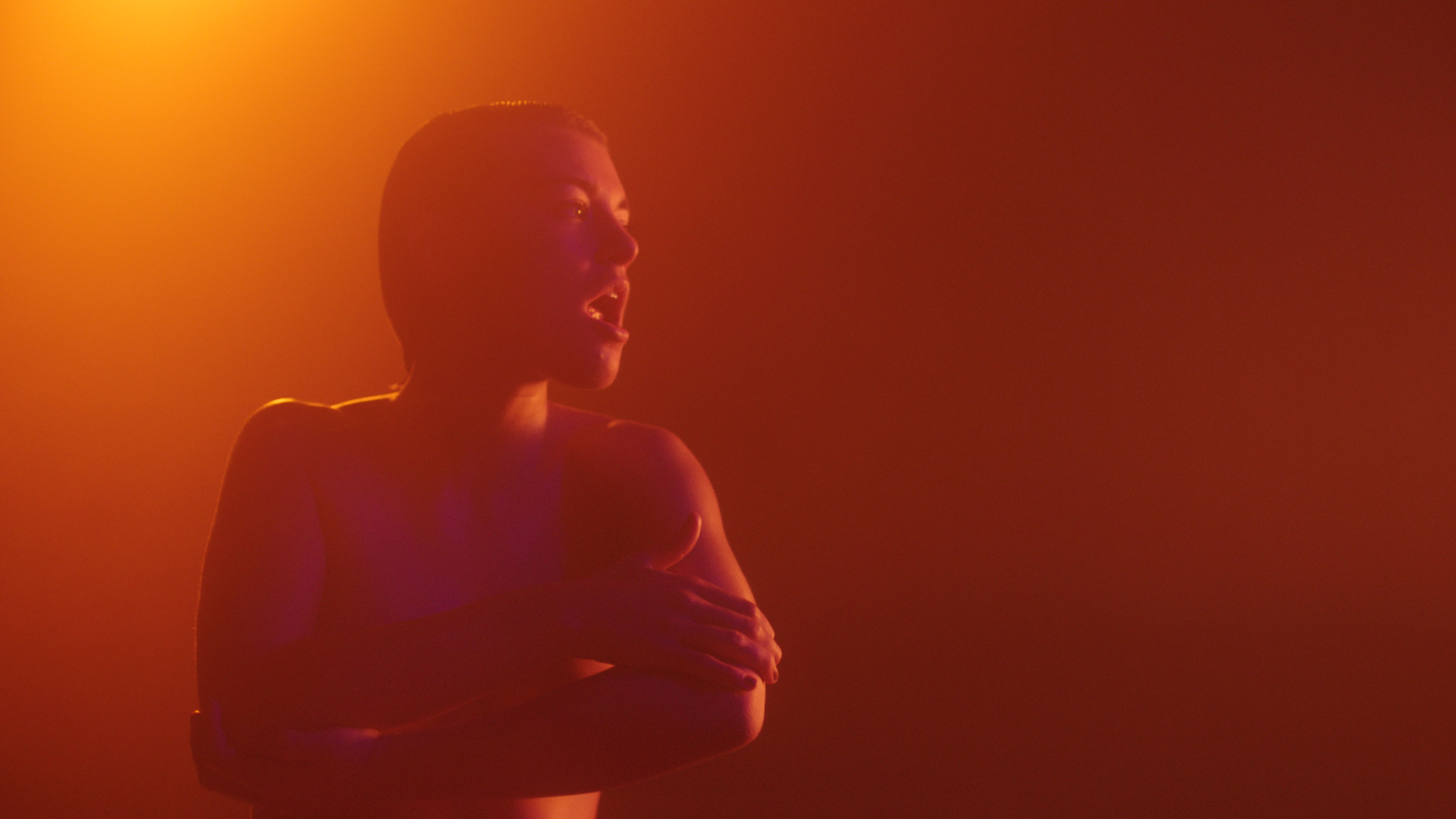 But humour can be a powerful and generous tool when used right. Grand Hotel Abyss is pocketed with moments where a collective tenderness pushes past the doomsday agenda to offer something generative. Michael Portnoy's hypnotic slow porn video installation Progressive Touch (2019) revels in what the artist calls "primal kitsch": the archetypal cum shot dissolves inside an unfamiliar rhythm; new intimacies are incubated underneath a transcendental neon glow and real silliness (the couples are not scripted). Giorgi Gago Gagoshidze's The Invisible Hand of My Father (2018) takes the story of his father, a migrant construction worker who lost his hand on a job in 2008, to explore human rights and capitalist recuperations amid global financial meltdown. "Working through humour was the only approach I could take," says Gagoshidze; and through the video's playful DIY aesthetic that's riddled with tenderness, a brutal story becomes permeable and sticky; a place of hope.
"History shows that catastrophe and political extremity go hand in hand"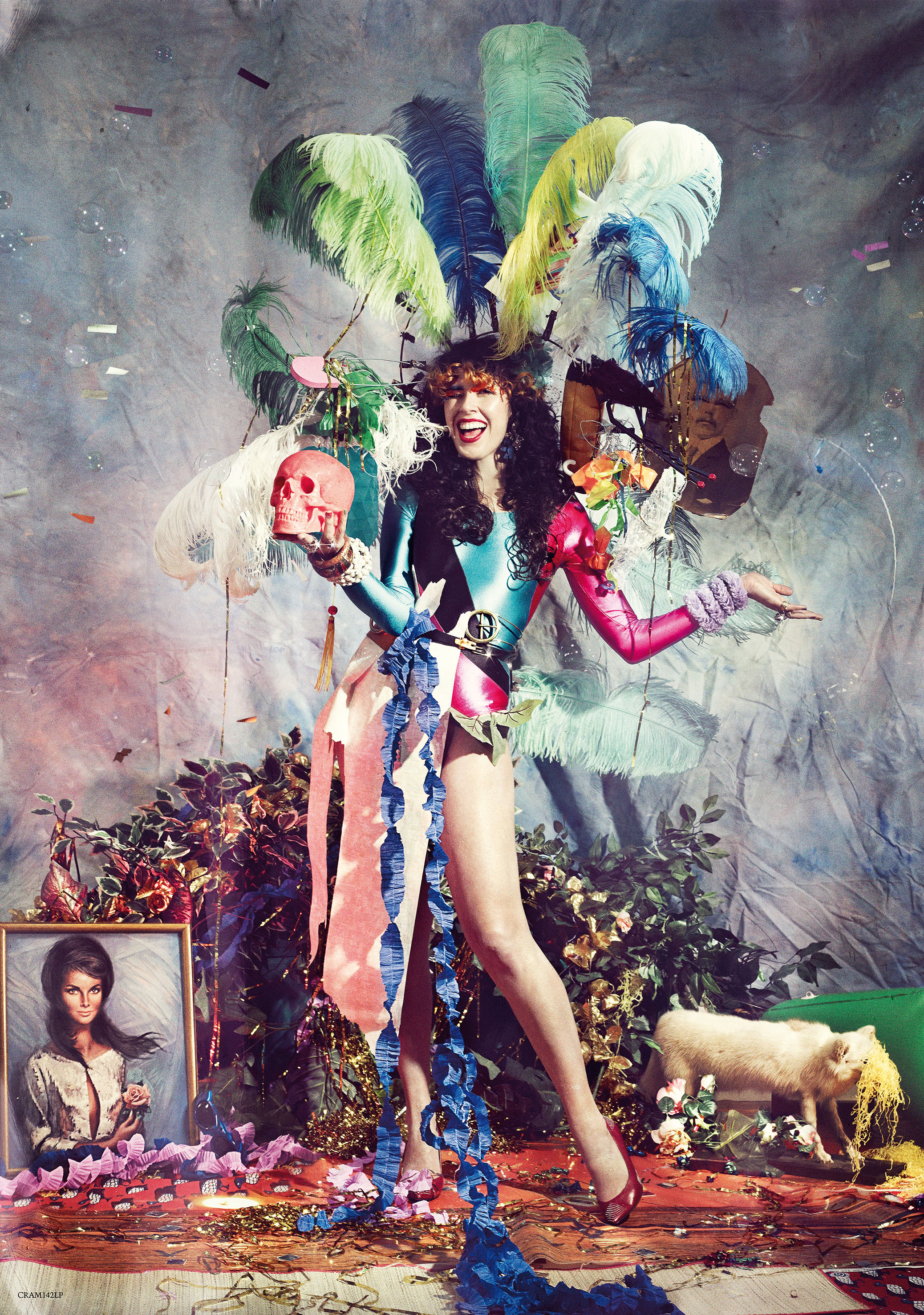 And Cibelle Cavalli Bastos's Las Venus Resort Palace Hotel's Cabaret Lounge Splice Download (2019) takes us somewhere fantastically weird and urgent. A post-meteor Earth becomes a swamp of queer kitsch: fluorescent crocs, Muscle Beach towels, UV lights and a uni-boob palm tree reject both the cool airspace aesthetic of contemporary art and the historicist ornamentation of the Congress Graz building.
The mood conjured by Steirischer Herbst feels akin to the launch party for a dubious art institution/oligarchy/artist you're attending exclusively for the open bar, or like scrolling through Guardian doomsday clickbait while waiting to board a Ryanair flight during the global climate strike. At its most critical, the fair is a ghastly reflection of just how bad the art world can be. Many of the works in the festival conjure the spitting image of the art world at its worst: as a dystopia of self-righteous pawns inside a corrupt regime, flaunting their wokeness at every opportunity, yet refusing to leave their powerful posts at respected institutions and do something radical. At its most optimistic, it elevates new forms of progressive intimacy amid the doomsday devices and pseudo-critical press releases and curatorial statements.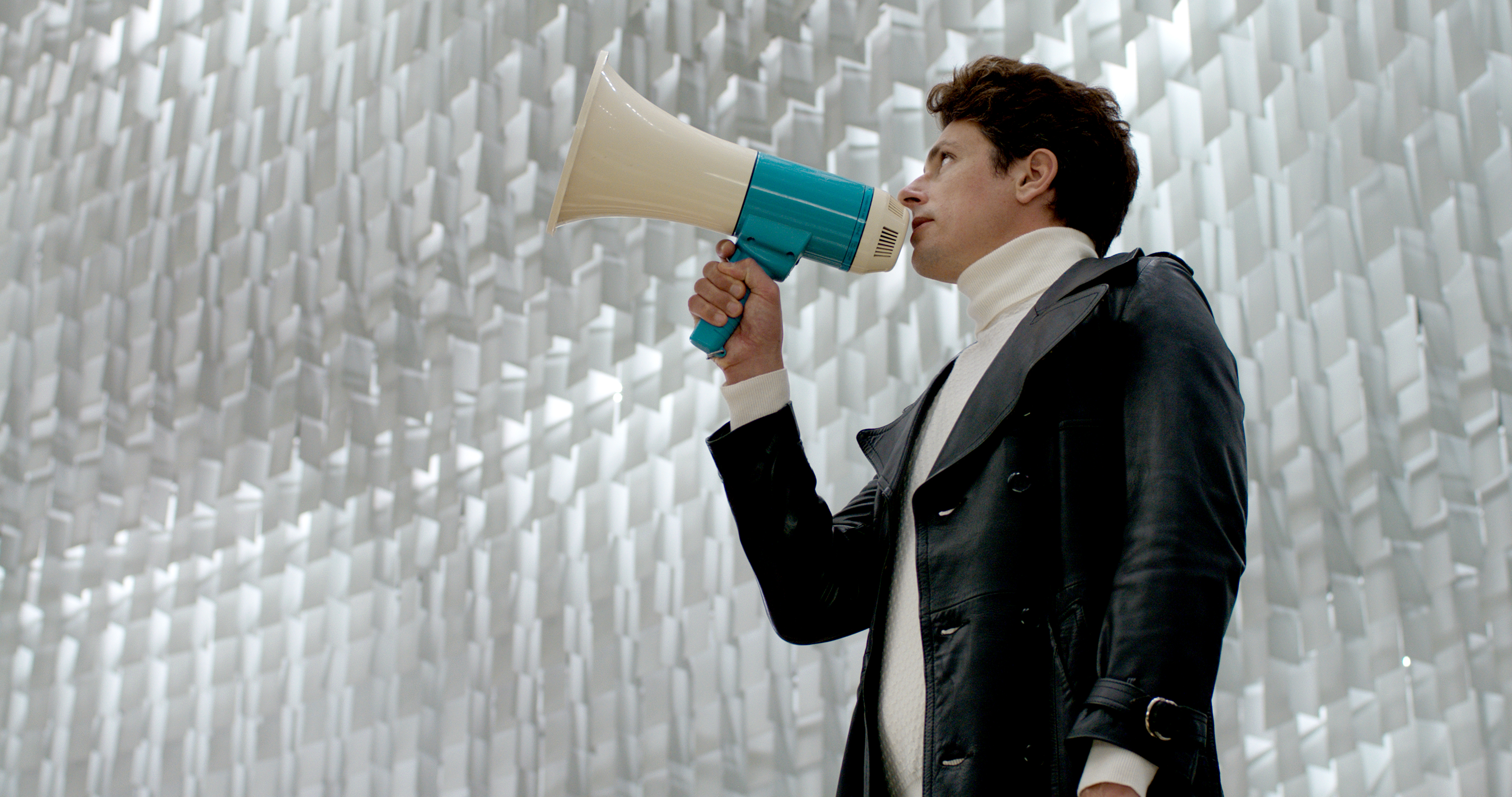 In many ways, Grand Hotel Abyss is indeed a fascinating and appropriate metaphor for the present. But in drawing a line between the twentieth century's "pleasant apocalypse" and our own, the curators omitted a seismic difference: the call to action of the post-millennial generation. In 2019, there is no room for the lack of accountability of intellectual nihilism; there is no phantasmagorical corner of culture to withdraw back into. To not acknowledge these powerful new social movements in this year's festival reveals the worlds of difference between then and now, and suggests that the Grand Hotel Abyss might be better left to the twentieth century.