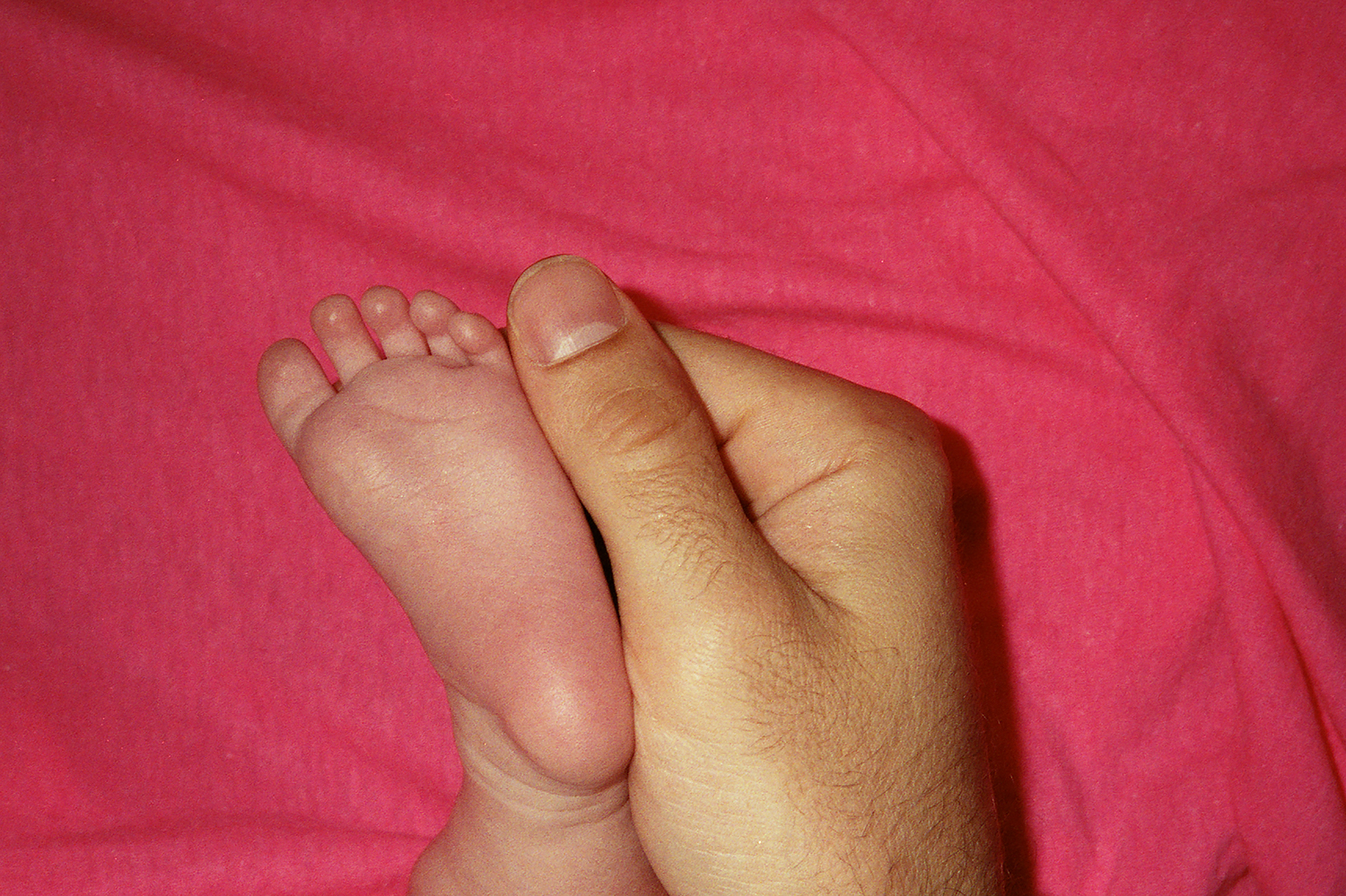 I'm sitting at my computer with tears in my eyes. They could have been catalysed by a lack of sleep—I have a one-year-old currently going through sleep regression who hasn't slept more than thirty minutes without waking up all night—but it's also down to the effect of Andi Galdi Vinko's latest series, planned to be published as a photo book, a diary of pregnancy and twenty months of motherhood.
The artist is mother to Dana—who has recently discovered the power of screaming. She is a full time mother and works freelance. Her expansive, personal diary, part-documentary, like a family photo album, part-staged, draws parallels in the aesthetics of the world and the rhythm of nature to the pace of the changes in her child—noticing new things in the world. She juxtaposes the myriad of highs and the lows of early motherhood; bleeding nipples and breast milk stains on the bedsheets, moments of incomparable joy as you witness the swirl of hair forming on the top of your offspring's head, or hold a foot as tiny as a finger in your hand.
You hurtle through the intensity of love, of delight and of exasperation, between concise visual metaphors: a hospital bag neatly laid out to a laundry basket being upturned by a toddler. The series spills over with emotions, messy and unrelenting—exactly like the experience of motherhood itself. "I wanted to mix in this series the joy and the suffering in parenting because I feel like works are somehow either this or that—boring photos of happy sun-kissed babies with super fit mothers, or the sufferings, barely getting by…"
When she was pregnant, Galdi Vinko tells me, "I received a lot of smart books about motherhood, which I sadly never read. At first, I wanted to 'just experience it for myself' without knowing too much—then when I was in trouble I never ever had time to actually read about it." This was the impetus behind the series, a candid visual guide to what can happen to your body and your child during those first years. "I thought a little book with only photos—that might make you feel that it's ok, that whatever you feel others have also gone through, that you are not alone and that this will pass, and that all those things that seemed so important will also just fade away—could be useful to anyone."
What Galdi Vinko recounts resonates profoundly with my own experiences so far—the frantic Googling to check if they're eating and sleeping the right amounts, if they are doing the things they're supposed to be doing—"I always found that everybody had the same questions and no-one really had the answer. 'She will just stop spitting the food out.' 'They will just stop hitting you.' 'Your hair will grow back again.' 'Your breasts won't be the same again.' 'You'll have normal sex again.' 'One day she'll just learn how to sleep.' And suddenly when you get used to it, it's over it changes and the next challenge begins."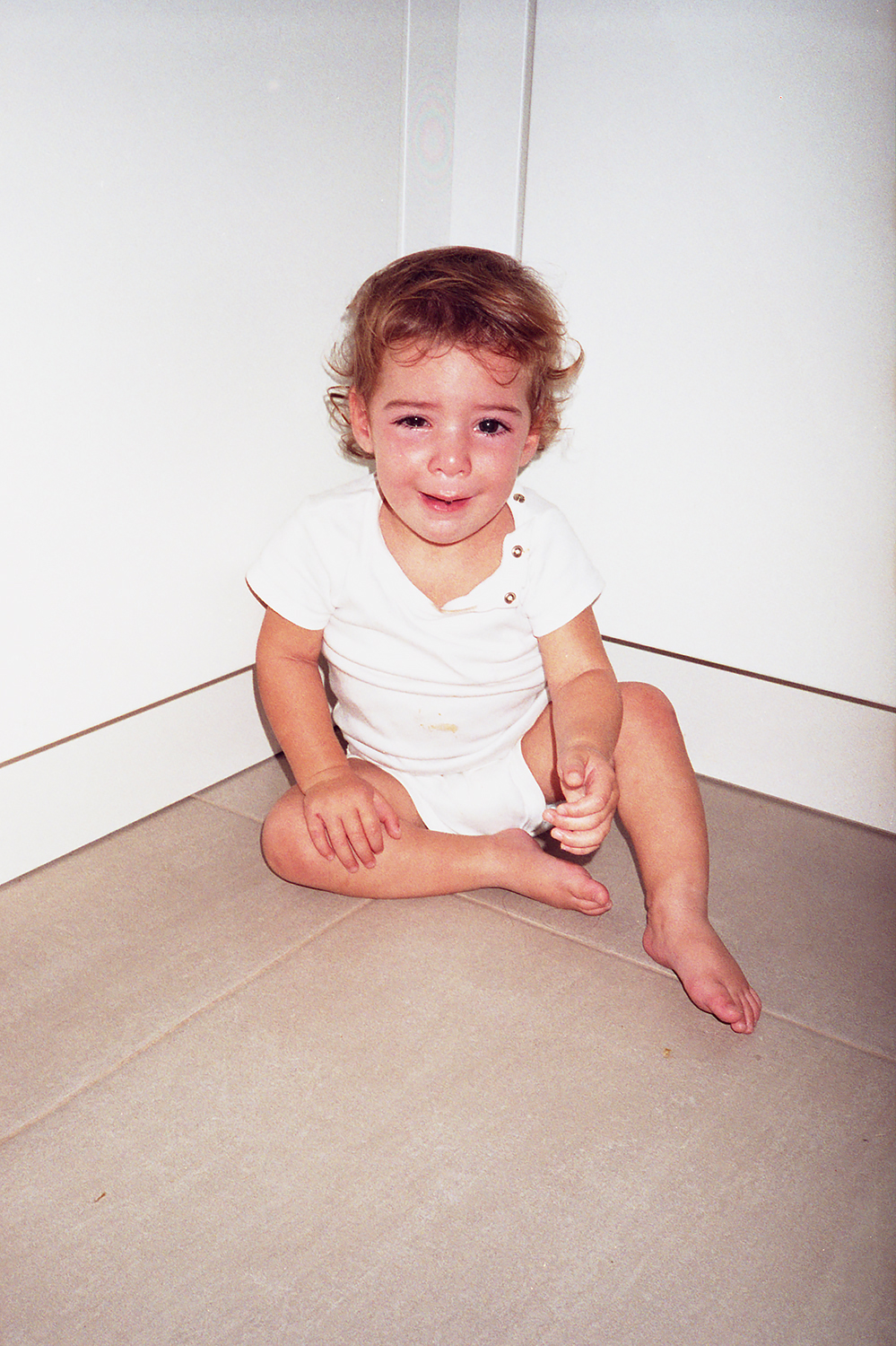 As any new mother knows, you might not want everyone's advice, but hearing what others are going through can bring relief. Frequent contact with other parents who are empathetic to the challenges of the day-to-day is a lifeline in navigating the ups and downs. "I discovered a whole new world through motherhood. First of all, this strange community of all the mothers that have gone through the same thing." For this reason, Galdi Vinko doesn't avoid some of the more common portraits of birth and motherhood, but she documents them with the unique tenderness of a mother looking at her only child. Unafraid of sentimentality, she also ventures into more graphic depictions of the less appealing sides of being a mother—including postpartum hair loss, bleeding and bulging.
Galdi Vinko had already established herself as a photographer before she became pregnant, but becoming a mother, she explains, has changed her, and the way she looks at the world, which has inevitably affected her work. Being a mother has taught her, she says, "that I am capable of anything. The first time my child was sick and she was in hospital at only ten months old I realized how much love and strength this whole parenting thing demands."
Although the types of imagery around pregnancy, birth and parenting are broadening with Instagram and YouTube and self-documentation, Galdi Vinko explains that she was affected by the dominant images of the past. "Breastfeeding for example—in my head it was this beautiful woman sitting on a beach with an Amazonian body, feeding a child. I suffered for six weeks. I was never in so much pain. And I wanted it so much to work that I wouldn't stop. And then one day it just suddenly started working."
It's optimism, and above all love, that pervades in her pictures. It is also a way to remember these moments, as difficult as they are precious, because, they will fade and be forgotten. Call it "baby brain", or put it down to sleep deprivation and the vast, all-consuming duty of helping another human to grow. "I forget so much because I have so many things to think about constantly…" Galdi Vinko confesses. "And another thing is—damn, I can't remember it."