Charles Gaines has been shooting and incorporating trees into his mixed-media artworks for more than 50 years, from young walnuts in California's San Joaquin Valley, to the Mexican fan palms that line streets along the south side of the state. The Numbers and Trees series began in 1986, but have their origins in Walnut Tree Orchard (1975), where Gaines sketched from photographs onto hand-gridded paper, a union of nature photography and geometry which has evolved throughout his career.
It was a curator at Hauser & Wirth in London, where the artist's debut UK solo show is currently installed, who suggested he travel to Dorset to photograph for a new series. The resulting images form the basis of London Series 1. These large photographic works are overlaid with plexiglass grids that are meticulously painted according to Gaines' unique numerical sequencing.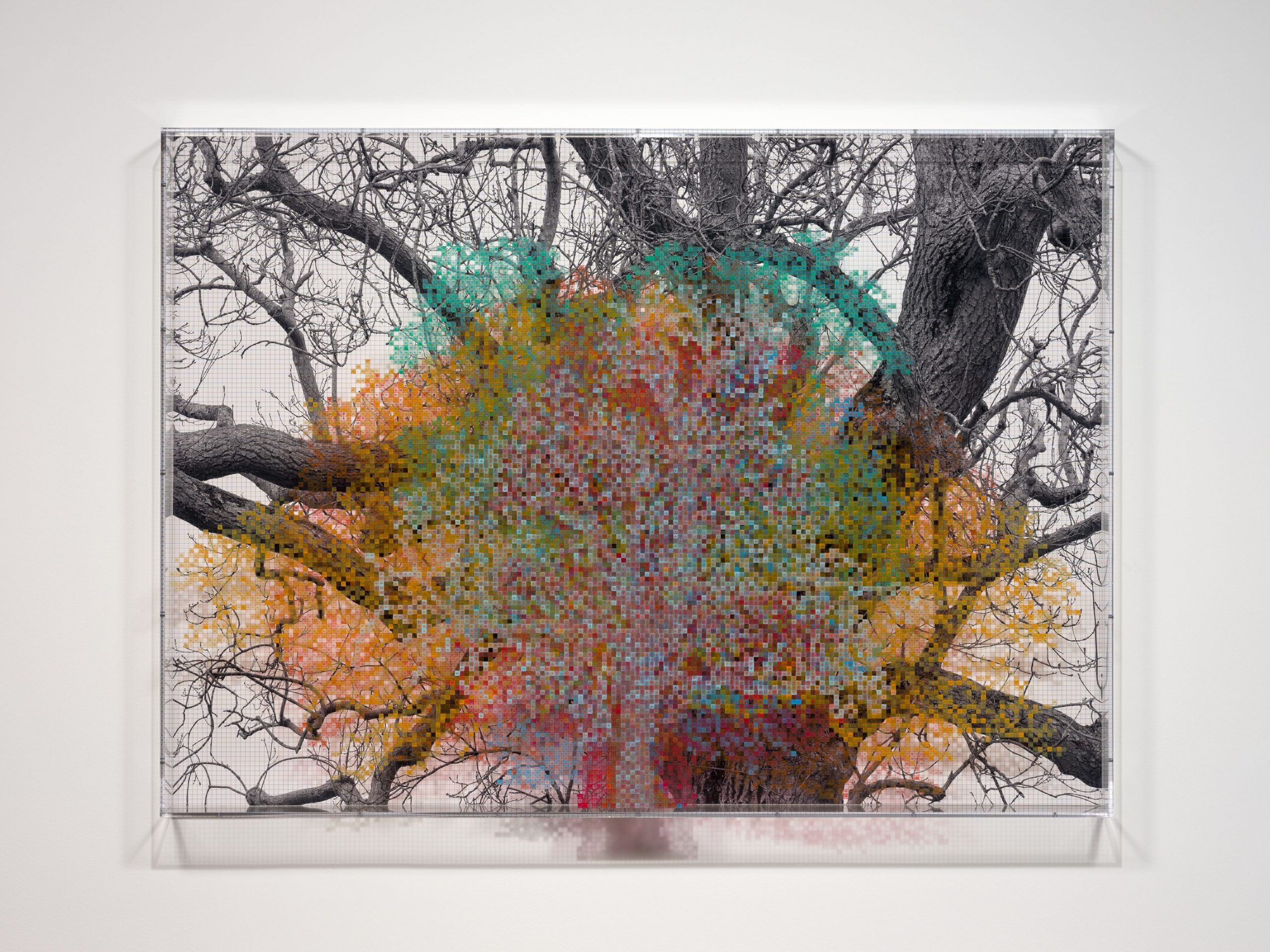 The same technique is used in the latest Faces series, which features photographs of mixed-raced people staring out from behind tinted windows. The works are hung like storyboards stretching across the walls of the gallery: each plexiglass front bears the painted pattern of its predecessors as well as that of its own photograph, creating a technicolour veneer while retaining each grid's distinct pixelation.
The effect is "an analogy between mathematical layering and speciation" in both human and plants, Gaines explains. Building with colour means that in the later pieces the viewer must reposition along the work's flank to see the photograph without its hovering palette. This space between subject and object is where meaning is constructed, says Gaines: the gap enclosed by two visual planes, like parallel lines which never meet.
"The grid is intended to keep the system present, so that you know that these decisions are not sentiments coming from me"
Gaines employs minor technical variations across different series. Although the positioning of his photographs (several inches behind the plexiglass) is consistent, his painted renderings differ in their relation to the background picture. For the oaks, for example, he developed a magnifying method in reverse, so the background photograph is an exploded image of the frontal painting. Despite these conscious variations, Gaines continues to describe the grid as a detached organising principle, which, along with strict colour selection, is "intended to keep the system present, so that you know that these decisions are not sentiments coming from me."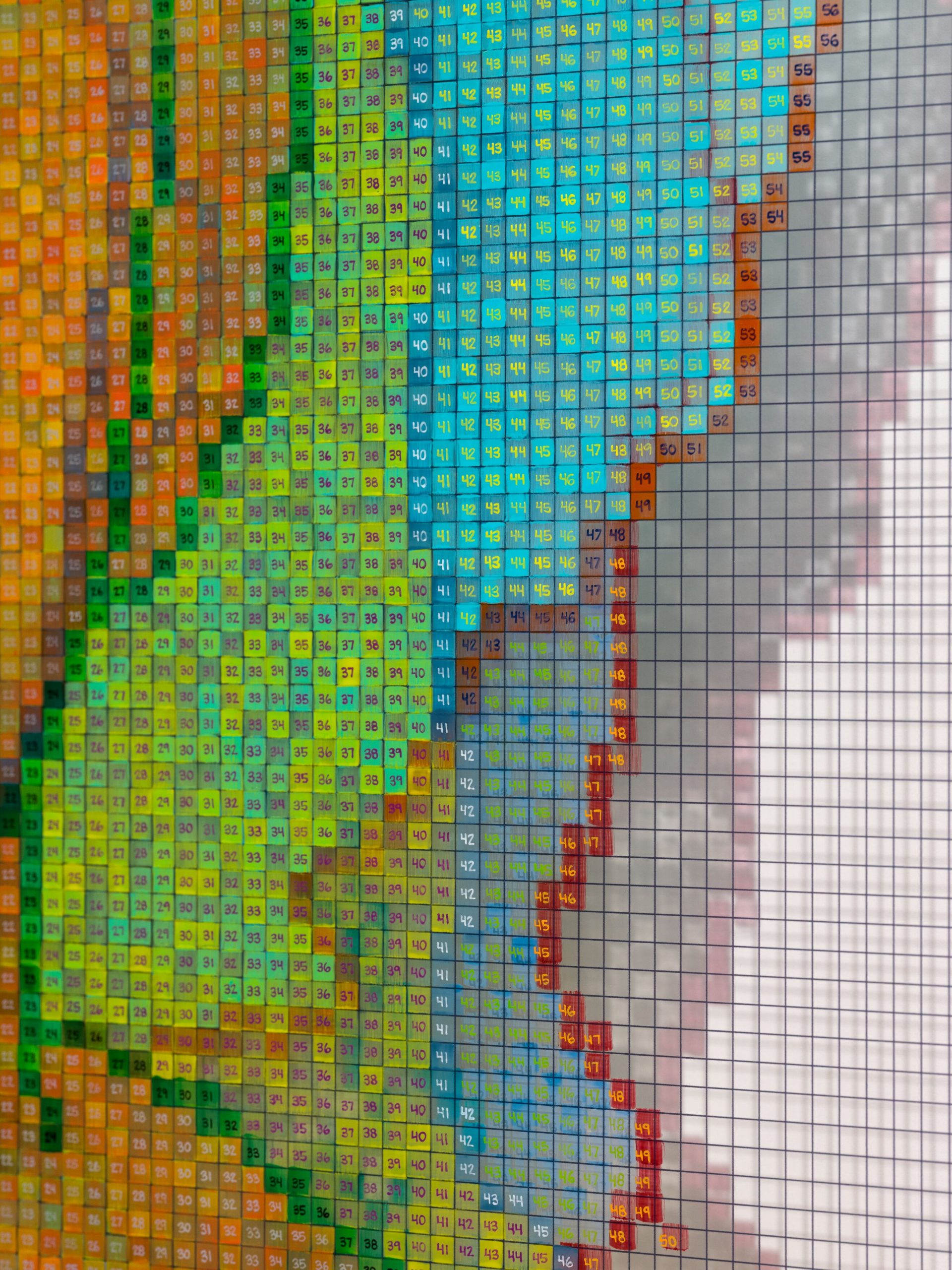 Such formal discipline has come to define Gaines' career, but his reluctance to wield creative agency offers a glimpse into a theoretical concern which goes far beyond his materials. His conceptual system becomes, he says, "a firewall between my subjectivity and the work," alluding to a philosophical wrangling which manifests in, but is not resolved by, his art. The grid becomes a way of tracing Gaines' theoretical development, absorbing and refracting his ideas on subjectivity and expression while retaining its internal order. Far from a firewall, it offers a rich insight into the artist's process, and offers a wider comment on conceptual art's ability to translate cultural and social themes.
Born in 1944 in segregated Charleston, South Carolina, the young Gaines' frustrations found expression in philosophical, rather than political queries of American society. He began to question the belief systems and behavioural norms which allowed racial inequities to continue unchallenged. "I couldn't understand why segregation existed," he explains, "who made the rules and how and why those rules could survive and perpetuate, and how corrupt and immoral those rules were."
Through this lens, he came to analyse the philosophical notion of universalism, the idea that there is a universal moral ethic which applies to all people, regardless of characteristic differences like race, gender or nationality, and which derives from the idea that universal truths exist. How could these beliefs be reconciled with the lived reality of segregation, with all its perverse ethnographic and social justifications?
"I couldn't understand why segregation existed, who made the rules and how corrupt and immoral those rules were"
"Why do people think that the idea of subjectivity can be universal, when there's such division and bifurcation in the world?" he asks. "I discovered that the notion of the universal was really a way for European theory to justify privileging some over others, and in an extended way to justify imperial and colonial practices."