Around four years ago, photographer Iain McKell got a phone call out of the blue from a girl called Lily. She was into his work, which since the 1970s has often returned to themes of counterculture or alternative lifestyles (he shot mods, skinheads and the New Romantics in the eighties, for instance, and more recently, New Age Travellers for his 2011 book The New Gypsies).
Lily ended up interning with McKell, occasionally accompanied by a few other friends, and the photographer was instantly captivated by the girls' distinctive look—one that didn't quite fit in with existing subcultural definitions, and which is characterized by colourful hair, chunky Buffalo boots and an eye-catching maelstrom of fake fur trims, garish animal prints and "ethnic" jewellery. It's sort of nineties pop, but slightly edgier, scruffier.  "I knew there was something there," says McKell, of his first encounter with Lily and her chums. "Then I saw some of their artworks, and I just got inspired."
"They're out there, trippy, a bit psychedelic, but it's urban too. It's fluffy and spiky combined"
Left: Shanti Goupil, 2016; Right: Totem installation by Camilla Mason
He was invited over to the warehouse in Tottenham, North London, for dinner, where he met a bunch more girls (and the occasional boy, and a lot of folk who identify as non-binary) who refer to themselves as the Siblinghood; an intimately close gang of defiant young artists, who from McKell's images, seem to be having the time of their lives. Over the span of a few years, McKell documented these goings-on, with the images eventually drawn together in a book called New Girl Order, published by Hoxton Mini Press. If you've ever been to Fountayne Road, where many of these images were shot, the book will feel eerily familiar. As will the "look" that unites this disparate bunch, which the photographer has termed "cosmic punk: they're out there, trippy, a bit psychedelic, but it's urban too. It's fluffy and spiky combined."
The book mixes candid imagery shot at free parties, festivals and generally around the warehouse scene in North East London (mainly Tottenham, also Walthamstow and Hackney Wick) with carefully staged portraiture, some of the girls' normal lives, others documenting performances, costumes and art pieces. "It became a transient thing," says McKell, who attributes his fascination with such cultures as partly due to growing up with hotelier parents. "There were always people coming and going, and that sort of energy and activity was always around me. It's in my DNA."
"Photography is like a licence into people's worlds"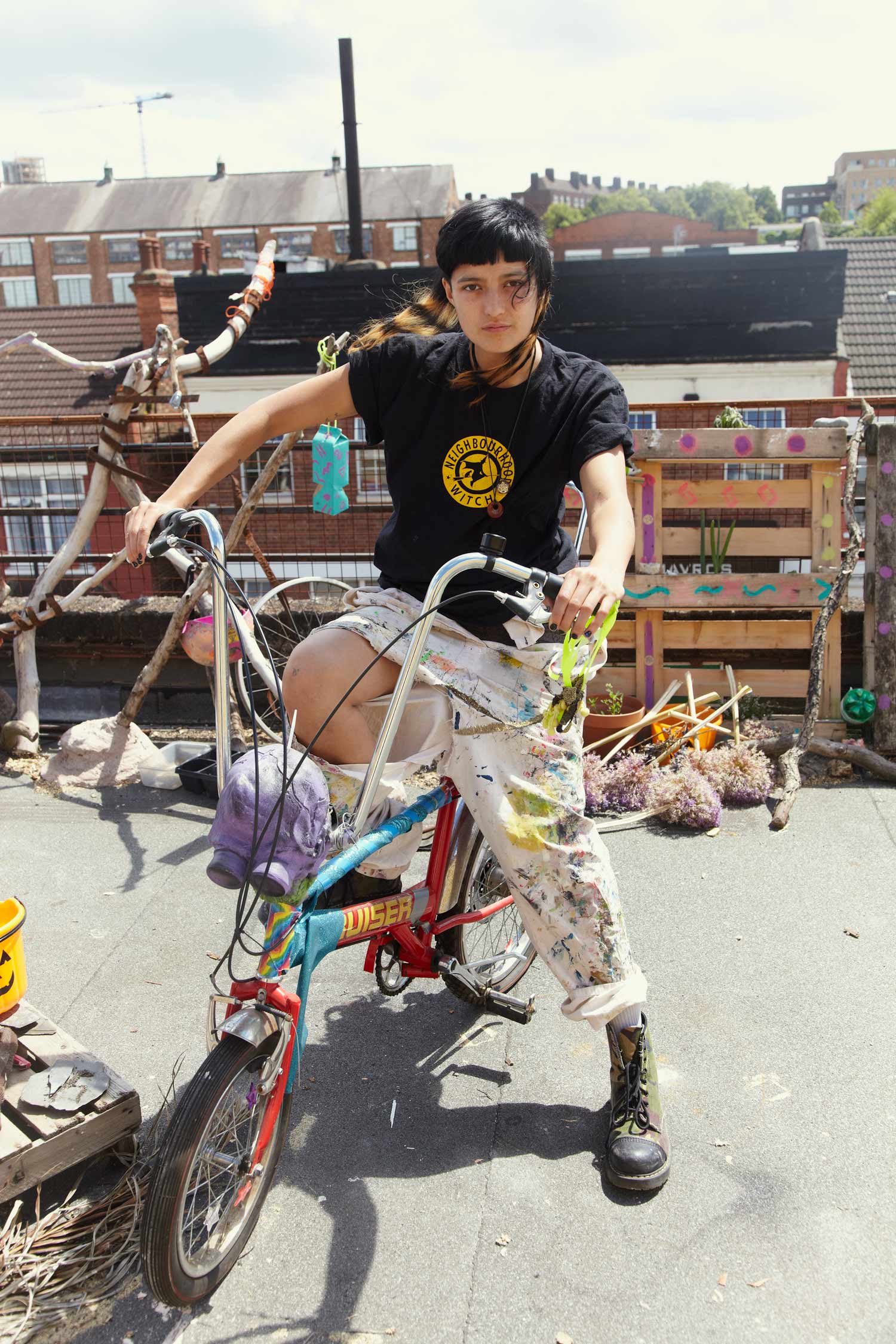 While some have commented on the fact a man has shot a book called New Girl Order, McKell points out that it was the girls who contacted him initially, and that they "had the suss to know that I was experienced at what I do, and that I'd do a good job [of the images]". He also ponders that maybe part of the magnetism of this group of twenty-something, creative women was spurred by his own life—when the project began, his daughter (who he raised as a single father) was nineteen, truly her own person with her independence. "I was interested in doing something around female identity," he says. "Maybe I had a void to fill, so I went to all these mad parties."
He adds: "Photography is like a licence into people's worlds—you can transcend these boundaries and not just be the middle-aged guy who's late to the party. Maybe photography's an excuse to party. A psychologist would probably have a field day… taking a picture you have to be in the moment, but as an artist, you're also expressing an idea."
McKell was first inspired to take up photography by the work of Diane Arbus, and the way that to him, her images revealed more about "her practice and her as an artist", and the way her mind worked, than the subjects she was shooting.
"Maybe photography's an excuse to party. A psychologist would probably have a field day"
New Girl Order was published concurrently with McKell's Private Reality: Diary of a Teenage Boy, shot in 1976. He sees the two tomes as like "bookends"—one depicts his own youth growing up in Weymouth in the 1970s, while New Girl Order is a mid-career piece in which he has turned to the youth and countercultural happenings of others for inspiration. "It was a very unique opportunity, and I seized it," says the photographer of meeting the stars of New Girl Order. "It was like when I first shot the New Romantics: I knew there was talent there, and it's the same with this scene. It came out of passion, and that's very infectious."