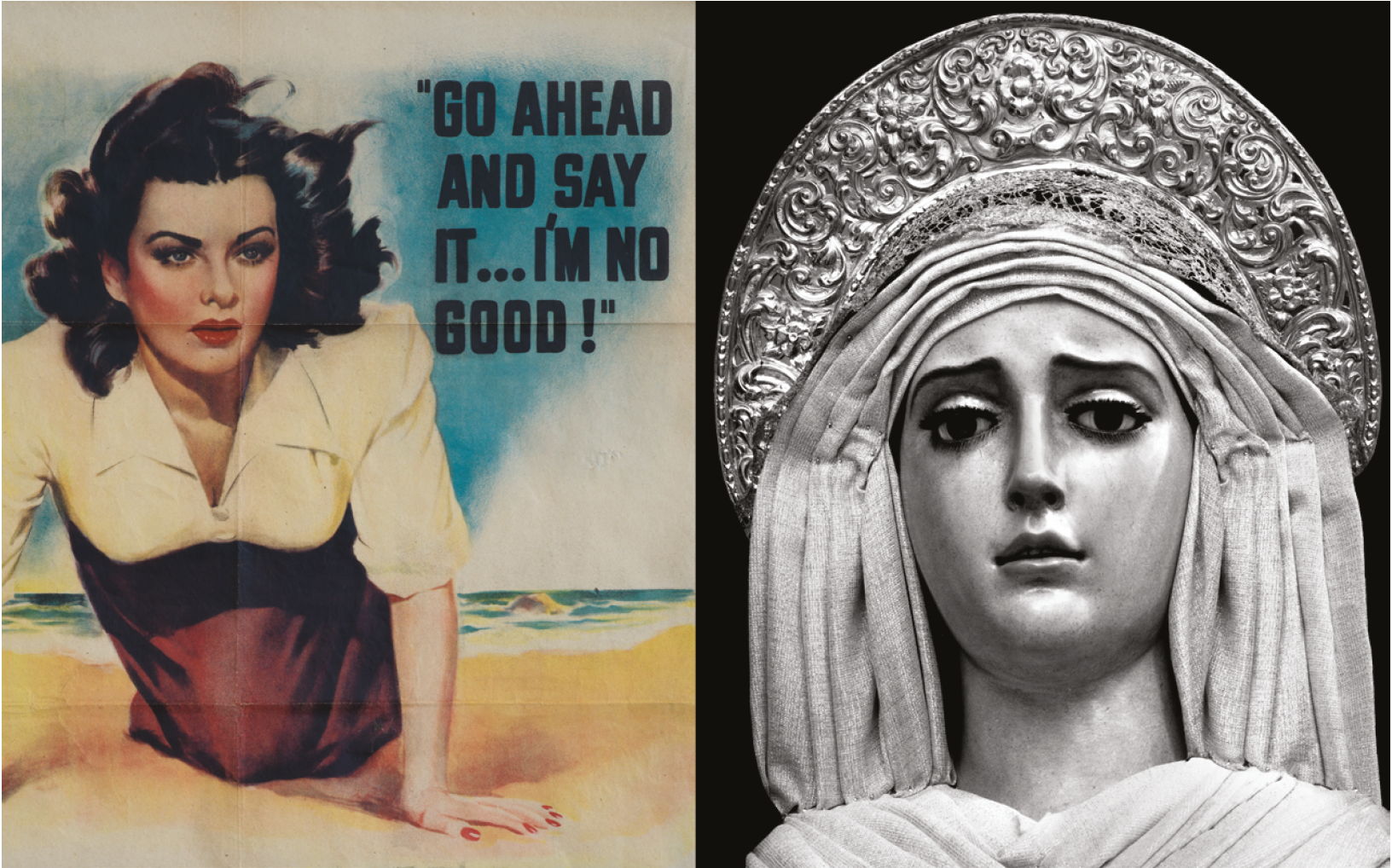 Elizabeth Heyert had a fully-fledged career as an architectural photographer before she devoted herself entirely to her artistic practice, which has experimental portraiture at its core. Her images of post-mortem subjects in The Travelers series sparked controversy, while her clandestine shots of Chinese families producing their own highly-staged portraits spoke of a hunger for heritage. Her latest series The Idol places found images of Hollywood stars against photographs of the Virgin Mary, taken in places of worship in southern Spain and beyond. This unusual interrogation of female identity is on show at the Palazzo Mora in Venice as part of Personal Structures, a group exhibition curated by the Global Art Affairs Foundation.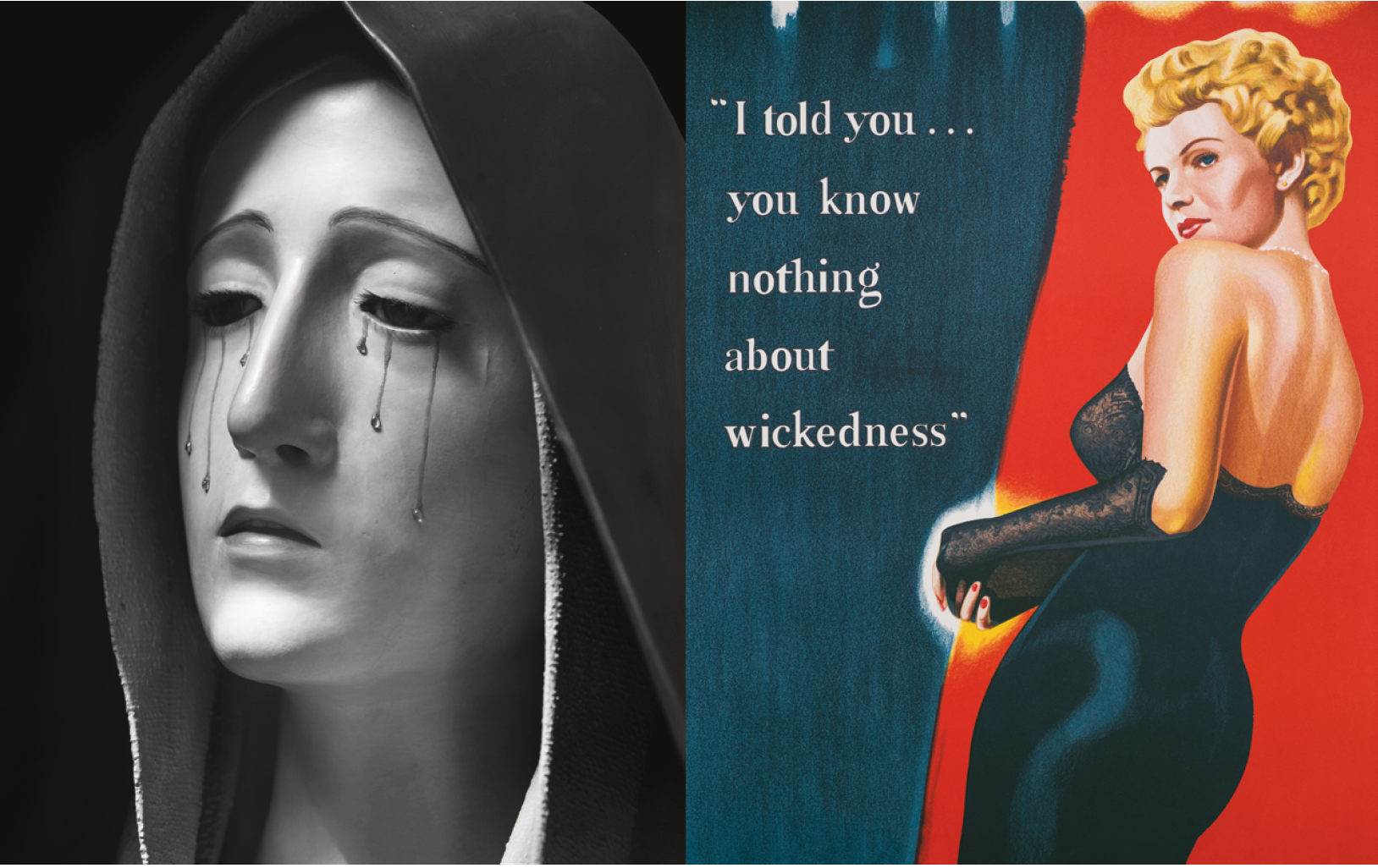 What first drew you to capture the faces of the Virgin Mary found throughout places of worship in Spain?
I've been fascinated by Mary from the time I was a child. Although I am not Catholic and was raised as an atheist, I spent my early childhood living in a Catholic neighbourhood. The little girls I hung out with had a very personal relationship with Mary, which made me quite jealous and also drew me to this intriguing woman who was said to be so good and so powerful. For years I had in the back of my mind that I'd like to do a portrait project, looking at Mary as a woman, not as a religious icon.
That was harder to do than I expected, since many of the depictions of Mary understandably emphasized the religious story or were highly sentimental. I photographed various Mary sculptures in France, Italy, the Czech Republic, Poland and Slovenia without being able to find a way to make realistic portraits from these highly stylized figures. Then, on a visit to the Prado in Madrid, I discovered the work of Pedro de Mena, a seventeenth century sculptor from Malaga, whose poignant, emotional portrayals of religious figures including Mary infused them with human feelings and layers of meaning.
I began to work in churches in Malaga, Seville, and smaller towns and villages in southern Spain, where many of the Mary figures are created in a realistic manner. Not only do these sculptures have real hair and eyelashes, beautiful clothes that are changed seasonally, and exquisite, elaborate jewellery, but they are also portrayed showing intense emotion, often with tears. Most fascinating to me was that they were so obviously modelled on someone the sculptor knew intimately, and that even though they were often created centuries ago, their sensuality and beauty were represented equally with their purity and devotion.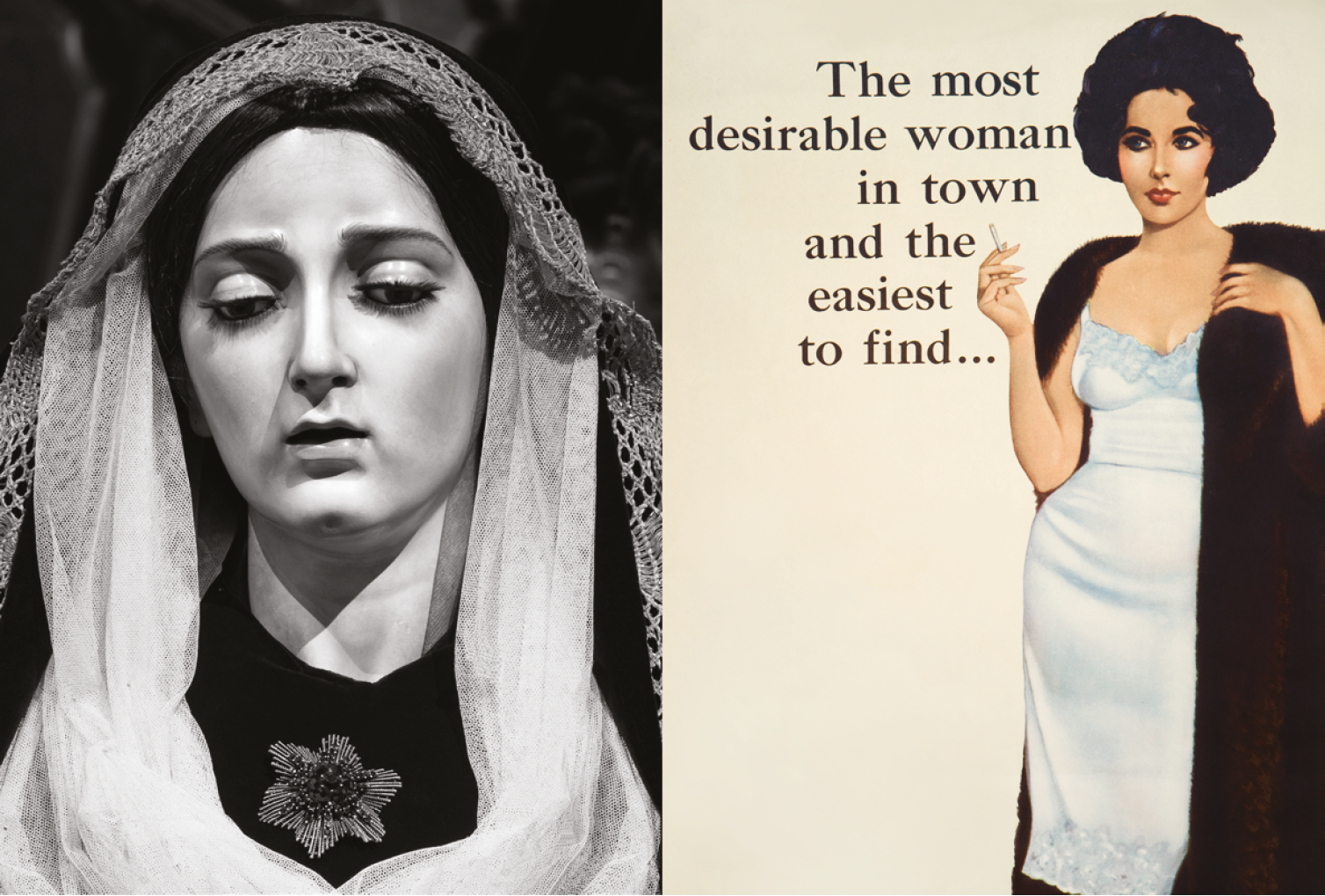 When did you first make the connection with images of Hollywood stars?
A transformation took place as soon as I began to separate the Mary figures from the religious environment. After I removed all religious artefacts, including halos, crowns, daggers, crucifixes, angels, and other evocative symbols, the face of Mary stood out. The similarities between some of the faces of Mary and some of the stars from the golden age of Hollywood were hard to miss. That was an era when movie studios "designed" their stars to meet certain expectations.
Whatever the reality, Hollywood stars from that period usually combined extreme sensuality with a studio-created fantasy of the All-American innocent. And they were chosen for stardom because they looked a certain way—pale-skinned, small nose, big "bedroom" eyes, and voluptuous lips, pure and sexy at the same time. Many of the Mary faces had the same characteristics.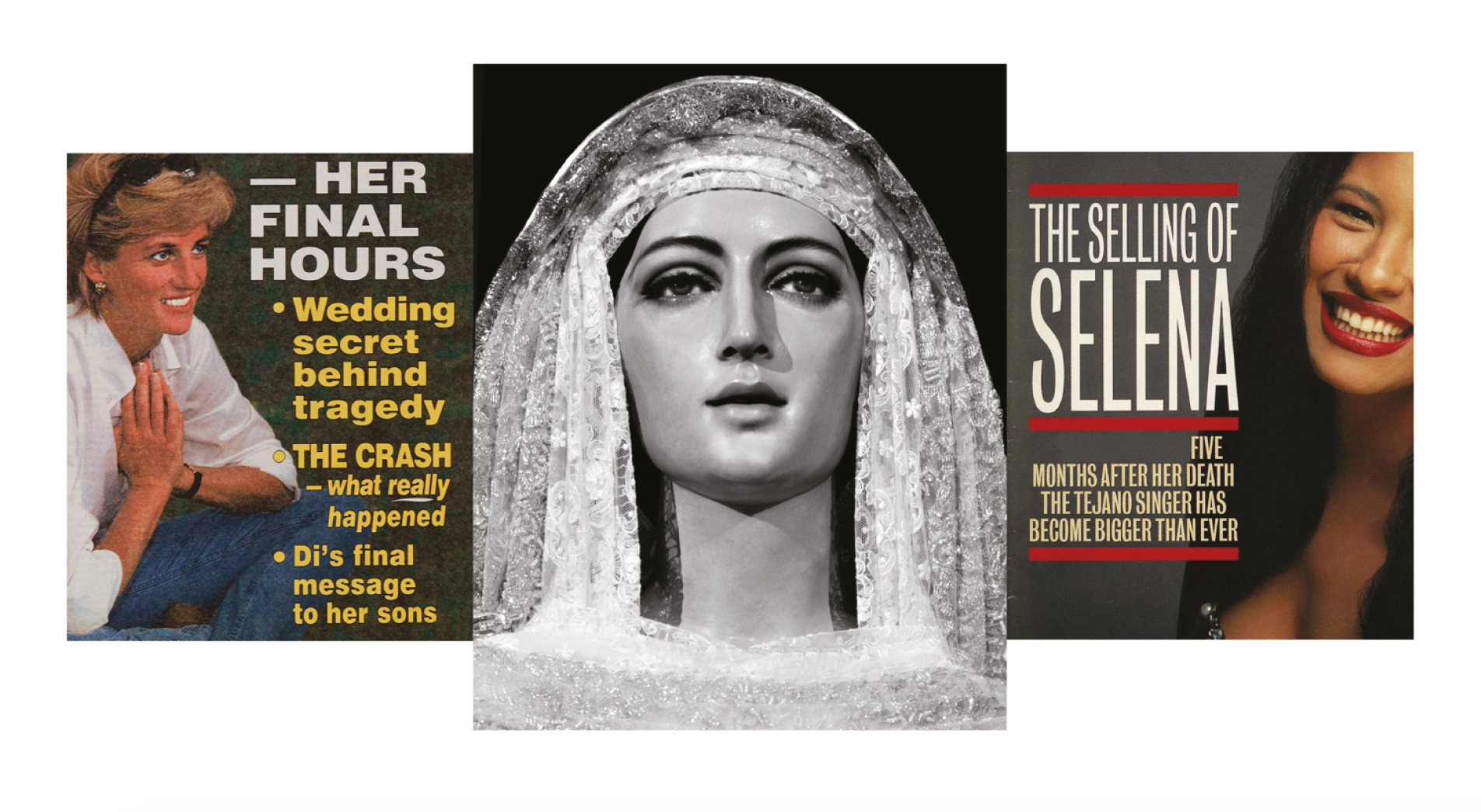 The women you have included, such as Elizabeth Taylor, Marilyn Monroe and Princess Diana, seem a world away from the new cult of female celebrity we find through our screens (such as the Kardashians). What was the reasoning behind representing this particular type of star
I decided to only work with images of women who are no longer alive. With Elizabeth Taylor, or Marilyn Monroe or Princess Diana, we know their stories from beginning to end. We know what the trajectory of fame brought them. Diana and Marilyn were adored, and yet that ended for each of them in heartache, rejection, emotional torment and finally an unnatural death. We don't yet know the final stories of Kim Kardashian or Beyoncé or other current celebrities. Will they retain their status as modern idols? Will they be remembered, much less revered, after their deaths?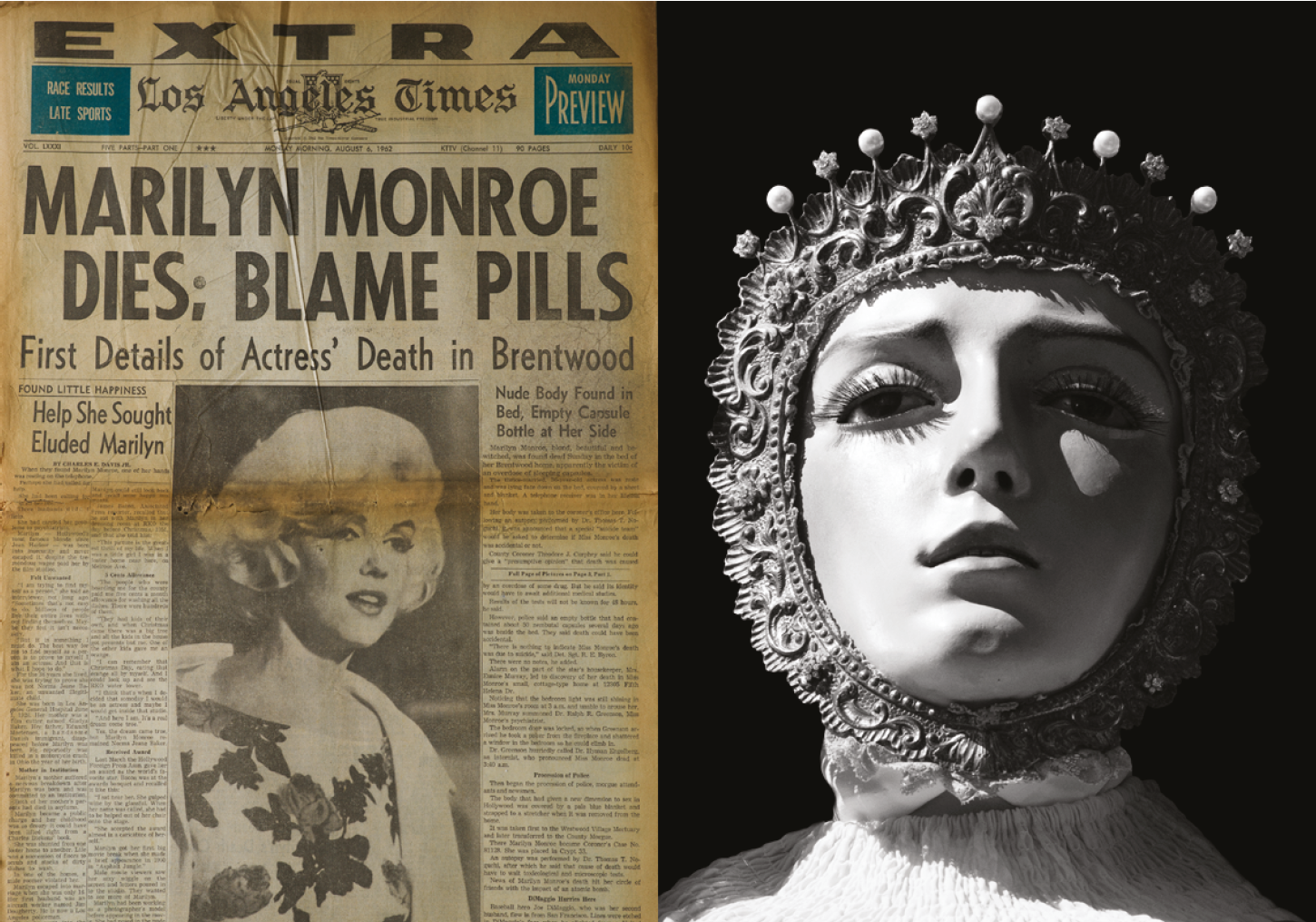 Did your background in commercial photography inform this project?
My twenty-plus years as an architectural photographer (pre-Photoshop) provided me with the technical expertise to shoot statues high up on altars, in dark churches, with dreadful lighting conditions and long exposures, surrounded by tourists and worshippers, and still come away with a picture!
"My project is not as much about religion as it is about idolatry and the ways society creates myths and false images about women."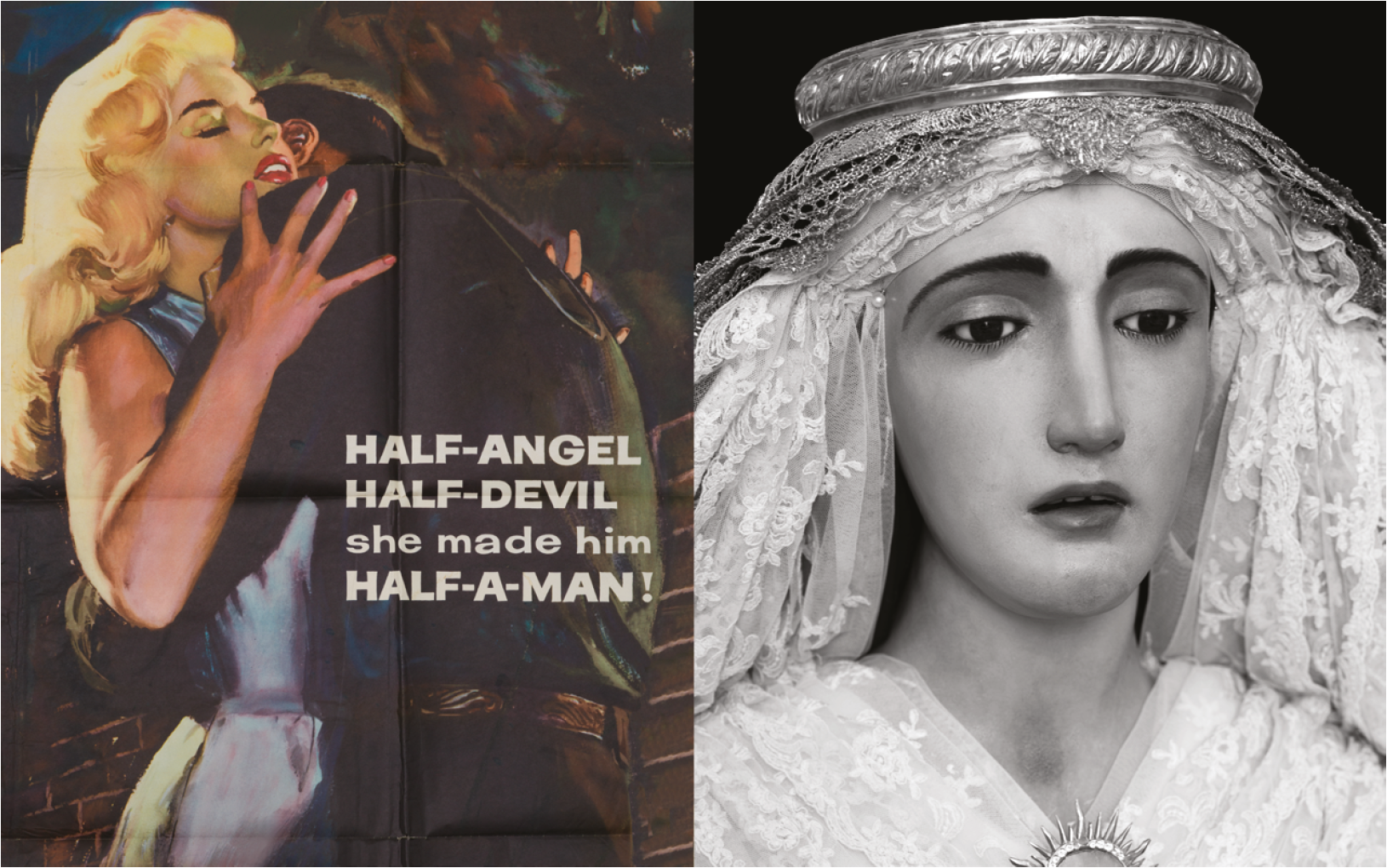 How do you relate to the exhibition's theme of Time, Space and Existence in the context of this project? 
My project is about an aspect of our humanity, our willingness and even need to believe in an ideal, with all the glory and toxicity of that idea. This becomes more complex when you add the word female, an "ideal" female as depicted in the Bible or created from the fantasy of a seventeenth-century male sculptor, or a twentieth-century male movie producer, or by our own desire to see female perfection instead of reality. While I worked I continually thought of that old cliché, that the more things change, the more they remain the same.
How does it feel to present these works in Venice, where the heritage of Catholicism is still so evident?
I love the idea that you can view my portraits of Mary in an art venue in Venice, and then walk around the corner to a local church and see her again. My project is not as much about religion as it is about idolatry and the ways society creates myths and false images about women. I imagine that everyone will see it through their own lens, based on heritage and personal experience, as well as religious background and gender. A male, Catholic friend of mine told me that I should expect only black-and-white reactions, love or hate with no in-between.