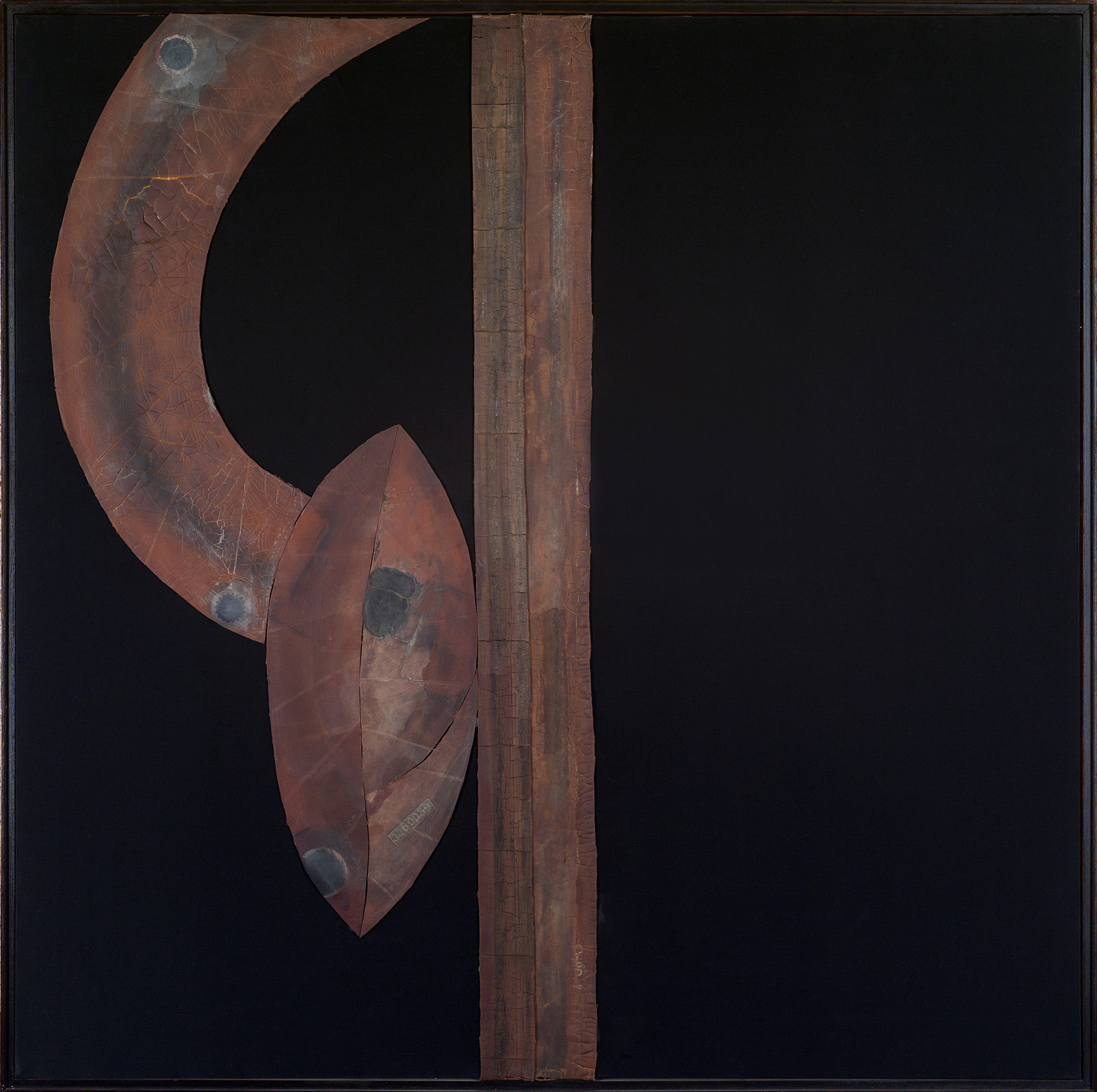 When some of the most iconic artists of their generation come to town, the need to visit seems almost automatic, regardless of their seeming omnipresence. Luckily, in this case, Anselm Kiefer and Richard Serra are presenting works that deviate from the norm, while emerging painter Autumn Ramsey makes her European exhibition debut and an exhibition based around the theme of "recycling" draws connections across the decades.
ReCycle at Chantal Crousel
This group show spans a period of production as broad as 1942 to 2017 and revisits the history of assemblage and the notion of recycling as a relatively recent art historical development. Despite featuring seventeen artists (ranging from Kurt Schwitters to Thomas Hirschhorn), the exhibition feels sparse. Each piece is accorded a neat portion of space, almost in acknowledgement of their wildly varying pasts and potentialities. Carol Rama's Spazio Anche Piú Che Tempo (1970) features a bicycle tyre inner tube fashioned into a distorted abstract form, which is reminiscent of her family factory in Italy. It sits somewhat incongruously alongside Isa Genzken's Untitled (2012); a child mannequin accompanied by a stuffed toy monkey on a stool. Beyond any immediate disharmony, the pieces in this show are comfortably tied together through the unique practice of recycling objects, where questions of value, history and political influence are brought to the fore through their contextualization.
Until 21 April
Neïl Beloufa—Promotion at Galerie de Multiples
This somewhat atypical format sees Galerie de Multiples serve, quite literally, as a promotional space for Beloufa's film release, Occidental. The artist––who is surely one of the busiest in all of Paris due to a concurrent, sprawling solo show at the Palais de Tokyo (until 13 May)––has created forty unique silkscreen film posters, with a selection exhibited in the gallery while the film trailer plays on a loop. Occidental will be screened in cinemas across the city at the end of the month, but in this moment the prints illustrate Beloufa's transmedia approach, which supports his semi-encyclopaedic investigation into the dissemination of images that influence our perception of power and politics.
Until 28 April
Anselm Kiefer—Für Andrea Emo at Thaddaeus Ropac (Paris Pantin)
It feels like barely a year goes by without an Anselm Kiefer show in Paris (Musée Rodin, 2017; Centre Pompidou, 2016; Gagosian 2013; Thaddaeus Ropac, 2012). Yet I couldn't resist exiting Paris by bike, heading north along the canals to see his colossal works suspended in Ropac's bright, airy suburban outpost. This former sheet metal factory's industrial past seems fitting for this atypical body of work, entitled Für Andrea Emo (for Andrea Emo, the Italian metaphysician). The exhibition features a number of old paintings that inspired such disdain in the artist that he poured sheet metal onto their broad surfaces; creating thick dark scabs which peel back to reveal glimpses of their former forms. There is something vaguely post-apocalyptic about the thick metal crusts which drown and obscure the bucolic scenes. Kiefer (who pledges allegiance to the 19th-century poet Baudelaire) calls them "festering sores" but there is something equally mechanical to their metal form, something that is less organic and more insidiously machine-driven when viewed in the present moment.
Until 31 May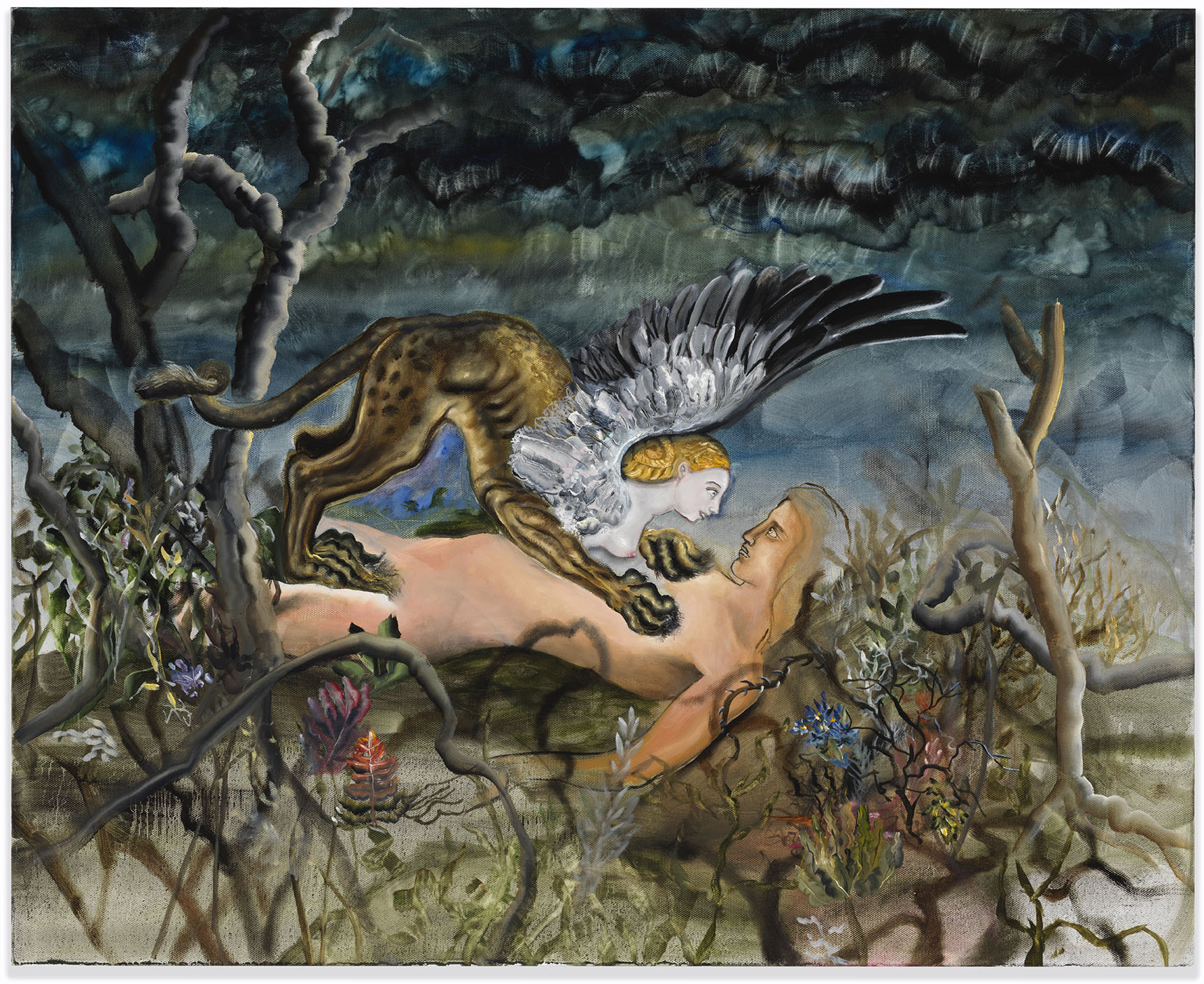 Autumn Ramsey at Galerie Crèvecoeur
This is Autumn Ramsey's first show in Europe, having previously exhibited almost exclusively in her local Detroit. This general air of mystery is only enhanced by the painted mythical figures and ferocious creatures that she calls self-portraits. Starting with an explicit reference to the 19th-century French painter Gustave Moreau, before moving through a range of more simplified, almost parochial styles, the question of self-perception through painting is treated with an unsettling poignancy. This cacophony of carnivorous animals adorn the walls alongside more traditional, yet startlingly stark portraits that depict the artist as both predator and prey.
Until 28 April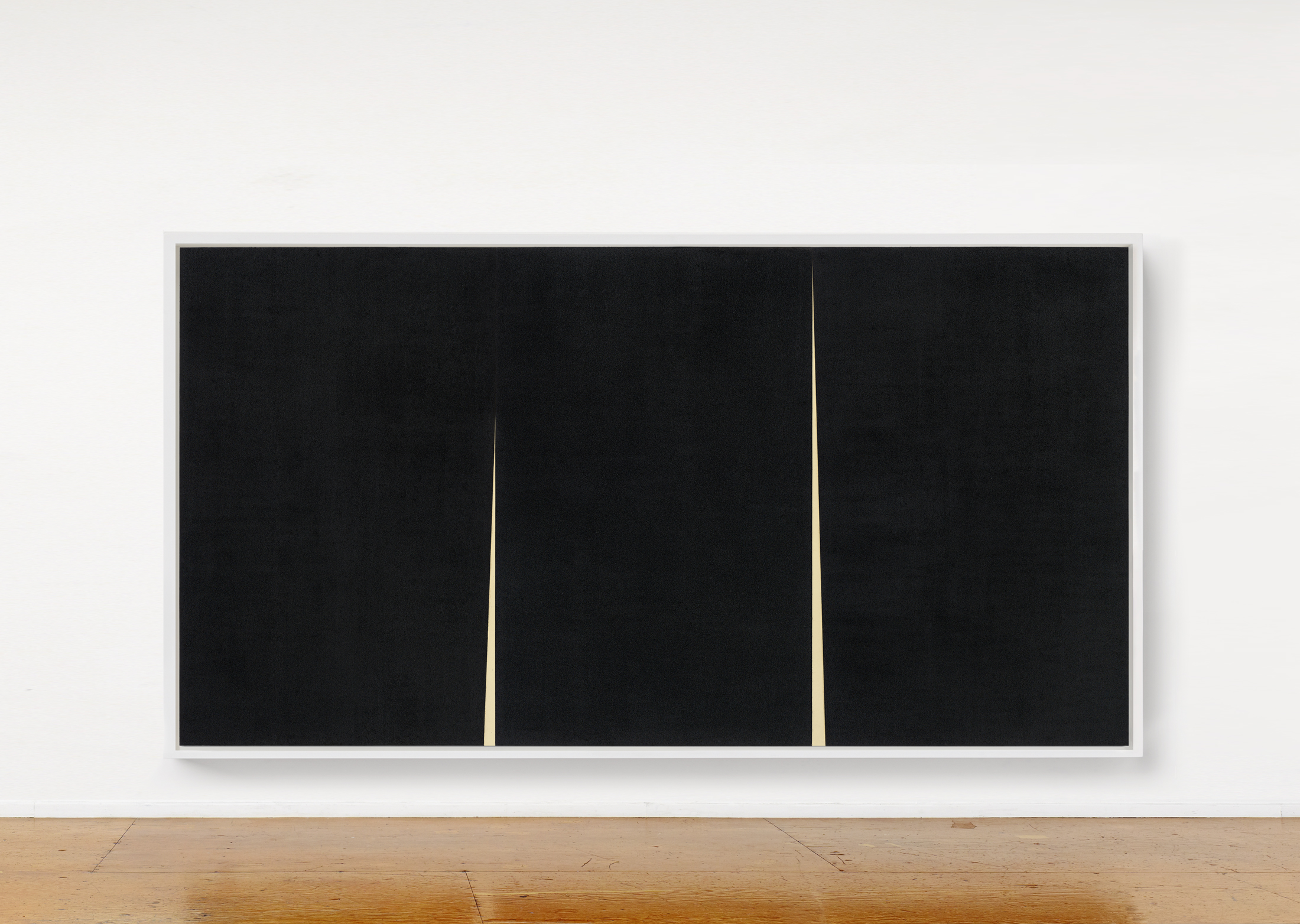 Richard Serra—Double Rift at Galerie Lelong
Richard Serra may be best known for his colossal sculptures––their imposing mass warps the ways we inhabit the space that surrounds them––but the prints now on show at Galerie Lelong's Paris space share a similar gravity. While his sculptural pieces impose themselves either as a literal blockade to the space that they occupy, these prints, created with viscous oil stick and silica, are equally commanding. The dense blackness of his Double Rift series mirrors this idea of obstruction while the small slivers of white––the rifts––provide small interstices to the seemingly impenetrable surface.
Until 18 May