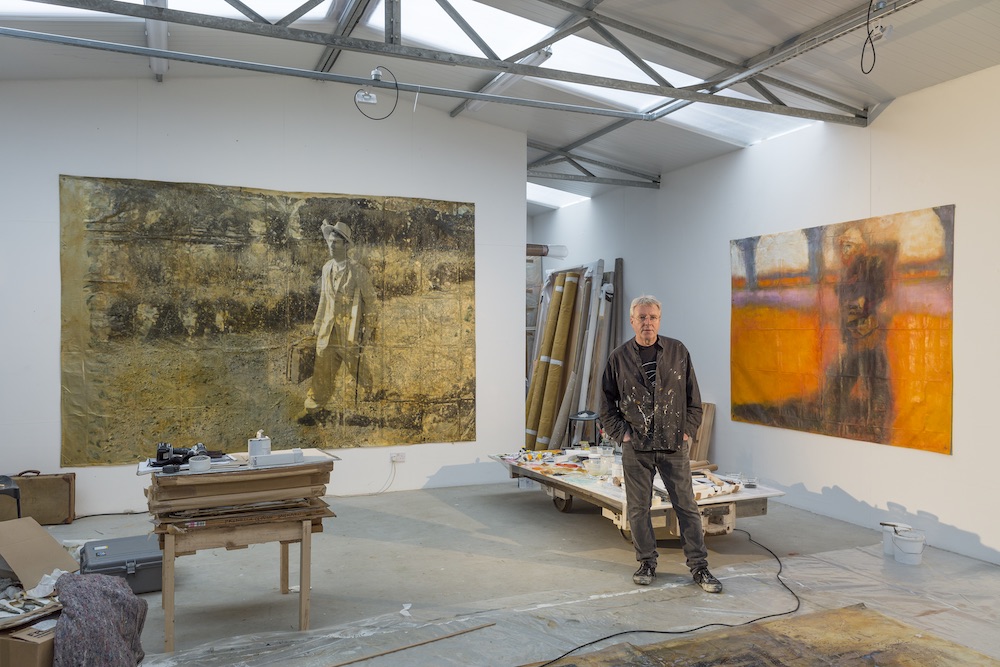 I first came across Hughie O'Donoghue's work as a young critic when, in 1989, I went to review his solo show, Fires, at Fabian Carlsson. I can still remember the profound effect his intense semi-abstract paintings, with their old master blacks and fiery oranges, had on me. The late eighties were the high point of irony. Goldsmiths, where O'Donoghue did his masters, was the driving force behind this knowing, often conceptual approach to art. But these works were different. They hit you in the solar plexus. Clutched you around the heart in a way that completely eschewed fashion. Here was someone who cared about painting. Not only the substance and materiality but also the emotional, poetic and philosophical depths that paint could explore. In an age of the too-clever-by-half, here were works that, unapologetically, looked back to art history, pitting themselves against the greats. Edgy, authentic, visceral, they reverberated with that sense of "terrible beauty" referred to by WB Yeats in his poem, Easter 1916.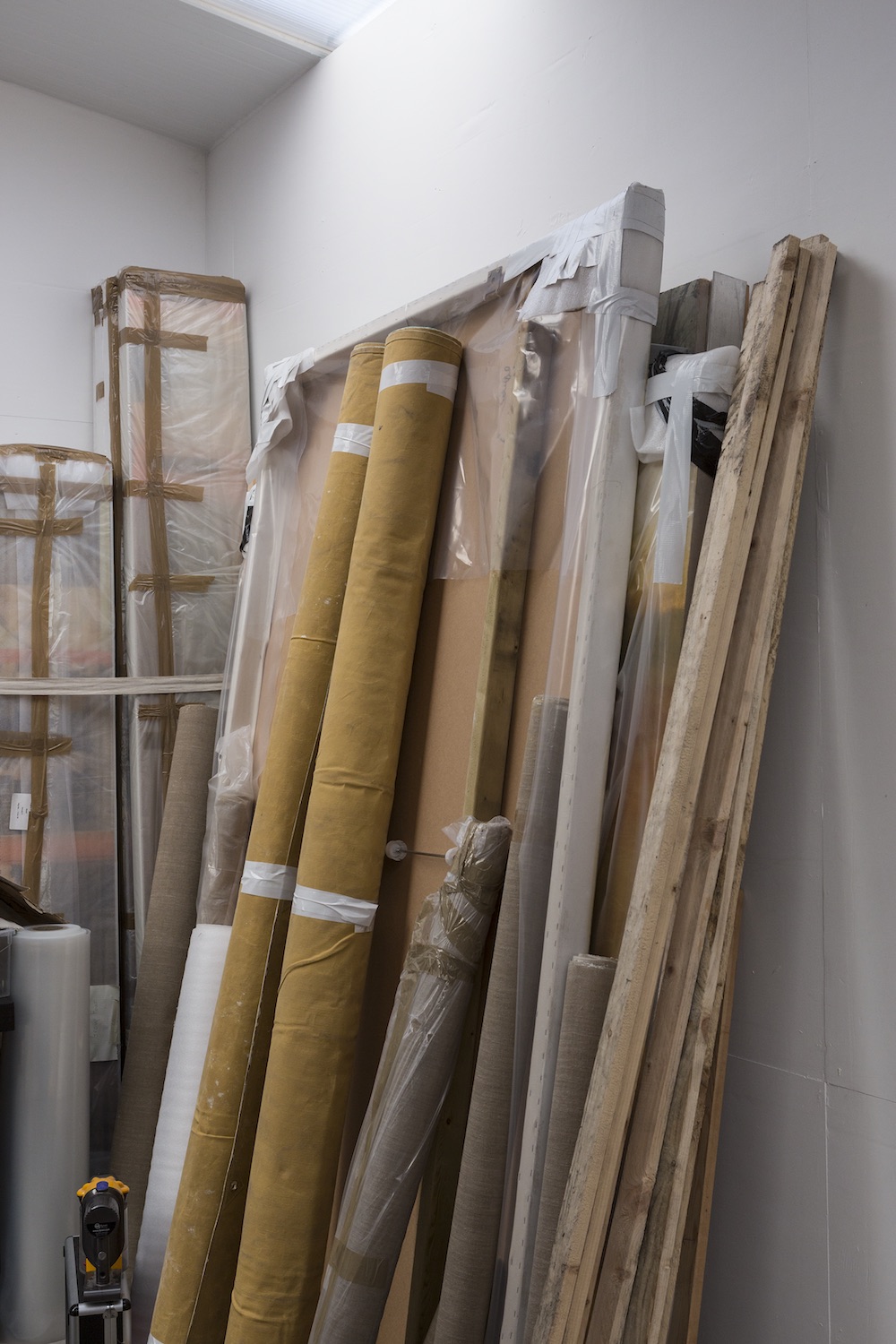 Since then I've got to know O'Donoghue and his wife, Clare, well. I've written about him on several occasions, talked to him for hours about his work in his different studios, always impressed by his deep knowledge of and commitment to painting.
"The conceptual context in which I grew up killed painting. Van Gogh talked of himself as a painter, not an artist. You can't make a conceptual painting, it's a contradiction"
Today we are speaking about his new show at Marlborough Fine Art in London, Scorched Earth, which takes as its starting point Van Gogh's lost painting—The Painter on the Road to Tarascon—which O'Donoghue believes was destroyed in a fire during the Second World War. The exhibition is a tribute to Van Gogh, to the idea of Van Gogh and his passionate, idiosyncratic commitment to painting.
"It's the last two years of his life that were so significant," O'Donoghue says. "If he'd died before the final paintings we may well not have known who he was. Those last paintings are truly revolutionary." Van Gogh is, for him, the painter who stands in contradiction to so much in the contemporary art world: the commercialization, the razzmatazz, the conceptual theory. "Van Gogh painted without fear," he says. "The conceptual context in which I grew up killed painting. Van Gogh talked of himself as a painter, not an artist. You can't make a conceptual painting, it's a contradiction. You must give yourself up to the process. Subjects emerge slowly, like archaeology. Van Gogh felt that he sacrificed his sanity for his painting. He had a brilliant intellect but was plagued by mental health issues. He might have been bipolar or suffering from the effects of syphilis, but he still managed to peruse his painterly vision. Painting provided solace, but it was also visceral, felt, direct. Conceptual art developed with Marcel Duchamp as a response to the slaughter in WWI. It grew out of a loss of certainty, a loss of faith. It represented the end of an era."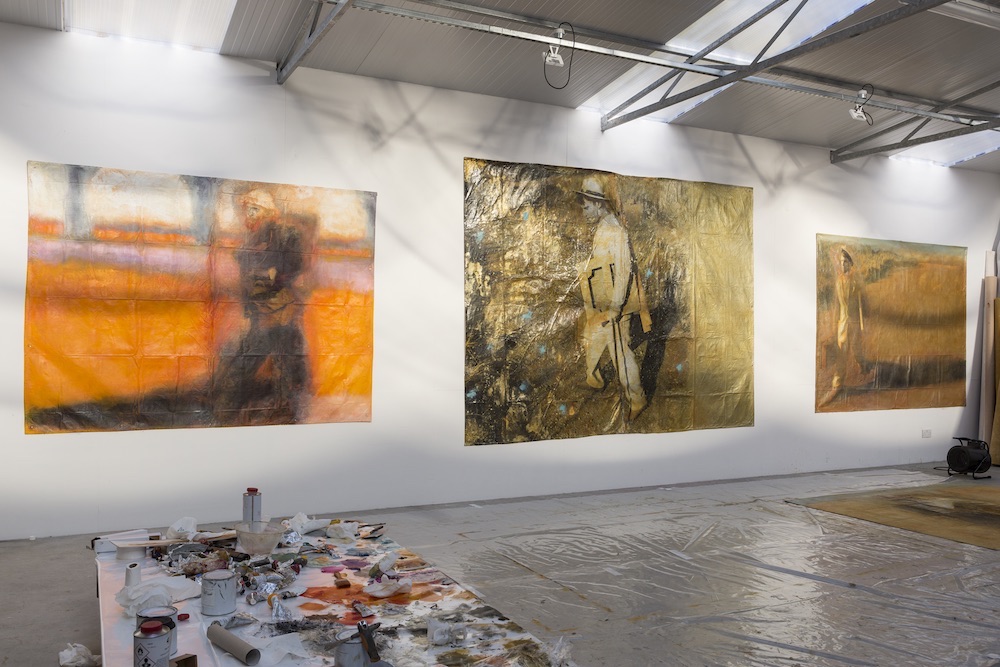 The figure of Van Gogh, walking alone on a hot day is, for him, that of the everyman. He makes no real attempt to paint a portrait or capture an exact likeness but rather attempts to distil or capture Van Gogh's essence. "The lonely figure striding out down the road represents the individual journey that we all make, particularly the artist, through life." In his large tarpaulin painting, Hammering the Earth, the model is O'Donoghue's son Vinnie. He wears his father's suit and is carrying his great-grandfather's cardboard case and his grandfather's cane as he makes his way along the road outside the studio in County Mayo, Ireland. There are layers of meaning here: the solitary quest of the artist, the image of migration from rural Ireland. O'Donoghue's own grandfather left Kerry to work on the railways in Manchester in 1911. From the hot orange of the painting Lavender Field, the image of what might be a soldier emerges. The figure is that of a French Poilu, an infantryman, a farm worker from the fields—the nickname means hairy one—which mirrors his own father's wanderings through wartime France. Thus son, father and grandfather form a web of connection between O'Donoghue and Van Gogh.
Among the most powerful works at the Marlborough are the series of heads. Bald, wild-eyed or covered in a bandage, these expressionistic paintings show what it might have been like to inhabit the mind of the disturbed genius. I mention Dostoyevsky's Idiot. "Yes", says O'Donoghue, "there's something of the innocent savant about them."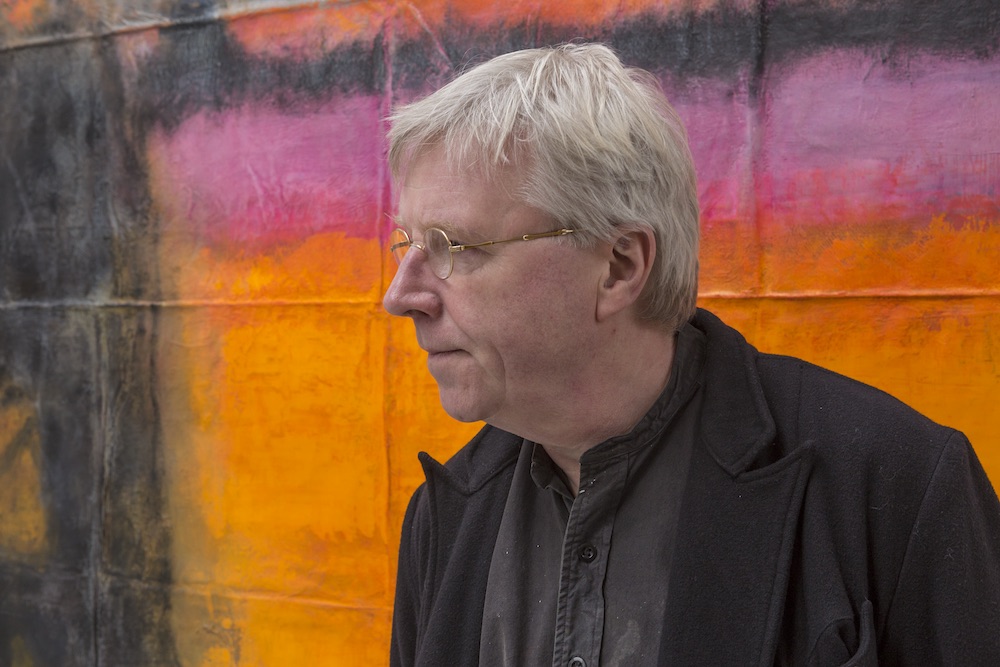 For O'Donoghue, being a painter is a serious business. The subject is important as it acts as a trigger, an anchor point. Van Gogh is a valid subject because he's an example of what is purest in art. "He always called himself a painter, not an artist. When I was at art school irony was the only show in town, but painting establishes meaning differently to conceptual art. It's visceral and physical. There's a quote by George Bernard Shaw that's relevant here: 'Revolutions have never lightened the burden of tyranny, they have only shifted it to another shoulder.'"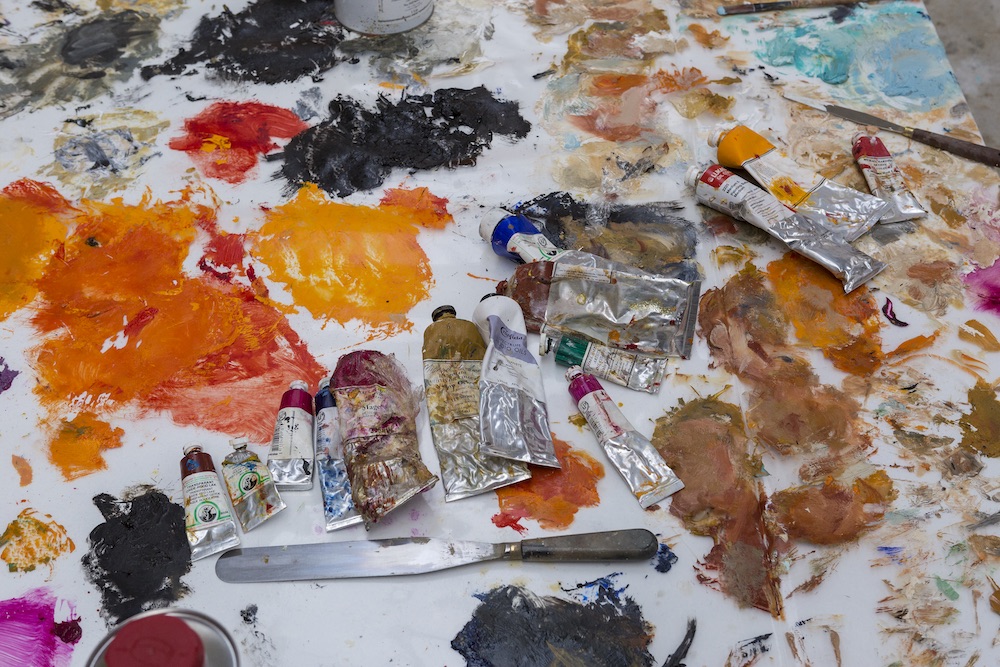 It was as a teenager that O'Donoghue first saw Van Gogh at Manchester Art Gallery. "They happened to have on loan one of the first pictures he made in Arles." A tree in blossom in the snow. Then, at twenty, he made a pilgrimage to Arles. Since then Van Gogh has been his barometer. "A touchstone, a real painter, with a sense of the material: the mud that is paint. What's so important is that he invented new genres. The painting of his chair, for example, is a portrait. No one had done anything like that before. These aren't conceptual paintings. They deal with memory, the resonance of ordinary things. Van Gogh imaginatively reconstructed the world and defined what it is to be a modern painter."
Photography © Anthony Hobbs
Hughie O'Donoghue: Scorched Earth
From 14 March until 14 April 2018 at Marlborough, London
VISIT WEBSITE