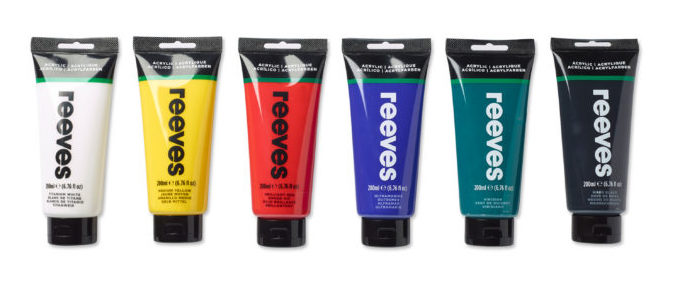 Compared with some other paint materials, acrylic is a relatively young medium. Invented in the 1930s in Germany, it gained popularity in the 1950s thanks to the innovative new Liquitex brand, whose water-based 'liquid texture' gave it new stability and versatility. Unlike oils, acrylic is fast-drying while still layering well and is easily diluted with water to create vibrant transparent finishes more akin to watercolour.
Acrylic also maintains integrity with its 'fresh out of the tube' colour, regardless of whether the surface it adheres to is paper, card or canvas. When first made available, it was also an excellent alternative to the potentially dangerous fumes associated with oils at the time.
Unsurprisingly, this vibrant new medium was hugely popular with the Pop Artists of the 1950s and 1960s, who appreciated its capability to convey vast, flat sections of unadulterated colour. David Hockney used it to create many of his famed splash paintings, which articulate sun-drenched Californian scenes, while painters such as Barnett Newman and Bridget Riley used it to explore conceptual understandings of colour.
"The medium is also a great match for creatives who want a cost-effective way of experimenting"
Nowadays, the capabilities of acrylic have increased even further. Fluorescent hues are readily available and the paint can adhere to more unusual surfaces including wood, fabric and metal. The medium's relatively inexpensive nature also makes them a great match for creatives who want a cost-effective way of experimenting.
For example, Julie Verhoeven combines acrylic, poster paint, pencil and more in her vibrant designs for the fashion world, while France-Lise McGurn paints directly onto gallery walls with a combination of spray paint, oils, markers and acrylics.