Box of Delights
This is a beautifully packaged introduction to the world of oil painting. This gorgeous wooden box contains paint, brushes, additives and a palette, opening up a realm of possibilities for colour-mixing and experimentation with techniques. Ten tubes of pigment-rich, long-lasting paint sit alongside linseed oil and gloss painting medium, giving you (or perhaps the lucky recipient of this gift) scope to create truly amazing work.
Lefranc Bourgeois Fine Oil Colour Gift Set, £59.99
Fresh as a Daisy
Inside a lovely wooden box, you'll find 12 watercolour half pans and a ceramic palette in the shape of a daisy. Suitable for artists of all abilities, this set is a wonderful way to explore working with watercolours, whether you prefer to paint in a studio or the great outdoors. A dozen colours are included: Yellow Ochre, Lemon Yellow, Cadmium Yellow Light, Raw Sienna, Burnt Umber, Intense Blue, Ultramarine, Viridian, Purple Lake, Cadmium Red, Chinese White and Payne's Grey.
Lefranc Bourgeois Fine Watercolour Gift Set, 12 Tubes and Accessories, £49.99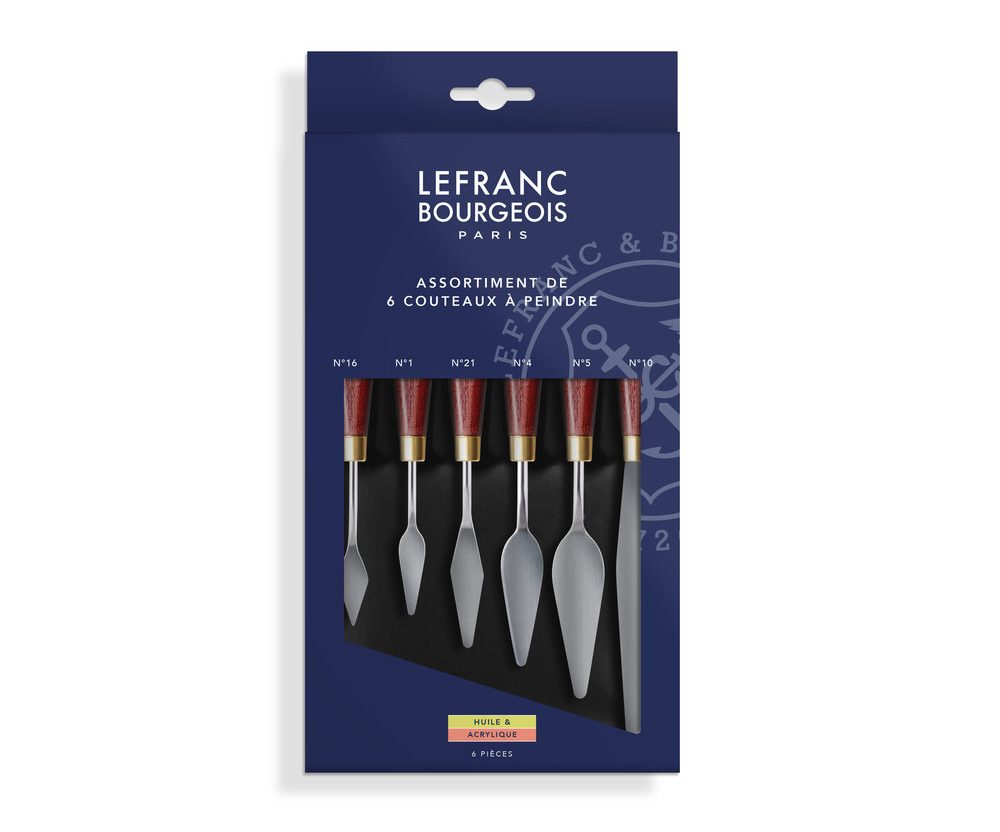 Knife Skills
Following your journey as an artist may mean more than paint and brushes: palette knives give you the power to create new textures, mix up oils and acrylics, or move paint around a canvas. This set of six lightweight knives feature wooden handles and brushed stainless steel flexible blades. As well as paint, they can be used with clay, plaster, paste and gels.
Lefranc Bourgeois Painting Knives set of six (No1, No4, No5, No10, No16, No21), £19.99
Six Pack
Five years ago, Lefranc Bourgeois completely modernised its Linel extra-fine gouache paint. The 78-colour range now contains five cadmium-free colours, as well as metallic shades. This set of six tubes is an ideal sample of the high quality of the product: each colour is light-resistant, long-lasting and can be used on wood and cardboard as well as paper and canvas. The colours included are Primary Red, Primary Blue, Primary Yellow, Carmine Lake, Titanium White and Ivory Black.
Lefranc Bourgeois Extra Fine Gouache Set (Primary), £23.99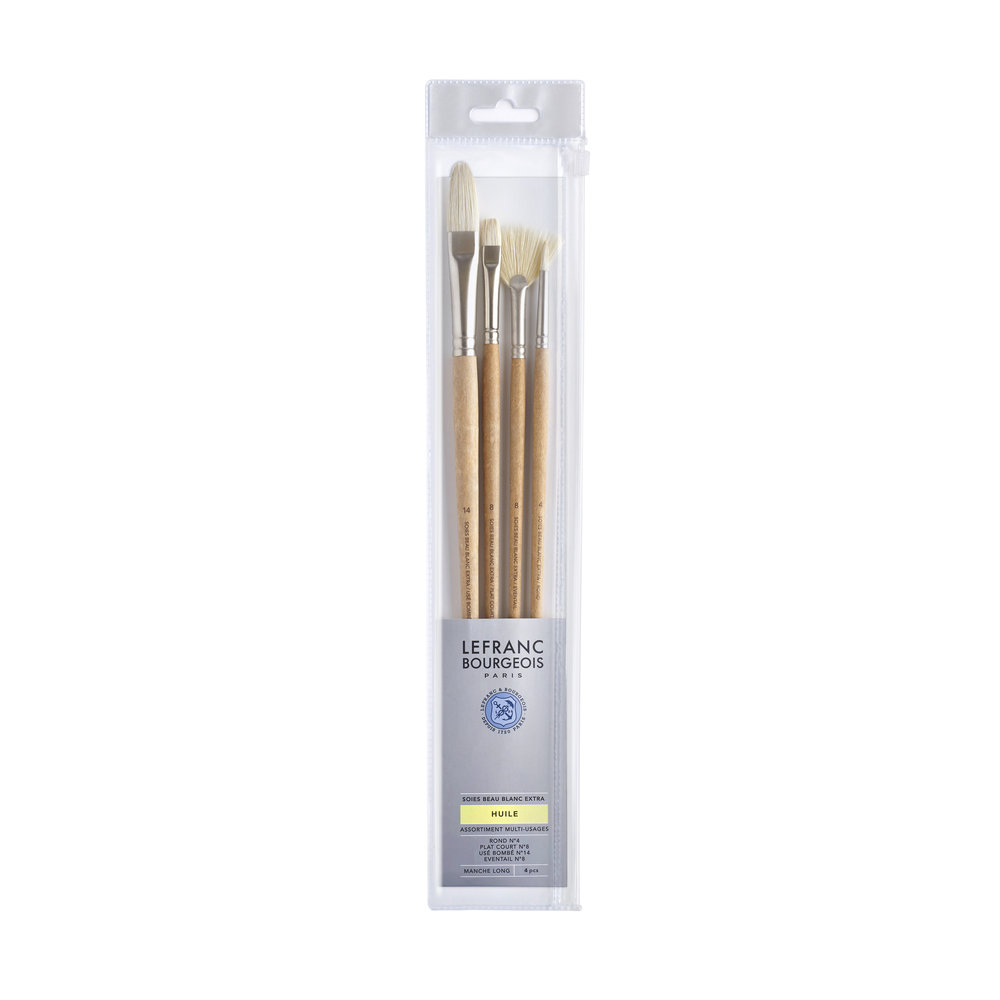 A Brush with Greatness
We're thrilled to be stocking Lefranc Bourgeois products in Elephant Kiosk, and this new set of oil-painting brushes highlights the amazing quality for which the brand is renowned. Birchwood handles ensure a comfortable grip, while the bristles are held in place with matte nickel ferrules. The brushes are ideal for blending, lines, details and broad strokes, and this set comprises a round No 4, bright No 8, fan No 8 and filbert No 14.
Lefranc Bourgeois Professional Oil Hog Brust Set of Four, £14.99
Just in Case
When the paint case is beautifully designed, it inspires you to create amazing artwork with the contents. This set of 24 watercolour half pans comes in a wonderfully curved durable dark blue metal travel case, including a thumb ring for improved grip. It's ideal for painting outdoors and colour-mixing, and there's even a special QR code on the back of the packaging that links to watercolour tutorials. The set also includes two palettes and a No 8 brush.
Lefranc Bourgeois Fine Watercolour Set of 21 Half Pan, £34.99
New Kids on the Block
Fancy giving block printing a go? This starter set contains everything you need. It's simple to get going: use the two V-shaped gouges (No 9 and No 11) to carve your chosen shapes or patterns into the linoleum block, roll on your ink and start printing. A tube of Night Blue ink is included, but Lefranc Bourgeois also produces a complete range of colours.
Lefranc Bourgeois Studio Lino Blockprinting Starter Set, £49.99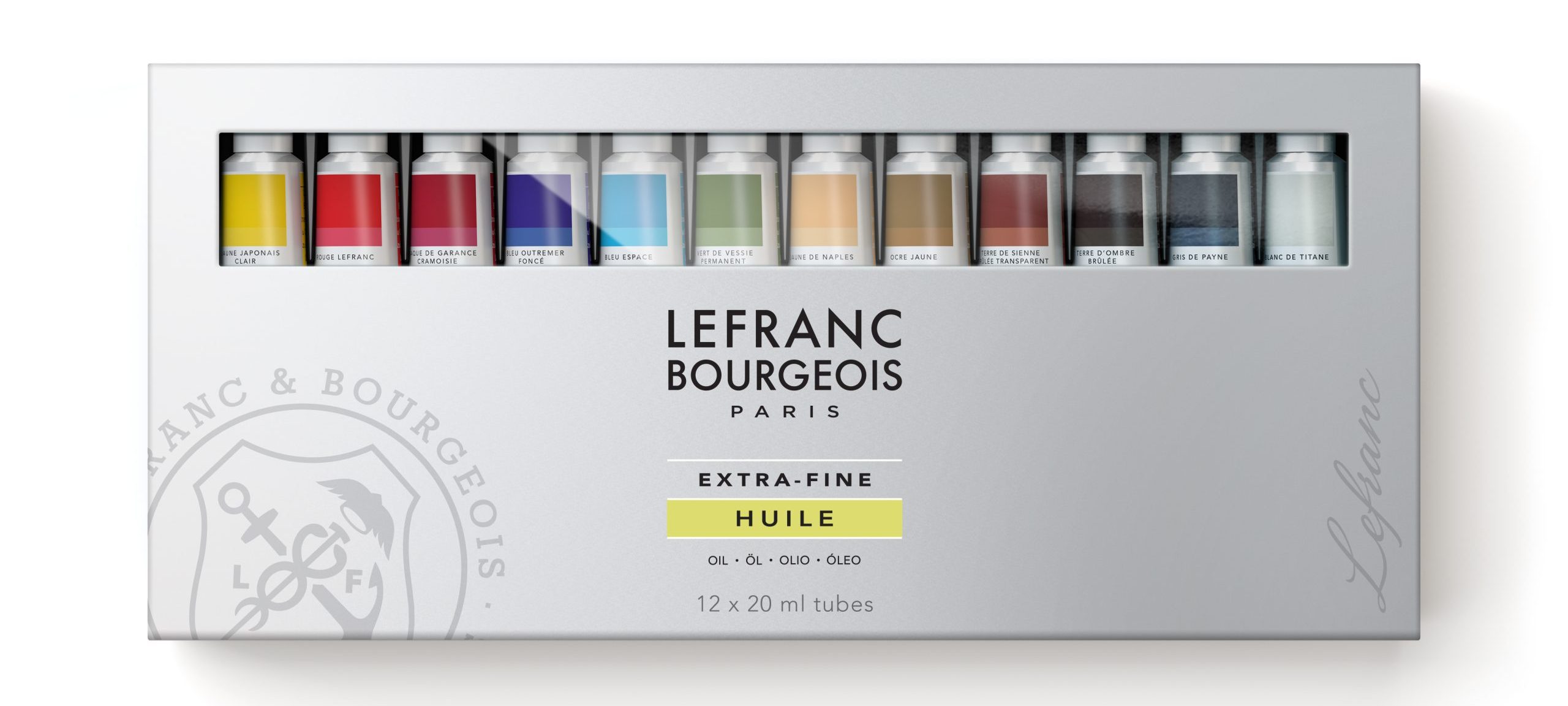 Smooth as Silk
Elephant Kiosk is one of the only UK stockists of Lefranc Bourgeois artists' materials. The brand is well-loved in the art world, and with beautifully produced colours such as these oils, it's easy to see why. The paint is formulated to provide excellent coverage, with a pigment-rich, smooth, thick consistency. The dozen tubes in this set cover the key areas of the spectrum, but if you become a fan of Lefranc Bourgeois, there are 120 colours to experiment with in the complete oil range.
Lefranc Bourgeois Extra-Fine Oil Set 12x20ml, £41.99
As Quick as a Flashe
Flashe paint was originally formulated for use on stage sets, although it's now widely known in the art world, and Lefranc Bourgeois is one of the medium's foremost manufacturers. Flashe is similar to acrylic, but is made from vinyl, which results in a more flexible, supple paint that will dry without brush marks. Flashe brings out the intensity and luminosity of pigments, and this set (exclusively available from Elephant Kiosk) contains the essential primary colours.
Lefranc Bourgeois Acrylic Flashe Vinyl 80ml Starter Set, £33.49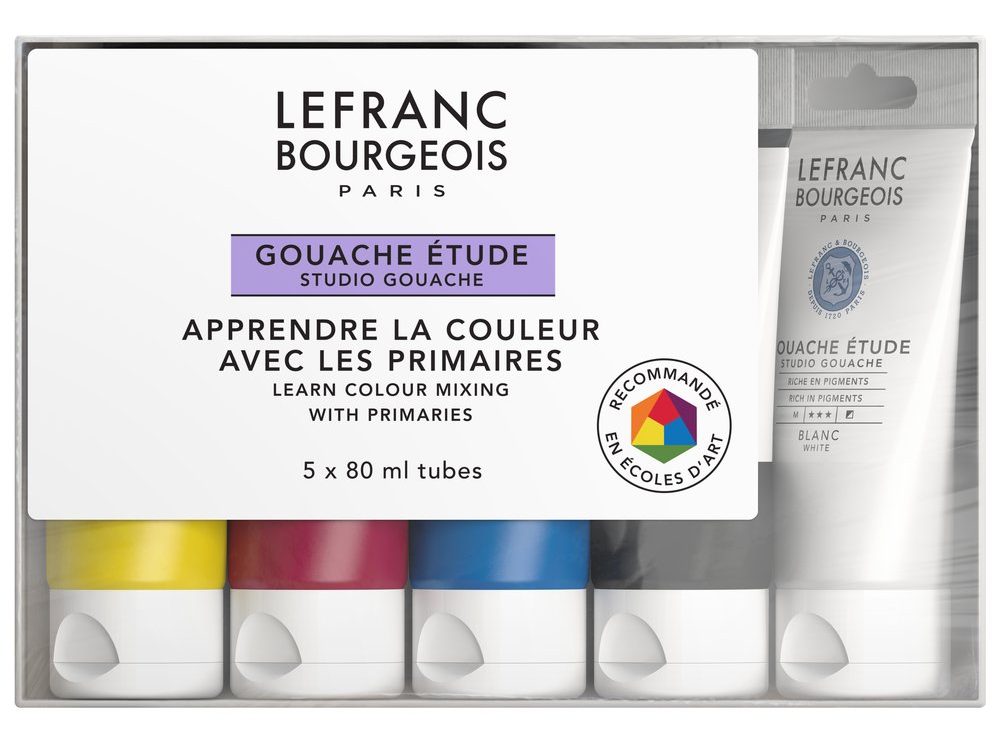 Make a Splash with Gouache
Gouache is almost the best of both worlds: it goes on like watercolour, but dries with an opaque, matt finish. The five tubes in this Lefranc Bourgeois gouache set comprise the essential colours: three primaries, plus black and white. The water-based paints are also washable, making them an excellent choice for home and school.
Lefranc Bourgeois Studio Gouache Set, 5 x 80ml, £19.99
Lefranc Bourgeois
Available from Elephant Kiosk
EXPLORE NOW