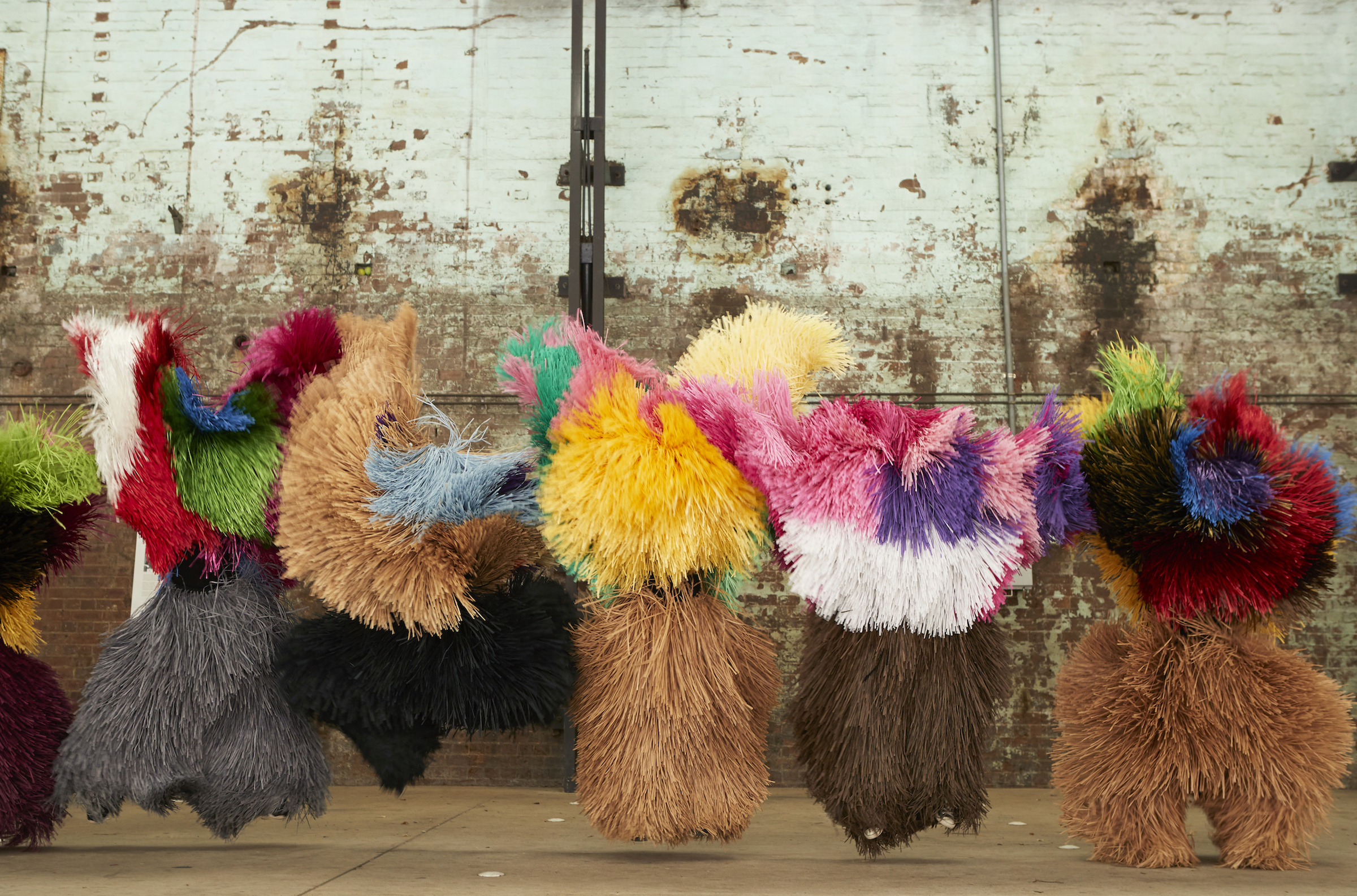 "The mobilization of bodies can be just as powerful as the weather if we want it to be." Nick Cave—not to be confused with a certain vampire-like crooner—makes joyful art that is politically punchy. I first encountered his "soundsuits" in the flesh during Expo Chicago in 2017. At the opening event, a whirl of performers all dressed in Cave's vibrant outfits appeared in a flurry, shaking their thick, brightly patterned "fur" in time with drumbeats and the sounds of percussion instruments. The human forms hiding underneath these tubular figures were obscured, their faces covered in long, hair-like texture that was patterned in bright stripes and blobs, as they waved their arms in the air and bopped through the crowds.
"Energy and play are at the forefront of this, not judgement"
At the front of the procession, the performers moved in terrific time with the beat, energetically thrusting their limbs in all directions. Towards the back, a hilarious straggle of creatures followed along, spiralling around, apparently having a more difficult time with their impaired vision; their hands waved no less enthusiastically as they wobbled and careered towards the crowd, guided in the right direction by a few dressed-down handlers.
It was a joy to behold, shaking up the standard fair format—corridors lined with booths, hushed mingling—with a powerful blast of life. This procession was in fact the end of a live performance in which Cave's soundsuited figures interacted with items made by architect Jeanne Gang's studio.
As well as bringing a certain uplift to proceedings, the suits have a higher purpose. Modelled on Cave's own build and scale, they are intended as camouflage. Rather than making the wearer blend into their surroundings however, their objective is to conceal the appearance of the human inside—to make their gender, race and class unidentifiable—and allow a space for the viewer to look "without judgement".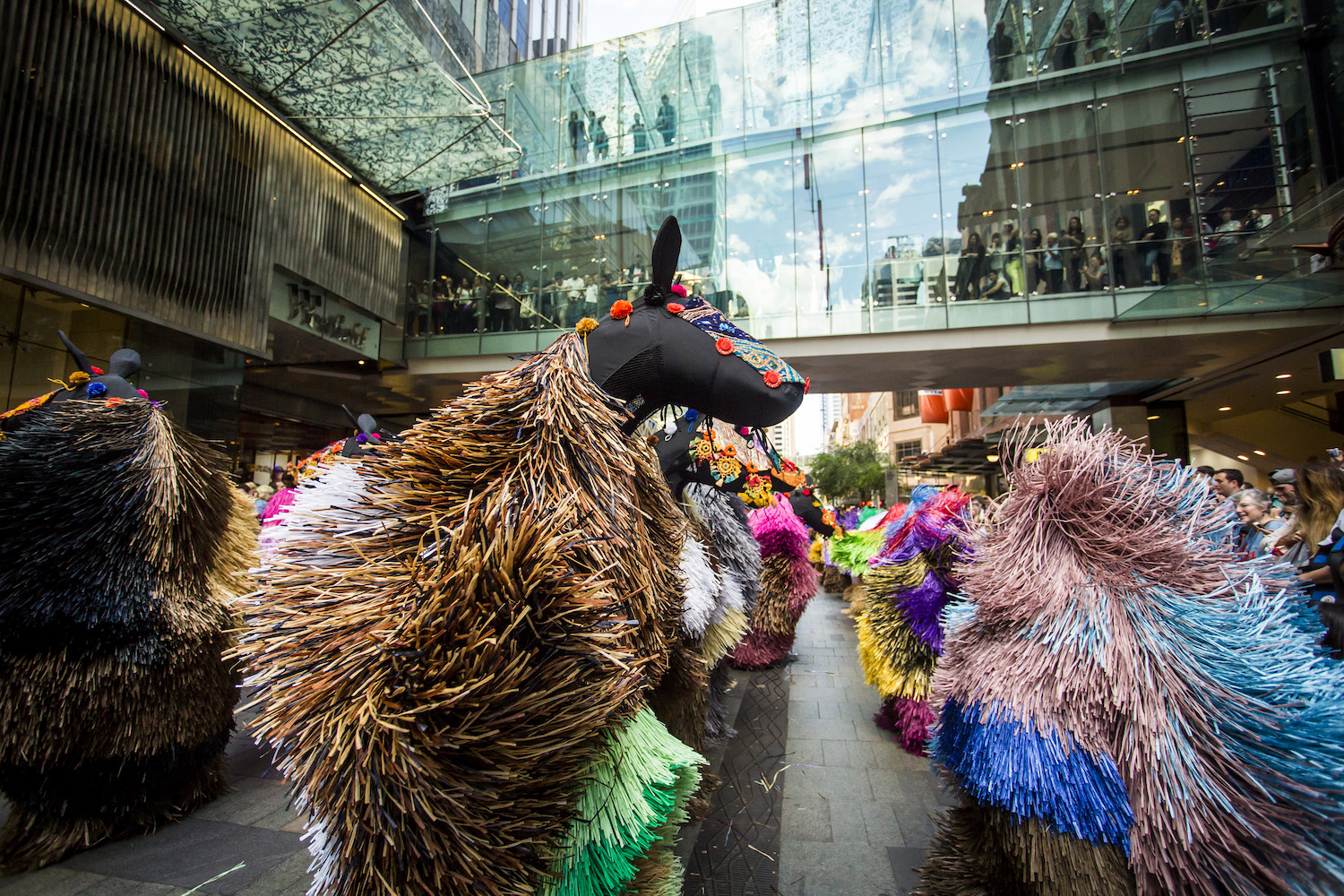 The suits call to mind the appearance of childhood monsters, aliens and fantastical creatures. Some are tall, colourful and fluffy, as seen in Chicago, while others feature deep hoods, enormous furry tondos where the face might ordinarily be, and floral embellishments. They often link with other series that the artist has created, such as wall-based sculptures, breathing more life into his static works. They appeal to the inner child within the viewer, taking us back to a time when we also might not have categorized people via external identity markers. Energy and play are at the forefront of this, not judgement.
"As well as bringing a certain uplift to proceedings, the suits have a higher purpose"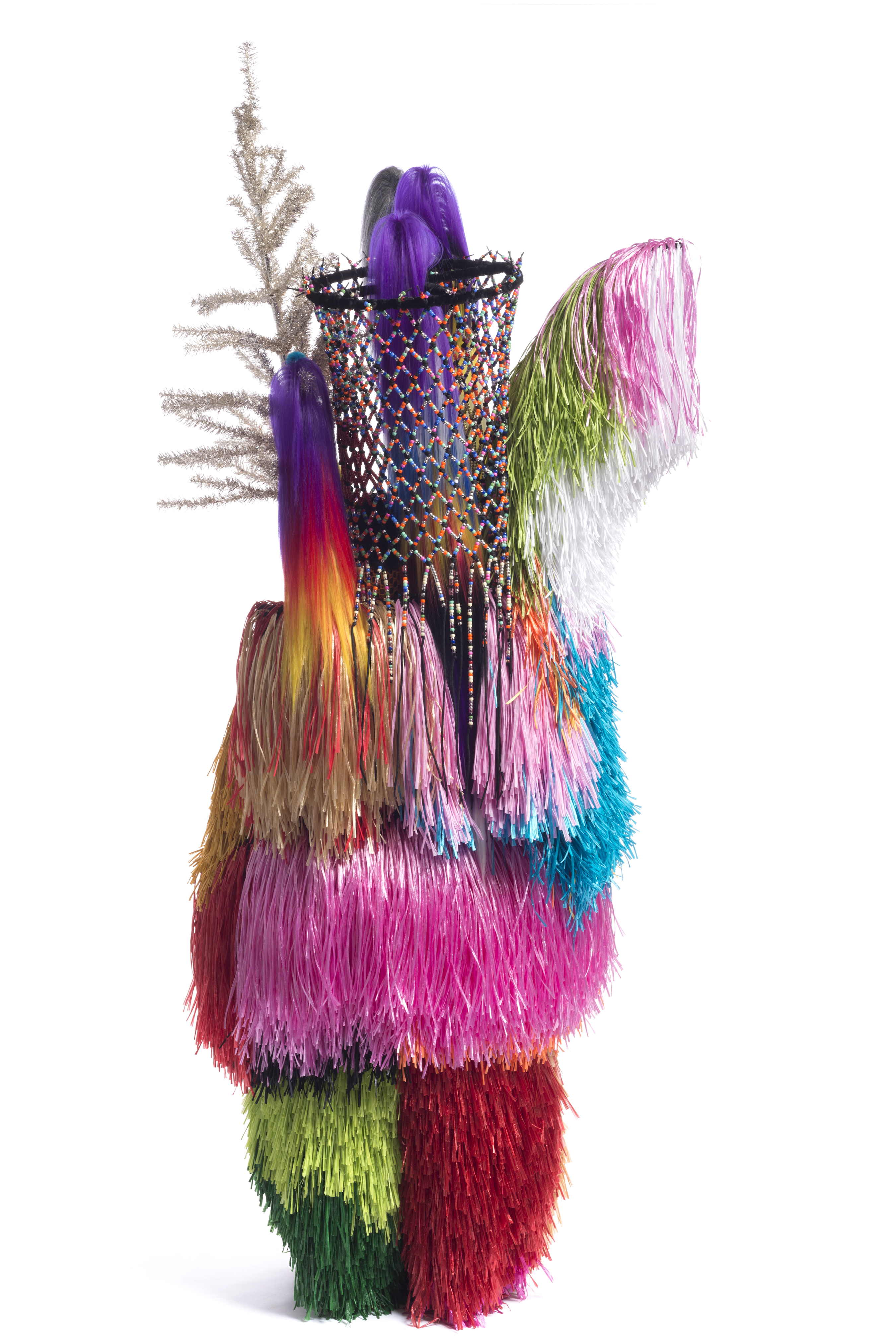 The idea for the suits came from a deeply political and personal place for Cave, in 1991. "It was a very hard year for me because of everything that came out of the Rodney King beating," he has previously said. "I started thinking about myself more and more as a black man—as someone who was discarded, devalued, viewed as less than. I started thinking about the role of identity, being racially profiled… dismissed. And then I happened to be in the park this one particular day, and looked down at the ground and there was a twig. And I just thought, well, that's discarded, and it's sort of insignificant. And so I just started then gathering the twigs, and before I knew it, I had built a sculpture."
The proceeding wearable sculptures utilised different fabrics and forms, often made from scraps Cave found in flea markets and thrift stores. "When I was inside a suit, you couldn't tell if I was a woman or man; if I was black, red, green or orange; from Haiti or South Africa," Cave has said. "I was no longer Nick. I was a shaman of sorts."