"Even in our deepest, most lasting friendships, we never speak as openly as when we face a blank page and address a reader we do not know."
Michel Houellebecq's words from the opening pages of Submission came to mind while walking through this year's Paris Internationale. The novel, a political satire, imagines a situation in which the Muslim Brotherhood party, who uphold traditionalist and patriarchal values, are able to win the 2022 presidential election in France with the support of the Socialist Party. The story unfolds through the eyes of a Huysmans academic, who is both resigned to solitude and desperate for a great love. The book was released just a few hours before the Charlie Hebdo shooting took place in January 2015, and the booths this year seem to be filled with mocking illustrations. Now, this may seem like a pessimistic starting point for a journey through Paris, but it highlights a feeling that pervades much of the work on show this week.
This year is the third edition of Paris Internationale, which is situated in an old parking lot that previously housed the headquarters of Libération, a newspaper co-founded by Jean-Paul Sartre. The walls are bare and the concrete ramps between floors are reserved for project spaces such as Sans Titre, Tonus and Section 7. Each floor has rough-walled lots that are fairly spacious, and booths are given to younger emerging galleries from all over the world (the fair runs parallel to FIAC, its blue-chip father-figure). At this edition the viewer has a sense of seeing the younger market developing for the fully fledged market, which in a time of recession seems necessary and key for survival. The booths are almost all macro-filled with works, objects that could easily be placed in the interior of their viewer's rooms. Yet at other times, one can see that they cater to a market of art enthusiasts, rather than the traditional eye of an art collector. The works are glittery, humorous and brash. Names like Louise Bourgeois, Sarah Lucas, David Cronenberg, Paul Mccartney, Paul Thek and the artist Chris Martin came up time and again when thinking of previous aesthetic trajectories. The latter, Chris Martin, has a breath-taking show at VnH Gallery, a short walk away from the fair on Rue Vieille du Temple, his acrylic glitter canvases map minimalist gestures with raw psychedelia—an almost impossible task, one might add.
"We are materialist and we need to desire this 'brand new crap' for the art world to continue, for better or for worse."
What is most interesting about this gesture of making for a market, is the satire the artists have bestowed upon the task. Pepo Salazar's video work at Galerie Joseph Tang spells it out perfectly. In his two-screened installation, the first screen includes various shots of a dildo and two potatoes in a plastic bag hung up, zooming in and out on this everyday pseudo-phallic object, alongside slow-motion footballers spitting globs of spit-cum. The second screen shows a poem, laid out in a karaoke-esque lyrical composition with phrases like "Among tons of always brand new crap"—a lofty statement to a fatal art market perhaps, but instead of lamenting it we should see and observe it for what it is. We are materialist and we need to desire this "brand new crap" for the art world to continue, for better or for worse.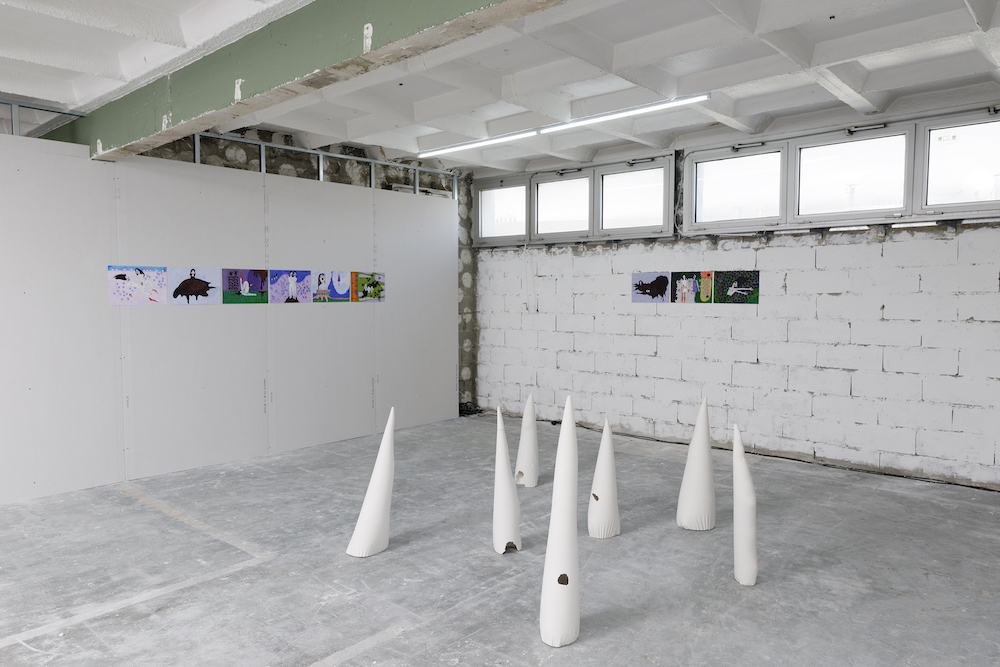 One of the most provoking pieces is shown at Arcadia Missa. Phoebe Collings-James's work is simply a group of white plaster cones with occasional fractured holes symbolizing, so readily, the eyes of the Ku Klux Klan. Collings-James blends minimalist sculpture aesthetics of the sixties into postcolonial unease and the ultra-contemporary need to discuss politics in art. Now under this pretense of seeing these objects as exhibited for our current salacious wants, we have to query why some of us want to own an object that is clearly made from the pain of oppression and fear of its resurgence and does this, in fact, perpetuate the market for these commodities: pain as profit.
"Are we, in fact, more addicted to that click-of-a-button terror-porn than searching for solutions to this sardonic visual world?"
I'm not insinuating that Collings-James is merely making these objects for profit, but wondering if these statements in art fairs are in fact part of the cycle of bootlegged abuse we live in every day. In a sense, we could also argue Houellebecq's novel probably sold more copies because twelve people died by the hands he prophesied in the literature that very morning, ironically those dead hands fervently penned pain for profit too with their outlandish depictions of Muslim, Jewish, Catholic and sexist rhetoric. The pervasiveness and complexity of cruelty in art and culture is not new, we may even be beginning to ask the question of whether violence and gore can still make an impact in this bludgeoning media environment. And are we, in fact, more addicted to that click-of-a-button terror-porn than searching for solutions to this sardonic visual world?
Chantal Acerman sheds light on exactly that pretext at Marian Goodman Gallery's Paris space. Shown for the first time in France and shot just before she died, NOW (2015) occupies the lower level of the gallery, enveloping the viewer with the sound of "fear, war, flight and imminent disaster" through the sound of gunshots, voices, horses and dirt roads. The five-screened installation catches the viewer in the speed of a desert terrain, it's assumed the footage has been filmed from a jeep and could have easily mapped a potential set for a western movie if we hadn't learned of the terror of Afghanistan and Iraq. The audience sees nothing but blurs of sand, rocks and the occasional sight of civilization (another jeep), the set-up dislocates the space between art, cinema and media coverage. There is no beginning no end, only an endless loop of imagery—fake, imagined or real, the experience of crisis is present for consumption and is likely to be for many years to come, not only in Paris but all over the world.