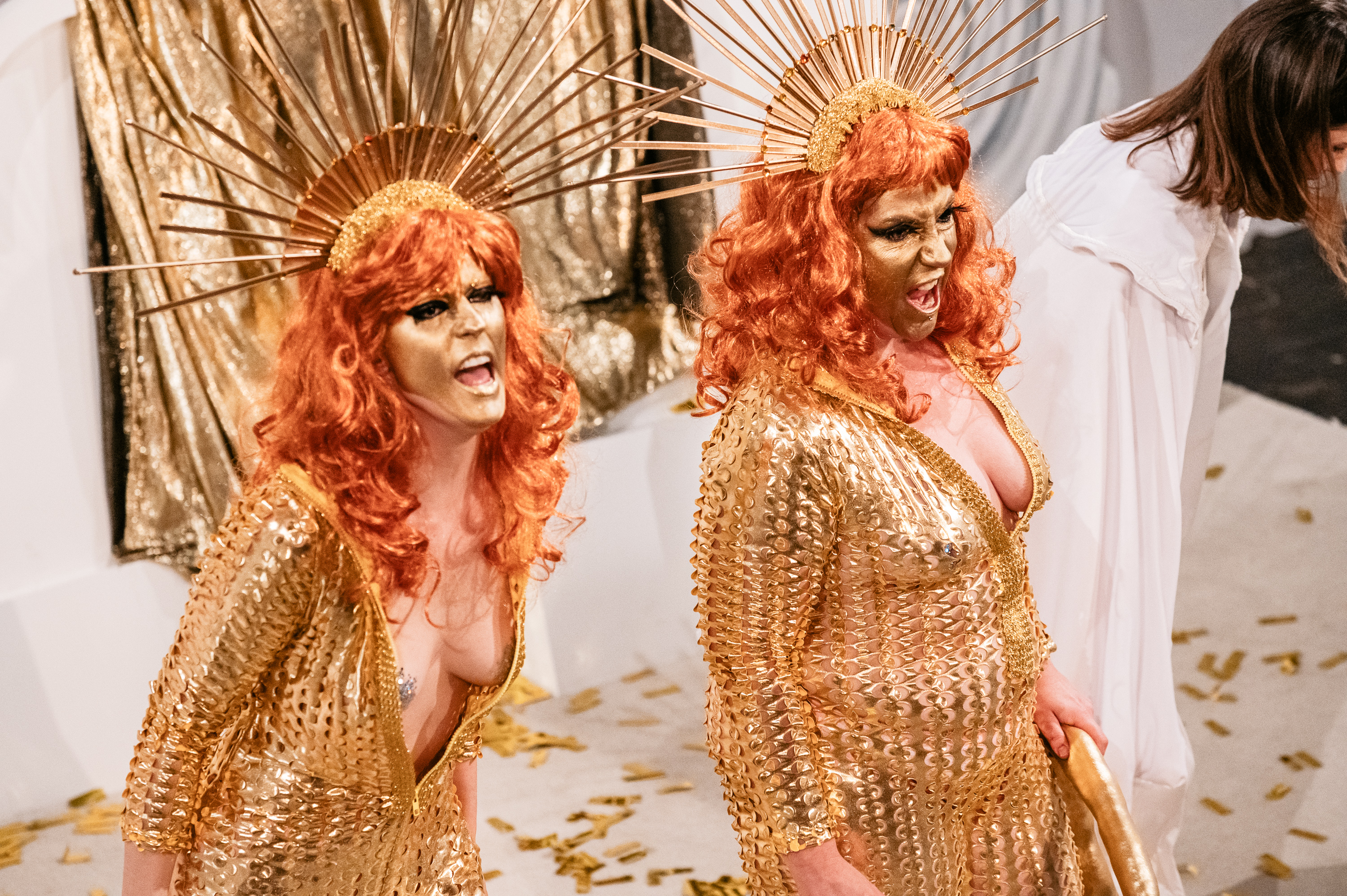 The last week has proved surreal on many levels. A few days ago, I walked past a man who was jovially applying gilt to an enormous corn-on-the cob; nearby, a young soprano was practising scales into her mobile phone; ivory-coloured snakes coiled voluptuously on the stone floor, unzipped to reveal golden innards; a heavy percussion section was assembled near a fairytale-style bed. This was my behind-the-scenes peek at London's Zabludowicz Collection, where LA artist Trulee Hall and crew were rehearsing her latest live/film work, Tongues Duel the Corn Whores, an Opera: the opening piece in the gallery's enticingly lavish season of contemporary artists' opera, Hot With Excess.
Meanwhile, the real-life drama of the COVID-19 pandemic has spiraled across public and personal realms; we're suddenly in a state of self-isolation rather than communal excess, and like countless cultural spaces, the Zab has had to make the decision to postpone Hot with Excess until further notice. This obviously feels like the right move, though it's also galling for everyone who's been developing this project over the past couple of years. Hot with Excess promises a vital convergence of disciplines: a modern subversion of "high art" constraints, as well as a genuine passion for opera's legacy, which dates back to the sixteenth century. When it does return, this season should feel more fired-up than ever.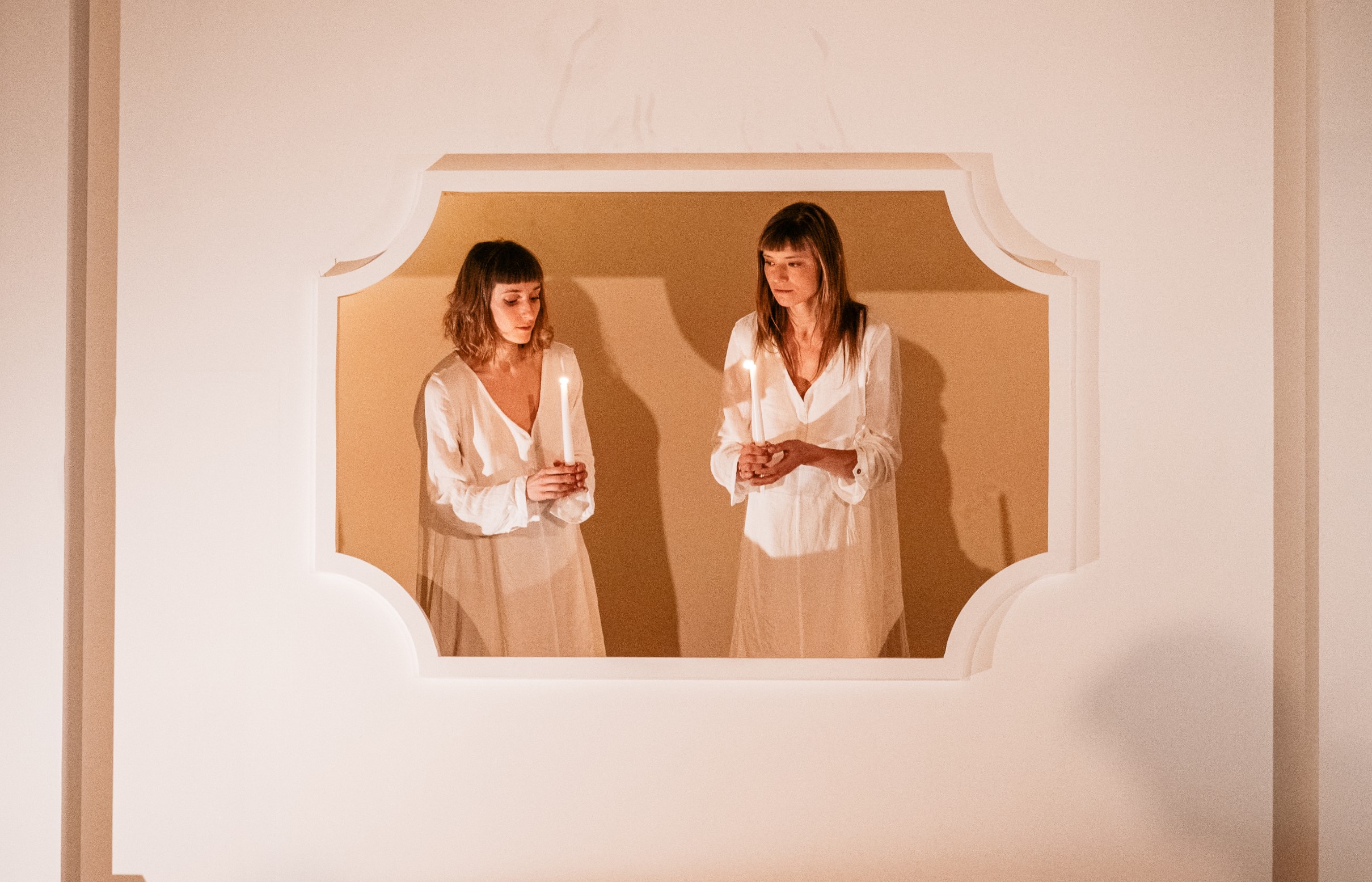 "Opera is such a huge beast to invest in, and there's often an unwillingness to take a risk," says Antonia Blocker, the collection's senior curator of performance and engagement. "We started to look at how different artists perceive the term 'opera', and how the idea of 'excess' manifests in different ways. For instance, Sam Belinfante comes from a formal understanding of opera, but he's in a much more experimental mould. He creates opera in its most pared-back form: theatrical mechanics. For Benjamin Orlow, the term was a way to distill a personal experience, which became a 24-hour film [Horses and Ants, which draws from the artist's national service in the Finnish army)."
"I learned the 'rules' of music early on, which makes it even more satisfying to break them"
Ghent-based artist Marijke de Roover's Live, Laugh, Limerance centres her as the sole player in an intense three-act lesbian rom-com (where the "found songs" include an array of vintage power ballads), while Alexandre Singh's The Humans melds Greek tragi-comedy (it's inspired by Aristophanes's writing) and sci-fi imagery.
"We're not discarding the history of opera, but maybe going back even further," argues Blocker. "The experimentation of voice is such a crucial part of opera, and that raw power will be very present. I really hope that this feels celebratory: it's a fun, engaging thing to do that isn't intimidating."
Trulee Hall, Tongues Duel the Corn Whores, 2020. Photos by Mike Massaro
It's definitely a bold contrast from my own introductory experience of opera: watching Puccini's Madama Butterfly at the gorgeous Arena de Verona, in my early 20s. I was wowed by the setting and the score, but irked by the stuffy audience members who hissed and tutted whenever less "educated" spectators clapped or cheered; that attitude just felt so joyless. So it was genuinely heartening to meet a beaming Trulee Hall at rehearsals, abuzz about hearing the music that she'd penned at home with Logic Pro X software, unfurl through a full live ensemble including string section, with conductor Michael Coleby.
Hall's upbringing was extensively musical (her mother was a piano teacher; her family had a gospel bluegrass band), and she's always composed the soundtracks for her video artworks. "I learned the 'rules' of music early on, which makes it even more satisfying to break them!" she grins. There's an alluringly tactile quality to much of Hall's work, and Tongues Duel the Corn Whores is steeped in sensual symbolism, from its colour palettes through to material objects and themes.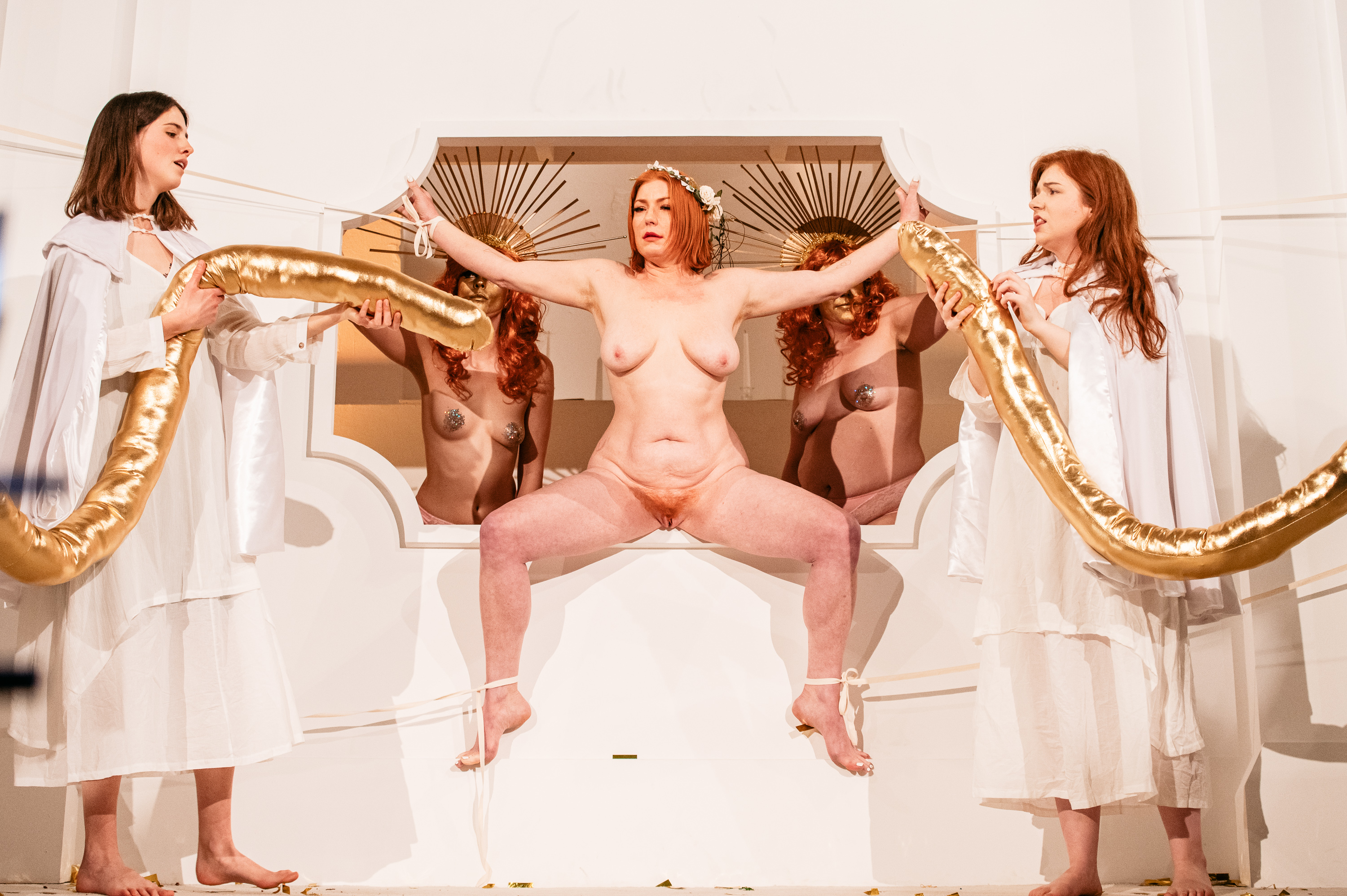 "White and gold play a fundamental role," she says. "The carvings on the wall shrine of the ZC's old Methodist chapel were my initial inspiration. I brought in a churchy choir vibe to the opera, but rather than make it Christian, the Holy Tongues are a lesbian goddess cult. The symbols in the carvings are of sperm, pregnant ladies, an open vagina. I wanted each scene in the opera/film to have a new surprise element."
"Opera is whatever we make it, a place that requires imagination; a place for everyone"
Opera also takes on thrillingly visceral and political qualities through the performance of Ohio-born, Berlin-based artist and vocalist Richard Kennedy, who describes his work Black Rage: Negro Songs from a New Age of Depression as "the genesis of opera as a cultural Trojan horse".
Kennedy first encountered opera as a kid, through the resident company at Middletown's Sorg Opera House. "I began to really consider the imagination and endurance lent to opera, and how deserving the marginalized was of that time," he says. His multi-faceted performance background has spanned musical theatre (by his early 20s, he was appearing in smash-hit shows including Fosse, Wicked and West Side Story) as well as cutting-edge club culture. Black Rage evokes a history of African American experience, as well as vividly candid personal expressions, and includes musical collaborations with RaShonda Reeves.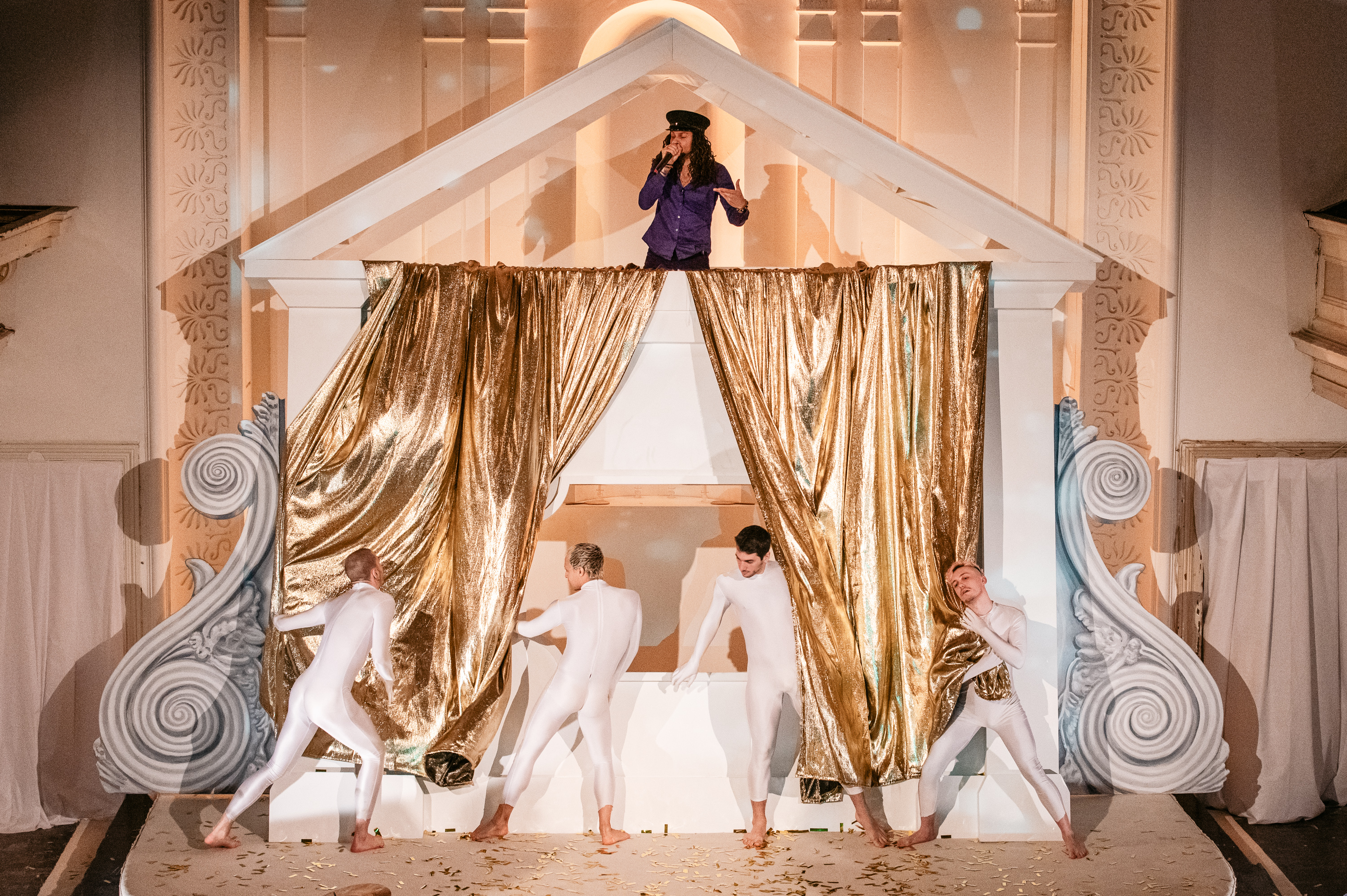 "Nightlife spaces showed me how energy moves around a room and how to build momentum and worlds through music and queer magic," he says. "The colourful characters and cultural icons of New York City are my biggest inspirations, and that theatricality and tragedy collapses into the operatic form perfectly. In club spaces the room is modular, always pulsing. Blurring the line between rave and opera, a new form stands in its infancy."
How might opera develop in the coming years? "Opera is whatever we make it," says Kennedy, "a place that requires imagination; a place for everyone. My work is high art, my cast world-class, there is no difference. Black Rage is a rejection of that need to be understood, the right to be opaque. While I could choose to identify negatively as the Other, my work champions Other Heroes, so the opera house of now and forever reflects the diverse world."