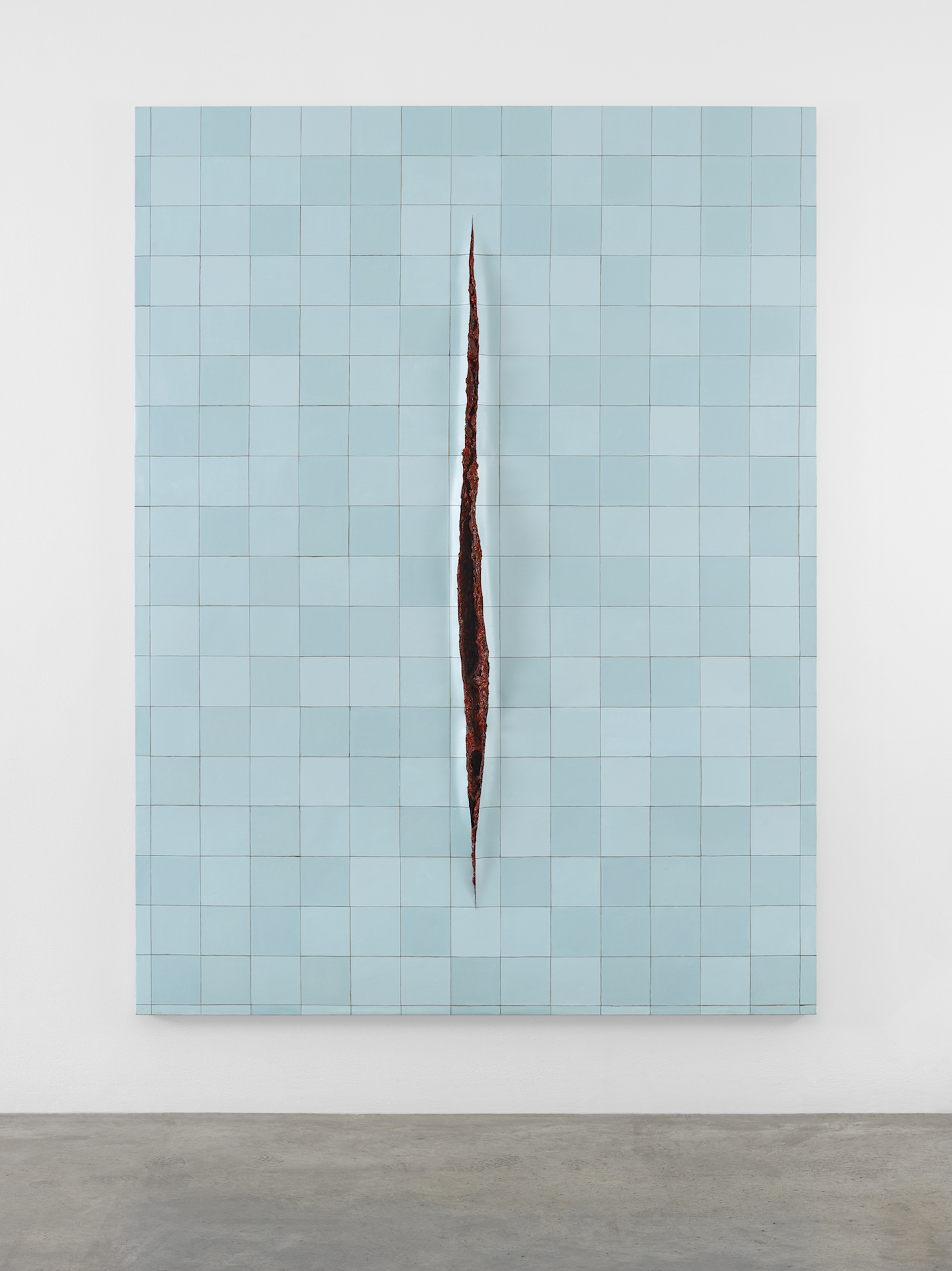 Lucio Fontana's best-known works to this day are without a doubt his Concetti Spaziale, the simple, aggressive slashes into monochrome canvases that he began to make in the late 1940s. In the Argentinian-born artist's mind, he was cutting into the cosmos, bringing another dimension to the flat planes of painting. The highly recognizable slash works have been ridiculed and lauded—and in the early 2000s, reappropriated by a younger South American artist, Adriana Varejão.
Varejão's series of Parede con Incisao a la Fontana (Walls with Incisions a La Fontana), is a direct response to Fontana's jagged Tagli and their definitive vertical cuts down the canvas. Number three in the series is currently hanging in Victoria Miro's Wharf Road gallery, as part of a deep dive into the women artists in contemporary abstract painting who art history has ignored—in the form of an exhibition titled Surface Work. Its incision slices through a pristine tiled background—tiles being a motif in Varejão's work—to reveal fleshy, deep red underneath the cold, clean bathroom blue. It deliberately creates a visual metaphor—it resembles a wound or a surgical incision. The tear that reminds us we're vulnerable. Varejão's slash also has a morbid eroticism that reframes the older male artist's work. "There are so many images in the world and I like to recreate history," as Varejão put it in a 2016 interview with Elephant.
While illusion is important in both Fontana and Varejão's works, for Varejão—unlike Fontana, who wanted to cut into infinity, to open up a void—the slash signals mortality, and roots us the viewer in the realm of the physical, tangible and the bodily. While Fontana wanted to create an illusion, Varejão wants to rip the illusion apart. Conversely, while Fontana used a knife to puncture his painting, Varejão uses a brush to create the gruesome image of a canvas that is bleeding. What lies beneath a pretty, perfect surface is an uglier, fearsome truth. Moving beyond the self-referential dialogue with painting and dimensionality in Fontana's work, the perforated surface of Parede con Incisao a la Fontana III asserts the Brazilian artist's interest in the violence in culture; the squares she paints refer to the azulejos terracotta tiles brought to Brazil by Portuguese colonizers, a symbol of colonialism, slavery and racism in Brazilian history, the unpleasant details of which have been repressed, hidden behind an appreciation of aesthetics.
There's another political purpose in Varejão's reappropriation of Fontana. Varejão's are not (yet) considered as important in the course of art history as Fontana's were in the twentieth century, but the question of the day is, who made more money from slashing their canvas? A work from the Fontana series by Varejão sold at an auction at Christie's in 2011 for £1,105,250. The average Fontana slash will set you back at least double that. 
SaveSave
SaveSave
Surface Work
Until June 16 at Victoria Miro, Wharf Road
VISIT WEBSITE