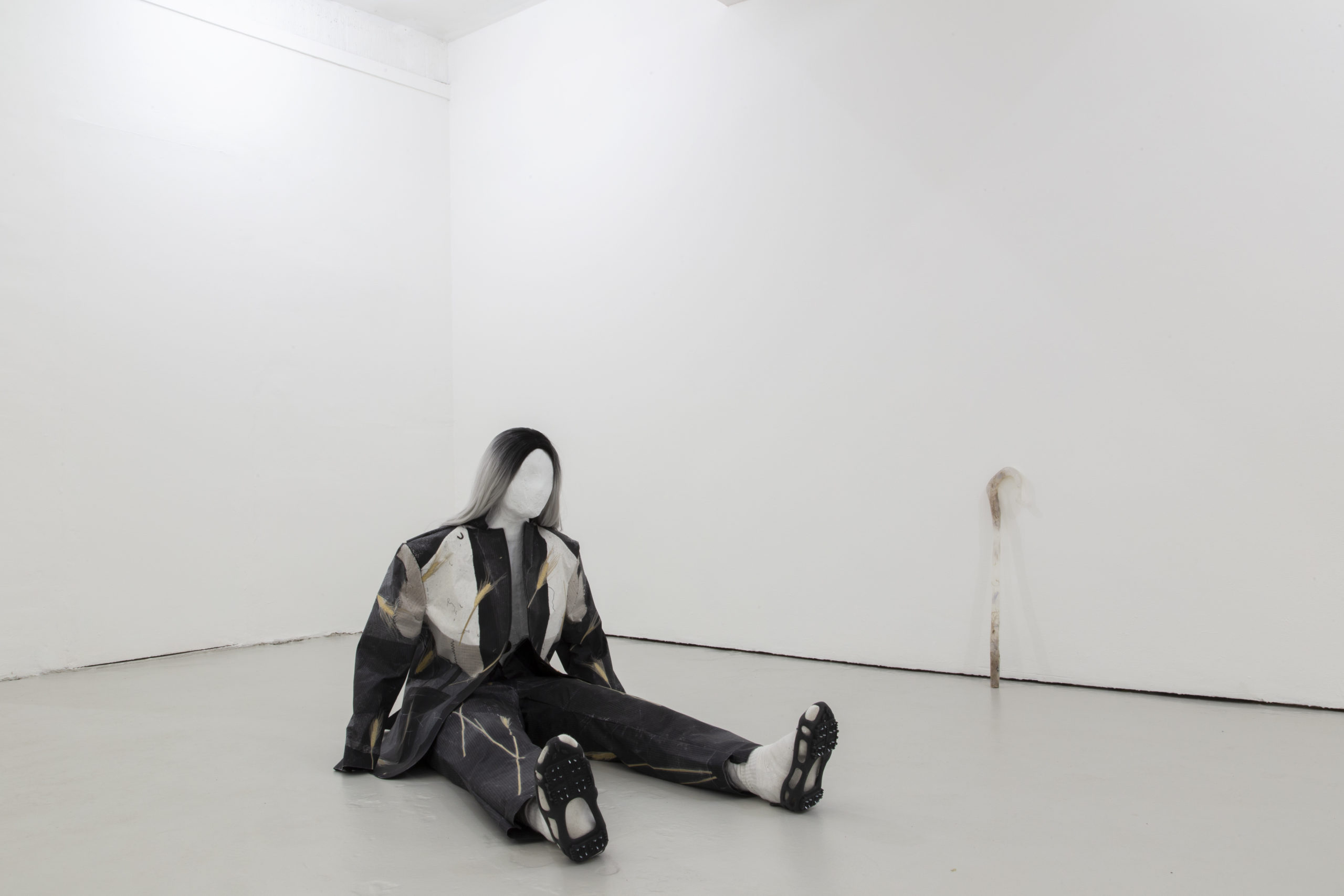 Clothes have many lives, whether passed down between generations or recycled for reuse at the local charity shop; even discarded items are often shipped in bulk abroad. The textile trade reflects much about the politics and economics of our increasingly globalised world, while the fashion business remains a booming industry that makes billions of dollars every year. Tenant of Culture unpicks these socio-economic undercurrents through her reuse of the garments that circulate around the globe, and quite literally stitching together the sartorial detritus of contemporary society.
Tenant of Culture is the moniker of Hendrickje Schimmel, who draws upon her training in womenswear to raise questions about the development of trends, as well as the often opaque means of production in the industry. Her uncannily embodied sculptures loom like spectres of an uncertain future, one where we have all been seduced into buying into a fantasy that never quite feels real. Following her exhibition with Soft Opening during Frieze London, Tenant of Culture has just been awarded the Camden Arts Centre Emerging Artist Prize, and will realise a major solo exhibition at Camden Arts Centre in 2022.
You have a background in the fashion industry; what led you away from it and into the art world?
I studied womenswear in the Netherlands. Ever since I was a child, I really wanted to be a fashion designer. I would draw girls in dresses, and I loved Alexander McQueen and Jean Paul Gaultier. But studying it, you realize how the industry is very one-dimensional. There are not many creative options open in fashion, in its current state. I worked for an outerwear company, so I know a lot about the technical side of waterproof jackets. It's such a niche knowledge to have! Later, I studied textile design at the Royal College of Art; I was making work that wasn't necessarily wearable, and it started to make sense in a sculptural context. I don't consider myself to be fully an artist; I am still a fashion practitioner, but that definition has expanded. There are more experimental practices of fashion these days, but when I graduated I didn't feel like there was any space for me.
What does fashion represent in your work?
The whole process of designing a collection is quite interesting to me now, because I've done it numerous times, and I know it so well. It's interesting to deconstruct that process—from moodboards to working in themes, sitting sessions to styling—I enjoy looking at it more closely in order to reflect on it. I think there are lots of untold histories in garments that are important to dig into. There are so many stories in how a hemline is sewn, or the length of a pair of trousers. It's also often a female practice. A white T-shirt and trousers can say so much. There is an endless fascination in every single garment, which can't necessarily be told. It's not just about what is wearable. People who might not ordinarily find art to be comfortable, or who find it intimidating, can find comfort and familiarity here. There is an intimacy that you can have with clothing because essentially, it's the practice of everyday life.
"There is an endless fascination in every single garment, which can't necessarily be told. It's not just about what is wearable."
There has been a greater awareness around the importance of sustainability in recent years. What is the significance of this wider conversation to the recycled clothing that you make use of?
Reuse has multiple meanings for me. When I was studying fashion and would go to buy fabrics, I'd feel really lost and intimidated by all these endless possibilities—like a blank piece of paper. I find it more interesting to take on something that has already surpassed its original use. These items already have so many design decisions made by other people; it almost becomes a subconscious collaboration. If you use a top from the 1980s, it will have different sleeves and details than a contemporary garment. It adds all these things into the work that are beyond my control. There are so many textiles that are already out there; there's no reason for you to go out and buy something new.
Simultaneously, I find it really interesting to work with waste, to see what you can do with it and how far you can go. It becomes a bit messy, and there comes a point where you just have to let go. You can't be a perfectionist about it. There's a richness that comes from working with second-hand garments, and I don't know how I would go about it on my own. The name of my practice relates to how I am working more as a post-producer rather than an autonomous producer, working with materials that already exist.
Where do you go to find these textiles and garments?
I used to only go to charity shops and markets, but then you're very reliant on what you find that day. A great thing about living in London is that the richness of charity shops is endless. But then, if I am looking for something more specific, I'll look on eBay. Another principle in my practice is low-cost materials, which allows for more freedom and experimentation. I also get a lot of donations from friends, bin bags full of stuff, but it can become too much. At one point my studio became a bit of a charity shop, and I had to throw a lot of it out. It is interesting how you can buy something on eBay and it will arrive in a recycled Amazon box; it's always this funny consumer-producer relationship which you start to encounter when you buy online. The descriptions on eBay are really interesting too, as this amateur selling network.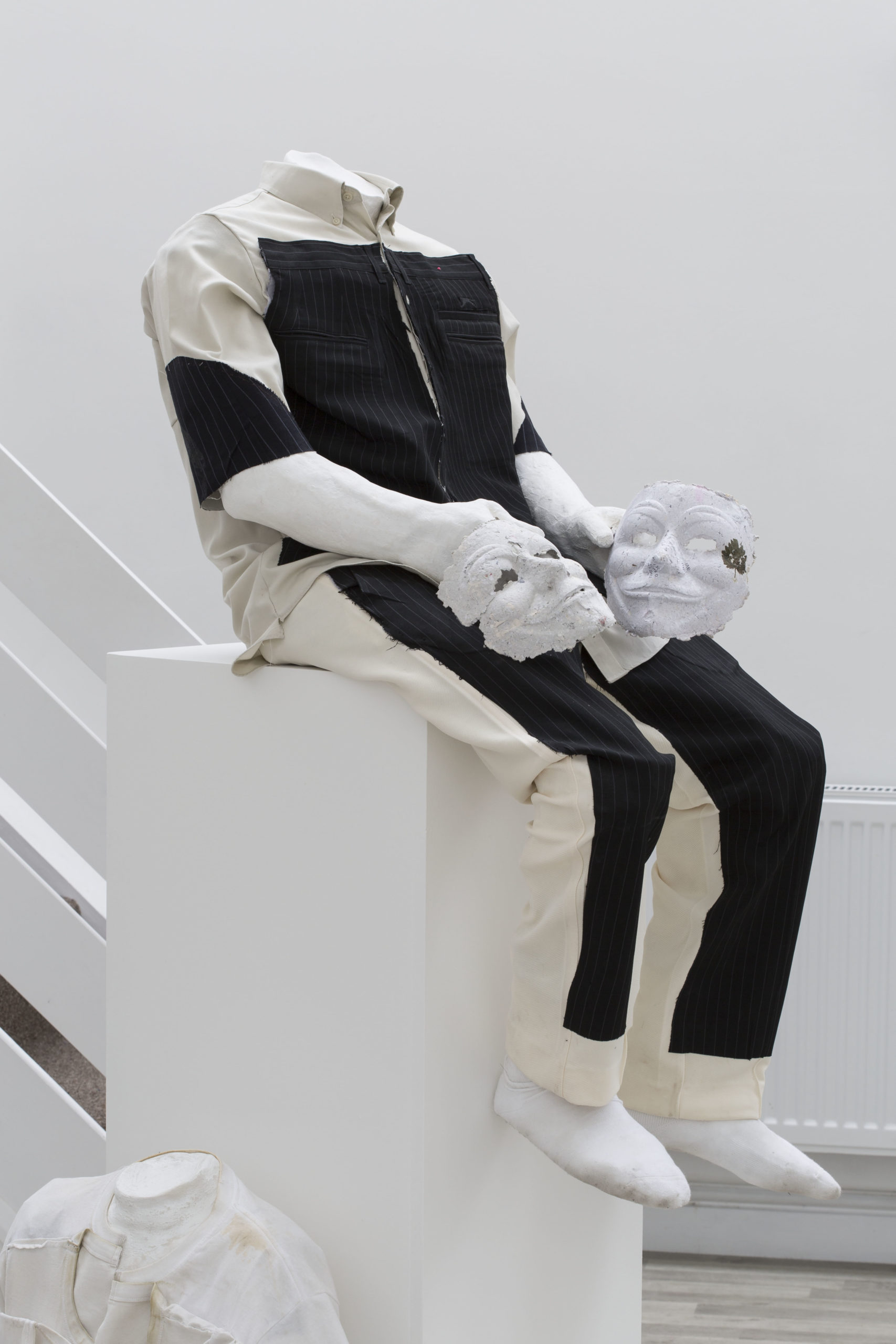 "It's also important that if you own a garment, that's not necessarily the end of its life cycle. Because it will outlive you."
What are the wider aims of your practice, and how can fashion bring people together?
I do a lot of workshops with people, where they come by with their garments and make them into new things. It's an important part of my practice to re-empower people and to show how fashion can be fun. Historically, fashion was a very communal thing; people would work on garments together, but that fun and communicative element has been taken away by the fast fashion industry. The aesthetic of things being imperfect and quickly-made is also okay, and I want to show that. It's also important that if you own a certain garment, that's not necessarily the end of its life cycle. You're renting it, in a way, because it will outlive you. My interventions are more part of this cyclical nature, just like trends are cyclical. A garment has many lives.