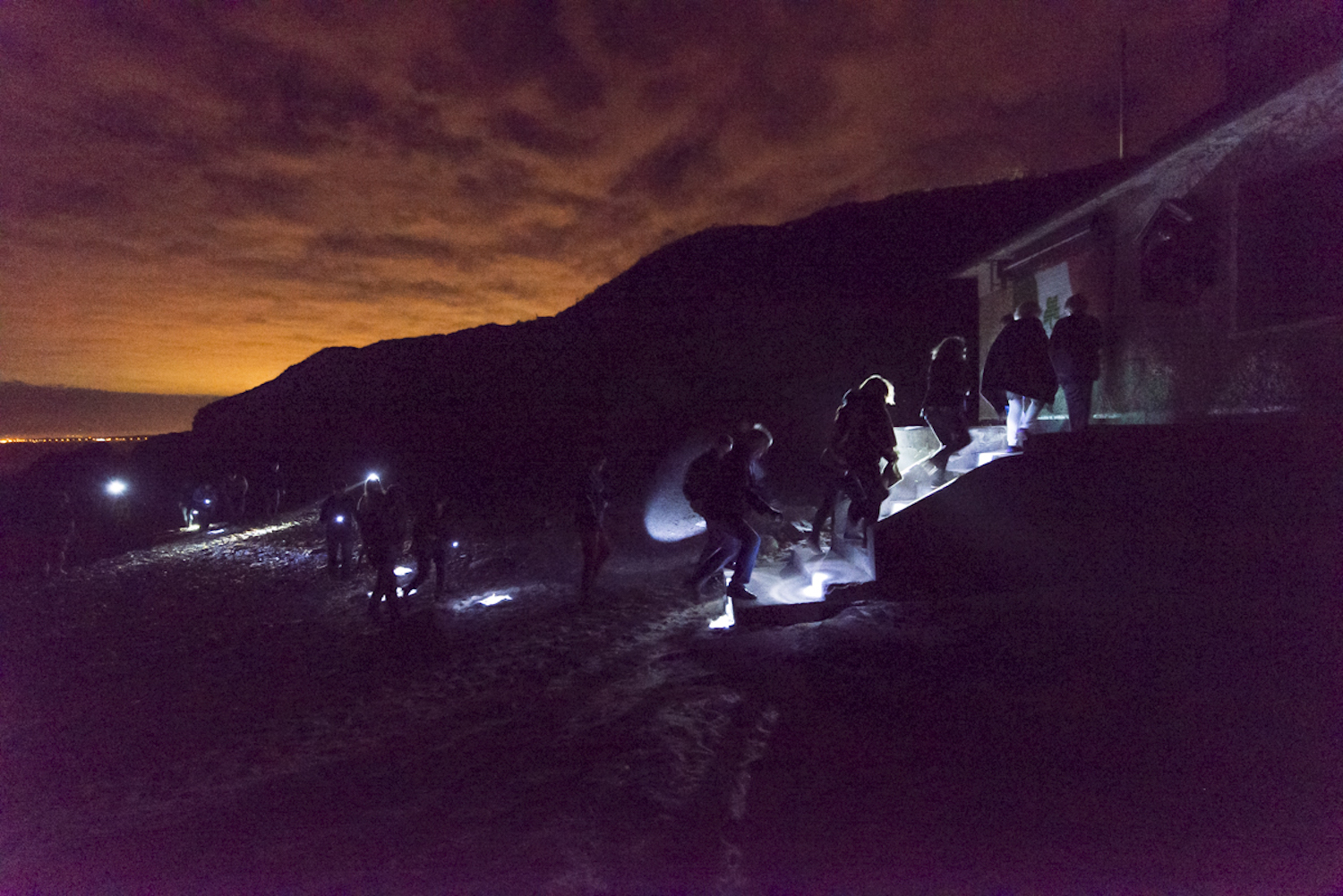 You're wearing a hard hat, in a bleak car park somewhere in Nottinghamshire. Led through the darkness of a rugged wood by a few people in high-vis vests, holding a tiny torch, the lights are only extinguished once inside a cave—apparently the site with the largest concentration of apotropaic marks to ward off witches and curses ever found in the UK.
So far, so spooky. Yet the artwork that all this leads up to—AlanJames Burns's psychoacoustic sound piece Entirely Hollow Aside from the Dark—somehow manages to sidestep the witchiness, the curses, the terror. Even with the lights out, it's all quite relaxing—if chilling at times—especially when the sounds recede into nothing, and you're left with nothing but pitch black and a sense of half-foreboding, half-anticipation. The piece was performed in Creswell Crags Cave in Nottinghamshire earlier this month,  following a sell-out tour of the core work across five different caves in Ireland. 
Burns is based in Dublin and this, like much of his work, is centred on explorations of the mind. Across his audio, video and performance work, he looks to create a new aesthetic language around the internal imagery, sounds and patterns that our consciousness uses to create thoughts. Entirely Hollow Aside from the Dark uses various sounds that shift around the space within the cave, as visitors sit or stand in its centre. The aim is to mirror how the human mind processes sonic and narrative information—the gentle or jolting shifts between the real and the imagined, the cacophonous potential of our individual internal monologues.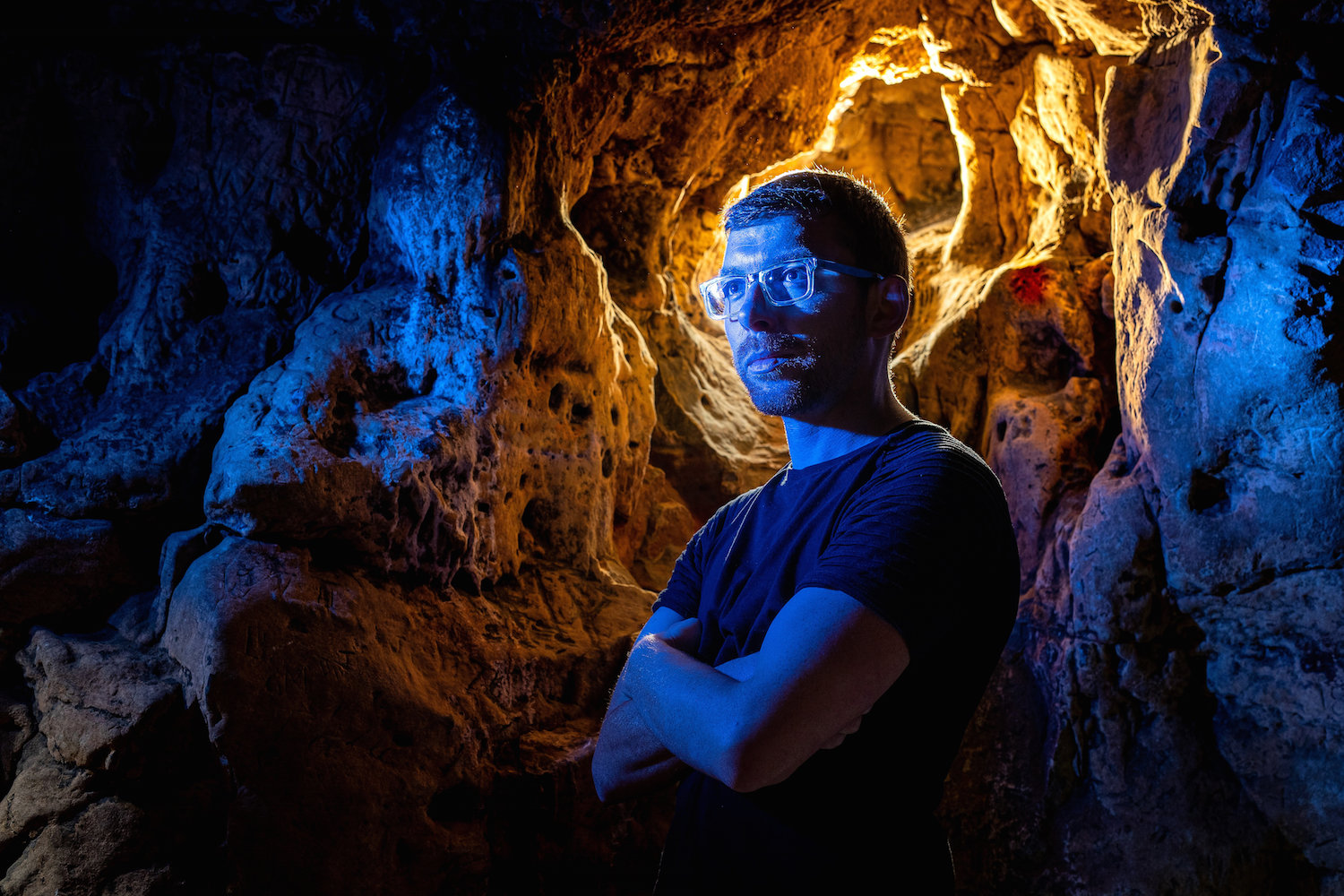 The piece aims to mirror the processes of the human mind and open up conversations about mental health, as well as examine ideas around climate crisis. It's a lot of big topics to tackle in one work—how does the piece do that?
The title, Entirely Hollow Aside from the Dark, was named in reference to the cave but also to equate that to the mind, which can feel hollow inside except for darkness. The structure was created a music psychologist, Claire Howlin from University College Dublin, and we wanted to parallel climate crisis and mental health.
One way of doing that was to look at equating the build-up of plastic on the earth and the build-up of "plaques" on the brain, which are naturally occurring things that build up and cleaned through sleep. If you don't get enough sleep, that creates mental health problems; if the earth doesn't get enough sleep from overproduction, she'll get mentally unstable. The earth needs sleep and rest like we all do. In the piece we talk a lot about light and darkness and circadian rhythms, which are obviously very important for mental health.
"If you don't get enough sleep, that creates mental health problems; if the earth doesn't get enough sleep from overproduction, she'll get mentally unstable"
Mental health is something that affects all of us—we all live in our own brains and inner experiences—and that, as we all know, can be difficult. We don't talk about that enough: we talk about what we think, not how we think. I hope the piece opens up conversations about the way we think and how our thoughts process—the process of how we perceive and digest information, and how we communicate it.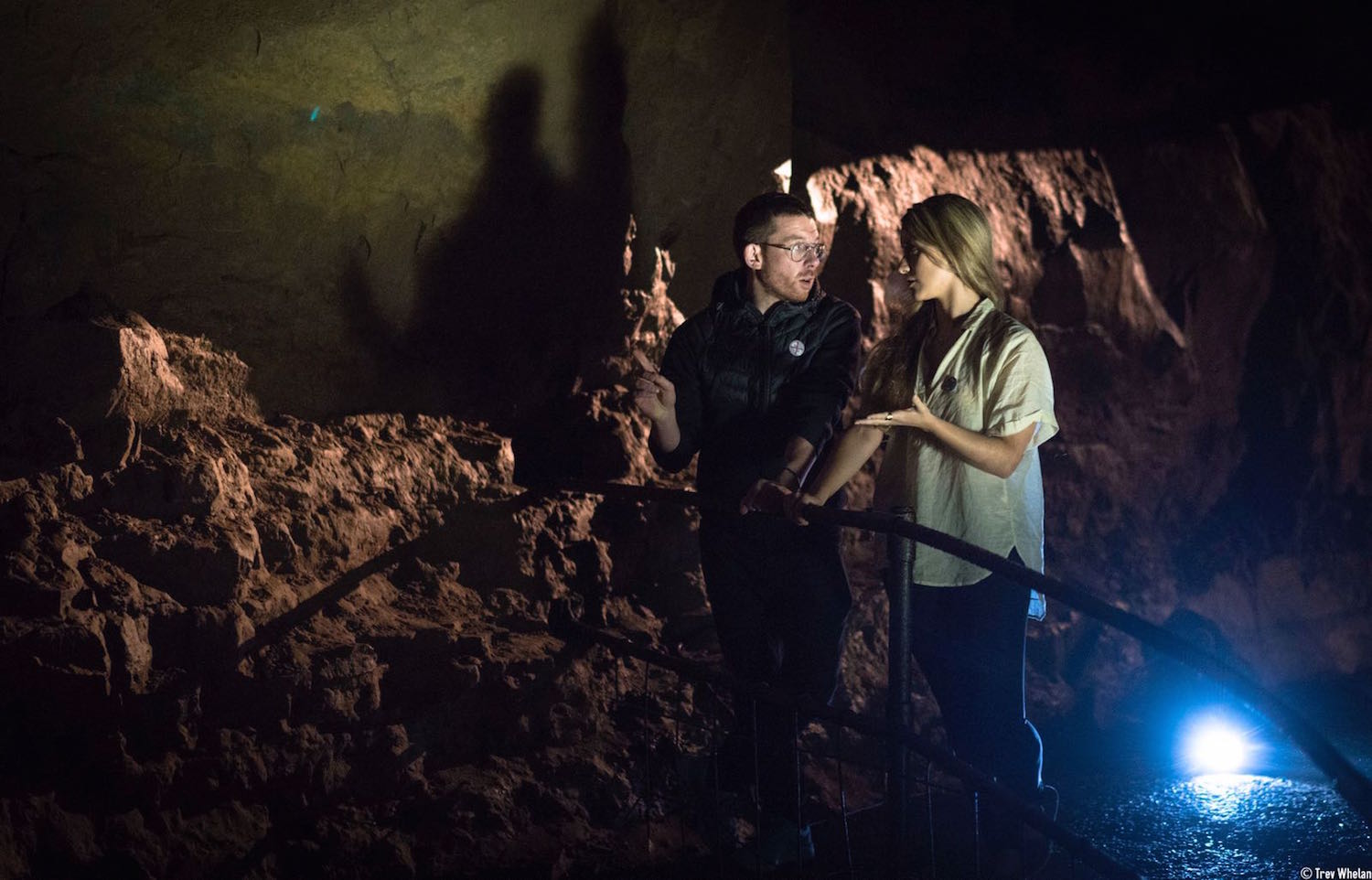 So how do those ideas around processing thoughts and mental health play out in the piece through the sounds, the narrative, the location and so on?
The script and the way I've worked on the piece with the dialogue, and the way it's cut and edited, evolved from when I was first designing it. Back then it was focused on the phenomenon of hearing voices; it's not something I've personally experienced, but I've done a lot of research and collaborated with people who have heard voices.
The other side of it was I had to edit it from a theatrical point of view, in that I still have to make an artwork that engages people. There are a lot of natural sounds and historic sounds included—chimes are one of the earliest sounds, and that creates a calming effect. We wanted to create a journey that left you feeling at ease and encouraged a healthy sense of wellbeing.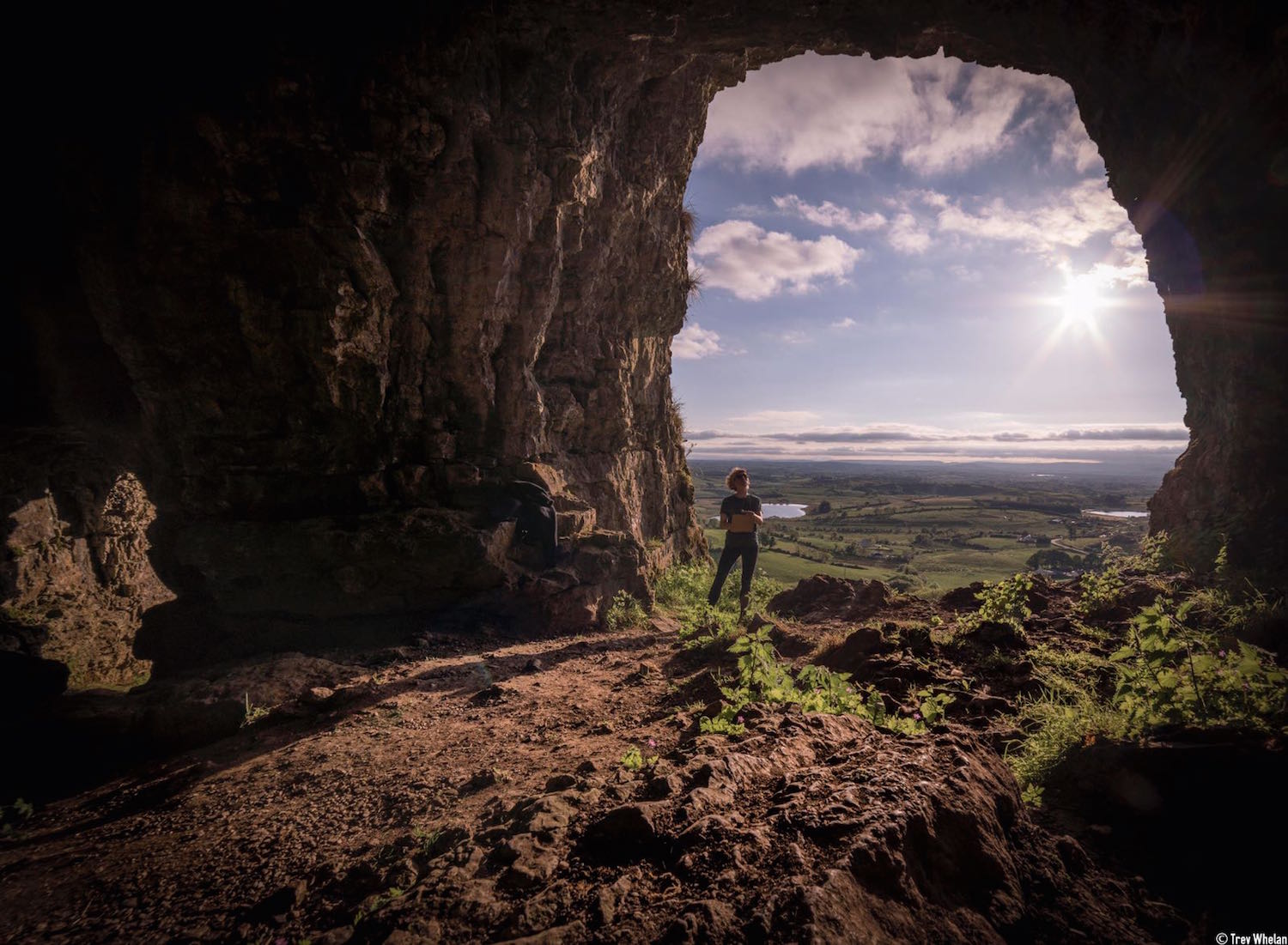 With a sound-based piece, what was behind the idea of also using dialogue and voices, how they resonate in the cave space, to create the narrative and atmosphere?
My inner experience is very cerebral and includes words, so that was one of the things I wanted to look at and explore in the work. I also wanted it to be accessible to a large audience. Sound can be evocative, but having both conversation and sound gives you time to digest it.
Also, the inner experience isn't just an aural experience; it's also about visuals and other things. My piece is just audio but it does invoke a lot of imagery, and the dialogue allows for that. We think in words and language is the output of thoughts, so I tried to create an artwork as a bed of conversation that can lead to narrative.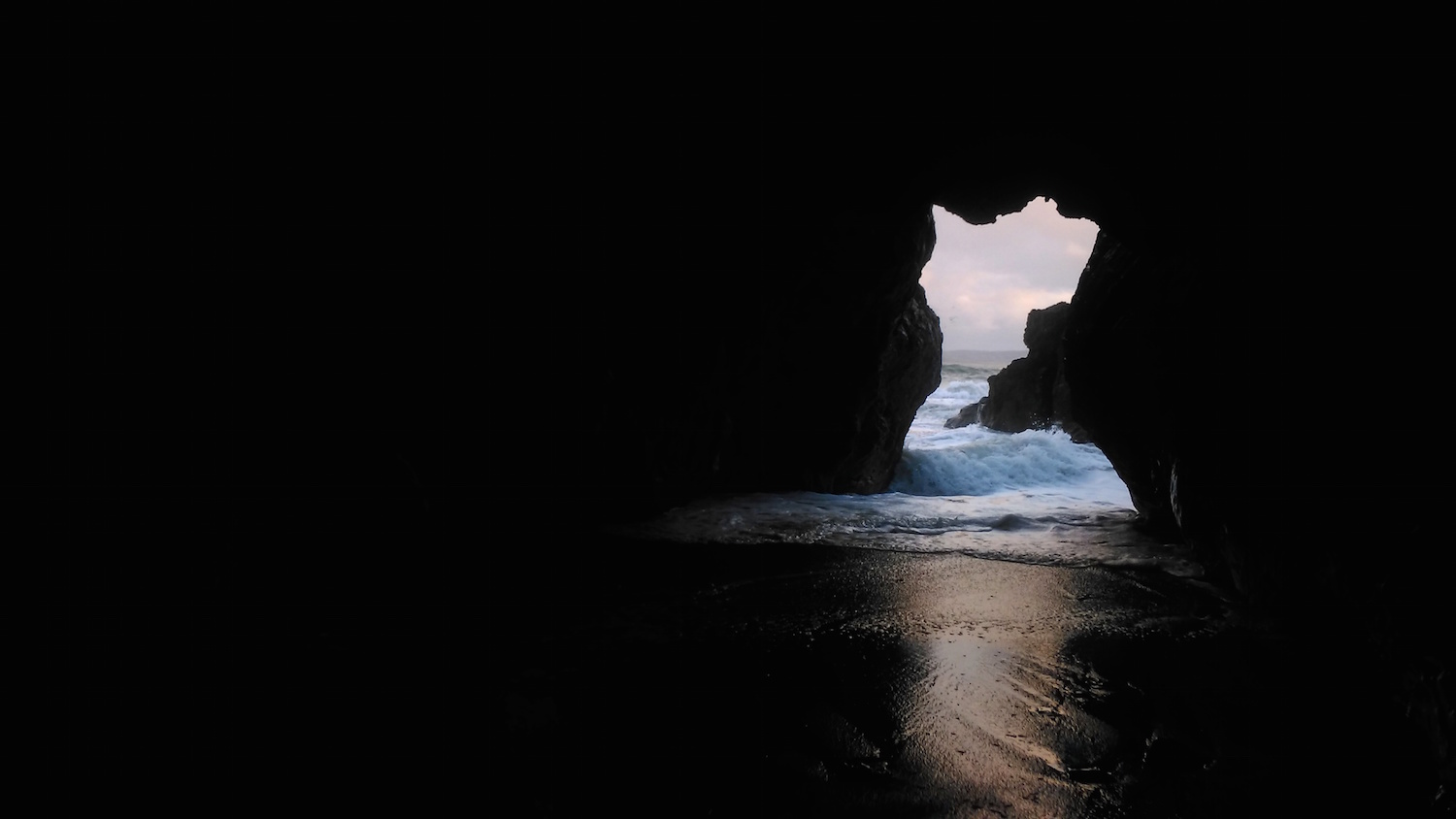 Where do you draw the sounds from, and how do you go about putting it all together for each performance of the piece?
They're a mix of new works, found sounds and field recordings—some I was making them with [the composer] Ian Dunphy. With the found sounds [the artists downloaded most of these from freesound.org] there are planets orbiting the earth recorded by NASA, geological sounds of glacial bangs or floating water, falling trees, crackling fires, then industrial sounds like jackhammers or swinging metals and historical sounds like flint snapping.
"We wanted to create a journey that left you feeling at ease and encouraged a healthy sense of wellbeing"
I usually create a bed of audio and edit it live, which creates a lot of stress! I can't programme the sounds before getting into the cave, so I create the sound design in the days leading up to the performance. Then on the night, I am in a side cave on a computer sending audio to the different speakers. I can't just set up all the sounds and programme them, unless I spend a month in the cave beforehand. The piece changes drastically with each performance and each cave, as well as with different audiences. But I just have to let go and let the atmosphere take over.
You received Arts Council and other funding for the piece, and have used amazing spaces for its various iterations: what advice would you give to others looking to create similarly ambitious projects?
Don't be afraid to ask: people want to say yes, and the only way they can do so is if you ask. For funding, consider yourself a business: it's often considered a dirty word but it's not; a business is about making something and figuring out the best way of putting it into the world. I used lots of forums and worked with enterprise officers. Lastly, work collaboratively—if you don't have the skills, don't push yourself.