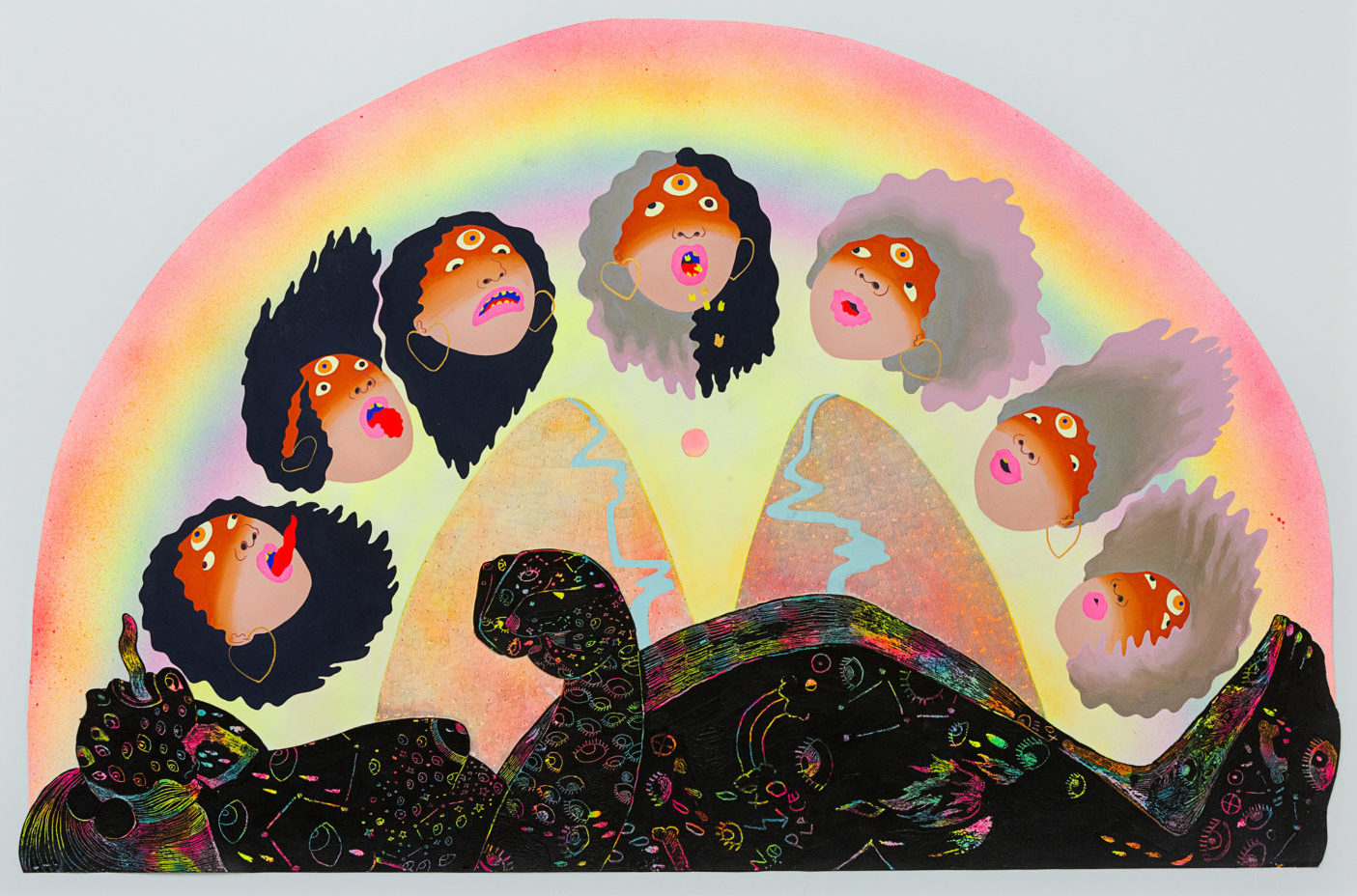 Rainbows appear in almost every work of Amaryllis DeJesus Moleski's new exhibition in Turin. Hazy bands of colour take their regular shape in some, while in others their factions are split and dispersed around the canvas: sharing, but never jostling for space. Titled Said the Rainbow to the Grave, the exhibition at Luce Gallery starts with the artist's speculative query on creationism before nurturing its own alternative worlds via a vibrant use of colour that is reminiscent of Holi, the Hindu spring festival.
"What would our livelihoods be like if we had inherited a femme genesis?" DeJesus Moleski wonders in an exhibition video. "I make work that anchors that queerness as a spiritual centring." This takes the form of striking subjects, often shown succumbing to torrents or unseen forces within their surroundings. In works It's What Heals Us, It's What Haunts Us (Parts I & II), figures are shown caught in a tide of cartoon bones, with celestial shapes looking on anxiously. These seemingly random objects—often humanoid in nature—also sometimes appear cellular, as if DeJesus Moleski is sketching the physiological composition of her imagined world.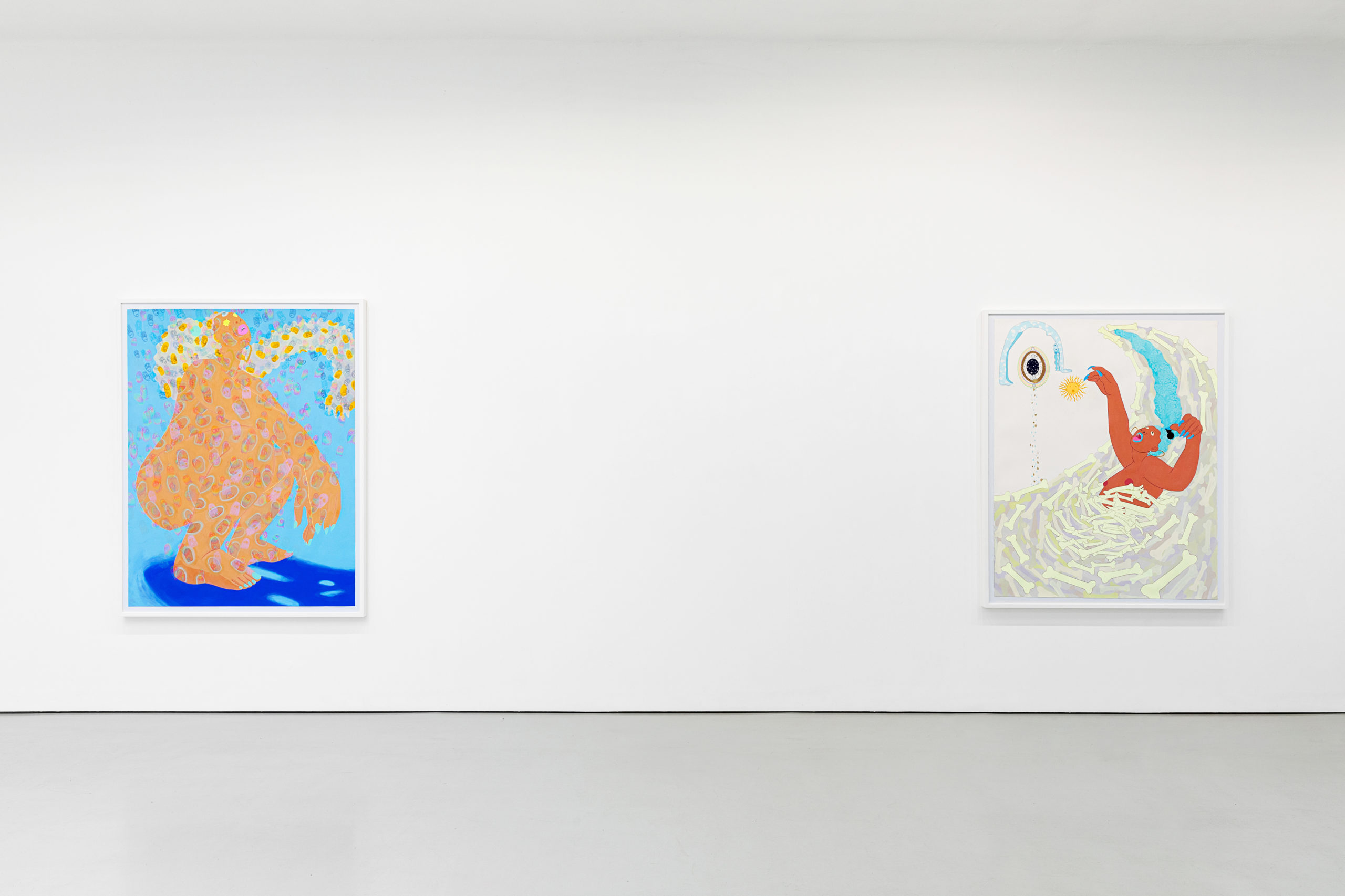 DeJesus Moleski uses naturalistic drawings to conjure ancient myths, but overlays of these tracings with fluorescent colours create a discordance as ancient and modern rub against each other. In Patron Ghosts of Open Skies (Thunderclap!), the numerous cartoon ghosts—which seem to resemble the original Snapchat logo—flow across the canvas as if caught in a magnetic field. They appear like stickers that could be peeled off at any moment, returning the work to a softer, more sedate palette. Such layering allows DeJesus Moleski's work to be in dialogue with both the past and future. Upon closer inspection, thorned roses are visible underneath while two female figures lie in the centre, trance-like but carefully balanced.
"DeJesus Moleski's objects sometimes appear cellular, as if she's sketching the physiological composition of her imagined world"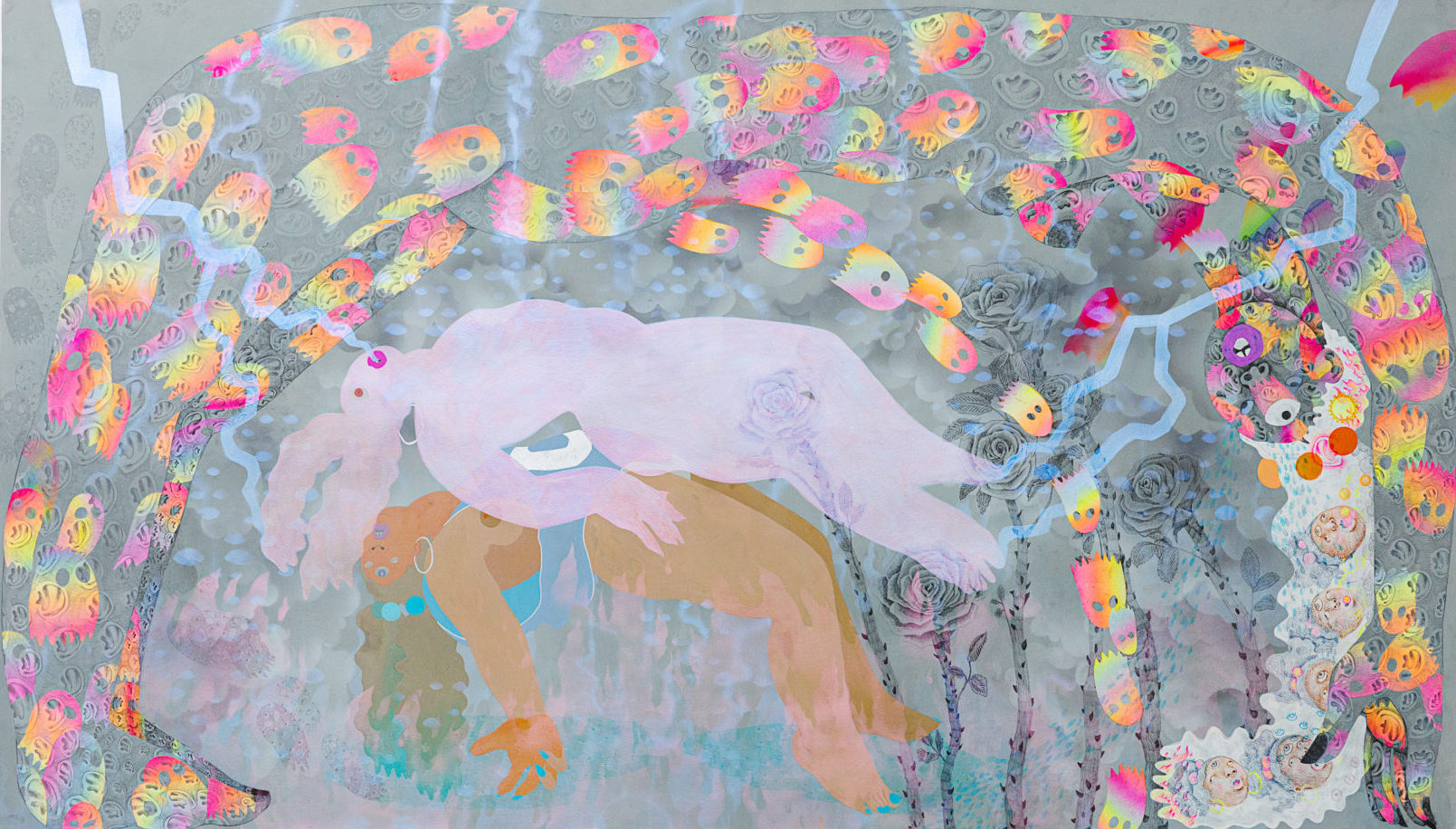 "My figures are drawn with the intention of creating a visual language that alters our basic symbols for being human," says DeJesus Moleski. Her paintings disrupt the codes we use to rationalise and bring artwork into our own experience. Instead, we grapple with three-eyed female figures tattooed with rebuking phrases: "Hello no; absolutely not" is scribbled across the chest of The Ref, the title subject in a work which resembles an ornate chapel ceiling. These figures embody the everyday resistance encoded within the femme experience. In Philosopher's Stone (Exorcism in Utopia), three fire breathing figures are conjoined in ritual around a central swirl of rainbow gems.
Poet Adeeba Afshan Rana's accompanying exhibition text begins as an explainer for audiences before gradually becoming one with the work itself, making readable its visual palette and energy. "Amaryllis DeJesus Moleski concentrates on what we can feel but cannot see," she begins, before drawing attention to the recurring objects within the work: mountains, moons, roses, reflections and rainbows, which she calls "urgent, calling back to Taíno stories of recognition and retribution". Throughout, the Afro-Puerto Rican DeJesus Moleski takes inspiration from the indigenous peoples of the Caribbean. 
"These figures embody the everyday resistance encoded within the femme experience"
In an exhibition video, DeJesus Moleski explains that "My drawings are one continuous project, and I wonder if repetitious symbols and communication through images can somehow slip between the stubbornness of our words and shift our collective perceptions of being and belonging." It is clear that Afshan Rana's text can only take us so far, but it does at times offer necessary explanation. She encourages the reader to imagine a soundtrack to DeJesus Moleski's hidden sports analogies: "Hear the swoosh of the basketball, squeaking sneakers, the creak of bones like a forest of trees." In these moments, the words are a welcome guide to what is a composite, sometimes dizzying world.
When her prose does shift towards the end of the work, it becomes evermore knowing and connected to DeJesus Moleski's earthy, humane themes. Letting go of the audience, it gathers pace and departs from the receptive space of the gallery. "This is what a storm feels like from the inside. Rain drops fall like nails clacking against one another. The goddess of the skies is moving fast and feeling herself, twerking and stretching and sighing, letting her hair guide the shift of her hips. No wonder a good ass thunderstorm feels like a reckoning, like a washing new and clean, like freedom from the inside out."
Amaryllis DeJesus Moleski,
Said the Rainbow to the Grave
At Luce Gallery until 4 December
VISIT WEBSITE