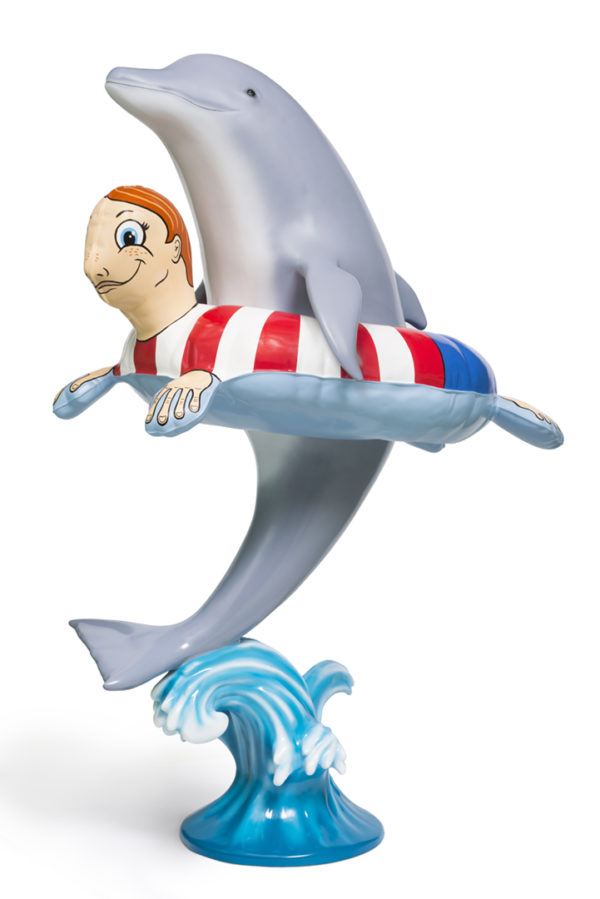 After a four-year hiatus from travelling to America (nothing personal, you understand), I landed in Chicago for the fifth edition of the city's Expo Chicago with a decidedly green sense of excitement. Yellow taxis! A yellow school bus (which will always make me think of the Simpsons and the ever-brilliant Otto Mann)! Chicago prompts the same kind of Americana loving enthusiasm from outsiders as New York, though, despite the city's scale and sky-scraper lined streets, there is a decidedly more laid back vibe than the Big Apple, that is evident pretty immediately and leads to an entirely different experience as the stay progresses.
Arriving a few days before the fair began, my initiation to the city was one of touristic joy—eating a deep dish pizza at the famous Lou Malnati's, sipping a cocktail on one of the city's many rooftop bars (shame about the direct line of sight to Trump's big shiny phallic tower—"There is no one in the world with such a big shiny phallic tower as myself. It's seriously shiny. It's the shiniest and most phallic tower you'll ever see.") and taking selfies with Anish Kapoor's cloud—which is everything one could hope for and therefore not much of a surprise. The cloud reflects an ongoing aesthetic in the city; one of literal reflection, especially in the glass-clad area that surrounds Millennium Park and the nearby river and extending out to the sun soaked lake. It's been a scorching week and it has felt impossible to miss the twinkling rays bouncing off nearly every surface available.
I escaped the slick and shiny area surrounding Millennium Park on my first full day in the city, checking out the galleries in the West Loop (home to the cool, though identical in every city, Soho House and an area that smells strongly of dark chocolate on every street—I still don't know why, but I like it). I come from London, so I find myself saying this after a visit to pretty much every other city (bar, perhaps, Paris and New York) but the scale and space provided by these galleries feels truly luxurious. My first port of call was Kavi Gupta—who has a primary space at 835 Washington Boulevard, and another sizeable gallery space a few blocks away. The selection of artists is fun and engaging—in the main space I viewed both Sign, the solo exhibition of Glenn Kaino—diverse, political and beautifully realized—and a playful group show that included Tony Tasset's dolphin jumping through a rubber ring. It is an eclectic but solid selection of works in this group show, reflecting the gallery's strong visual identity. It's hard to pin down one or two key lines of enquiry but everything has a similar dynamism, humour and attention to finish. (Back towards the river, you can view another Tasset work, a towering deer sculpture that stands on the river bank, seemingly at odds with the gleaming modern buildings that stand tall behind it. Incidentally, another of the gallery's works was situated on the River Walk but it was vandalized with fire—the piece was a Scott Reader sculpture that read "Real Fake" in gold, and was placed, appropriately, in front of Trump Tower.)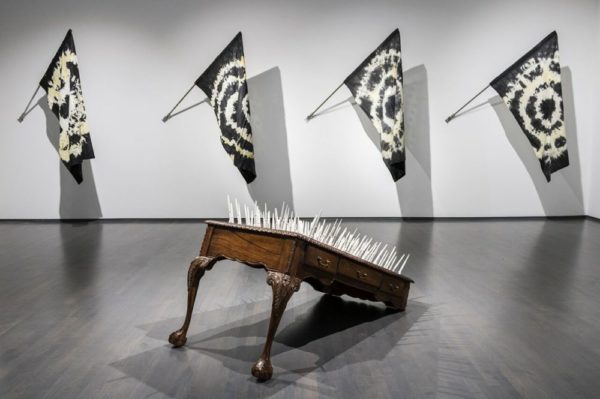 Rhona Hoffman is another excellent space in this part of town, in a large, blocky building punctuated by wide wooden pillars and set across three levels with polished concrete floors. Nathaniel Mary Quinn and James Wines were the highlights—with two completely different practices. Wines's delicate pen and ink works require close inspection, their fine lines and relatively small paper sizes demanding an intimate viewing. A personal favourite showed a buried statue of liberty, torch still held proudly above ground. By contrast, Chicago-born Quinn's Nothing's Funny makes an immediate hit, depicting features in single portraits that come from many different sources, ending up with a highly energized and characterful—though often dark and complex—vision of the human form. Both artists are political, in very different ways.
"It feels like a fair that has a lot of love put into it—a rarity—and it's also not overcomplicated; a modest selection of top quality galleries who seem to be really considering the space and their selection."
Away from the many individual shows opening this week, the big draw was, of course, Expo Chicago (and the Architecture Biennale for many visitors too). The fair's situation on Navy Pier further highlighted the casual vibes of the city for me, sitting below a large ferris wheel, its entrance lined with food stalls and arcade games. Inside, the fair is thankfully manageably sized, but of a high quality, and one of the first things I noticed was the easy merging between art and design (although it is strictly an art fair before anything else). One of the most successful moves toward design comes from Maison Gerard, whose sheepskin laden booth brings together weighty, wall-hung works, domestic (though, high-end) furniture and a real consideration of space as a whole, a merging of art and life. R & Company also fuse ideas of art and design, presenting a raised level booth that is entirely blocked out in black outlined white squares, and houses a pair of lips sofa, a large cactus (not real), a chair and five enormous blocks of cheese with a full moon illuminating from the back of the booth.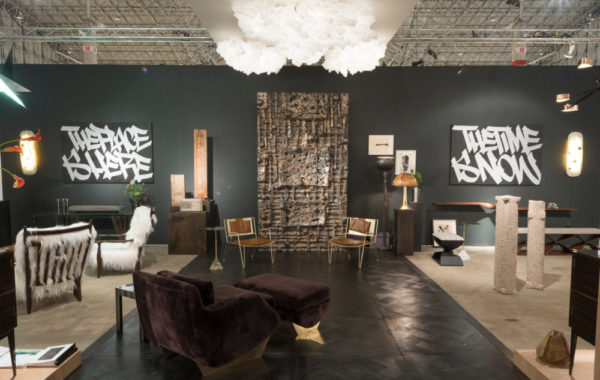 Considering the scale of the fair, a more active engagement with the work is possible. It can get really frustrating dashing from booth to booth at the larger fairs and inevitably then picking up on the most immediately visually captivating instead of noticing the slow burners (which often are the real gems). Expo certainly promises a fulfilling single day visit, and there were a few works that I felt really benefited from the lack of overcrowding. A personal favourite is the monochrome photograph Killer Whale, Miami Beach, Fl (1981) by Ken Graves at Anglim Gilbert Gallery. It sits with some other black and white images by Lynn Hershmann Leeson and is a subtle but powerful image of a captive orca appearing over the concrete path that leads to the spectator arena seating. By comparison with this impressive, jet black beast, the trainer, hands excitedly in the air to encourage the mammal's next trick looks like a tiny spec. The unnaturalness of the moment is devastating and the image itself is stunningly composed.
It feels like a fair that has a lot of love put into it—a rarity—and it's also not overcomplicated; a modest selection of top quality galleries who seem to be really considering the space and their selection. I left Navy Pier for the last time with an unusual sense of calm that I don't tend to have been able to hold onto by the end of a fair and bookended my trip with some more touristy fun—this time, at a bar just above the river, where a patient piano player covered tunes suggested (and occasionally shouted) to him by an excitable crowd of Canadian Tourists and us. Not your usual whirlwind fair week—and thank God for that.
'EXPO Chicago' runs from 13-17 September at the Navy Pier, Chicago. expochicago.com