In Hong Kong, where the photographer Ward Roberts spent his childhood, children of all backgrounds meet to play on the concrete. Outside the jungle of high-rises with their cramped apartments, Ward shows pastel-hued stretches of sports courts, but they are unoccupied and empty. Where did everyone go? Perhaps they're indoors. "Returning to a place with fondness can portend disappointment," as Roberts puts it.
As a suburbanite, like fifty percent of the population in the world today, growing up among identikit red-brick box houses, yards demarcated firmly with flimsy fences, I feel a particular affinity with Roberts's ambivalent stance. Traveling to school in the city, there was a stigma around being a kid from the suburbs, out of the urban action but not quite in the idyllic setting of rural nature.
The suburbs were never part of art history, until cinema came along. The ennui, the lack of inspiration, the long drive away from the glamour and excitement of the city, all lead, paradoxically, to the wildest dreams and most sordid imaginations, from Hitchcock to Kubrick to Korine. Perhaps that is why so many artists have set upon suburbia and its suggestive scenes of quiet streets and unassuming homes, the perfect premise for unexpected events.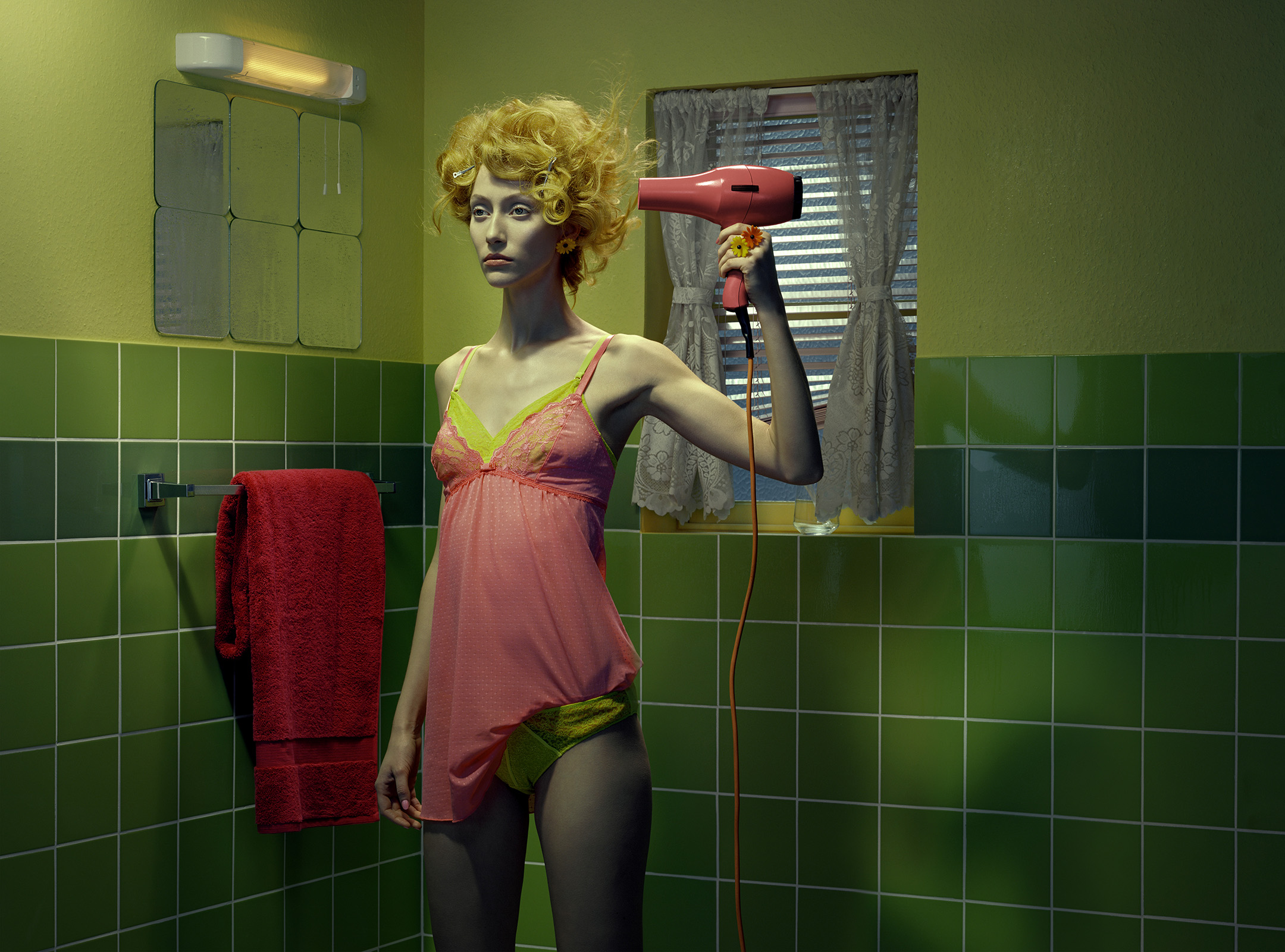 At Huxley Parlour gallery in the heart of Mayfair, a far and distant cry from the doldrums of suburbia, two photographers who deal with suburbia in very different ways are presented side by side. Miles Aldridge is known for his richly cinematic frames, pristine palettes plucked from the silver screen with dead-eyed darlings as their protagonists. In their domestic surroundings, these female figures are more than a little bit desperate housewives: disheveled and motionless. They do little to subvert the sexist ideas of a woman stuck at home in a bathrobe while her partner is out at work. Dark and unsympathetic, Aldridge pays homage to directors like Lynch and Hitchcock in terms of style, but his images are more disturbing since they cannot speak, apathetic and stuck in their delirium. But then, perhaps that's my suburban mind going into overdrive…
Devoid of people but hardly any more optimistic are works from an ongoing nocturnal series by Todd Hido, Houses at Night. Hido lurks around houses with his camera at night to capture American suburbs at their most spooky: isolated and still. These Noir-ish photographs send a chill down your spine. Who is in that house—or who is watching it? Hido taps into a collective sense of paranoia implicit in the suburbs of the US in particular, where the desire to move out is to seek safety from the perceived dangers of densely populated areas. In Homes at Night, Hido flips that idea on its head. Suburbia has never looked so strange.
Both Todd Hido, Homes at Night, 1997
While the works of Aldridge, Hido and Roberts unsettle the traditional idea of the suburbs—a quiet, comfortable life in a detached home with a garden, away from the city's pace and pressures—with the suggestion of something sinister, Alex Da Corte, who also grew up in the suburbs of Philadelphia, takes a different tack in his immersive installations. In these he deconstructs suburban life into its component parts and reveres each item and object like a child examining worthless rusty coins they've dug up with a detector. In Bad Land, his London exhibition at Josh Lilley gallery (which ran from November 2017 to February 2018), what I remember most is the smell of the carpets, a thick, plush affair that had the scent of a show home. A neon work recreated a plastic shuttered window with a curtain billowing against an invisible breeze. Both were so symbolic of suburbia but suspended it in a kind of wistful poetry.
I've long since fled the suburbs for a life on the economic peripheries of the big city, swearing to never go back. To move back to the suburbs, after all, is to die a social death, like the fatalistic femmes in Aldridge's images. Da Corte offers a different perspective, neon-brightly optimistic. After all, suburban life is as blank as a canvas.
This Side of Paradise: Narrative, Cinema and Suburbia in the Work of Miles Aldridge and Todd Hido
Until December 15 at Huxley Parlour
VISIT WEBSITE