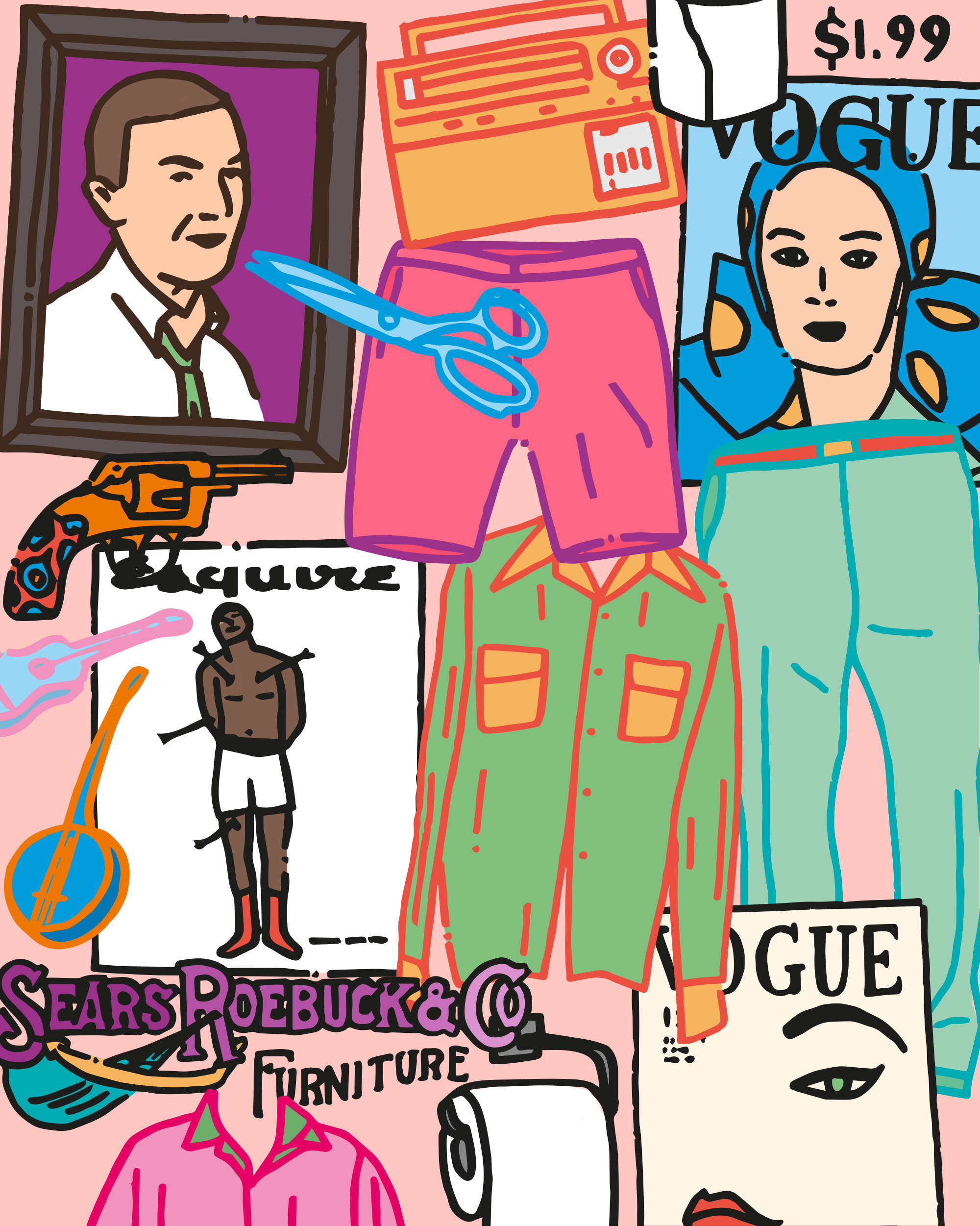 Can We Start Over Again?
"Fashion is a form of ugliness so intolerable that we have to alter it every six months."
—Oscar Wilde
When many people still had outdoor loos in huts behind their houses and apartment buildings, traditional toilet paper was a rarity in the US. Instead, they tore their wipes from Sears, Roebuck & Co.'s seasonal catalogues, first published in 1888.
Loo paper on a roll has been mass-produced since around 1890—it was two brothers, Clarence and E. Irvin Scott, of the still-extant Scott Towels Company, who started the trend. But the copies of the Sears catalogue that arrived through the mail were free. So why buy wiping paper? The catalogue had two further uses—(1) to sell all kinds of goods, and (2) to serve as a wish book for those who were too poor actually to buy things.
Wish books, in the form of today's fashion magazines, haven't changed much—though they are presumably no longer used as wipes.
Don't think that I am immune to their brainwashing. I have always been obsessed with clothes and so was my aunt Dollie. For a tenth birthday gift, she asked me what I wanted. I said a gabardine shirt by McGregor. She gave me six—one in each of half-a-dozen different colours. A relative claimed that I inherited Dollie's predilection for extravagance.
When I was at university in the late 1950s, I wrote articles on men's fashion for the school newspaper. At the time, there were few men's clothing publications. Even though Esquire was already twenty years old, I never read it. Menswear was available in the university's library—an unlikely offering in Columbia, South Carolina, hardly a bastion of sophistication. And the school, whose enrollment was about seven thousand, had no department that involved fashion (although there was a fine-art department).
Menswear, a professional fashion-industry magazine from Fairchild, featured economic news, personnel information and pictorials of men in Palm Beach and in glitzy watering holes for the rich such as Hollywood and the Côte d'Azur. (If you call it "the Riviera", the French will sneer at you.) Almost all the garments photographed were custom-made or bespoke. Some coverage concerned clothes made in small quantities by specialty shops, like Battaglia in New York.
Between school years, I did manual labour in June, July and August to pay for tuition, books, food, petrol and, of course, clothes. One summer, I had a night job in a hydroelectric plant where the temperature could reach 48 degrees Celsius. I hated it. Among my duties was scraping the welding scab off pipes, which meant that I often had my eyes burned by the torch. As a union apprentice, I was paid $1.00 per hour. The union people became upset when they discovered that my pay was the same as that of the ditch diggers, who were black. I am white. So my pay was increased to $1.25 per hour—a manifestation of the treatment of black people in America's South in the 1950s.
Except for shirts and underwear, I had most of my clothes made by Del Piano, a tiny immigrant tailor in a diminutive shop on a street oddly named Lady. He spoke little English. I took him pictures of clothes I wanted copying. All the posters on his walls showed men in 1940s over-padded suits. I found a Brooks Brothers suit for him to use as a pattern. It had no padding, a new style then called "natural shoulders". I also had Bermuda shorts made in wool—an absurd idea because I was in the hot South. I have no memory of the cost of my clothes then. Surely they were cheap.
I then turned to another tailor to have a pair of pants made in a hound's-tooth material. (I bought fabric from another man, a New Yorker who had settled in Columbia.) I would spend hours chatting with him in his shop. I was eighteen and naïve. The tailor asked me: "On what side do you dress?" I had no idea what he meant. I don't remember what I answered. I think I didn't answer. He was on his knees and shoved his hand into my crotch, purportedly to measure the inseam.
When I arrived in New York City age twenty, I inquired about a job at Fairchild, the publisher of Menswear and Women's Wear Daily. They offered me a copyboy's job for a salary that was not nearly enough to live on. I couldn't accept it. However, many journalists who began there in rock-bottom positions went onto prominence.
I was not involved in fashion until the late 1970s when I filled the shoes of magazine art directors taking summer holidays from Condé Nast's Vogue, Mademoiselle and Glamour. A revolting experience—the milieu was much like The Lord of the Flies, only with adults in place of children.
So just what is the purpose of fashion magazines? Lucinda Chambers, British Vogue's former fashion director, who was recently ousted by incoming editor Edward Enninful, courageously confessed in a post-firing interview that fashion magazines are becoming increasingly irrelevant, pandering to their advertisers' needs and failing to nurture new talent.
In the interview in Vestoj, an academic fashion-focused publication, the twenty-five-year veteran of the magazine, who had been mentored by the venerable Grace Coddington, claimed that no one except Enninful knew about his dismissal of her—not HR, not the management. She used the incident as evidence that the ugly underbelly of the fashion business "can chew you up and spit you out", adding that the "crap" on Vogue's covers had been due in part to the influence of advertisers.
Some years earlier, Hamish Bowles, a longtime employee of US Vogue, had this to say of a magazine's value: "Essentially, what you're doing is collaborating with a photographer to create an image that reflects the fashion you're trying to capture and also hold a mirror up to the Zeitgeist of the moment." A benign insight compared to Ms Chambers's.
In a thousand years, issues of InStyle, Vogue and other publications will be found in a cave—a moment much like the discovery of the Dead Sea Scrolls just after the Second World War. And what will anthropologists of the future make of their trove? Will they assume that images of Manolo Blahnik's £1,500 high-heel sandals, Christian Louboutin's £800 spiky-toe sneakers, Tom Ford's £43 lipsticks, Burberry's £720 shirts and Birkin £100,000 handbags genuinely represent the Zeitgeist of our moment?
Perhaps we shouldn't worry. Maybe a millennium from now humans will have become even more superficial than us.