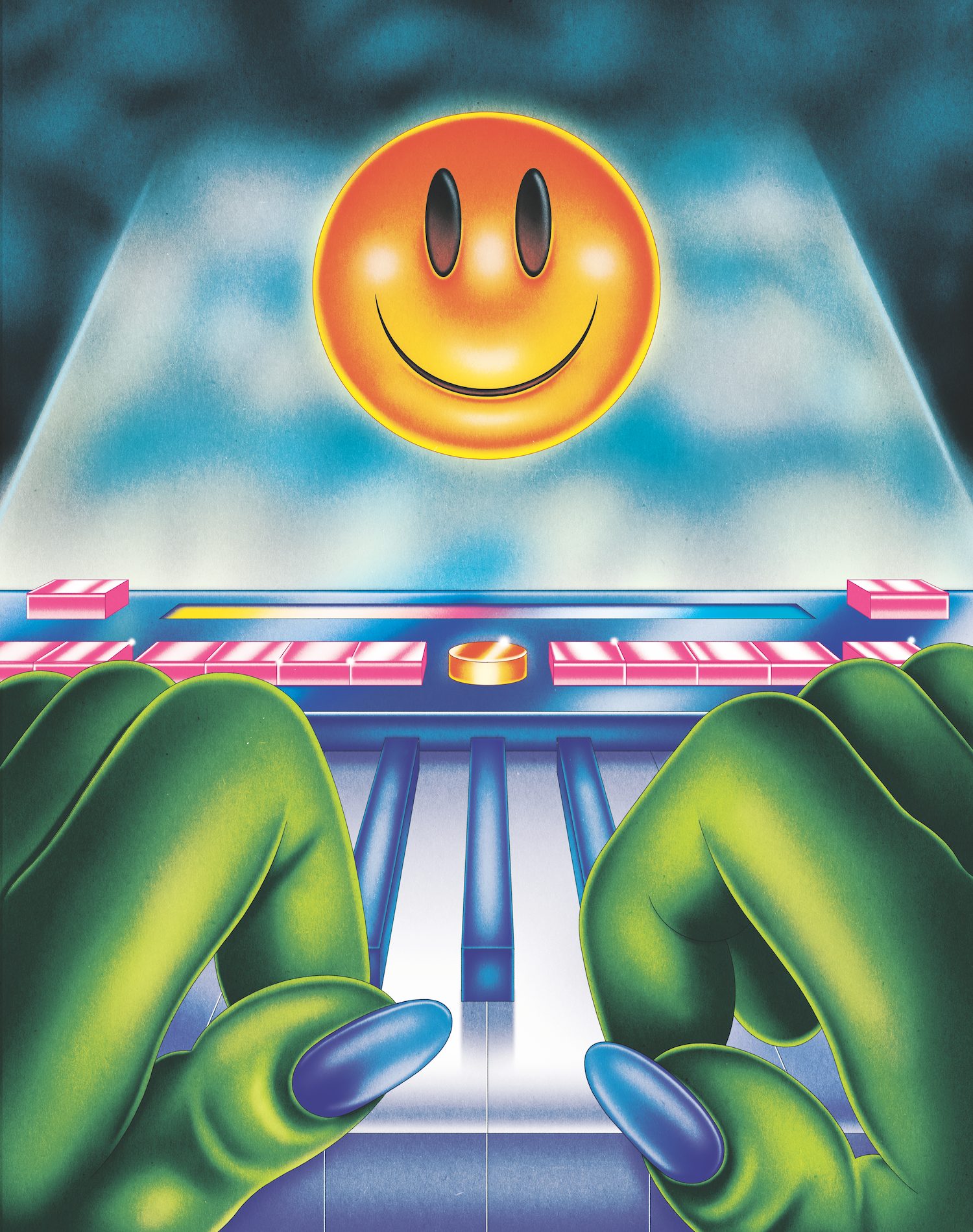 Derek Ercolano's illustration style is highly distinctive, and largely self-taught. Mixing the airbrush aesthetic of old-school, classic sci-fi with metallic-tinged modernity, it's deliciously hard to discern where analogue ends and digital begins in his works. His textures are both sumptuous and garish, his characterisation frequently teetering on the line between beauty and beast.
The Oslo-based, American artist works at an agency as a graphic designer by day, and focuses on his illustration commissions in his "free time". Elephant recently commissioned him to illustrate a feature in our new autumn issue, exploring the sound of euphoria, and checking off the components at the heart of Acid House culture: smileys, Roland 808 drum machines, ecstasy, and so on. He seemed the perfect match for such a commission; there'd be no "Second Summer of Love" cliches here, just a perfect marriage of utopia, dystopia, joy and unease.
Talk me through your process, and how you approached the commission for the Acid Dreams feature for Elephant's new autumn issue.
Whenever a brief is about music, it's interesting for me, because a lot of my inspiration used to come from old album covers. I play and collect a lot of records in my free time, things like old European synthesiser records, everything from disco to private pressings of strange ambient music. A lot of the album art for those records didn't serve the same purpose that it would today: to fill a little square at the bottom of a screen. Back then, the artwork was its own world; I don't think it was even meant to sell the record.
"How can I make this a little bit weird, uncomfortable or exaggerated in some way?"
Some of these beautiful airbrushed covers seemed to offer an insight into another dimension. What was wonderful about this commission for Elephant is that there are a lot of visual references in rave music, so for me the brief was about taking all these things and working out how to string them together into a narrative, instead of just drawing the objects. I thought it was kind of funny to hide the smiley face icon in every illustration.
I don't think my process is any stranger than anybody else's. I do sketches, then just draw over them in Photoshop. Then I separate everything almost as if it was a screen print. With a hand, for instance, each part of the finger has its own separation. I have a very organised system for marking off the layers. With the shading, I always start with black and white, and then add colour afterwards. The texture is all digital. The final steps can really change an image; it's like mastering a record. So I always add some adjustment layers, and for the Elephant commission, I worked with a slightly sharper contrast on top so that the there aren't so many mid tones in the image.
Derek Ercolano, spot illustration for Elephant's autumn issue
What is your favourite kind of commission?
People who want to work with me these days tend to look for a specific thing. Somehow it's worked out that all my commissions are related to science or music, or a little bit druggie, or about mental states. I like to work in those spaces, that stuff makes me really happy. For me, illustration can add subtext to an article, it doesn't have to be an on the nose representation. Maybe I get approached for those sort of projects because my work's a little bit out there. I try to bring a peculiar sense of uneasiness, or show things from a strange new angle. The way I approach it is, "how can I make this a little bit weird, uncomfortable or exaggerated in some way?" That's probably what people come to me for, that exaggeration.
Having initially trained as a graphic designer, how did you find your rather unique style?
A really sort of stupid, backhanded way! I feel like I fell into doing things just through trying them out. I was working as an art director in New York before I took my MA in Bergen, and was drawing a lot on my own, which is something that I've always done. I learn things on my own terms and that's how I've been my whole life, which makes it hard for me to learn things fast. So I would say it's come about through being introduced to all these records with weird covers through my friend, and being like "yeah, could I try and do it that way."
Before my MA, where I focused on illustration, I was working with this undeveloped way of using a rough shadow. I was putting shadows on things where I liked, which didn't really reflect where the light was coming from, since I was just trying to add texture. Then I realised I had to actually start to think about where the light's coming from. I've been slowly trying to perfect that over the last few years.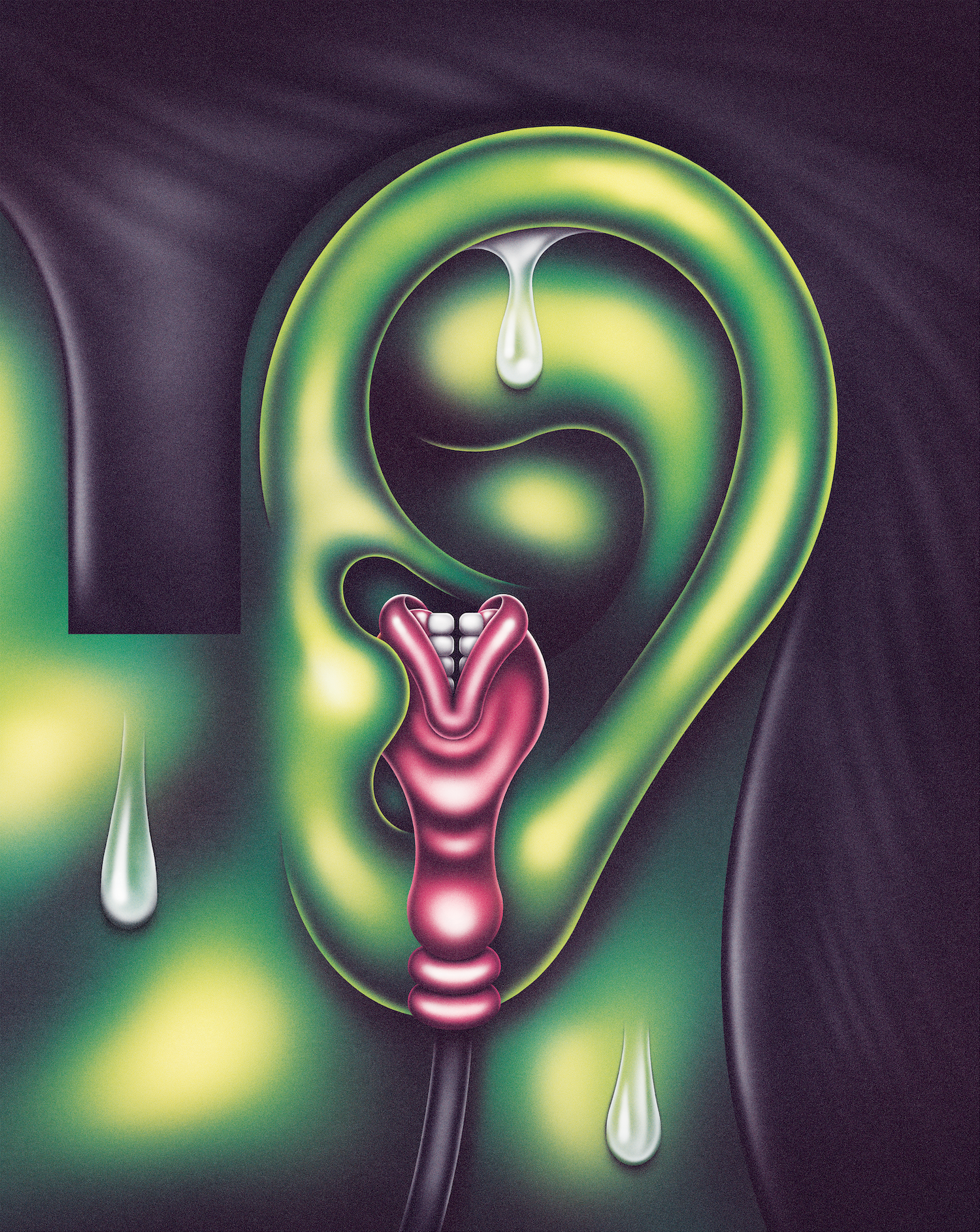 Where do you see your work going in future?
I think that often when you're starting out, you see yourself growing as an artist and your style changing, but as I'm getting older I've realised that the context is what's shifting but my approach stays similar. I've always worked with characters of a sort, and now I'm starting to test out moving into more abstract things and away from representational stuff. I'm trying to shift my own narrative a little bit to see what else is out there. I really do love working on editorial commissions, but I haven't done too many record covers. I've always wanted to draw a very detailed gatefold sleeve, I'm just waiting for somebody to ask me to do it.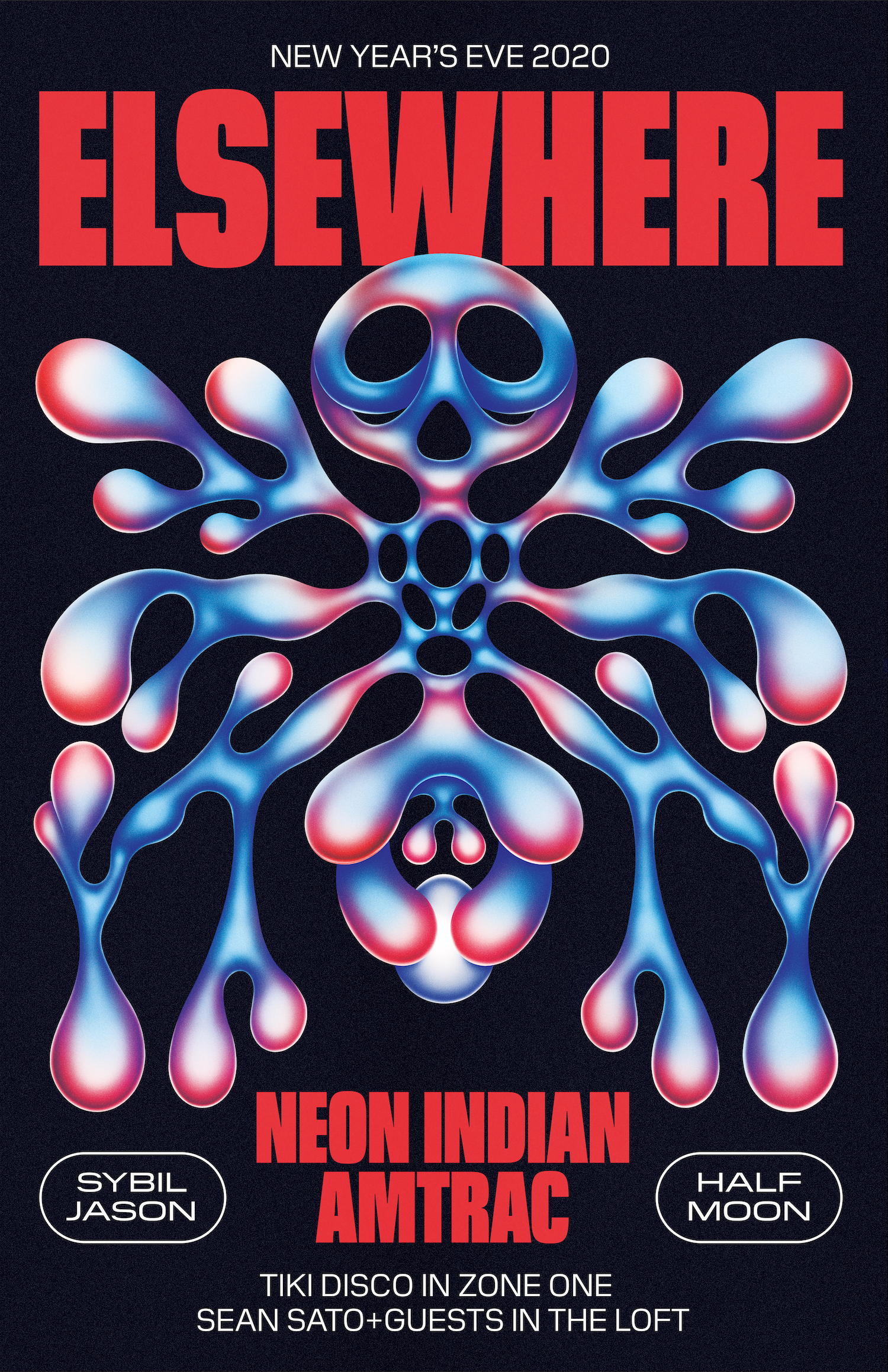 How have you found this year, working as an illustrator?
It's been a bit of a weird time, obviously, and things quietened down a little bit for me. I don't think the more dystopian feeling I have with some of my work really resonates in these times. And of course, publications cut their budgets too.
"I flourish in scenarios where I can be quiet"
It's been interesting talking to people who do the same thing as me and hearing how they've navigated this period. A lot of people found it very stressful to be forced inside, but I flourish in scenarios where I can be quiet. When I'm around a lot of people, and there's a lot of things going on around me, I have a lot of trouble focusing, which is one of the reasons why I left New York in the first place. I found it very hard to be quiet there. When you have a lot of commissions, you can only think about the work you're making. I've found it a good time to take a step back, look at things and think about where I'm going with it. I don't want to repeat myself. I've just spent time in my sketchbook making massive amounts of drawing. Eventually, when I feel like I've got something interesting, I can start making.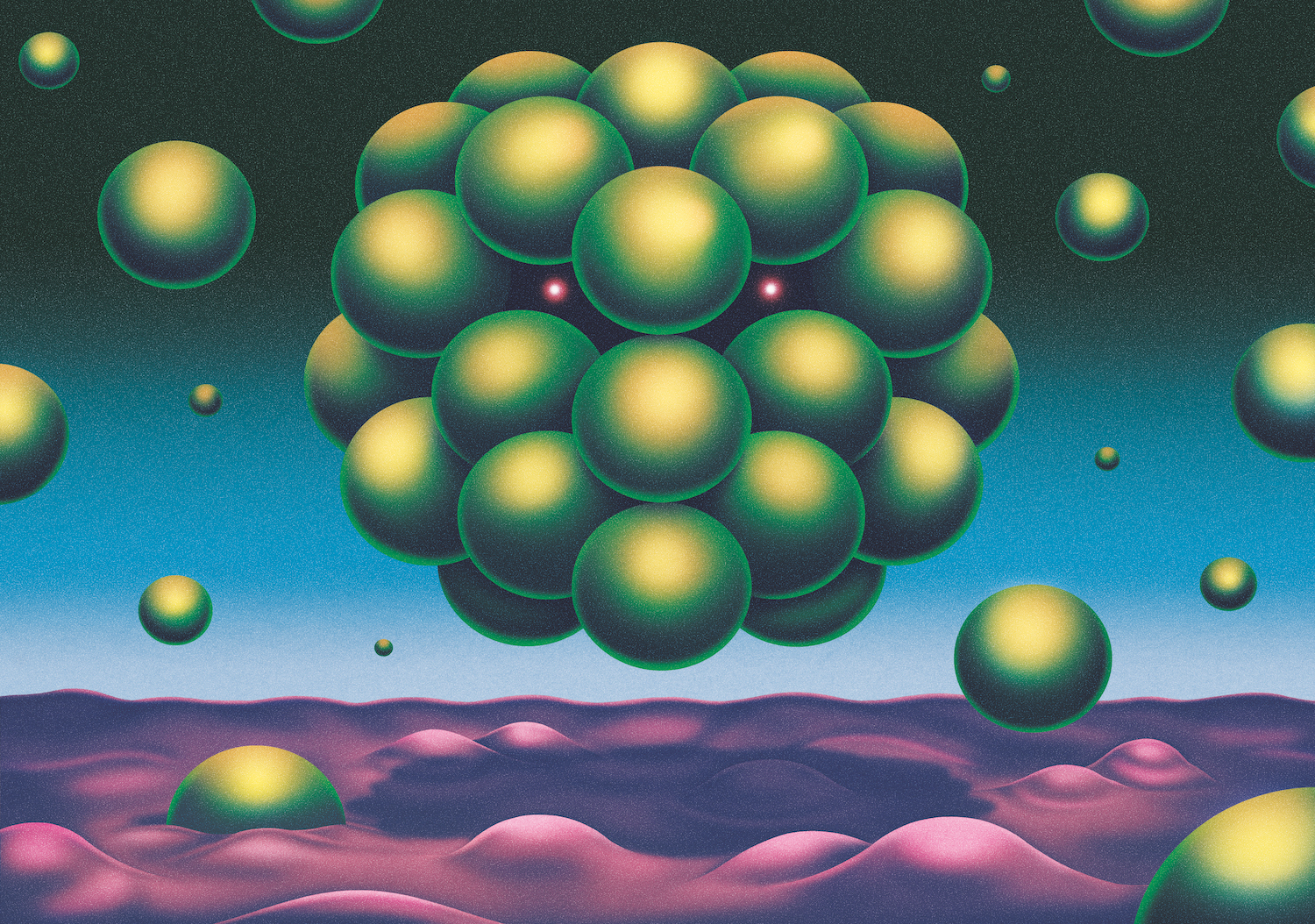 Elephant Issue 44: Art and Optimism in Cataclysmic Times
Out now
BUY ISSUE 44