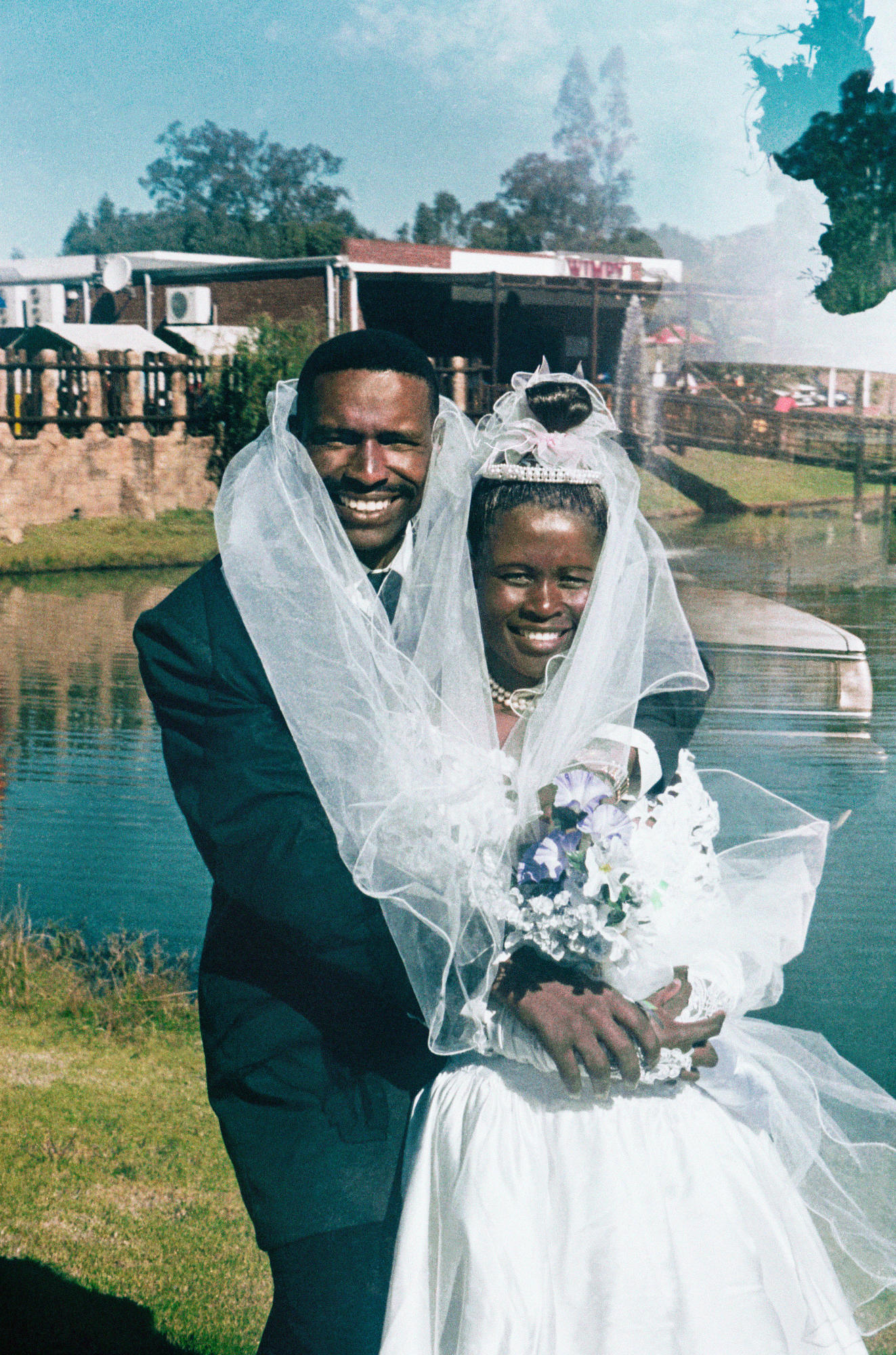 Meet you at the altar in Sabelo Mlangeni's new exhibition at Huis Marseille, Amsterdam, in which the South African photographer presents a remarkable archive of wedding photographs. For almost 30 years the artist has documented the ritual celebrations of marriage in South Africa. Titled Isivumelwano, which means 'contract' or 'agreement' in Nguni, Mlangeni focuses on the diversity of these ceremonies. Many of them frequently break the heteronormative expectations of the 'white wedding', while the moments where they do conform (in everything from tiered cakes to sweeping veils) offer an immediate familiarity that both confirms and confounds the expectations of the viewer.
Mlangeni is best known for his documentary work focused on often overlooked communities. In Isivumelwano, the rituals of love are shown as inherently entwined with certain fixed roles. Even when the participants transcend these stereotypes, they are never far from sight. Yet the painful context behind these images of Black subjects celebrating their love, in a country so recently blighted by apartheid, imbue them with a political subjectivity that is essential to their existence. These photographs are a document of a new era of freedom for a community broken by historic racism, and proof of their right to co-exist in peace, togetherness, and joy. (Louise Benson)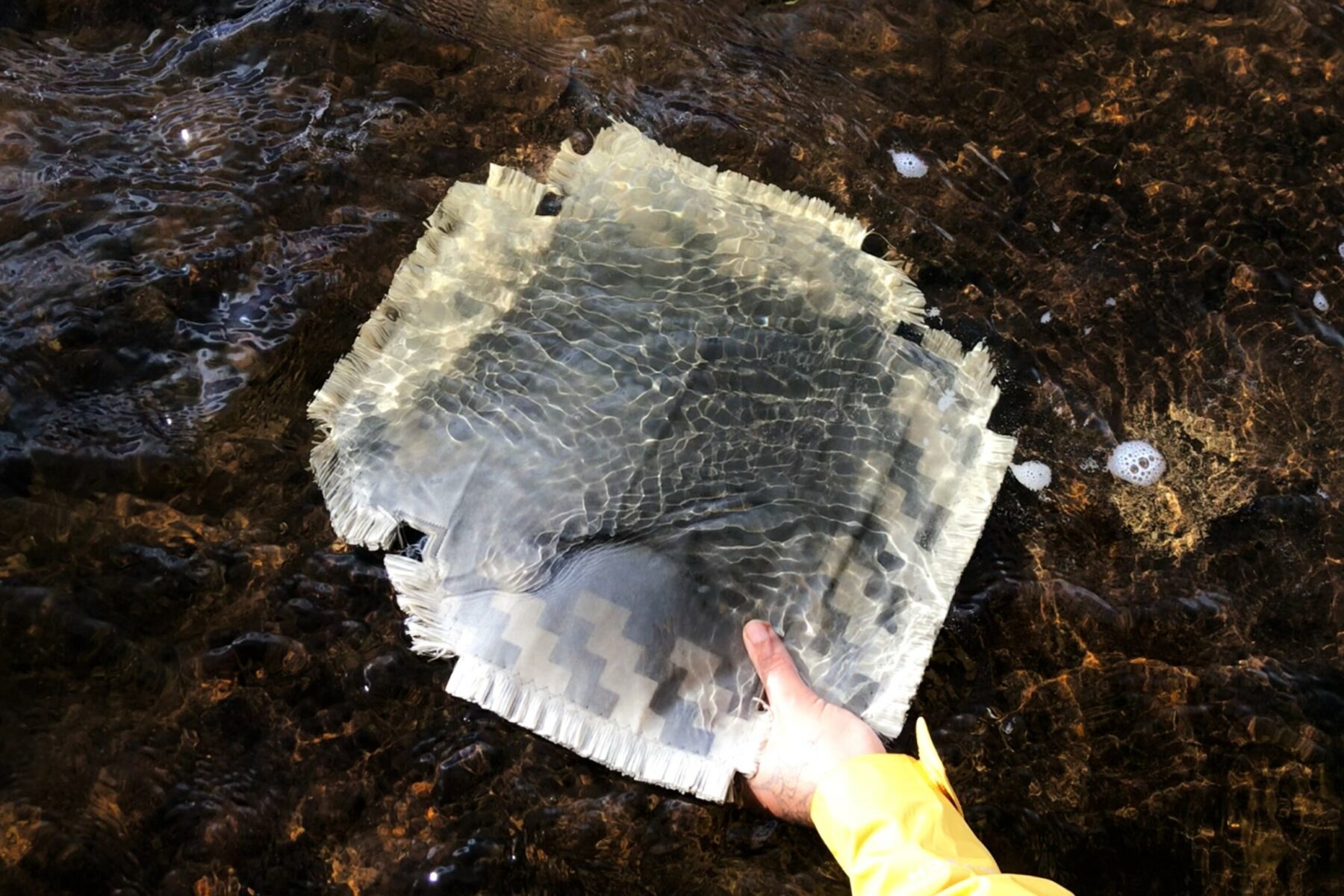 A first major solo exhibition running at Spike Island, Bristol, caps an impressive rise since Tanoa Sasraku's 2019 film O' Pierrot, in which the artist reimagined the clown figure from a mixed-race, queer perspective. In Terratypes, Sasraku develops her practice of filmmaking, drawing and flag-making, towards composite works involving earthly textile and found print-making. Her terratypes are made from layered sheets of stencilled newspaper, which the artist then sews together and deforms. The exhibition also includes photographs and new bronzes.
In Elephant's AW21 issue, Sasraku described using her work as "a form of escapism, to try and tap into the things that I do find healing about being in this country". These new works connect with the land anew, long a source of inspiration and strength for the Plymouth-raised artist. They straddle textile and sculpture, form and feeling, bearing the history and stories of the seas in which they are soaked to finish the process. (Ravi Ghosh)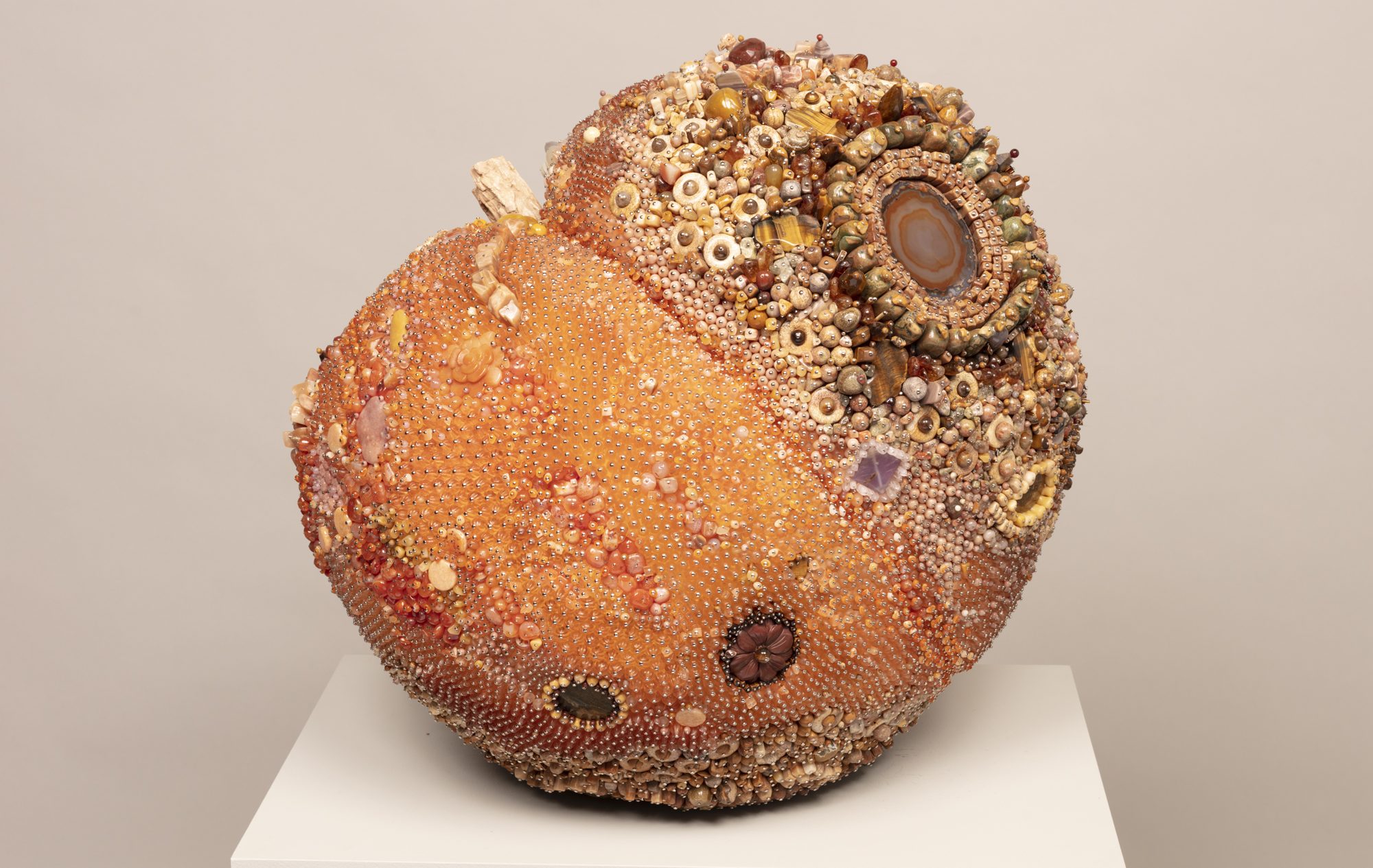 The beauty of decay takes on a whole new meaning in Kathleen Ryan's sculptures. The artist creates intricately adorned objects that usually take the form of rotting fruit, where the stench and squelch of decomposition is reimagined via mother of pearl, minerals, seashells and more.
In her latest exhibition at Josh Lilley in London, seemingly fetid strawberries, melons and peaches are accompanied by even more surreal works that resemble giant clam shells festooned with delicate dew-covered spiderwebs. In actuality, the 'clams' are formed from reclaimed Volkswagen hoods and boots, and the webs from quartz crystal. (Holly Black)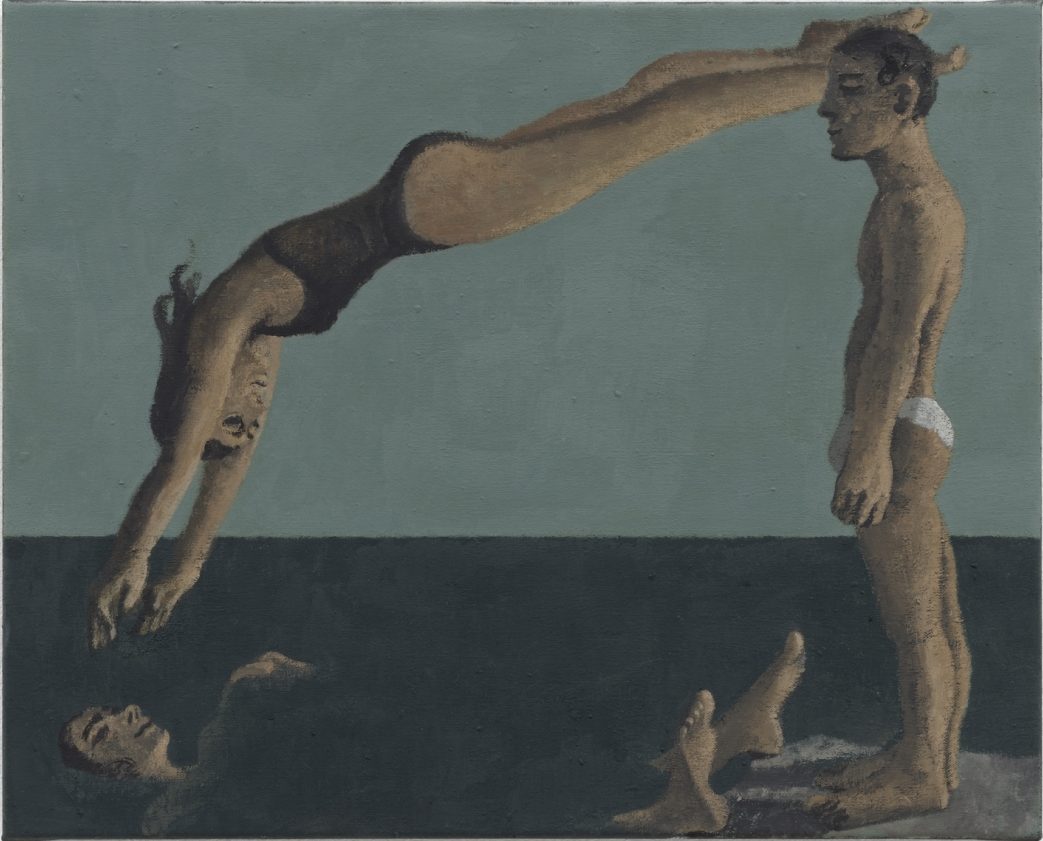 Showcasing paintings that possess an unsettling simplicity, Lenz Geerk's Arrival show at Roberts Project in Los Angeles explores desire. His desire. In one work, three bathers float on, dive into and stand at the edge of a lake. The water is depicted as an inky black rectangle in the bottom half of the canvas. A thick grey-green sky hangs above. Apart from a few faint hints of skin in the water, the landscape is shown entirely in consistent blocks of colour. In place of a busy scene, all that is left is the action of the bathers and the heady closeness of their bodies.
Many of Geerk's works contain the same intense emotion. In some works, the arch of an eyebrow or squint of an eye is enough to convey a deep discomfort in the faces of his subjects. Many of his choices, from the clothes his figures wear to the occasional object that sits next to them, are timeless. His paintings are pared back to humans and feeling, leaving it up to the viewers to weave their own narratives. (Emily Steer)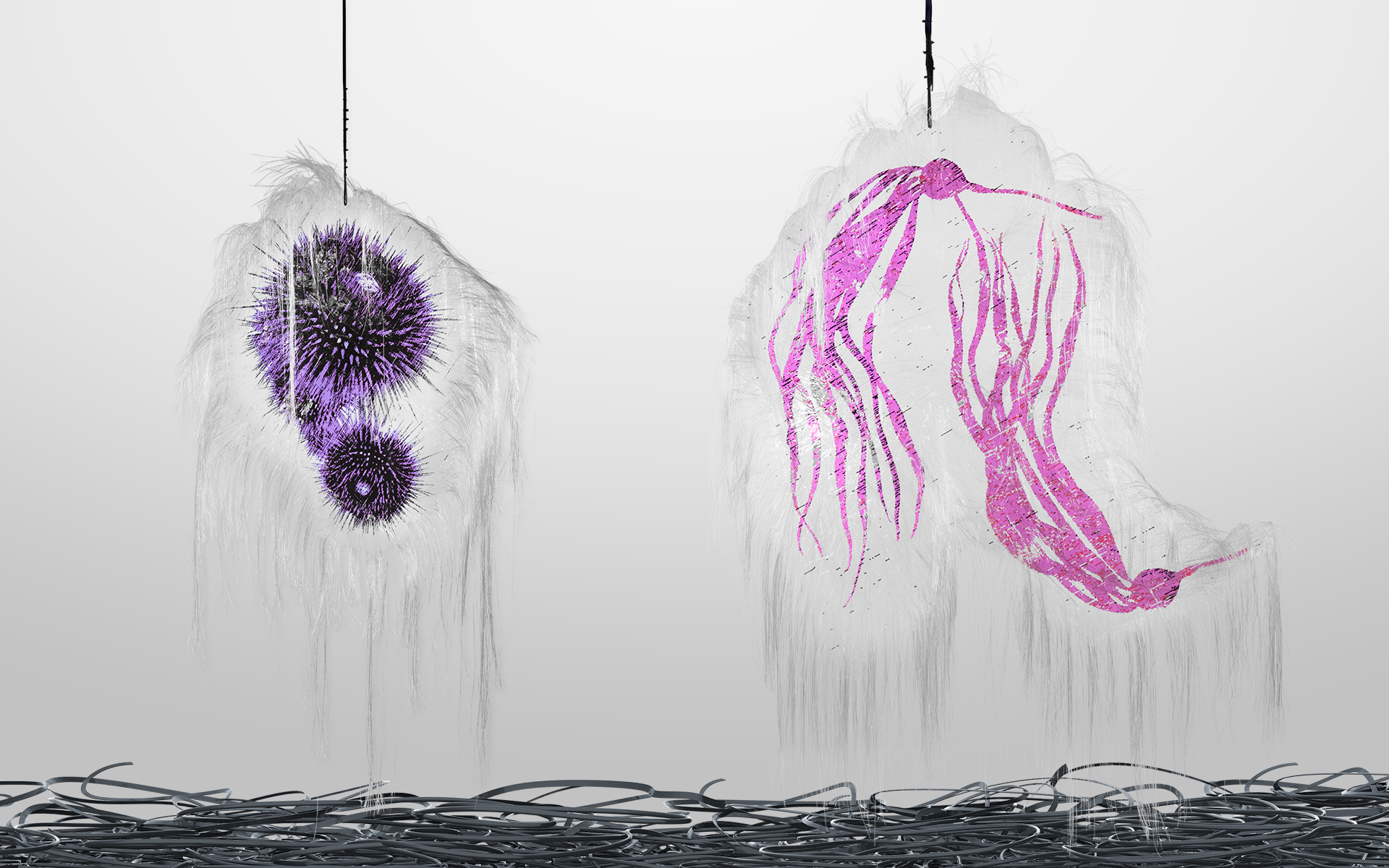 Cloud Point, a new group exhibition at Paradise Row, London, gathers artists "who don't consider objects, products or masses in their work, but rather the atomic structure of our surroundings, and theirs". Focusing on these molecular intricacies draws on theorists from Felix Guattari to Rosi Braidotti, allowing a focus on material and meaning from the "cellular level upwards." Artists include Tala Madani, Hicham Berrada and Pakui Hardware.
A standout name is Mexico-based French artist Estrid Lutz, whose work explores post-digital futures, ocean possibilities and science fiction through a design-oriented practice. "When you dive in the ocean it's similar to being in outer space," she told Elephant in our SS22 issue. "It's a very immersive experience, almost like inhabiting a non-space." Her new works use glass and carbon inks to create eerie, photo-luminescent scenes with a galactic edge. (Ravi Ghosh)
Curated by Katy Hessel, Dissolving Realities at Kasmin in New York, brings together paintings from the last 70 years which test the limits of representation. Nengi Omuku is exhibiting alongside historical painters Lee Krasner, Leonora Carrington and Ithell Colquhoun, and contemporaries Tom Anholt, Antonia Showering and Naudline Pierre.
Omuku's paintings are fantastical imaginings of the inner world, exploring the ways in which psychological states manifest in physical space. She works with oil paint on sanyan, a Nigerian fabric traditionally used for clothing, to depict subjects between states. The body is often shown as fractured or duplicated, sometimes blending into the scene around it, merging with scenery or combining with other human forms. Nothing is solid in Omuku's world; the physical borders that usually divide people, places and objects melt away to reveal an emotive, hyper-connected space. (Emily Steer)
There's something ghostly about the paintings of Aimée Parrott, which flit between abstraction and figuration in an altogether unsettling manner. The experience of looking at one of Parrott's compositions is a little like staring at a closed curtain in a distant window, only to realise that the outlines of the occupants within can clearly be seen. To stare at the shifting forms of these paintings is to locate ever-changing points of view, from the earthly to the otherworldly. Her application of paint might be delicate but its coalescence on the canvas grabs you around the throat and draw the viewer into a simmering whirlpool of hidden depths.
The British artist is participating in two new group shows this summer in London. At Tristan Hoare Gallery, The Conference of the Birds explores the motif of the bird through the work of artists stretching from 800 BC to the present day. Flight and feathers are given new shape in the intuitive imagery of Parrott, whose conjuring of the celestial is perfectly suited to the exhibition's avian theme. In Superpower at Sim Smith Gallery, the female body is centred in a series of painted works that explore coming of age through a nostalgic lens. For those interested in owning their very own Parrott work, an artist's edition is currently available from FRAME Editions, produced through a mono-printing process to create (fittingly) a "ghost image" of the work. (Louise Benson)
Every month Elephant highlights the most exciting artists around
READ MORE