Following Mammal, Bircken's 2018 installation of ship hull-like beams stretching across the hall of Studio Voltaire in London, the artist has created a new site-specific project for the towering Kesselhaus space at Kindl, Berlin. Fair Game features human cloth figures draped and suspended from ceilings and walls, some semi-structured by gravity, others limply arranged around blackout beer kegs from the local Rollberg brewery. Bircken evokes the darkness of collective experience: death and dissociation, but also the relationship between flesh and technology.
The German artist, who trained in fashion at at London's Central St Martins, also incorporates into Fair Game elements from her earlier projects (including a 20-metre-long bone ladder), while the space is sparsely littered with ostrich eggs, stuffed animals, real and synthetic hair and rags, a patchwork of strangeness to match the figures. Later this year, she will resume her collaboration with fashion designer Lutz Huelle at Fondation Pernod Ricard, Paris. (Ravi Ghosh)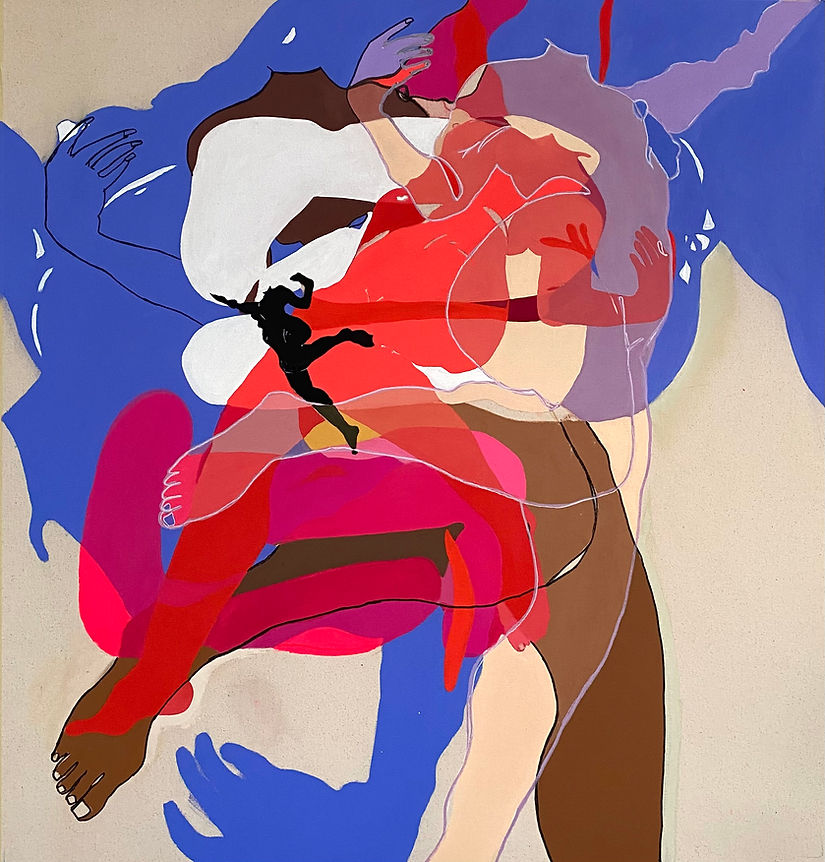 New York-based painter Mekia Machine creates vibrant works that straddle abstraction and figuration: tangles of limbs and hands gradually reveal themselves to the viewer, poking and grasping through expressive marks in reds, blues and pinks. Her Dead Lovers series is currently showing in Peel Off the Surface a group show at Triangle Loft in Manhattan. The works take their cue from a single image: a naked woman swimming, shown from below water and therefore missing her head.
The artist connected this image with memories of a childhood friend who drowned attempting to come to America by sea. The different paintings express Machine's racing thoughts around the tragic death: "How did she fall? Where is she now? How does it look? What happened to her body?" She describes the works as a way to mourn and spend time with her beloved friend. Machine recently took part in Liquitex's Just Imagine residency in New Jersey. (Emily Steer)
The heat of the dance floor in a crowded club takes on new poignancy in the images of Bernice Mulenga. You can almost taste the sweat in portraits where skin gleams and bodies rub up close in ecstatic embrace. That these snapshots of revelry were displayed in her recent first solo exhibition at HOME gallery in North London alongside quieter self-portraits of the artist (taken in isolation during the pandemic) further emphasises both their contrasts and their similarities.
There is a shared intimacy in self-expression that guides all of Mulenga's work (often taken on handheld, analogue cameras). Her Friends on Film series (2018-2021) sees this expressed through joyous collectivity, but she is just as comfortable exploring the introspection that can arise in a crowd. She is intrigued by the edges of people and places, whether that is a moment alone in the queue for a club bathroom or the sunlight catching a face through the haze of a window. It is an immersive experience that lends her work an openness and immediacy as refreshing as the first sip of a fizzy can of cherry cola. (Louise Benson)
Utilising both print and painting, Kour Pour draws on a host of visual histories to consider the complexities of identity, nationhood and lineage, particularly what can be gained and lost through acts of appropriation. He grew up in Exeter, spending time in his father's carpet shop, which led to explorations of aesthetic traditions including Persian carpets, medieval Islamic manuscripts and Japanese ukiyo-e woodblocks.
However, the artist is equally inspired by the sampling techniques of hip-hop artists in Los Angeles, where he now lives. In blending process and materials, as well as forms of perspective, figuration and symbolism, he creates stunning works formed from a mash-up of references, all intricately reimagined. Although he has exhibited extensively across the world, his new solo show at Gallery 1957 in London is his first in the UK. (Holly Black)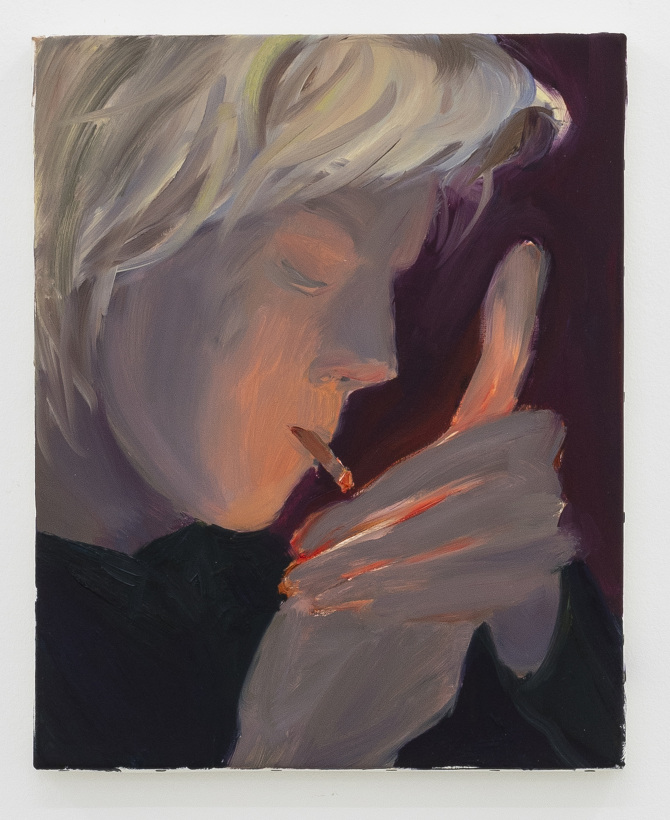 The whimsical paintings of Wuhan-born artist Xinyi Cheng hold your gaze. Perhaps it's the almost luminescent colours of pink, purple and red that seem to dart out from the canvas, or the many characters who look straight back at you. These scenes of everyday life float somewhere between a dream and reality, like the smoke rising from an uncleared ashtray. Cheng's protagonists puff listlessly on cigarettes and check their phones, lounge with a glass of wine in the foreground, or play with a lighter. They are creatures of the languid night, where dusk turns to dawn but nothing really matters so long as the artificial lights stay on.
Cheng will stage her first institutional show in France at the impeccably curated Lafayette Anticipations in Paris, which brings together works from 2016 to 2021 spread across the entire building. This follows Cheng's win at the 2019 Baloise Art Prize, and an exhibition at Berlin's Hamburger Bahnhof in 2020. The artist draws liberally from the Western art canon, putting her own spin on references ranging from Otto Dix to Edgar Degas. (Louise Benson)
Austrian conceptualist Peter Friedl creates mixed media installations, films, drawings and sculptures centred on his own personal history and a dizzying array of cultural references, from the South African psychoanalyst Wulf Sachs' 1937 novel, Black Hamlet, to the 1959 jazz musical King Kong. Report 1964-2022, houses in the factory cellars of Berlin's KW Institute in, is perhaps the 62-year-old's most comprehensive institutional survey show to date.
Forty years' worth of personal diaries are stacked in neat piles in one display, while marionettes of Toussaint Louverture (the leader of the 1791 Haitian Revolution) and Giulia Schucht (the wife of Antonio Gramsci) greet viewers as they enter the gallery's main space, itself home to a selection of more than 150 drawings, started when the artist was just four years old. Models inspired by architecture convey the artist's interest in urban history, while Theory of Justice, a chronological selection of newspaper clippings spanning 20 years, confirms Friedl's stringent documentary impulse. (Ravi Ghosh)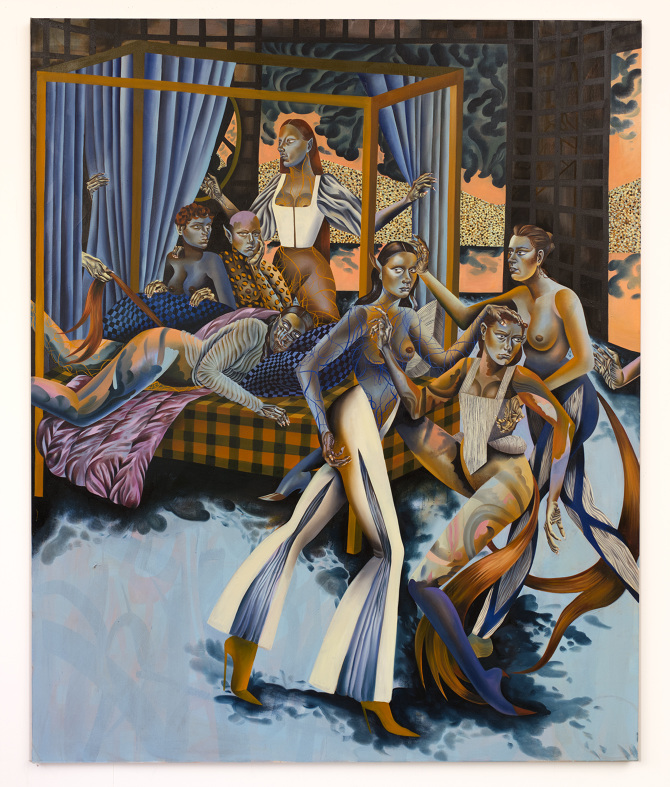 Densely populated scenes filled with crowds of women, verdant landscapes and mythological beasts typify Jessie Makinson's paintings. The Londoner, who studied at Edinburgh College of Art and the Royal Drawing School, creates works filled with the symbolism of art history, yet they remain anchored via contemporary nods such as vibrant leopard-print curtains or heavily tattooed bodies.
Her brushwork treads a line between carved and graded blocks of colour reminiscent of the Futurists, and intricately detailed surfaces, whether they be clothing, body hair or tree bark. Makinson's first print, Stay here while I get a curse, is available via Avant Arte now. It is described as a surreal imagining of a Tudor bedroom, with figures in various states of incongruous undress, all of which add to a confusion of time and place. (Holly Black)
Bodily fluids have the ability to either arouse or disgust, and sometimes they do both at the same time. London-based Venezuelan artist Isabella Benshiomol Toro plays with both ends of this reaction, creating a series of new works that feature white clothes (used pants, tennis skirts) in glistening pools of epoxy resin. Hinting at both innocence and pleasure, the pieces that comprise Papicolostrum Intolerance Club hark back to the artist's experience of playing tennis with her father as a pre-teen.
Notions of boundaries, power and "daddy issues" are combined with memories of post-match ice cream and references to colostrum: the extra thick, nutritious milk produced immediately post-partum. Toro explores sexuality and the body at its most visceral, messy, fundamental level. She is currently showing alongside Eva Gold and Amanda Moström at London's Moarain House, in an intimate and nuanced exploration of sex. (Emily Steer)