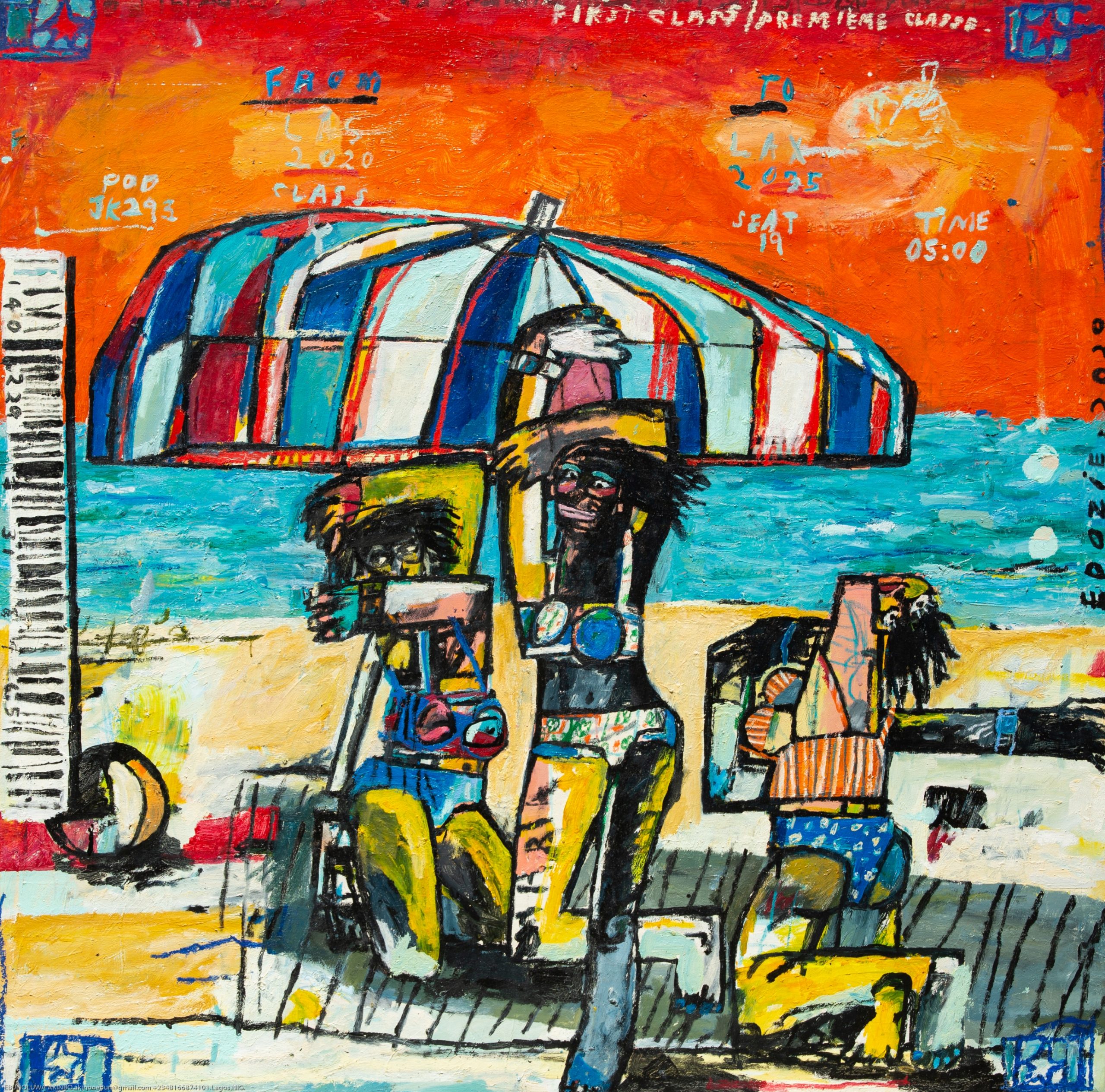 Edozie Anedu's subjects are often depicted using angular, gigantic forms which appear cyborg-like but also child-like; their scale accentuates the assured connections between them. Based in Benin City, Nigeria, the self-taught artist layers oil, acrylic and recycled materials to create scenes of bustling imagination: a family spied dining through a window, themselves experimenting with picture frames; a group of young men playing with children's toys while errant street lamps surround and surveil them.
His latest body of work, shown on Unit London's online gallery platform, investigates the religious imagery through which Anedu was first introduced to visual art. The influence of Catholic iconography is stylistic rather than topical in his work: his scenes share the crowded ostentation of Biblical tableaux, his vibrant narratives stretching to every inch of the canvas. (Ravi Ghosh)
Tomoo Gokita, Remarriage (left); Body (right), 2021. © Tomoo Gokita. Photo: Kenji Takahashi
Tomoo Gokita's work is eerie. It might be the scrubbed-out faces of his figures, it might be the dead Victorian family photo vibe, but there's definitely something chilling going on there. Gokita made his name in Japan in the 1990s, and in 2000 published a book called Lingerie Wrestling, which had some of the hallmarks of his painting subject matter and style, including the grey hues he's known for now.
He has evolved immensely as an artist since then though and his most recent work, about to go on show in the artist's first major exhibition in North America (at Dallas Contemporary from 12 June), takes a surprising new twist by introducing colour to his painting for the first time in decades. The images are still as cryptic and effective as ever though. (Charlotte Jansen)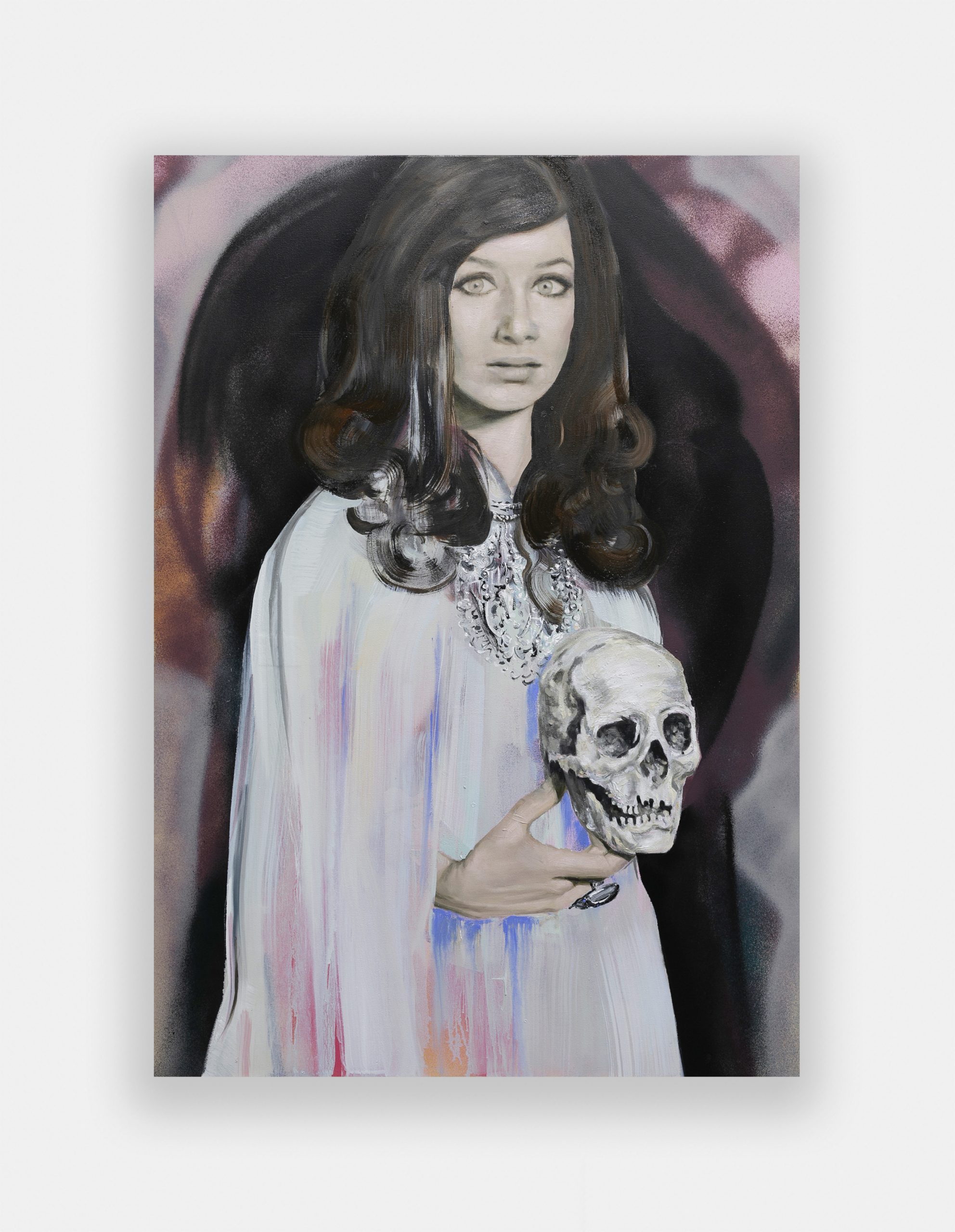 Culturally prevailing images of womanhood are redefined in Paulina Olowska's paintings. The Polish artist, who is also known for her performance work, explores restrictive stereotypes and allows for complexity in her subjects, depicting femininity in many different guises.
This month she opens a show of paintings at Simon Lee Gallery in Hong Kong. Titled 30 Minutes Before Midnight, the exhibition includes paintings of muses and heroines (from the avant-garde spiritual guru Vali Myers to Hollywood stars Jodie Foster and Susan Sarandon) at different times of the day and night. The show draws from John Berendt's novel Midnight in the Garden of Good and Evil and its film adaptation, leading with the voodoo priestess Minerva's quote from the book: "The half hour before midnight is for doin' good. The half hour after midnight is for doin' evil. Seems like we need a little of both tonight." Olowska allows her subjects to be a bit of both too. (Emily Steer)
It's Spring, but it still feels like Winter, which is perhaps why Camilla Hanney's rich imagining of women's problems remains so magnetic, with twisted humour shining through her ceramic sculptures, often arranged into ambitious installations.
Her latest work includes a tiered wedding cake, made of porcelain and adorned with mother of pearl and gold lustre. It's a magnificent thing that has a face and threatens to topple and smash itself into oblivion, together with the institution of marriage and its oppression of women. Hanney's work is part of a group exhibition, Around the Table, at No 20 Arts this month. (Charlotte Jansen)
Left and Right: Emii Alrai, An Ancient Quiver, 2018. Photo: James Clarkson; Centre: Emii Alrai, House of Teeming Cattle, 2019. Photo: Jules Lister. Courtesy the artist
With a practice that spans museology, sculpture and installation, Emii Alrai's process is informed by critique as much as creativity. The Leeds-based artist explores inherited nostalgia and cultural and archeological memory within Middle Eastern mythology, interrogating the value systems we impose upon ancient objects and exploring the Iraqi diaspora in the UK.
Alrai's upcoming project for Jerwood Arts' 2021 Solo Presentations is Passing of the Lilies, an installation which places large sculptural forms alongside smaller clay works, creating an interplay around ideas of value and origin. Her use of materials creates a slippage between the historical ruins she evokes and the unspectacular associations of her chosen materials (plaster, polystyrene, metal and clay), inviting debate around how Western museums confer significance on objects which have been wrenched from their original contexts and material surroundings. (Ravi Ghosh)
Spring fever gets a trippy overhaul in Tom Allen's paintings. The British artist depicts floral forms in kaleidoscopic colours, drawing on the natural world's joyful shapes, tones and patterns and heightening them. Taking inspiration from the Surrealist movement, his vibrant works call to mind unnerving yet highly creative animations such as Fantasia. He is influenced by the exotic plants that grow around his current home in Los Angeles, as well as visits to botanical gardens around the world.
His first London show, The Promise, has just opened at The Approach. "These are not still lives, but rather preternatural portraits intended to capture the true spirit or animating principle of the subjects he depicts," writes the gallery. (Emily Steer)