Visitors are in for a surprise at American artist Rachel Youn's whimsical showing at Soy Capitan Gallery. Catchy electronic house music plays as mechanical disco lights turn the room red, blue and green and a mirror ball gently spins overhead. Ferns and flowers attached to mechanical massage machines dip and sway as if keeping time to the beat. They are dancing, in an absurdist gesture that is beautifully simple.
The artist has referenced theorist Jack Halberstam's Queer Art of Failure in relation to the installation, in which they reimagine the concept of failure as a new and alternative mode of being. "I like finding space for my sculptures to not just entertain like jesters," Youn explains, "but also to allow for more complex emotions like pity and sympathy."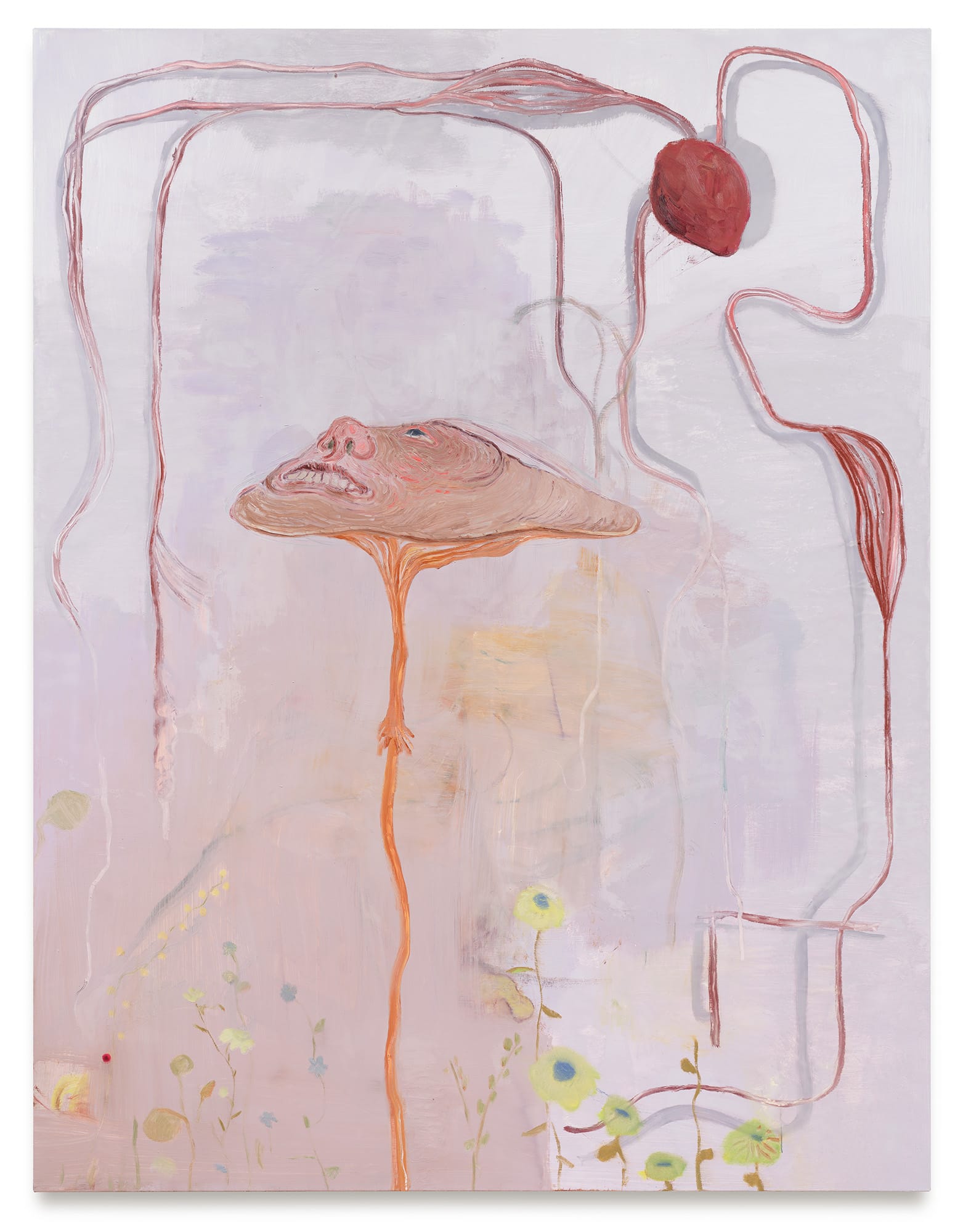 Amidst the glass and steel Soviet-era architecture of Capitain Petzel's gallery space on Karl Marx Allee, a new body of work by painter Sanya Kantarovsky is currently showing. The artist was born in Moscow but has lived in New York for two decades. The paintings on display are visceral and yet delicate, preoccupied with death but also, inevitably, with the realities of life. Smiling faces melt and flatten, interconnected with tubular intestines that wend and wind their way across the canvas.
While working on these paintings, Russia invaded Ukraine and "pushed the work into an uneasy, coincidental alignment with a real-time catastrophic tragedy," Santarovsky reflects. "Filled with a deep ancestral grief and a sense of civic responsibility, I stand in solidarity with Ukraine."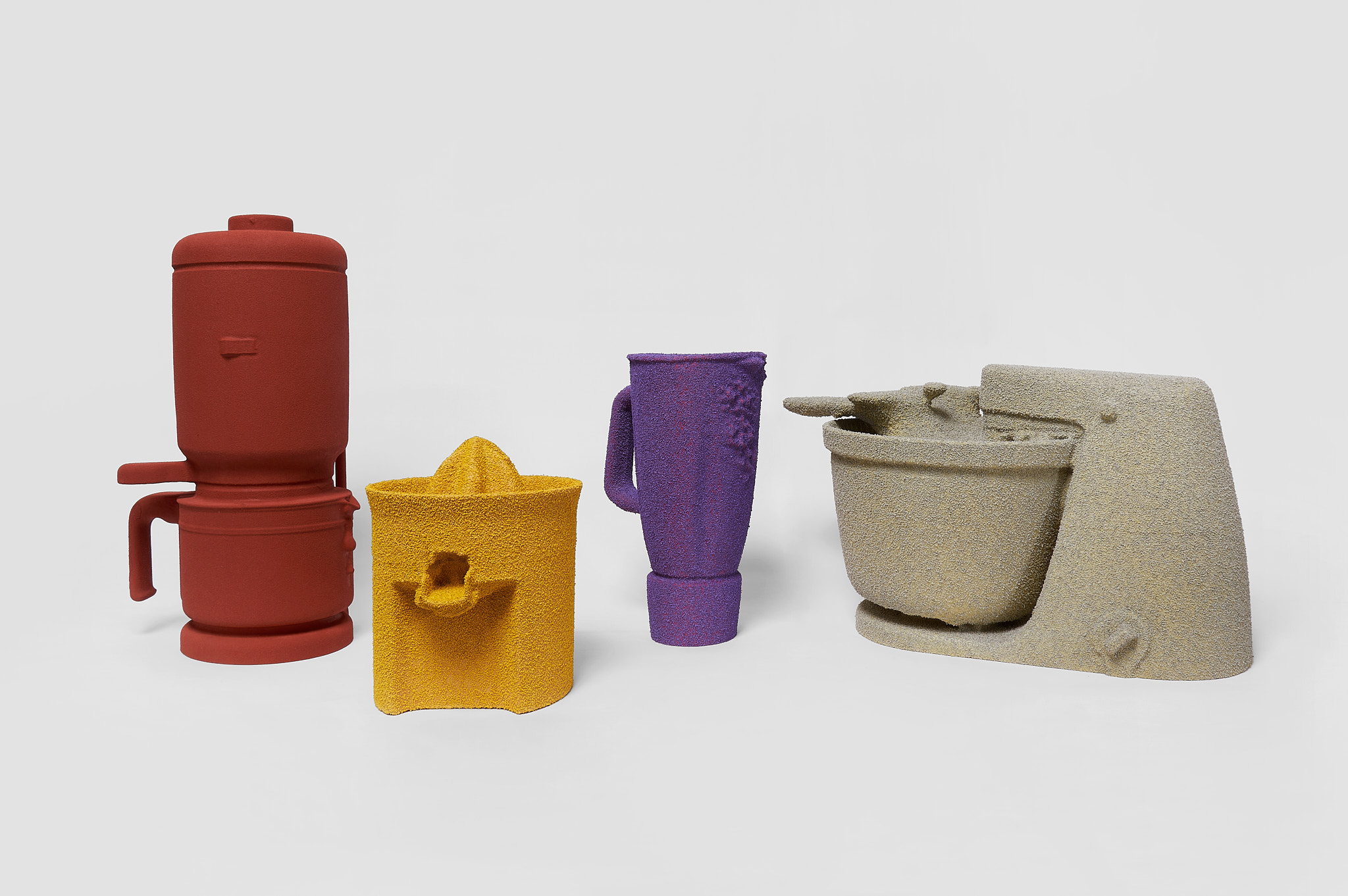 You could be forgiven for a spot of window-shopping at Lena Henke's new exhibition at Klosterfelde Edition, with more than one passer-by stopping to examine the colourful kitchenware on display inside. The German artist has recast mid-century Braun tabletop cooking units, from blenders to juicers, in bright shades of rubber that highlight their distinctive, immediately recognisable forms.
Henke visited the neighbourhood of Hansaviertel in Berlin, populated by modernist social housing, and began to research their history as optimistic new homes in the postwar period. In archive photographs she observed the popularity of Braun appliances within these architectural surroundings, everyday items designed by Dieter Rams whose often-cited principle was, "Back to simplicity." Her sculptures exemplifies this, taking as their starting point the objects that surround us and what this can reveal about the lives we lead.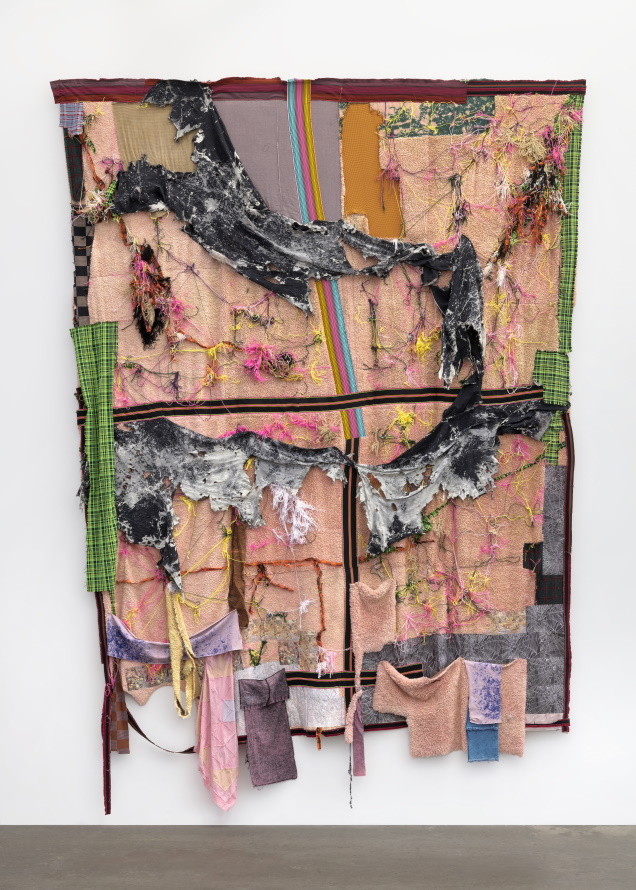 Long incorporating the traditional craft of textiles into his work, Sterling Ruby typically reusing fabrics to tell new stories from otherwise discarded relics of fashion and heritage. A new exhibition at Spruth Magers sees him present vast handmade quilts that expand his exploration of reused materials and garments to monumental proportions. Bleach and dye splatter across swathes of fabric like a visceral expulsion, while rips in the surface feel as violent as wounds.
Upstairs, wood rescued from his mother's disassembled barn is brought together in a new series of compositions, which recall the bold constructions of pioneering American sculptor Louise Nevelson, that again remake the past anew.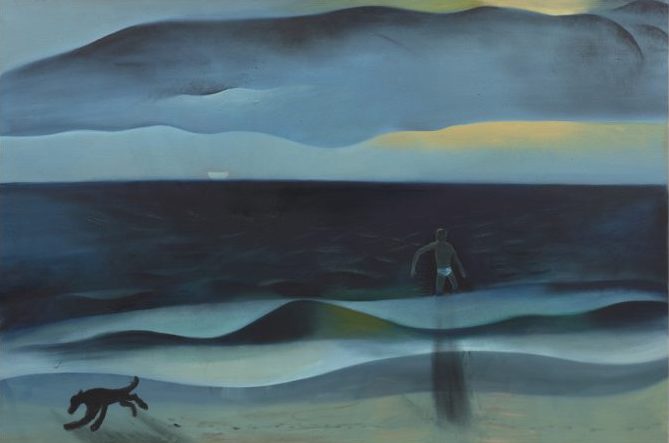 Young American painter Louis Fratino has made waves in recent years with exhibitions everywhere from Sikkema Jenkins in New York to Ciaccia Levi in Paris. His latest showing at Galerie Neu in Berlin comes from time spent in the city on a Fulbright grant. It is not difficult to picture the artist lounging on the banks of the Spree or going for dips in Berlin's lakes from his new series of work, paintings that capture nude male figures towelling themselves dry or engaged in a sensual embrace as the sun strains through the window.
The detritus of everyday life becomes a firmly contemporary tableaux in Fratino's paintings. Magazines, fruit segments and half-drunk cups of coffee are rendered in a loose, almost cubist style which references art history greats from Picasso to Matisse.
Shuang Li, Peres Projects
Pearlescent shells meet rainbow-hued iPhone cases in an unholy collision of nature and technology that comes together with ease, like iridescent pools of oil floating on water. Shuang Li, hot on the heels of her inclusion in The Milk of Dreams at this year's Venice Biennale, is showing new work at Peres Projects this spring.
Born in 1990 in China, Li came of age with the rise of the internet, and the incandescent finish on her sculptures is suggestive of the slipperiness of screens. Bodies are often broken down into pixels in her work, while the addictive allure of the digital realm is ever-present in the cutesy motifs of her sculptures, saccharine and seductive.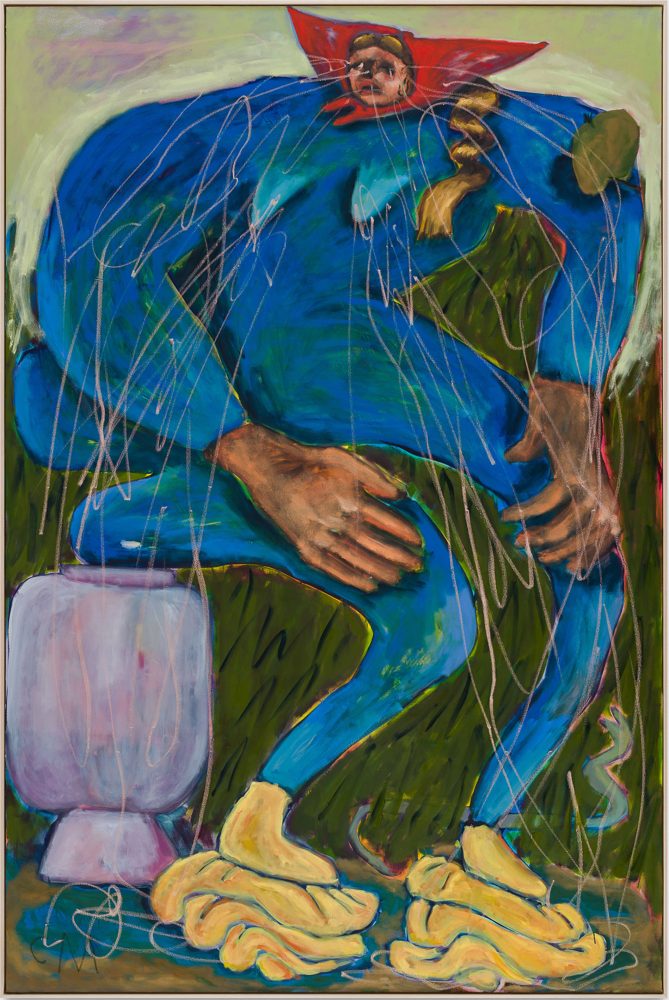 Women in bonnets stalk the night as they clutch limp animals and torn leaves. They tread on sludge-coloured grass and grimace, limbs long and tangled. Welcome to the wild world of Conny Maier, a young German painter whose work is as influenced by the naive art of folk artists such as Ukrainian Maria Prymachenko as it is the unflinching self-portraits of Austrian artist Maria Lassnig.
Maier's new series of paintings takes on biblical symbolism to create timeless scenes of fear and desire, in which the motif of an apple recurs and resurfaces in multiple works. Verging on caricature, humour meets deeper emotion in an age-old tale of temptation and trickery.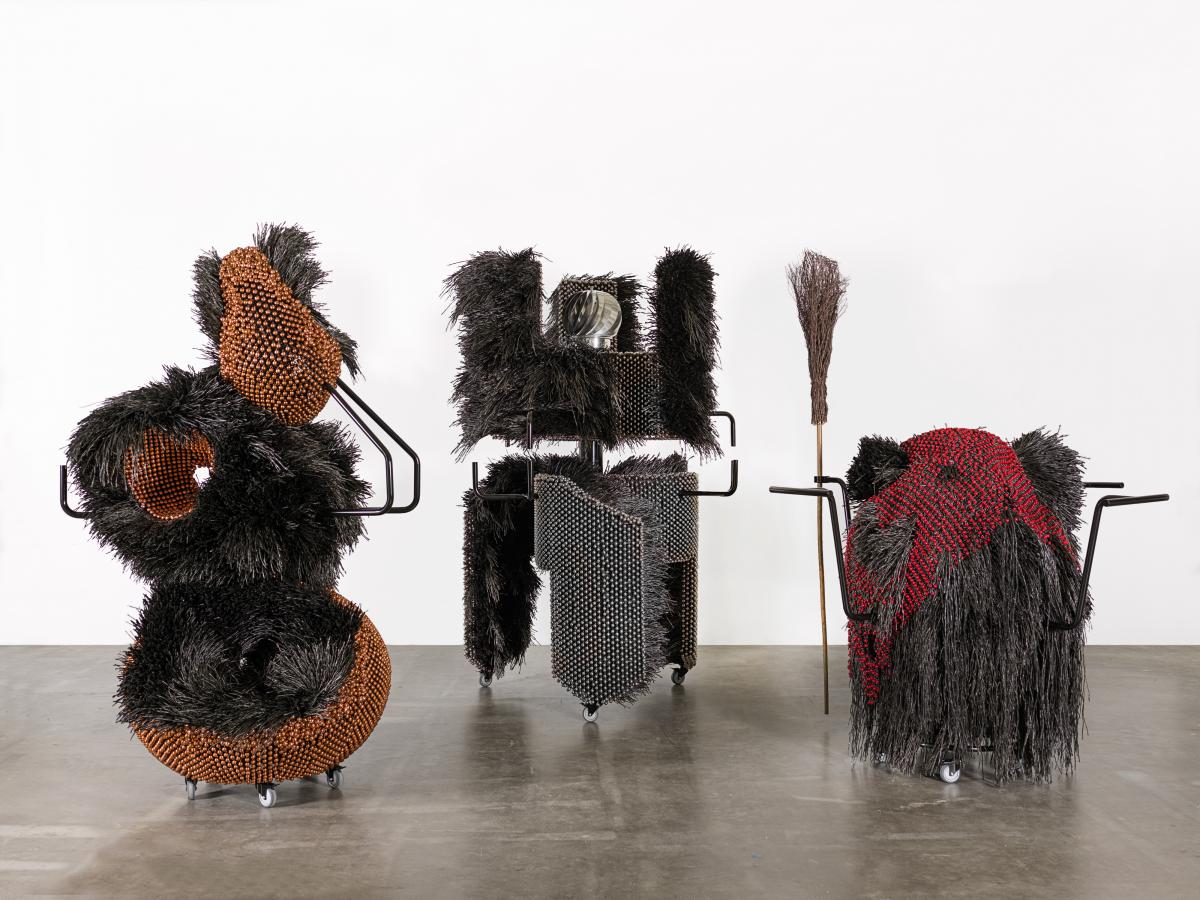 "Look but don't touch!" It's a common refrain in the hallowed space of a gallery or museum, but not so in this exhibition of 'sonic sculptures' by Korean artist Haegue Yang. Equipped with hundreds of tiny, painstakingly attached bells, these sculptural works tinkle and rustle furiously as they are spun like a child's swing or roundabout. An attendant in white gloves stands waiting to push and rotate each piece with gusto, activating their sonic qualities with even the first gentle touch.
Several of these sonic pieces were first shown at Yang's solo show at Tate St Ives last year, while others were exhibited at MHKA Antwerp. Their showing in this intimate setting offers a rare chance to experience them up-close. They are displayed alongside new intricately designed paper collages by Yang and a series of assembled works based upon domestic appliances and window blinds, which extend her interest in the familiar materials of everyday life, exploring the thin line between reality and imagination.
Louise Benson is Elephant's deputy editor
Best Of
Elephant selects the highlights from the best art fairs, festivals and exhibitions around the world
EXPLORE NOW