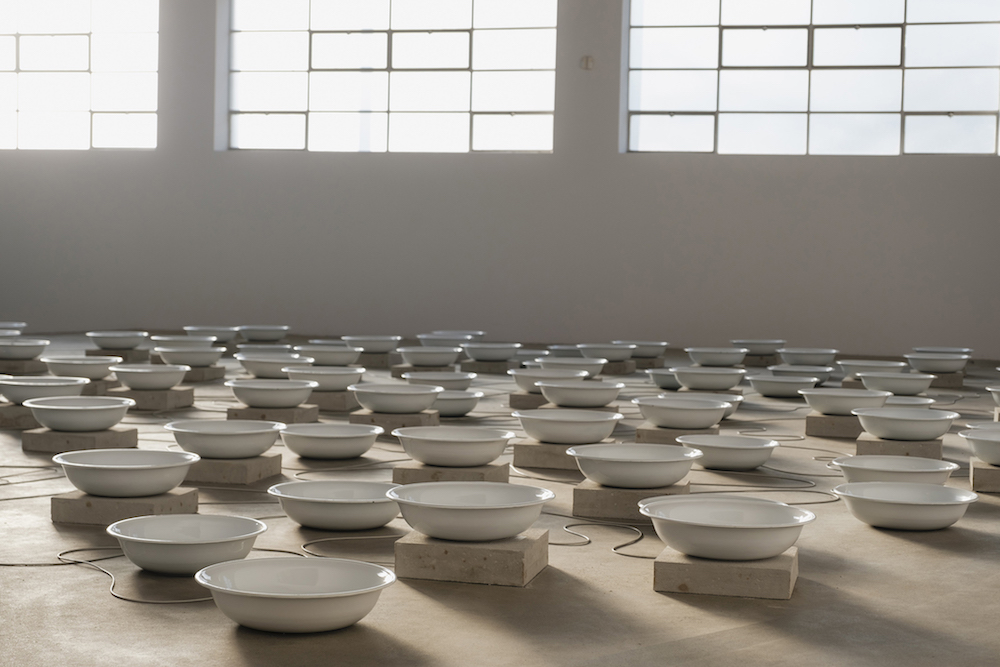 Fatma Bucak's Turin exhibition, So as to Find the Strength to See at Fondazione Merz marks the artist's first major museum show in Italy, following recent shows at Pi Artworks in London and at Harpe 45 in Lausanne last year. Bucak is based between London and Istanbul, and grew up in the latter, although she was born in Iskenderun, a town in southern Turkey close to the border with Syria. She cites her Kurdish heritage as one of the elements that informs and orientates her multifarious practice, working in performance, installation, sound and video as a means to address pertinent themes such as censorship, human rights, migration and state violence.
The exhibition opens with the seven-channel sound installation I Must Say a Word About Fear played from a circle of speakers situated in the gallery's courtyard. Initially developed while taking part in a residency at the Townhouse Gallery in Cairo, this work signifies Bucak's determination to affirm resistance in the face of autocracy, a sentiment that runs through much of her oeuvre. She is engaged with the power of testimony and memory in the development of her work, often layering sounds, voices and narratives as a way to convey collective experience. When we meet, Bucak explains how she had experienced a visceral sense of self-censorship on her arrival in Egypt. "I was shocked about how the fear spread all over my body," she says. "It's interesting to try and understand how the political situation in a country creates a kind of censorship in your own body, one you can't fully describe. When there is no freedom of speech, you have to find other ways of talking and you have to find another language. How can we speak up, without speaking out using the words that are dangerous?" After an open call Bucak began leading workshops with seven citizens, inviting them to externalize their fear into objects, and then using these objects to produce sounds which they recorded alone in her studio. "It's a recognized method," she says. "Once you objectify something it is much easier to look at it, describe it, work with it."
The experience of alienation and displacement is similarly implied in Enduring Nature of Thoughts, which was commissioned especially for exhibition in Turin. Multiple large, white enamel basins are arranged in the space, some of which emit the noise of dripping water. The noise consistently travels, so it is near impossible to discover the source. "It creates a tension between what is real and what is not real," Bucak says. "The work is centred on the absence and gaps in history. The simple gesture of a leak signifies that there is something wrong in the aesthetic perfection of the sculpture, but the leak is part of the landscape. The history exists even if you don't see it."
Bucak's engagement with traces and displacement often comes from working in relation to borders. In recent years she has travelled to different borders in Turkey, Armenia, Syria, Mexico, America and Western Sahara. For De Silencio, Bucak made a large patchwork quilt, working with a Mexican migrant to sew together cuttings of clothes that they had found discarded by border crossers. Bucak had been travelling along the border between Mexico and Texas for two weeks in August 2015, after taking part in the Artpace residency in San Antonio. "There is no archive of the displaced, so this is just a humble suggestion in response to a very complex narrative." The large wooden sticks suspend and uphold the textile, which is folded up, inaccessible to the viewer. "It is difficult to see each part because we will never have the full picture, the full history, or understanding of what is going on," Bucak says. "Some may cross the border, but they don't know what will happen after. The journey never finishes—even when you arrive." The video work An Empire of the Imagination charts the symbolic destruction of the so-called Moroccan Wall, which divides the territories occupied by Morocco and the rest of the Sahara. "It is not just a story of today," she notes, "we have been crossing borders throughout history, perhaps even before these borders existed."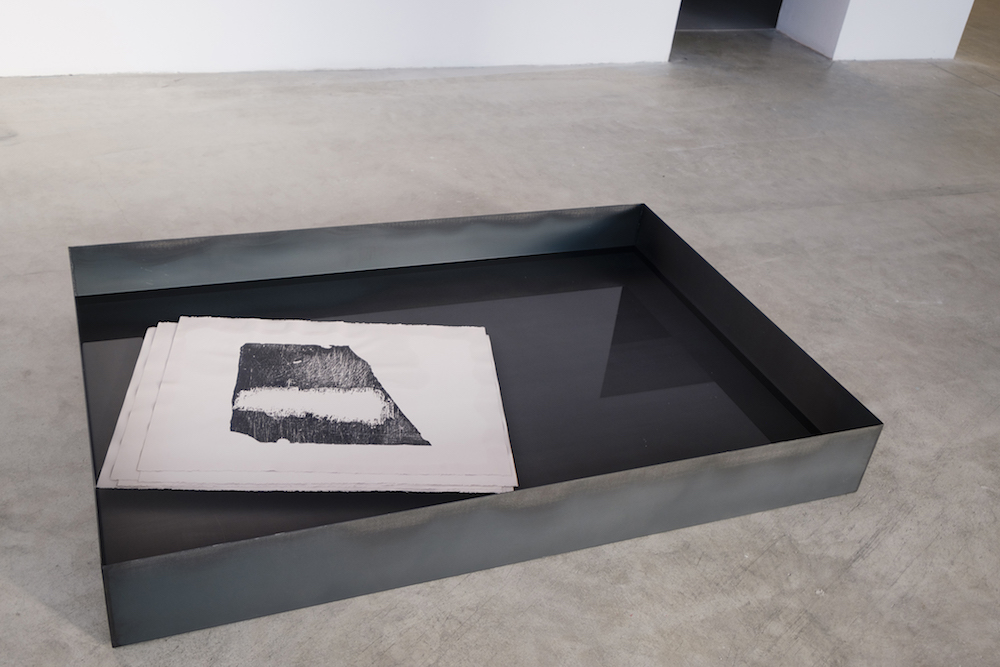 The complex insecurity and precariousness nomadism has imposed on refugees is symbolized too in Bucak's installation Damascus Rose, in which the artist had one hundred Damascus roses transported from Syria to be planted in a flowerbed in the gallery. "From the twelfth-century onwards, Damascus roses have been distributed in Europe. Because of the Civil War in Syria, the soil is losing its productivity, the fields have been abandoned and there is no one to take care of the flowers, along with other vegetables and crops," Bucak explains. "In 2014 I read an article that said that 70% of the production of the roses had been destroyed. I wanted to approach the subject in my own way, starting with the soil. What is the process of bringing something from Damascus to another country, and trying to cultivate it?" Host flowers, in this case rosehip flowers, are planted to support the growth of the new plants, giving them the possibility of survival. Young cuttings of the rose are transported to Italy, from fields close to Damascus, via Lebanon, Saudi Arabia, Bahrain and Germany. However, due to a "missing document", the roses were delayed for indefinite inspection by Italian customs in Milan, mishandled and eventually destroyed. The second batch is still awaiting approval. The soil is still waiting.
Bucak's process-based practice, and her translation of experiences into objects, comes to the fore in the three particular works. In Black Ink, moveable lead type is laid out on a metal tablet, spelling out the recipe for the ink used in printing. The ingredients were obtained from the ashes that Bucak collected from the warehouse of an independent Kurdish publishing house, which was torched. The themes of loss, censorship and suppression are also central to 342 Names. Bucak repeatedly etched the names of political dissidents in Turkey on a lithographic stone, until it finally crumbled and broke. The names were predominantly of Kurds, who had been the victims of enforced disappearance. "I started from the 1980s coup d'état onwards," she clarifies. "There is no public or legal archive about these people. Different organizations in Turkey have collected various names, which I brought together. We don't know what happened to them—if they are dead, or in prison, or still alive." The printed sheets float in a tin tub of water, which will slowly dissolve. It functions as a counter-monument, a tribute to the black hole of memory.
"It's a memorial of pain, a memorial of the story of the event," says Bucak. "Each work takes a different form each time. It might be a print, or mobile type, or the quilt, or a garden." Fantasies of Violence is comprised of 117 double-sided zinc printed plates, arranged on shelves. Every plate is etched with abstract markings derived from representations of violence reproduced from newspapers. "The more we see images, they become abstracted," Bucak says. "I began redescribing the images, through my eyes". They are accompanied on the back of each plate by a narrative description of the violent act. Each day, one plate is selected, either by museum staff or the general public, to be turned over and reveal its etched face.
In two video works made in 2013, Bucak returned to the story of Genesis in order to create an alternative mythology, reimaging the story of first man as the creation of first woman: "What would the world be like if it was woman who was born first?" In the video Fall a nude female figure chucks rocks, eventually hurling a large boulder, from her fort atop a mound of red earth. Filmed on the border of Turkey and Armenia, on a construction site that had revealed this striking red landscape, Bucak was interested in creating an incongruous and alternative universe. Nomologically Possible Anyhow is equally surreal, following a woman's attempt to place one hundred eggs inside the cement blocks, laid out like ancient ruins. The footage is screened on thirteen separate monitors, on different timers. "It is an impossible image," Bucak remarks. "It never stops; the action never stops."
This notion of an impossible image, of abstraction, of renegotiated history as an alternative mythology lingers after leaving the show. Bucak's practice eschews singular interpretation, inviting a coalescing of responses. Her environments interrupt the gallery, giving creative space to and amplifying the voice of political dissidents, minorities and those excluded from traditional narratives. It is not didactic, but a symbolic gesture, working in the gaps between the margins of the political and the poetic.
So as to Find the Strength to See
Until 20 May at Fondazione Merz
VISIT WEBSITE