Paris is a fun place to be right now, give it a couple more weeks and people will be proclaiming the arrival of spring with great zeal; there are even the last clutches of daylight as you head out to gallery openings. Two major institutions have just opened their new season of exhibitions: Jeu de Paume and Palais de Tokyo, while the city's galleries are showing a range of shows including contemporary takes on portraiture and an exploration of colonialism through the lens of botany.
Unfinished Portrait at Mor Charpentier 
It feels like a rare occurrence to find a portraiture show in the contemporary art world, maybe it's unfashionable these days, but this show at Mor Charpentier in the Marais is nonetheless a refreshing assessment of the medium. Teresa Margolles's Pesquisas (Inquiries) is striking as you enter the gallery. The degraded photos of missing person posters from the streets of Ciudad Juárez seem like a bleak contemplation of the disposability of women, while Lawrence Abu Hamdan's Double Take, a looped video work, reflects upon the colonial origins of the aesthetics of Arab portraiture. Mostly composed of photographic works it is a compact yet diverse exhibition that reframes the nature of portraiture in its contemporary iteration.
Until 31 March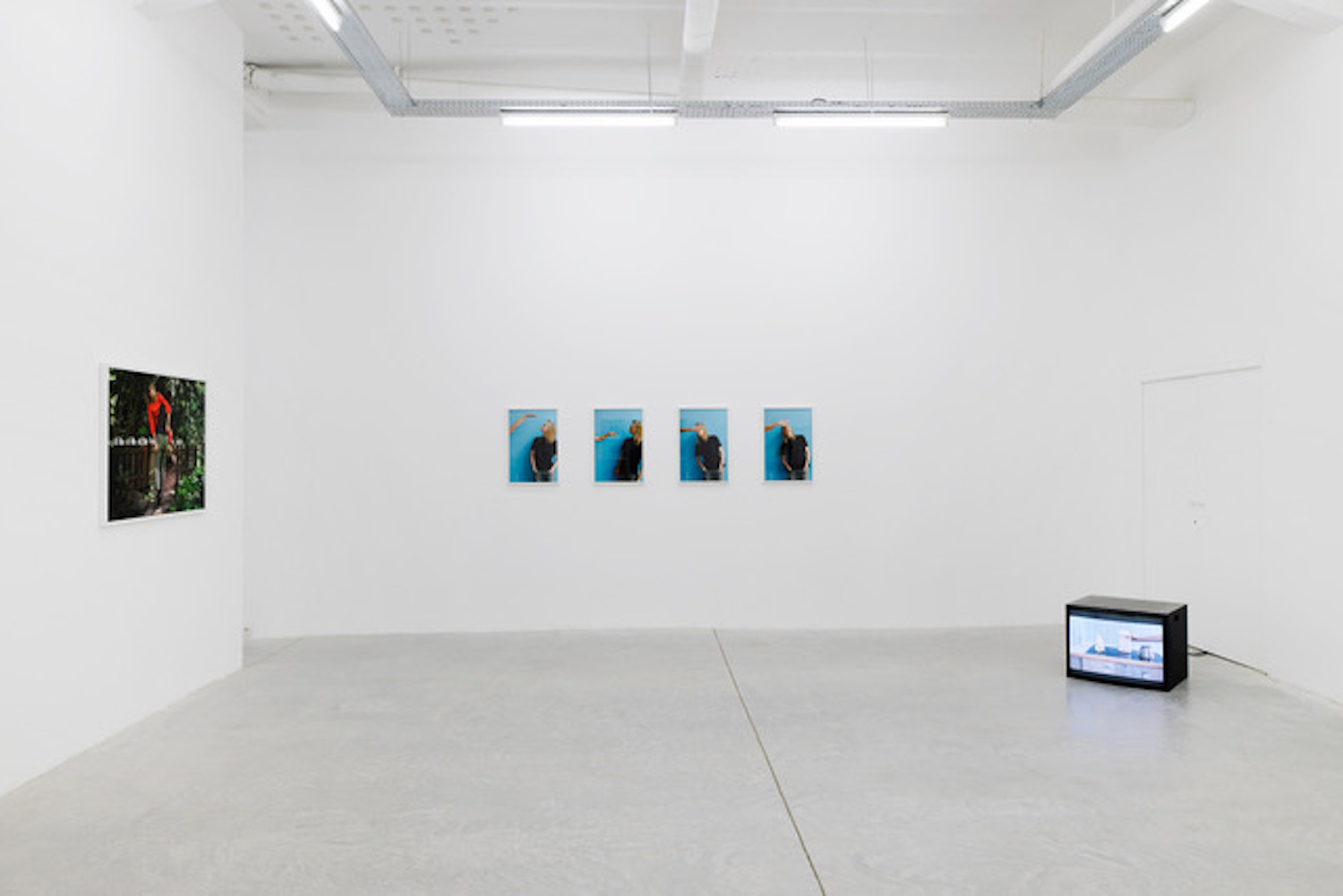 Mac Adams and Elina Brotherus at GB Agency 
Elina Brotherus has perfected the art of interrogating simple gestures and the banalities of the everyday. Her photos are inflected with humour while her videos, a series of short films each referring to seminal moments of art history authored by Larry Miller, Tuomas Timonen, Fischli & Weiss or Marcel Duchamp, are short, sharp and stark, with the feedback from the small TV monitor on the ground creating an almost imperceptible soundscape. Mac Adams continues this examination of the quotidian; his sculptures are composed of rocks and wires and other trivial objects project shadows of cadged bunnies and birds in flight. This game of changing perception is wonderfully simple and surprisingly pleasing. It's also worth a visit just for the gallery's wonderful light-flooded architectural triumph.
Until 10 March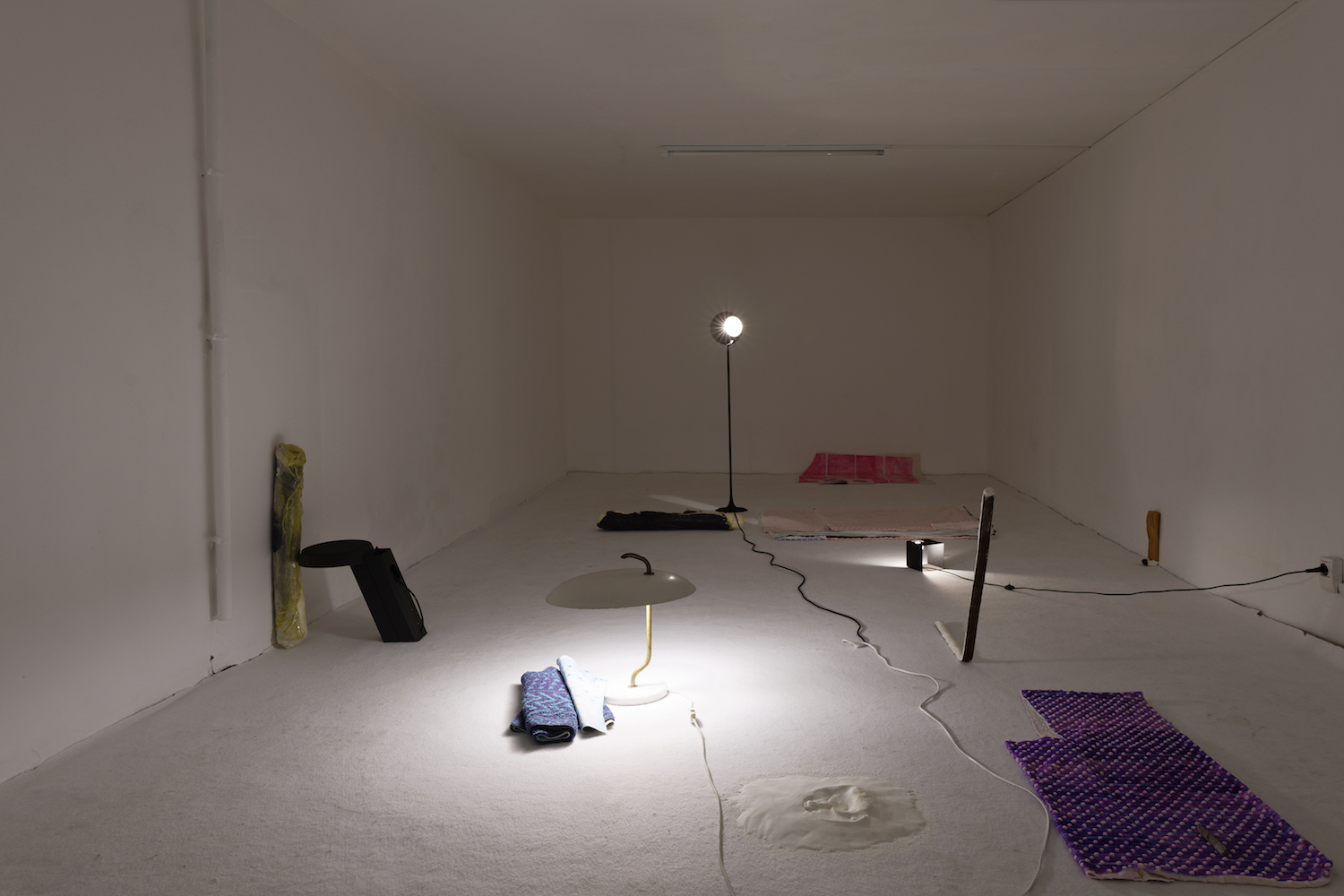 Je T'épaule Tu Me Respires at Marcelle Alix
This show is wonderfully heartening, centred around the notion "prendre soin", which can be translated as both to "take care" and to "be careful", it questions the experience of the exhibition and our relationship to artworks. The small space is laden with works of an appealing physicality: hand woven felt rugs by Natsuko Uchino are piled up alongside stacks of beautiful pottery, while the downstairs space is lit with design lamps created by Gino Sarfatti during the 1960s. A number of the pieces on display have a distinct utilitarian function: lights, bricks, rugs and dishes, yet in their scattered configurations, placed on the floor, they take on a new life as an artistic object, which must be handled with care.
Until 31 March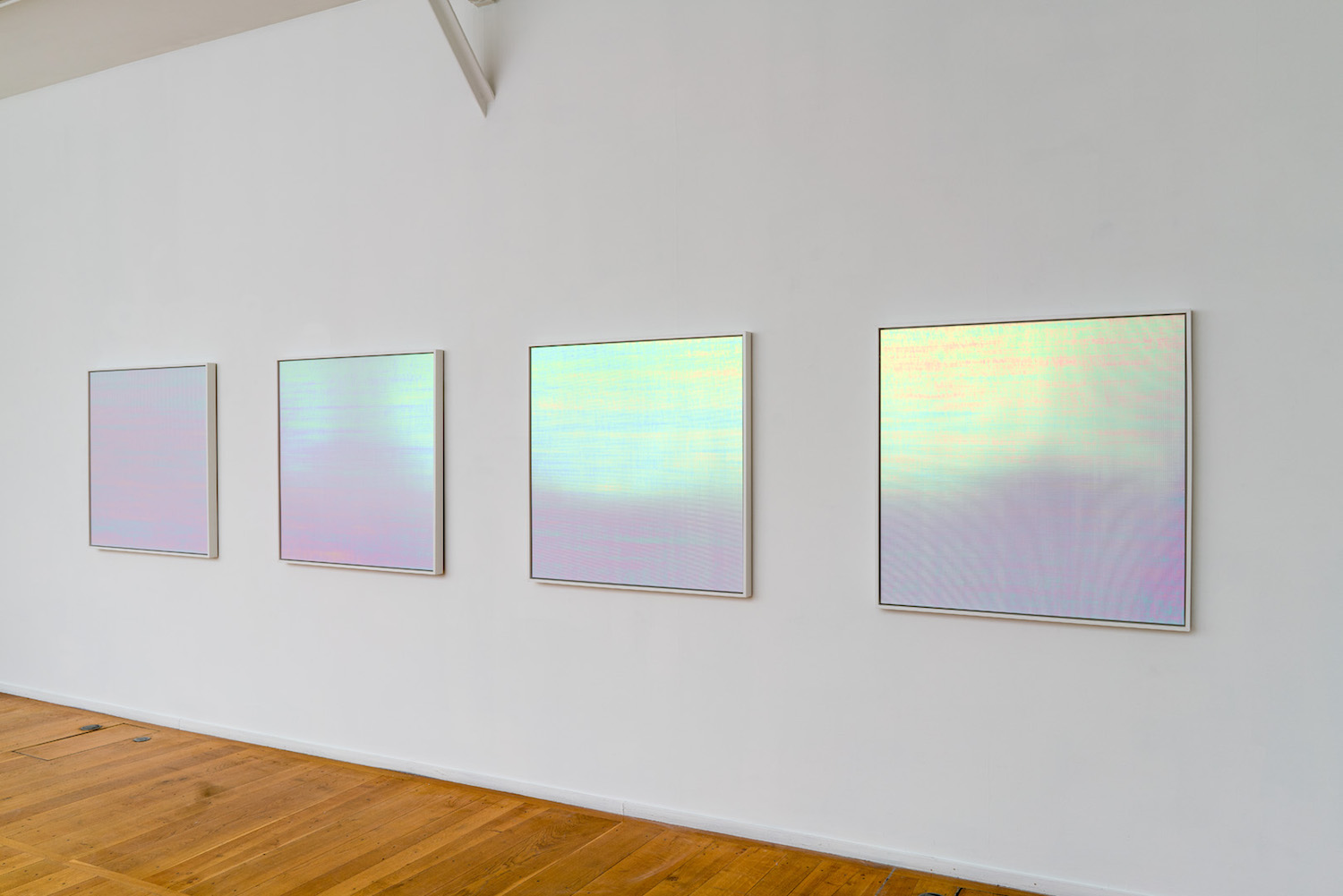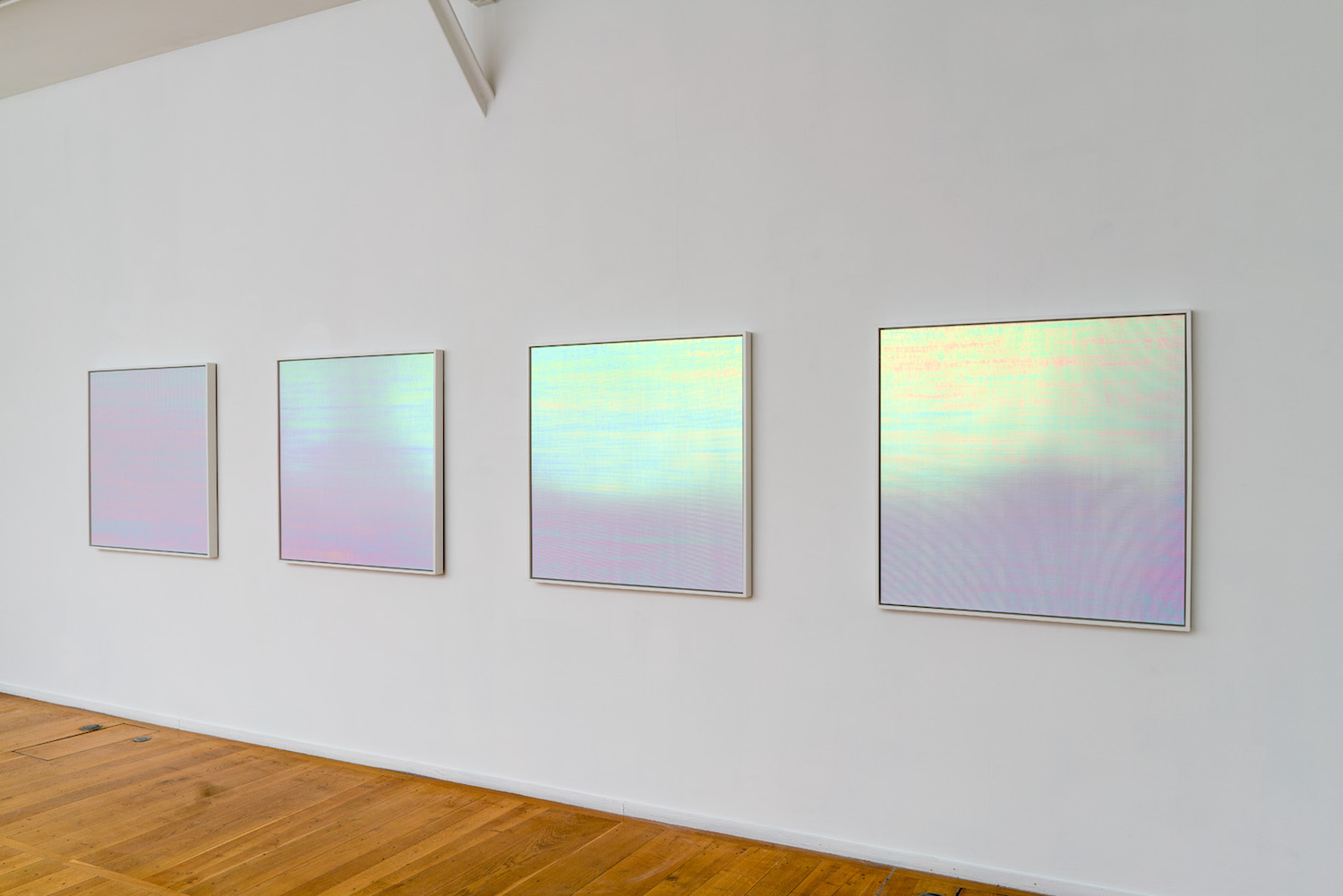 Dominique Blais: La Fin du Contretemps at Galerie Xippas
This most recent show by Dominique Blais at Galerie Xippas (his fourth with the gallery) is based around the concept of music, but more specifically the temporality of music, its silences and the act of waiting. A thread of lamps strung from the ceiling drag you through the narrow spaces of the gallery, illuminating one by one in a chain reaction providing a metronomic rhythm to the show. A degree of suspense is created as you pass a piano—covered with a cloth—and a number of ornate still spinning tops, only to be met with a locked door where a phone rings, the caller is put on hold and the line cuts. It is subtle but disquieting, a sensation which extends to the oil painting in the entrance, not yet dried, its paint peeling and dripping down the wall; it is a delicate brand of conceptual art which provokes a visceral experience.
Until 7 April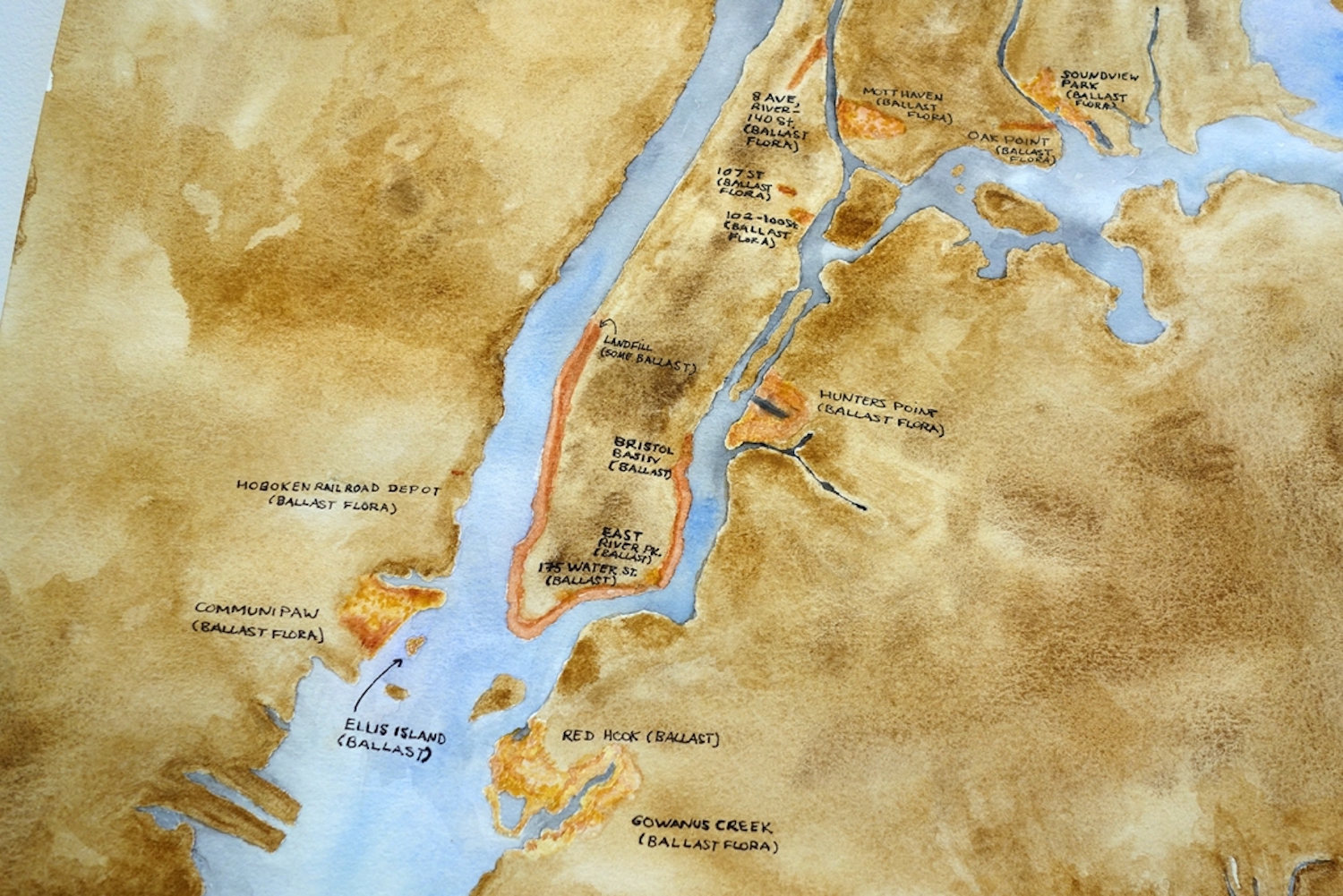 Maria Thereza Alves: Seeds of Change New York—A Botany of Colonization at Michel Rein
This exhibition is everything the above is not. It is a carefully composed meditation on the flux of the world through human flow and its impact on organic matter. Small botanical studies give way to larger, more expressive paintings, alongside which historical stories are laid out with hand-painted letters. Maps and diagrams are deliciously rendered in watercolour and speak of the pain and potential that this natural matter attests to. It is political but not coercive, it takes an inventory of the real and presents the viewer with the facts in an incontestable form, allowing us to take stock of some of the most grievous events of human history—colonialism, slavery and forced migration—and through an analysis of its most benign effects—botanical mutation—serves as a means of showing how such an event has structured global relations on every level.
Until 31 March