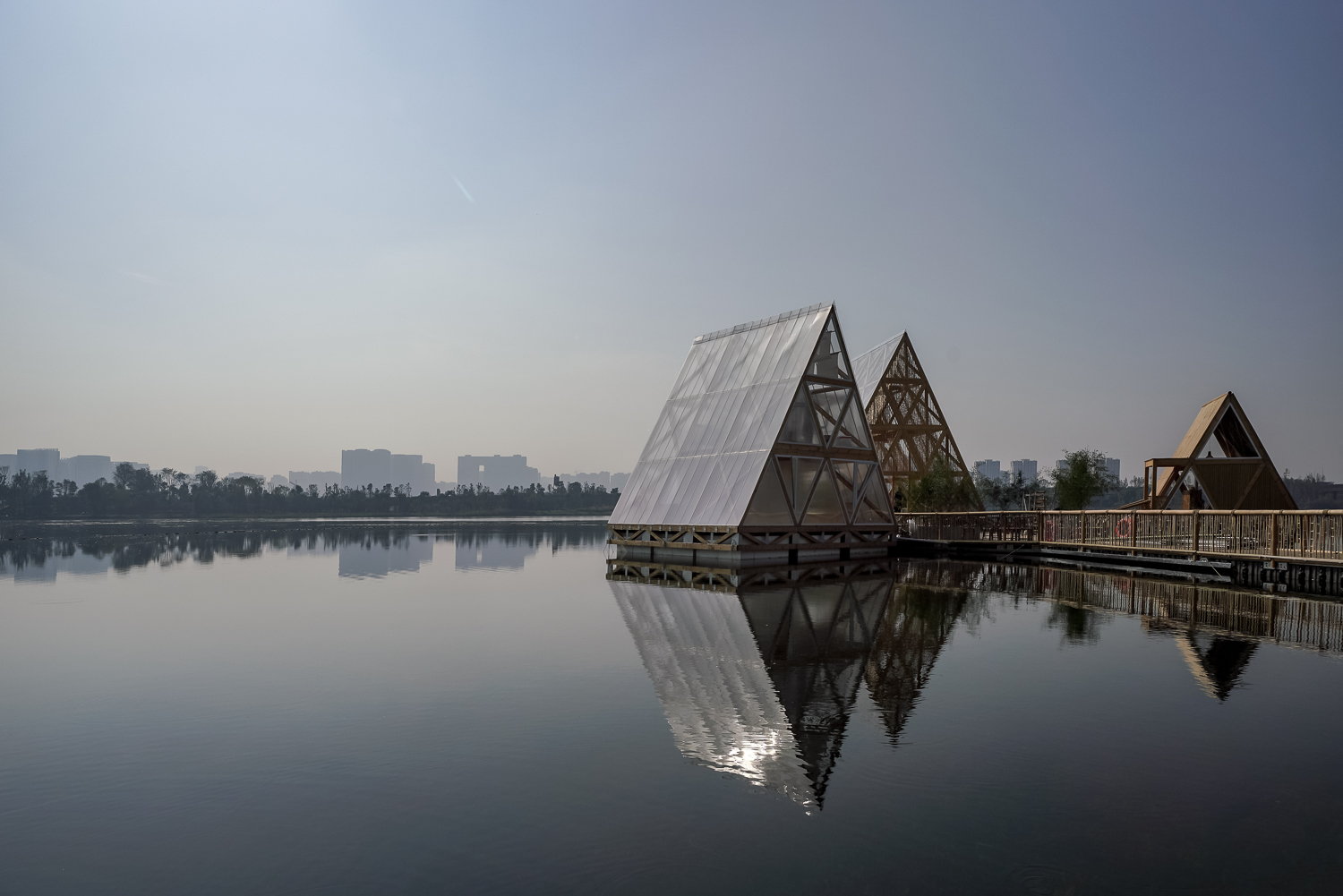 "Centre Pompidou in Chengdu?" I wondered as I boarded my third flight, bleary eyed and bloated after travelling from Berlin through Frankfurt and Beijing to reach the Sichuan Province's capital city, and eating too much aeroplane rice en route. Having launched a platform in 2016 devoted to research-based practices across Asia, Africa, South America and Europe—and mounting the platform's first exhibition in Paris the following year—the Pompidou is now collaborating with Mao Jihong Arts Foundation and Chengdu Media Group to present Cosmopolis #1.5: Enlarged Intelligence.
Including over sixty artists from twenty countries such as China, Colombia, Spain, Nigeria and beyond, the project has a speculative approach that reimagines the relationship between urban spaces and rural communities, using technological innovation to ask what the future might look like. And despite the pessimistic mood of this moment (unless you're on the far right, in which case: good times) the future looks like a bright place when we put these artists in charge.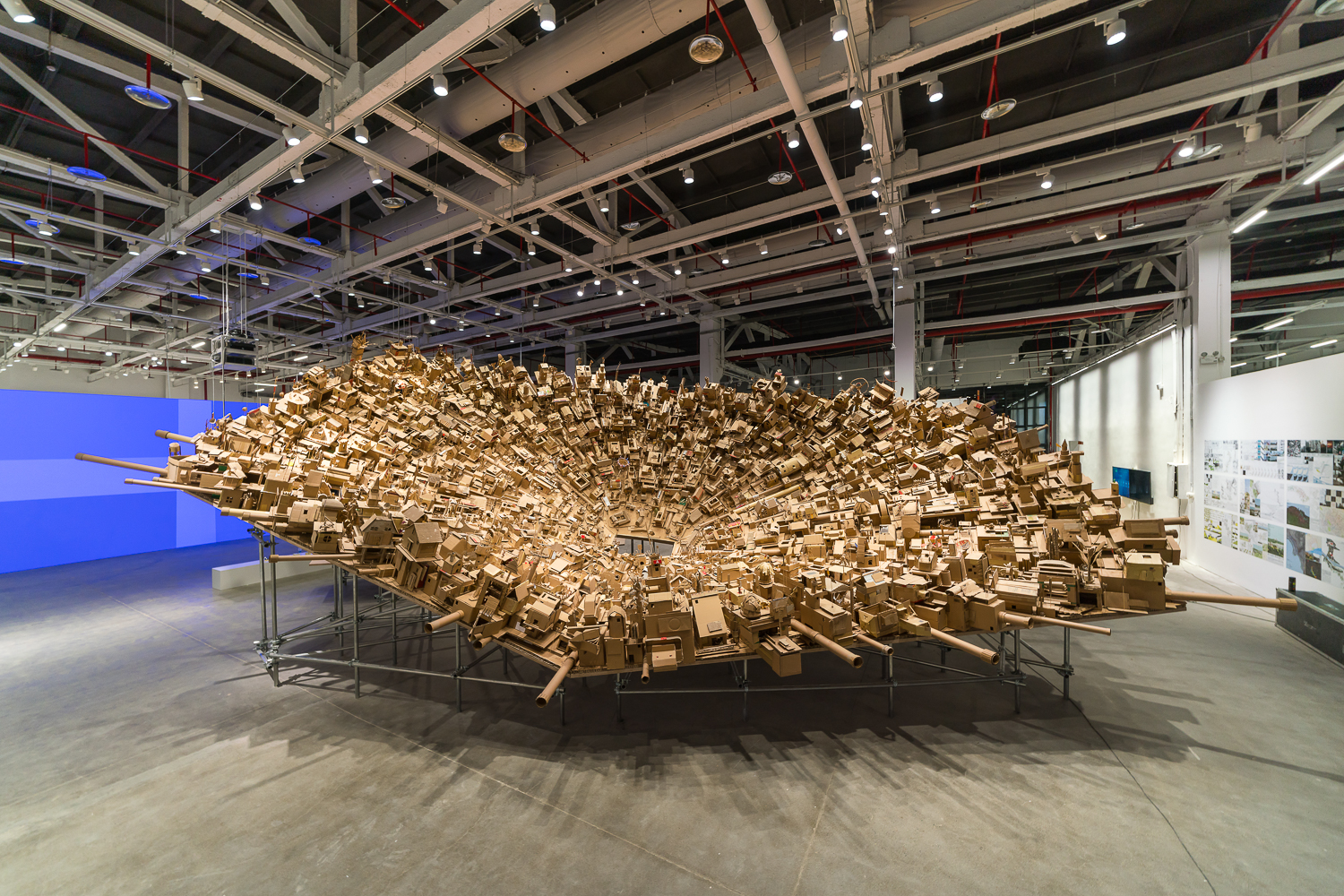 Against a backdrop of today's rapidly rising populations, climate change, political turbulence and humanitarian crisis, artistic director of Cospompolis, Kathryn Weir, believes artists are well-placed to think about ways forward, "rather than simply being dragged along", bringing "a lateral approach to social questions". And why Chengdu? With its history of urban and rural innovation, forging a historically pioneering water management system and irrigation technique: why not? Plus, it's currently investing huge sums in its development as a cultural destination. Here are the common themes that reappear across the exhibition's two sites—one at an old electronics factory, Eastern Suburb Memory, and the other at the Jincheng Lake.
Urban Transformation
There is much speculation about how cities in the future might look and function. Working in Chengdu for five weeks in the lead up to the show, Alfredo and Isabel Aquilizan (from the Philippines) asked children to make cardboard constructions of their ideal houses. What results, is In-Habit: Project Another Country (Here, There, Everywhere): over 900 boxy structures with heart-shaped chimneys, bushy palm trees, giant crucifixes, castle turrets and many-windowed tower blocks. Upon a scaffold, the artists have raised these off the ground and fashioned them into a giant satellite dish through which you can poke your head, suggesting that even with low-fi building methods, technology will inevitably shape and engulf our future lives.
"Despite the pessimistic mood of this moment, the future looks like a bright place when we put these artists in charge"
Cui Jie's series of paintings, including Wrong Model (2017), reflect on the modernist forms from her youth and the huge changes that have swept across China's cities over recent decades. Inflected with the aesthetic and colour palette of science fiction, free-floating worlds of high-rise building blocks are rendered in hues of purple and blue, resulting in an unnerving but beautiful no man's land. Rooting their work in a more recognizable metropolis, Chinese artists Cao Minghao and Chen Jianjung's Urban Studies series (2015–2017) also consider urban renewal, creating a frieze of memory-based pencil drawings showing what Chegdu's neighbourhood of Shuijingfang used to look like, including traditional Chinese houses with pagoda-style rooftops, barrows being pushed down the streets and people tending the fields.
Tentative Collective, Shershah and Other Stories (still 04), 2017
Larissa Sansour and Soren Lind, In the Future They Ate From the Finest Porcelain, 2016
The Plant World
The unifying, subtending conditions of the plant world and water also link a number of works in the show. Zheng Bo's Bamboo as Method (2018) was commissioned to investigate the cultural politics of plants and the interactions between human society and plant ecology, creating a forest of bamboo in which you can sit, be quiet and contemplate taking life at a different pace. The artist asks people to draw leaves while they are in the space, focusing on the micro aspects of life.
Meanwhile, Ecuadorian artist Kuai Shen hones in even further with his ultra-high resolution photography series Microscopic Ecosociality (2016–ongoing), which looks at the biology of ants and their capacity for social organization. Developing spectacular images of the ant's organs necessary for communication, such as their antennas, his black-and-white studies reveal how these insects can provide actual models for introducing changes to collective action as a society. An older science-fiction work is by director Wanuri Kahui, the film Pumzi (2009), set in a dystopia thirty-five years after World War III where planetary ecology and personal freedom have become extinct, and addresses the African continent at large. The female protagonist gives plant life a chance to thrive again on Earth by bravely risking her own life and foraging for water to feed her seedling. Scarily, it is a world not so hard to imagine.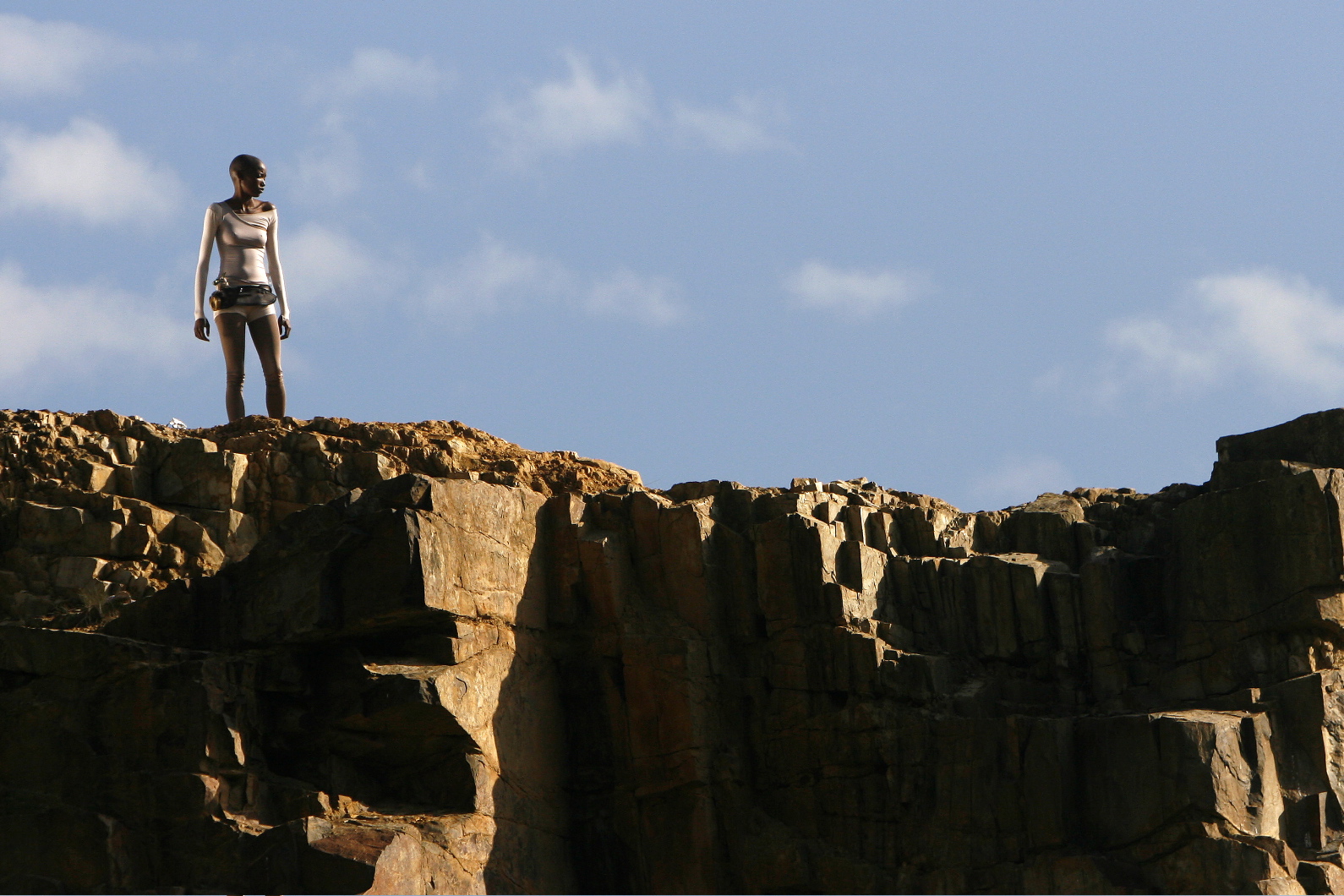 Elemental Energy
Elements from the earth and their place in technology take on material resonance throughout the exhibition. He Xiangyu's installation Evidence (2017) presents tightly woven copper wires found in North Korean industrial ruins, which are often exchanged for cash, while Peruvian artist Ximena Garrido-Lecca's Native States (2017) looks at Peru's extraction industry, and the impact that land expropriation has on labour, ecology and society. She transforms spools of copper wire into what appear to be sedimentary rocks or quartz, metaphorically returning copper to the earth.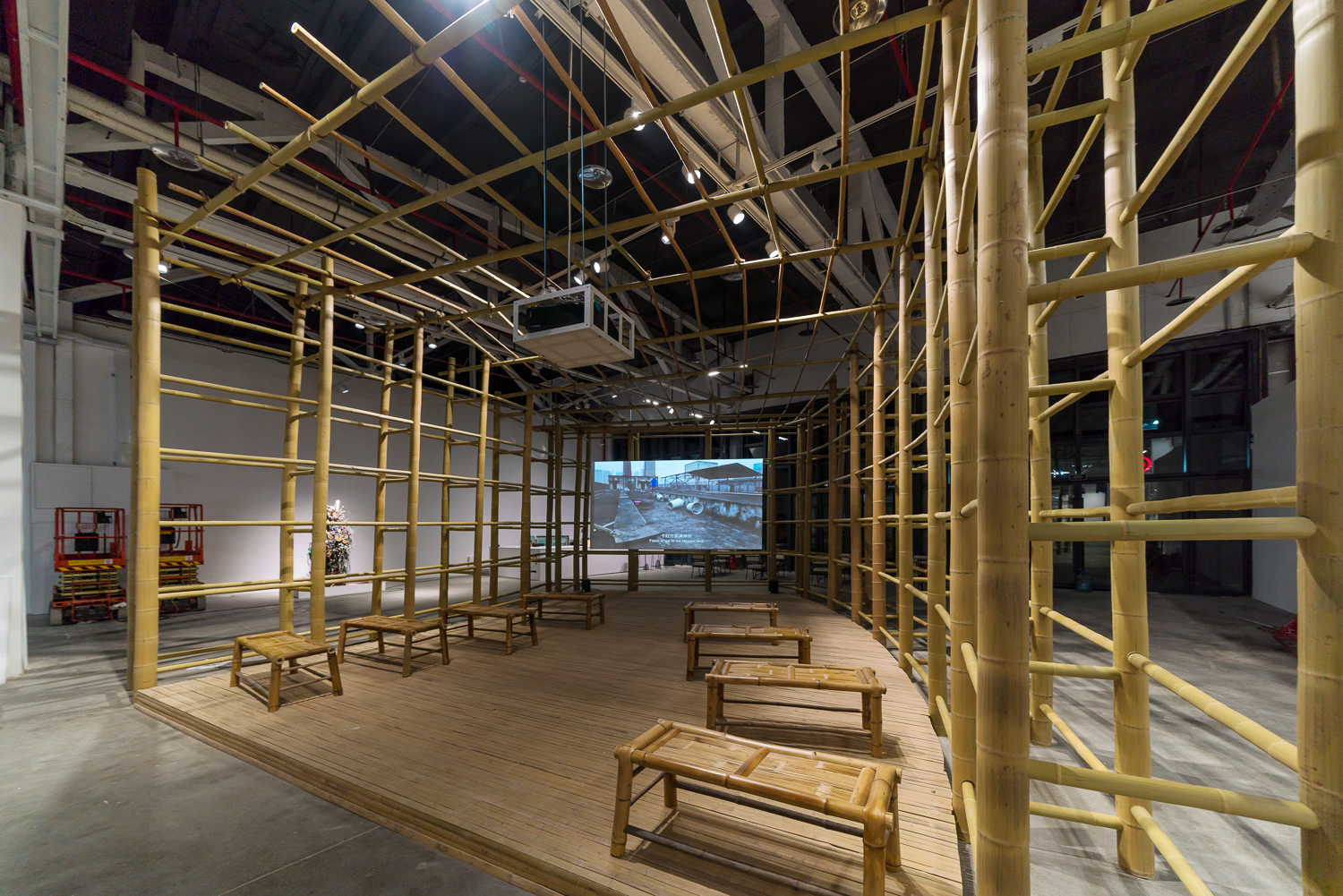 With a residency programme running in advance of the exhibition, Australian artist Yasmin Smith lived and worked in Shiyan Village in Jiajiang Country just outside Chengdu for five weeks prior to the opening. Here she produced Flooded Rose Red Basement (2018), a series of ceramic works cast using bamboo from the region. Her ash glazes also used materials from the site, with their chemical compositions varying according to the ecological and industrial history of the location. The final works are pipe-like forms, tiny pots and cupped vessels, with rich brown glazes, crackled to reveal the white beneath.
Masks as Avatar
A plethora of works look at how masks are used in both traditional cultures and in our more contemporary digital culture. Berlin-based Singaporean artist Ming Wong's installation The Bamboo Spaceship (2018) considers identity and its complex layering across performative and pop cultures. His film is presented within a vast bamboo cinema structure, and uses references to Chinese opera within a hip hop music video, incorporating the "face-changing" technique of the Sichuanese opera trope. The work is a riotous amalgam of blue Adidas tracksuits with masks elaborately and cartoonishly decorated with birds, fire, scorpions, third eyes and spiders, all in a host of vibrant colours.
Bogosi Sekhukhuni's two-channel video installation Consciousness Engine 2: Absentfatherbot (2014) uses virtual avatars, fluorescent heads floating on two-angled flatscreens repeating a Facebook conversation between two men, while Romuald Hazoumè's masks include Fang (2012) and Miss Dakar (2011), reflecting on the contemporary complexities of his home country of Benin. The masks were created from the jerry cans used to smuggle fuel between Nigeria and Benin, evoking the issues relating to extraction of resources and environmental degradation.
Together these works fuse speculative research with science fiction to reflect not only on what the future might look like, but how this will inevitably be shaped by how we can learn from the past to better relate to each other and the environment in the present.
Cosmopolis #1.5: Enlarged Intelligence
Until 6 January 2019 at various locations, Chengdu
VISIT WEBSITE