South African artist Igshaan Adams' compositions are complex, imperfect documents of lived experience and cultural ephemera. That they exist somewhere between tapestry, sculpture and installation (and that the audience is invited to plot their own paths through his works) speaks to this multiplicity. Patterns derived from the linoleum floors of the artist's neighbours form their basis, before being layered with wood, glass beading, nylon rope, chain and cotton twine from Bonteheuwel, a former 'coloured' township in which Adams was raised by Christian grandparents while navigating his Islamic origins.
Adams' solo show at Casey Kaplan, New York, is entitled Veld Wen, the name translating as 'to gain ground,' a nod to Adams' process of extraction and the transposition of markings from one surface to another. After copying the patterns left on his neighbours' linoleum, Adams replaces the used material with a new, untouched lino layer, offering the opportunity to reinscribe the contours of domestic life, and perhaps, in time, help create another of his compositions.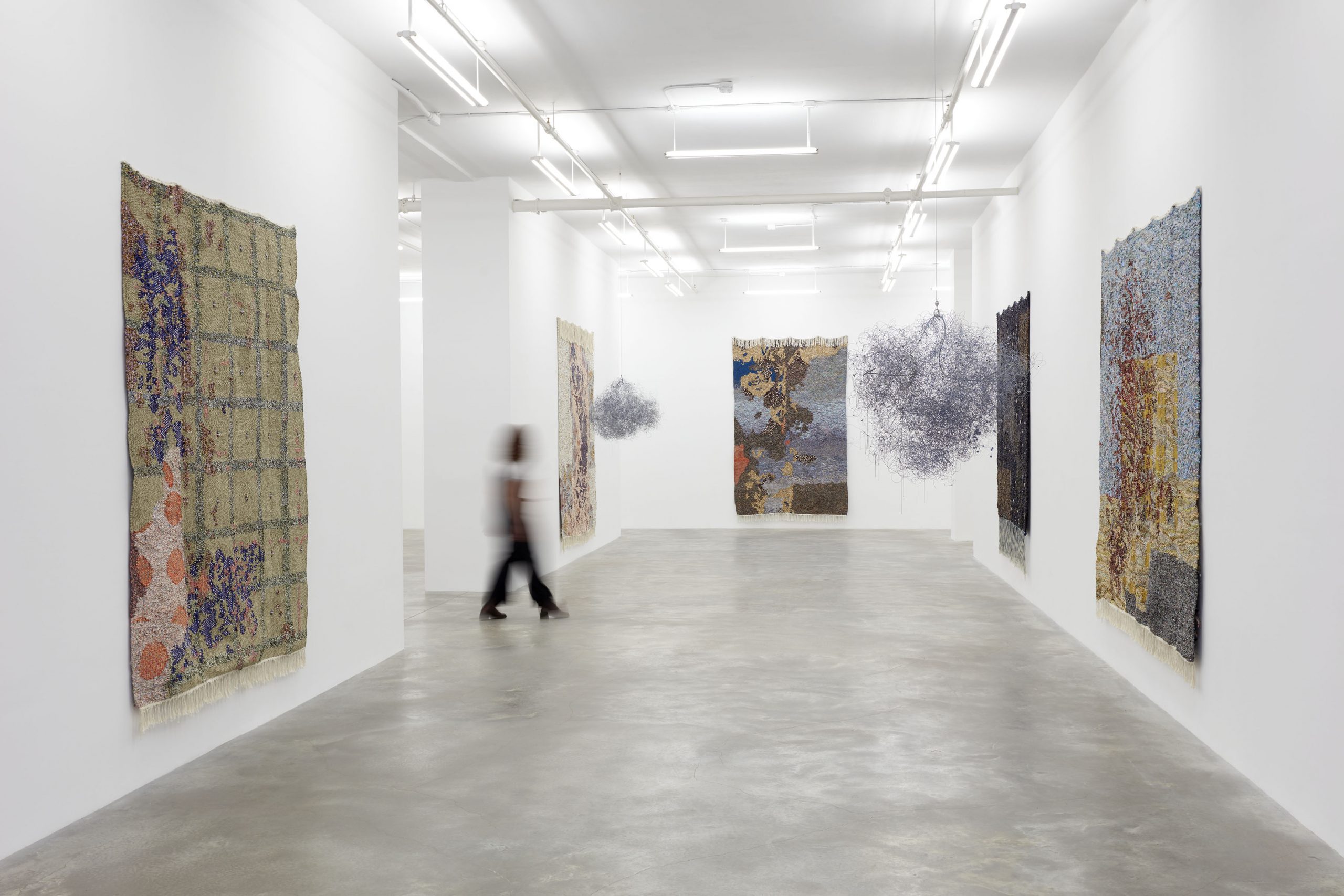 "They offer a confident asymmetry, at times showing flashes of rug-like patterning, at others appearing landscape-like"
The works are rich and dense, as if their mixed materials bestow great tensile strength. They also offer a confident asymmetry, at times showing flashes of rug-like patterning, at others appearing landscape-like, almost abstractly cartographic.
The Casey Kaplan exhibition runs alongside Kicking Dust, Adams' first solo show in London at the Southbank Centre's Hayward Gallery. His wall installations there similarly respond to the effects of movement on materials: inspired by Rieldans, an indigenous dance of the Northern Cape, suspended wire sculptures represent the clouds of dust that erupt when performers kick the ground. Linoleum-inspired works also feature, while standalone sculptures create routes through the work, inviting circular, inward motions with the tapestries looming behind.
In both shows, searching for origin stories allows the artist to create responses somewhere between the authentic and the speculative, allowing for his unmoored aesthetic and palette to shine. "If my environment that I grew up in and was placed in was different, how different would I have been?" he wonders in the New York show. A firm answer to this question might be impossible, but making work to explore its possibilities is not.
Ravi Ghosh is Elephant's editorial assistant
All images © Igshaan Adams. All photographs: Jason Wyche. Courtesy the artist and Casey Kaplan, New York