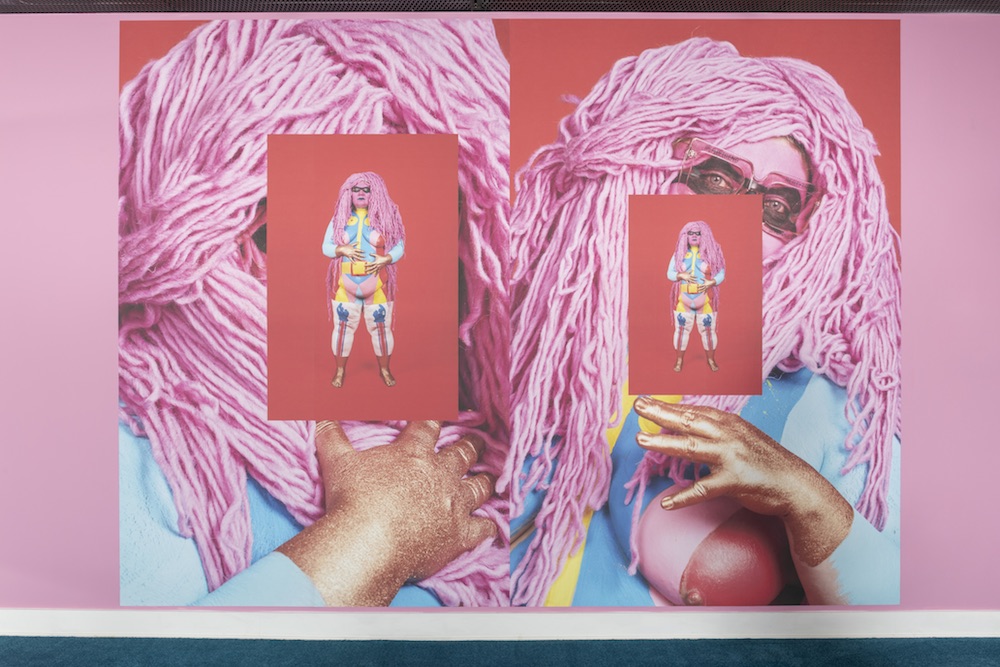 Visitors to swish Claridge's hotel in the heart of London's Mayfair may be surprised to find themselves standing eye-to-eye with a semi-nude, pumped and fist-clenched male mannequin, dressed in a slinky lace number in the window of a nearby gallery. This is the giggle-inducing view that greets people at Belmacz gallery, for Jacob Lena Knebl's current show I Am He As You Are He As You Are Me. And We Are All Together.
The Austrian artist is amused by the reactions the central piece of her exhibition gets, as we sit in the window to discuss her wide-ranging, uplifting, raucously political practice. "I don't want to provoke," she tells me, "I want to seduce, I want to get in touch, and I want to be very near to the people."
While we sit and speak, numerous passers-by do a double take, before, most often, bursting into embarrassed laughter and stopping to take a photograph. "It would not happen in Austria so much," she notes. "The people here really look, they react, they take photos; people are more in contact in England. Austria is a grumpy country."
Knebl has long played with the strict distinctions and regimented understanding we have of binaries, creating a space in which easy definitions are obsolete. This mannequin, she tells me, links with private heterosexual masculinity. "I've wanted to have some kind of masculine guy wearing this," she tells me, gesturing to the lace body outfit that she bought online, and had shipped from China. "Not to do drag, but to work on hetero aesthetics and say: 'That can look like this too.'"
"The Beatles showed that the mainstream can be very, very clever and political, with a big sense of humour"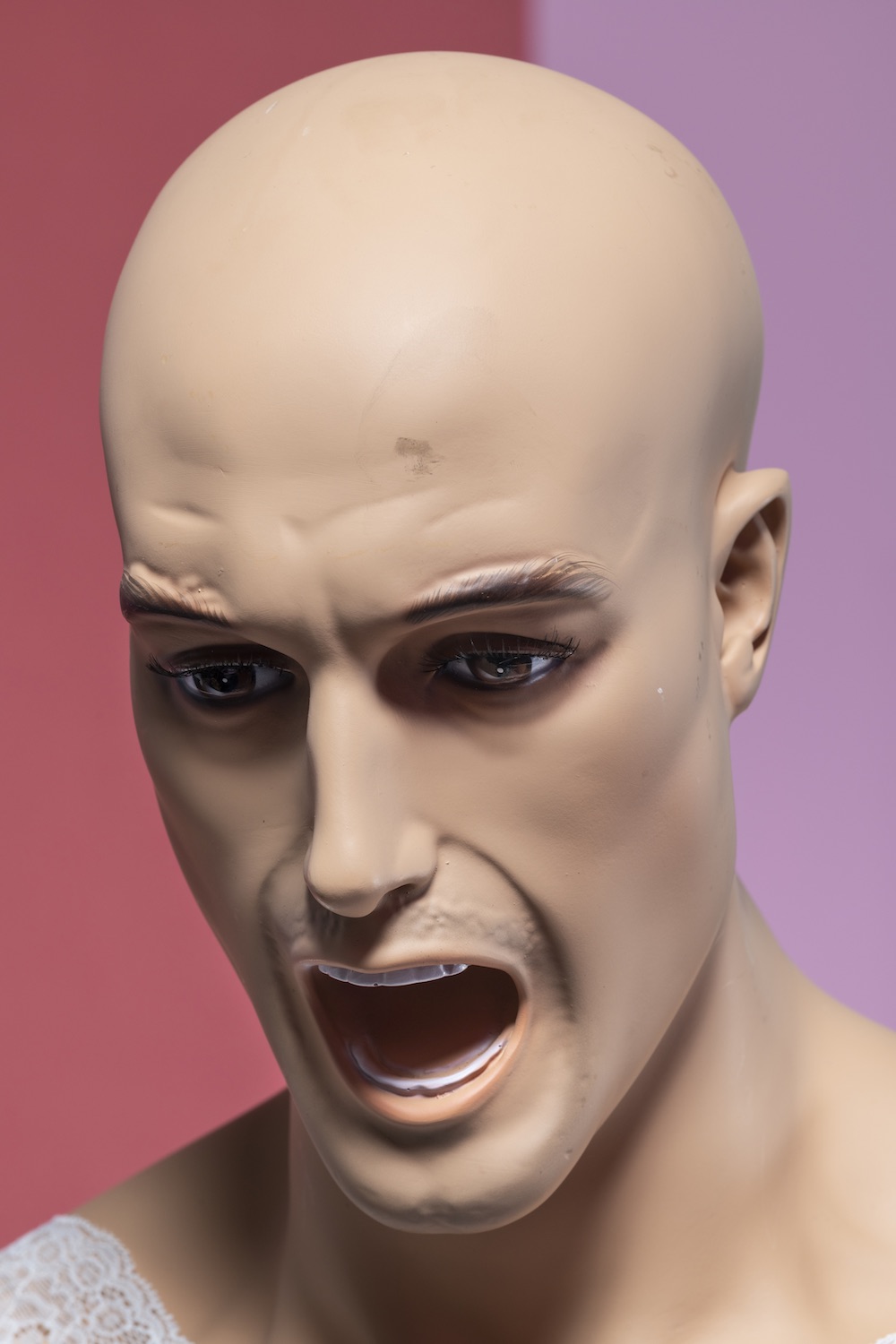 In typical Knebl style, the creative references in the show come thick and fast, and are pulled from an eclectic range of sources. "I've wanted to find something which connects to Great Britain," she says. "I'm a big Beatles fan. In my work I often refer to the context of subcultures and the mainstream, and the Beatles showed that the mainstream can be very, very clever and political, with a big sense of humour. Therefore, I took the title of the show from I Am the Walrus, the first lines."
The title of the show may have been penned in the 1960s, but it links very closely with the language heard in discussions around gender today. "I'm interested in where we are political-wise, society-wise, aesthetic-wise, and also in looking backwards, to a time when something started. I want to bring it to now, what they were thinking, and the colours and aesthetics. Performance art became bigger, or became a topic, in the seventies."
"It's good if people say, 'Oh, what nice colours,' and then they are trapped or fall into a topic"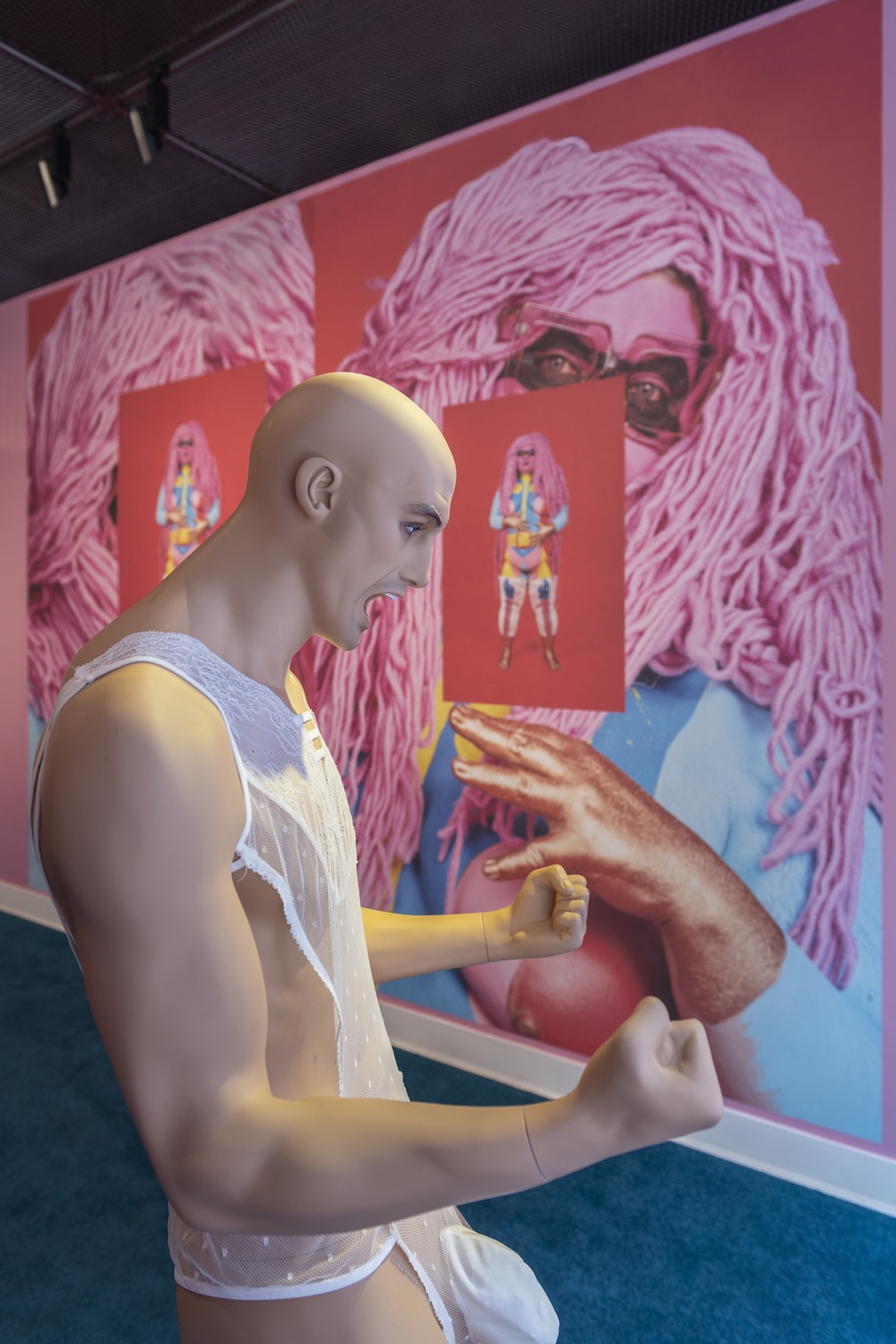 Knebl also cites Richard Lindner as an influence on this show, as well as the recurring influence of Hans Bellmer on her work. The treatment of her own body in her practice links clearly with both artists—in one wall-sized photographic work, her body is marked out in different sections of colour, different pieces that slot satisfyingly together, becoming a meld of living body, fashion garment and sculpture. In these images, paint renders skin fabric-like, and the body is powerful, chameleonic, expressive and vibrant. Adding further depth to this, fabric is rendered fleshy in another body of work, as pink velvet is folded, dented and tucked to resemble the various organic shapes of the naked human form. Once again, the point at which one thing begins, and another ends, is obscured.
I'm reminded of the layers at play in her work. Just as her body is wrapped in layers of colour, camouflage, expression and reference, so the viewer's response is a layered and unexpected one. You may be drawn in by the dry humour and punchy aesthetics, but before you know it you've entered a conversation with the work about gender, identity and the complexity of right-wing politics.
"It's good if people say, 'Oh, what nice colours,' and then they are trapped or fall into a topic," she smiles. "I'm thinking about ways of bringing difficult topics to a wider audience in another way, with the help of aesthetics. It is one of the most powerful things in art, and it would be sad to lose it as a weapon."
Jakob Lena Knebl: I Am He As You Are He As You Are Me. And We Are All Together
Until 6 July at Belmacz, London
VISIT WEBSITE