"In my work, I am tracing patterns of personal, familial and social identity within the genre of Black portraiture," artist Kareem-Anthony Ferreira tells me. "The pieces are visual retellings of narratives concerning displacement and cultural divergence." Using his personal experiences of the diaspora of his family moving from Trinidad to Canada, the artist often looks at family photographs for inspiration and reference points.

Alongside the figures that feature, Ferreira applies colourful patterning in the form of textiles, a sarcastic nod to the North American fantasy of "island life". These references allow him to tell his story of growing up between two cultural landscapes, and the way in which these identities often clashed.
Ferreira's paintings are large in scale, and he creates them on huge swathes of unstretched canvas sheets. He plays into the natural textures this generates, and adds to it with cut paper and other found materials. When paint is applied, these crinkles of canvas can become a T-shirt sleeve or a wallpapered room, and it breathes life and richness into the scenes the artist constructs in his visual retellings.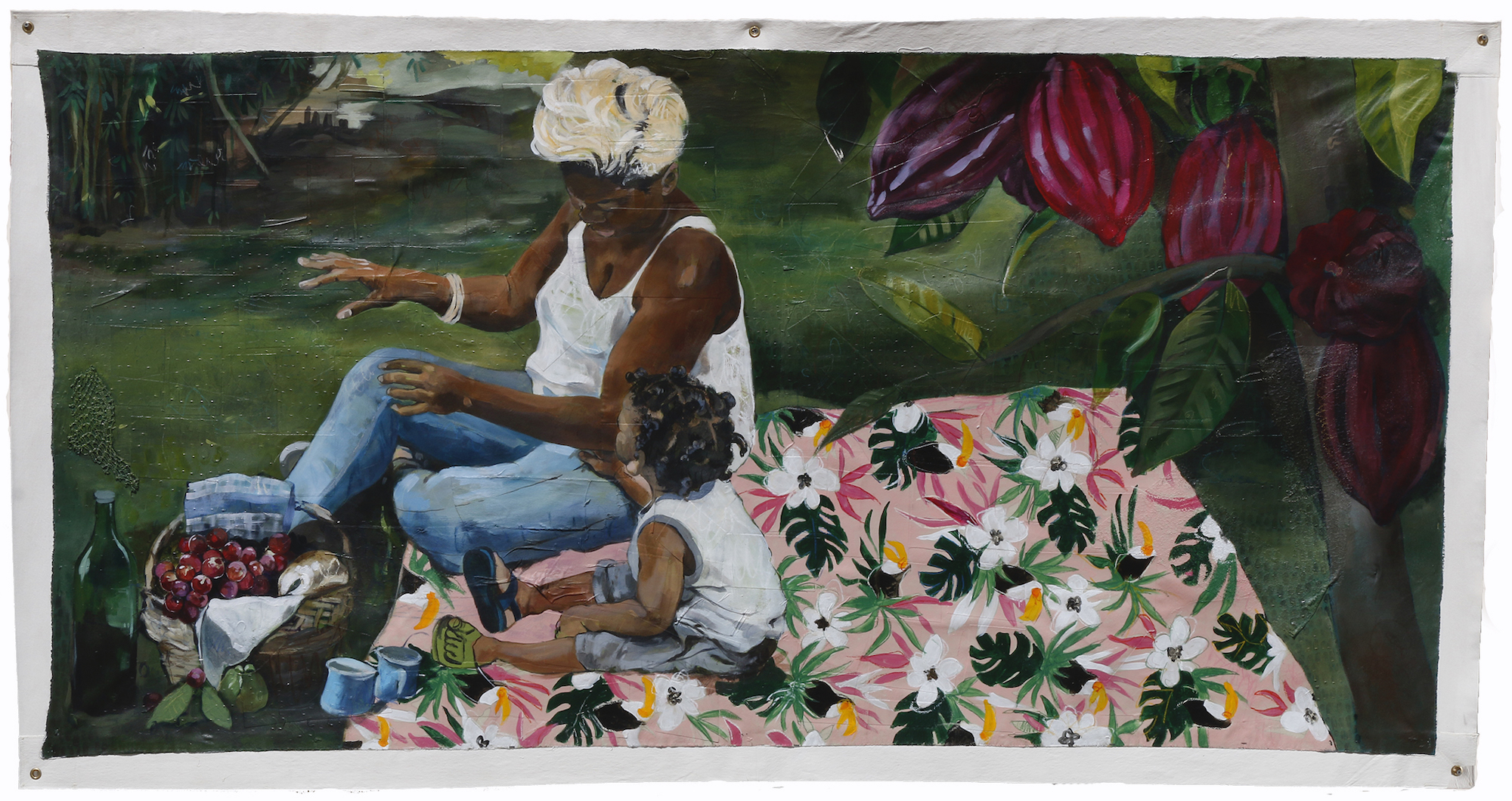 What is your creative process when starting a new piece?
Each of my paintings consists of painting, collage, screen printing, and is an assemblage of origins and gatherings. Before each canvas is ready to be painted on, the surface is heavily layered with cut paper and cloth, and other materials that provide texture.
These ground textures switch between following the imagery that is painted on the canvas and its own unstructured layering. In regards to the imagery, I combine photos, memories and experiences to create vernacular photographs which serve as my reference images for the paintings. I use painting to take each of these vernacular images and seamlessly translate my story and my perspective of growing up between two cultural landscapes.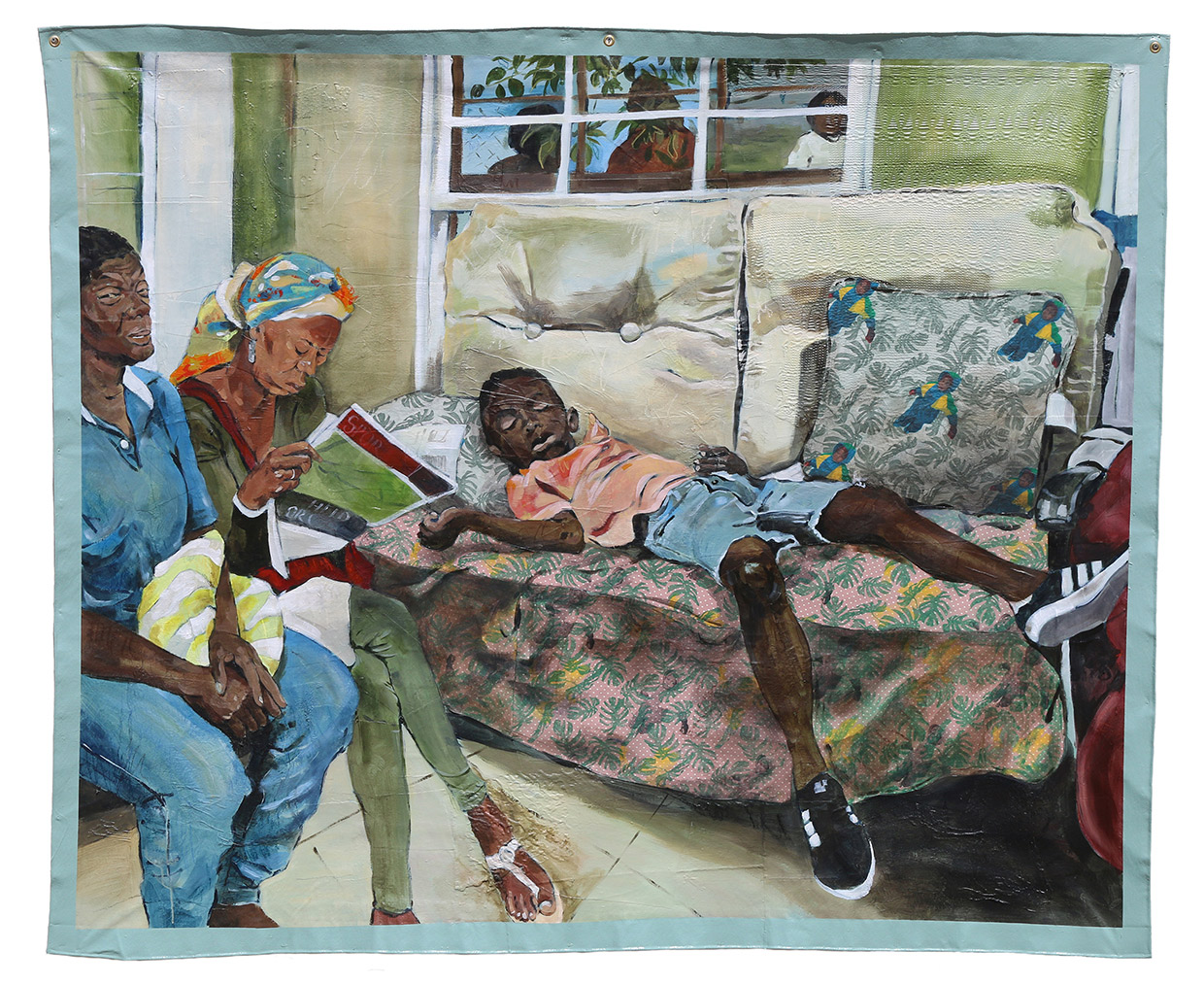 "These patterns embody the North American fantasy of 'island life', and are used in a sarcastic, satirical way"
Your paintings often incorporate an element of colourful patterning, and are peppered with pops of vibrant expressive colours. What role do patterns play within your paintings, and how does it help you communicate your message?
These patterns are stylised non-indigenous textile patterns that are mass produced and heavily distributed. They embody the North American fantasy of "island life", and are used in a sarcastic, satirical way. Although these patterns may diminish the rich dynamic cultures of the Caribbean, they are often used as stand-ins for the real experience of Caribbean culture.
The "island life" imaginaries are embodied by repetitive flora and fauna patterning, which sits in contrast to the emotional sincerity that I convey through the human figures and expressions. This misrepresentation is a poignant example of an oversimplified perception.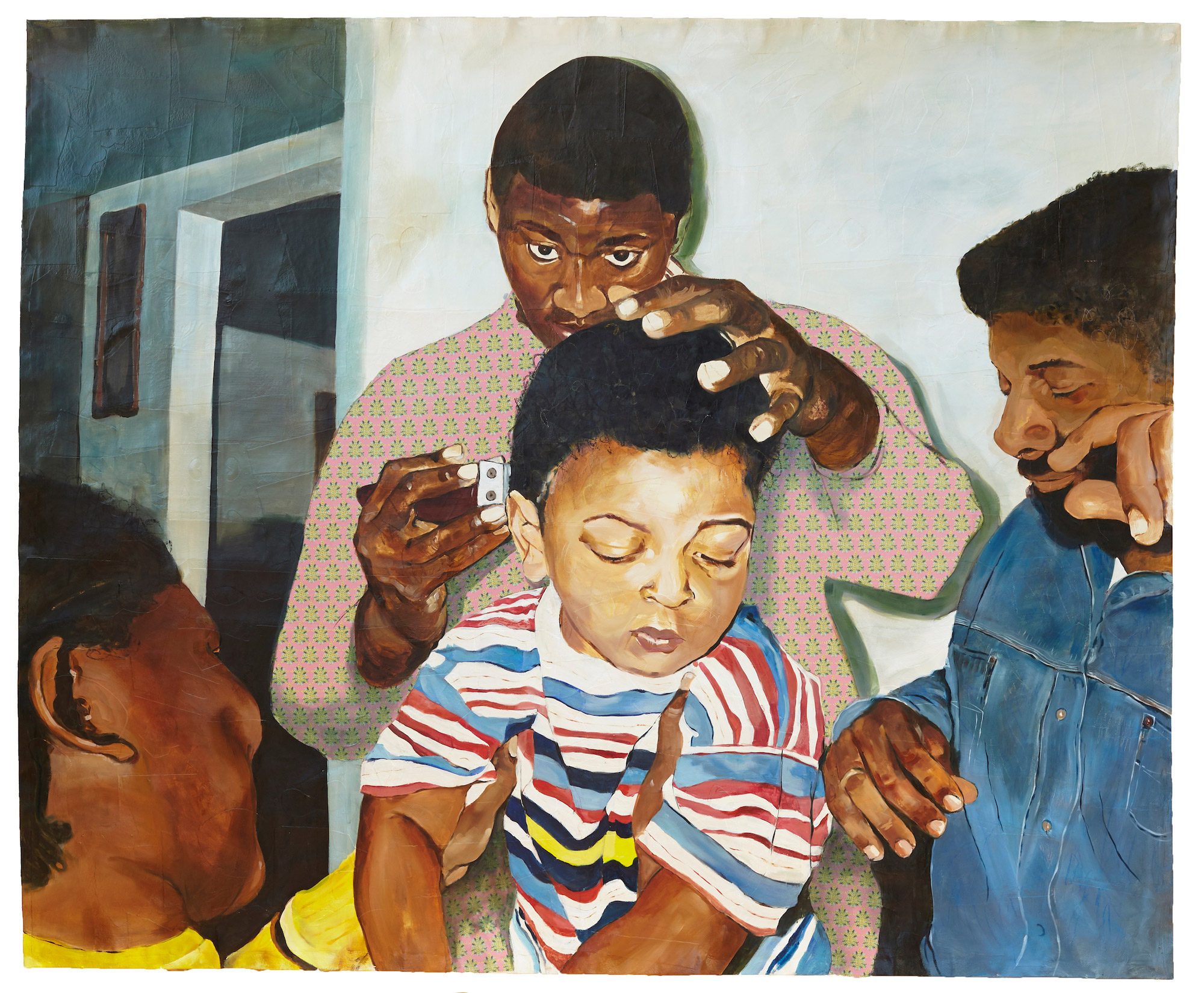 In your artist statement you talk about challenging "oversimplified perceptions" that your communities hold toward each other. In what way do you try to do this in your paintings?
Growing up in two different cultures at once, I often found myself having to communicate the differences between the two. From these naturally occurring discussions, I began to take note of these naive, sometimes ignorant, interactions. Along with the integration of the patterns, I am intentionally trying to capture moments that retell these "oversimplified perceptions" in a new light.
Left: Caribbean Desire, Right: First Snow Fall '97
Your paintings are typically individual portraits or group shots. Is ensuring a likeness important to the work, or is it more about capturing a feeling or moment with the subjects you feature?
Ensuring a likeness is never important to my practice. As these are retellings of stories compiled of multiple different images, I often pair together images that are not factually accurate. The figures may sometimes be used as placeholders for a feeling or mood of the painting. Whether or not they are painted to the likeness is less important to me than whether or not the viewer understands or can feel the impact of that moment in time. Hopefully this provides an opportunity for the paintings to relate to a larger audience.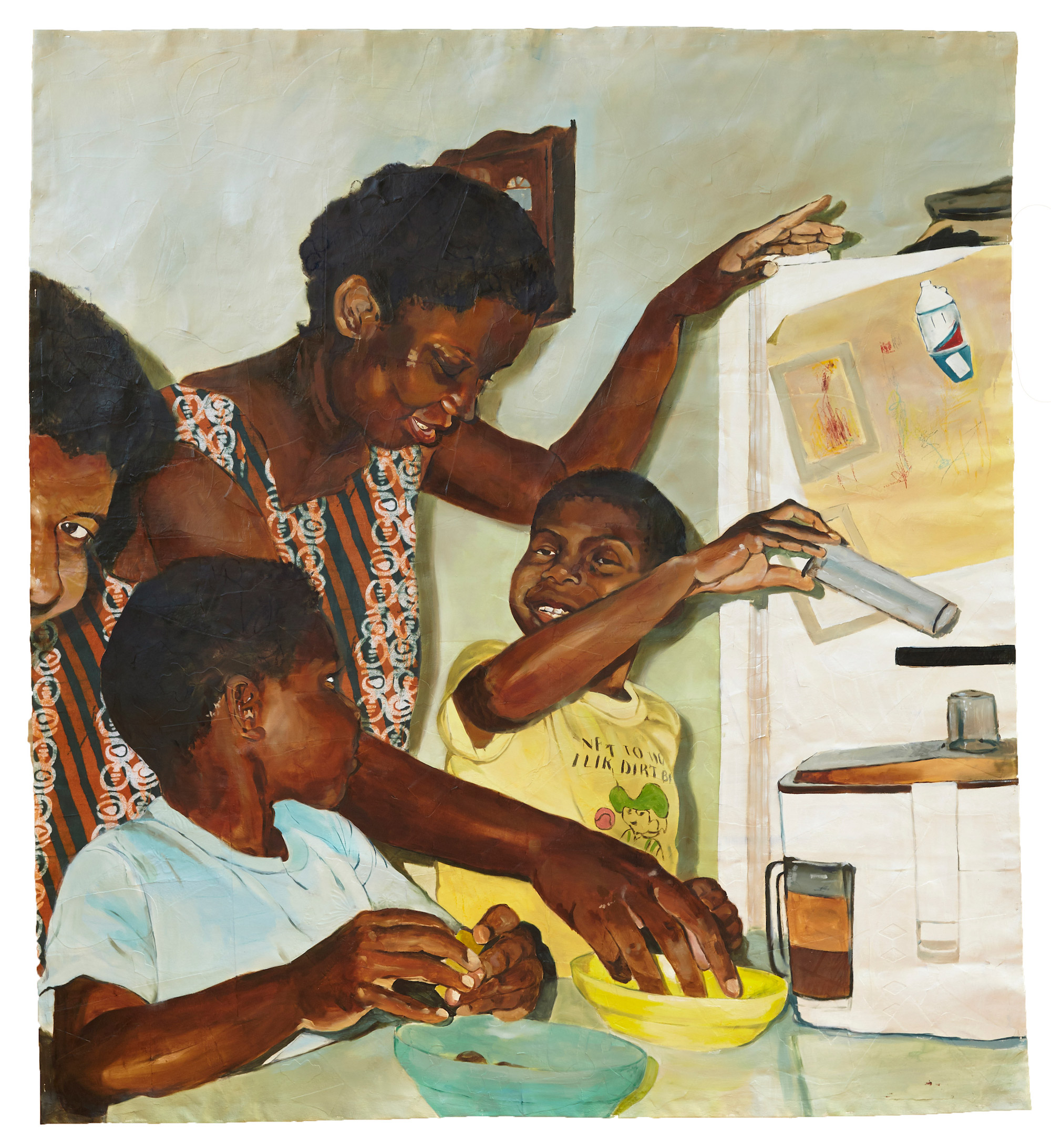 "I am intentionally trying to capture moments that retell these 'oversimplified perceptions' in a new light"
You have been working towards an MFA in painting. What have you learned about your work during this time?
As I have completed my MFA, I have understood the importance of representation in the art community, the importance of constantly communicating and uplifting fellow artists of colour, and how my work fits in the discussion. As creators, we have a voice and a responsibility to be constantly challenging systems and forms of oppression.

I feel the biggest challenge right now is, unfortunately, external and related to the institutions that govern. These challenges are systemic and deeply rooted in environments that I live and create in. I am fortunate to have this creative outlet that I can use to educate, relate and resist.