Louise Bonnet's luxurious paintings are filled with bodies that tread a fine line between Rubenesque beauty and swollen ugliness. The Swiss artist borrows from a range of sources to create her bizarre, comical, and often eerie drawings and paintings, including the Old Masters, the Surrealists, indie comics and gender theory.  
Faceless heads, rotund buttocks and erect nipples are etched out in vibrant, luminescent palettes on a massive scale. These "manic exaggerations" are as much about the human psyche as they are the physical form, and play with a sense of depth and proportion that forces the viewer to recalibrate their eye. As the artist explains, "This is what my unconscious looks like." 
Purple Pantyhose and Red Pantyhose, 2022 © Louise Bonnet. Photo: Jeff McLane. Courtesy Gagosian
If you could save only one item from your studio, what would it be? 
I'll cheat here a little bit: Two pots made for me by my husband. They are basically non-functional vases, which look all beaten up, as if they were found at the bottom of the ocean. My painting studio is empty of all distractions, but these sit in my 'office' where I can have things divert my attention.  
What was the last art material you bought to use in your work? 
Old Holland paint tubes. I think the colours were Mars Orange and Raw Umber. They are incredibly vibrant pigments that I might use on their own, or mix together to create something new. Orange and brown works with everything.   
What is your go-to song when you're working in the studio?  
When I'm painting, I have to obliterate my brain entirely, so I listen to intense punk music. My favourite record is Zoo by Ceremony. It has a track called Quarantine which I crank up loud enough to block everything else out.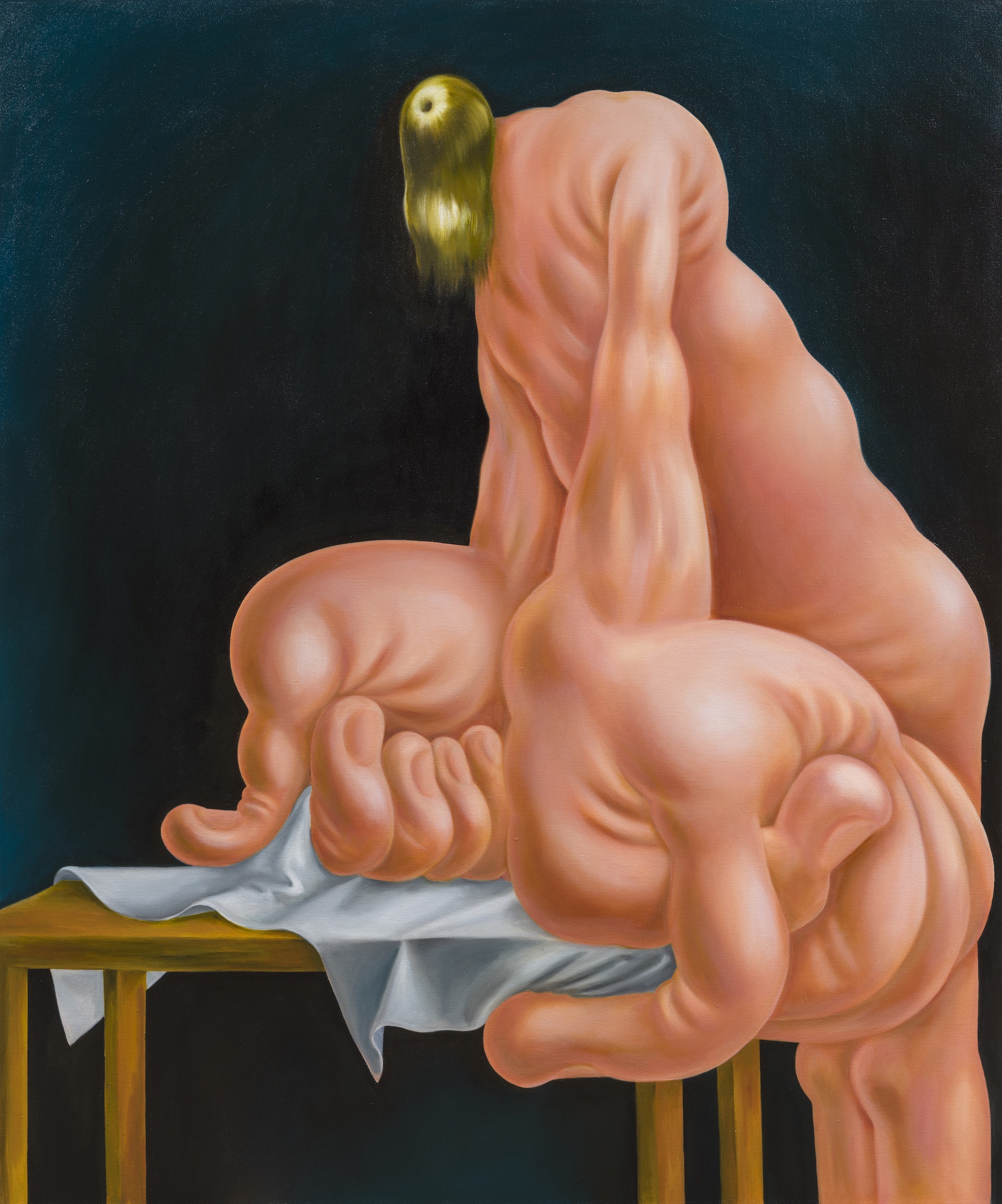 Which single work of art would you choose to live alongside in your home? 
This is a fantasy, and I understand that in reality it would be rather problematic! I would like anything, or everything, from the temple of Ramses II at Abu Simbel. My grandparents lived in Egypt for a long time and I became enthralled by this site. The proportions, the artistry, the quiet, it just moves me.  
"Boundaries are tricky to maintain. Business, creativity, commerce, all gets rolled into one, which can be exhausting"
What are your top art or photography books? 
I always come back to Umberto Eco's On Ugliness. Every time I read it, it sends me on a new tangent or reveals a new reference.  
Projection 3 and 1, 2022 © Louise Bonnet. Photo: Charles White. Courtesy Gagosian
If money was no object, what would you most like to experiment with in your work? 
I would love to just spend say, ten years on one work. Not worrying about having to finish. Who knows what would happen? 
Tell us a pet peeve of yours when it comes to the art world.  
Boundaries are tricky to maintain. Business, creativity, commerce, all gets rolled into one, which can be exhausting. 
Green Pantyhose, 2022. Photo: Jeff McLane (left). Projection 2, 2022. Photo: Charles White (right). Both © Louise Bonnet and courtesy Gagosian
What is your favourite gallery or museum space around the world?  
The Musée D'Orsay in Paris: the architecture, the treasures, the quiet. I was lucky enough to spend a few hours there on my own, and I was astonished by the size of Manet's le dejeuner sur l'herbe. I got up close and personal with all these incredible works of art. It was magical, like a kid being locked in a department store overnight.  
Holly Black is Elephant's managing editor 
Pisser Triptych by Louise Bonnet is currently on show at the Venice Biennale's Milk of Dreams exhibition until 27 November 2022. She is showing with Gagosian at Frieze Seoul, from 2 to 5 September 2022 
Listen to all the go-to songs picked by our 5 Minutes With artists here 
Meet the other artists who've faced Elephant's eight questions
READ MORE