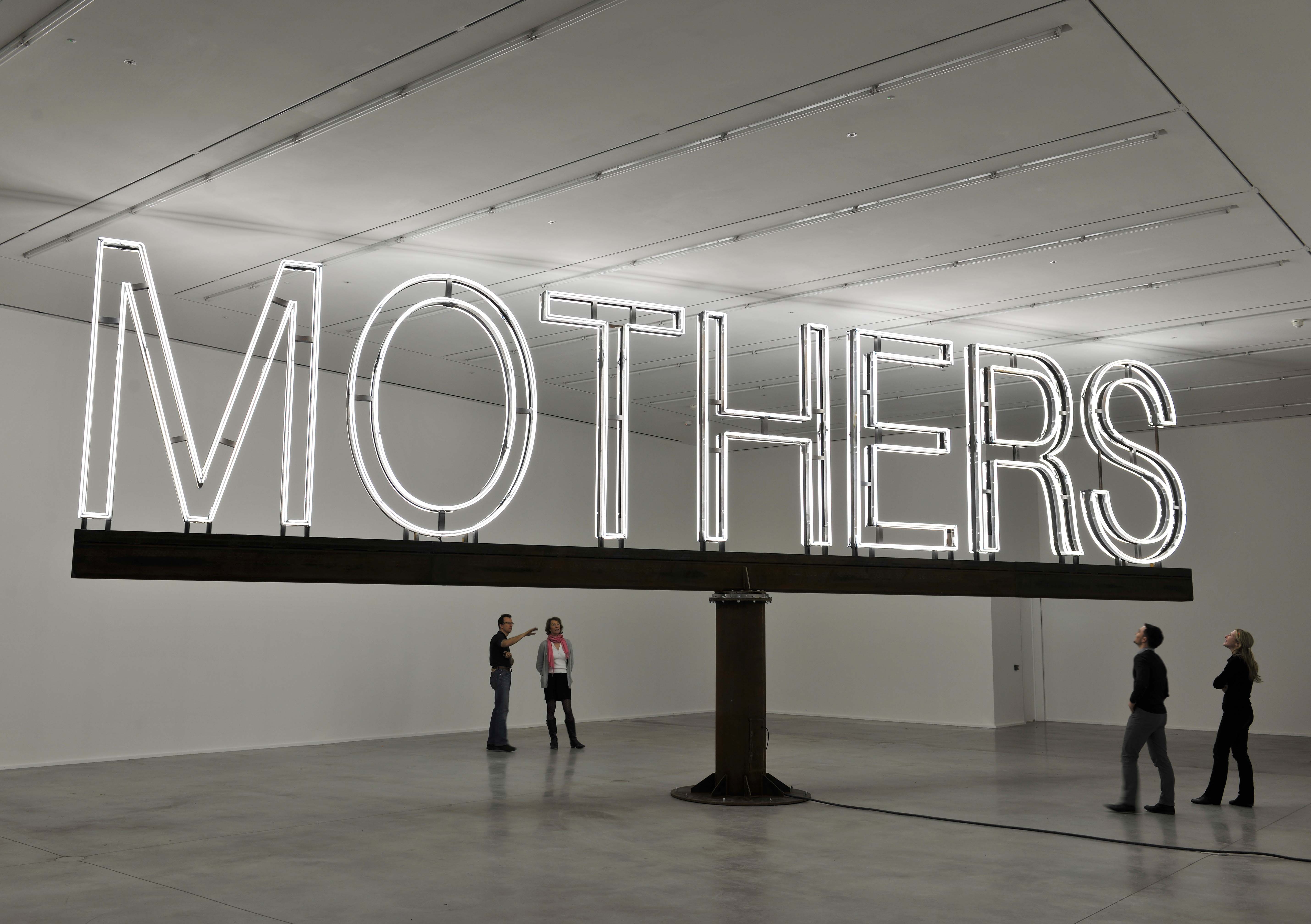 We now see more images of motherhood than ever, thanks, in no small part, to the rose-lens-tinting social tool that is Instagram. We can now helpfully see how quickly new supermodel and Hollywood mothers have shed those ghastly pounds. We can see how quiet and calm it is to raise a child, with images of families cosily cuddled together. Eye bags are photoshopped away. Sleepless nights are vanquished. Motherhood is, without a doubt, a 100% joy to behold.
Although, this isn't actually a new phenomenon. The first ever #smugmum was arguably the Virgin Mary, way back when. As Jean Sorabella, lecturer on The Met's Connections focus on motherhood points out: "She makes it look so easy, and she's never punishing the Christ child, or giving him a time-out." A holier-than-though mother if ever there was one. She's cool, calm and collected, surrounded by her angelic helpers—who, let's face it, are probably doing all of the heavy lifting—her babe prodigy straight-up chilling in her arms. #Blessed. 
Most artists are not known for cleaning up the hard truths of the world, however, and those hoping to glimpse the real side of motherhood need look no further. Damien Hirst, distasteful and vacuous though some may find him, did a good job of dispelling Mary's chilled-out persona with the gory The Virgin Mother (2005), a 33-foot-tall statue cast in bronze with bright red nipples, her skin and innards pulled back on one side to reveal sinewy muscles and a curled up foetus.
Scale seems to be an important factor with mother-figures in art, able to convey not only the physical stature that looms over us at an early age (albeit, often comfortingly) but also the high bar they set which we strive to reach.
Of course, no one does the adored-yet-horrifically-imposing mother figure quite like Louise Bourgeois. Her numerous spider sculptures are symbolic representations of her seamstress mother, who she loved very much. In her works, we see her mother as gargantuan in some cases, looming over crowds of bite-sized humans in various public works, her undercarriage loaded with eggs, but also as incredibly vulnerable. In one particularly poignant cell piece that was included in Guggenheim Bilbao's 2016 retrospective of the artist's work, we see the spider small and cowering in the corner as she witnesses her husband's infidelity. 
Martin Creed loosely dedicated a show to mothers in 2011, with the aptly-named Mothers at Hauser & Wirth's Savile Row spaces, and he went for scale too. The centrepiece of the show was the tremendously large installation, also named Mothers, in which the word itself, depicted in white neon and mounted on a large rotating beam of steel, slowly spins around, just clearing the heads below. His Work No. 1177, a black and white video brought viewers to the practical and sexual aspects of the female body—in one shot a nipple in close up is squeezed by a hand.
Breastfeeding is another Instagram battleground—boobs for sex equals OK, boobs for babies frequently find themselves reported to the Insta police. Thankfully, the art world isn't so oddly squeamish to this particular subject matter. Catherine Opie's Self-Portrait/Nursing plays with the awkwardness that we find ourselves encountering at this, with a nude depiction of breastfeeding. In her Guillermo & Joaquin a baby lies in the same position, with a male feeder.
Ron Mueck uses his warts and all style in the early 00s work Mother and Child–a smaller-than-life nude sculpture of a woman post-birth, baby curled up on her chest and umbilical cord still attached. The mother is looking alarmingly at her newborn.
Back to Instagram, Terry Richardson, the fashion world's Perv-in-Chief recently used the platform to show the more graphic side of motherhood, with photographs of his newborn twins at the moment of birth, pre-clean up. They're currently sitting between Bella Hadid's recent Porter magazine cover and two heavily tanned girls in thong bikinis. The most instantly startling images in this particular feed are also, wierdly, the most natural. 
Of course, if your own mother is an absolute nightmare and you're looking for some meatier catharsis this Mother's Day, skip the art world entirely. The unadulterated horror mums lie in the world of film. Joan Crawford (of horrendous Mommie Dearest fame, not beloved movie star), Margaret White, Norma Bates, take a bow.