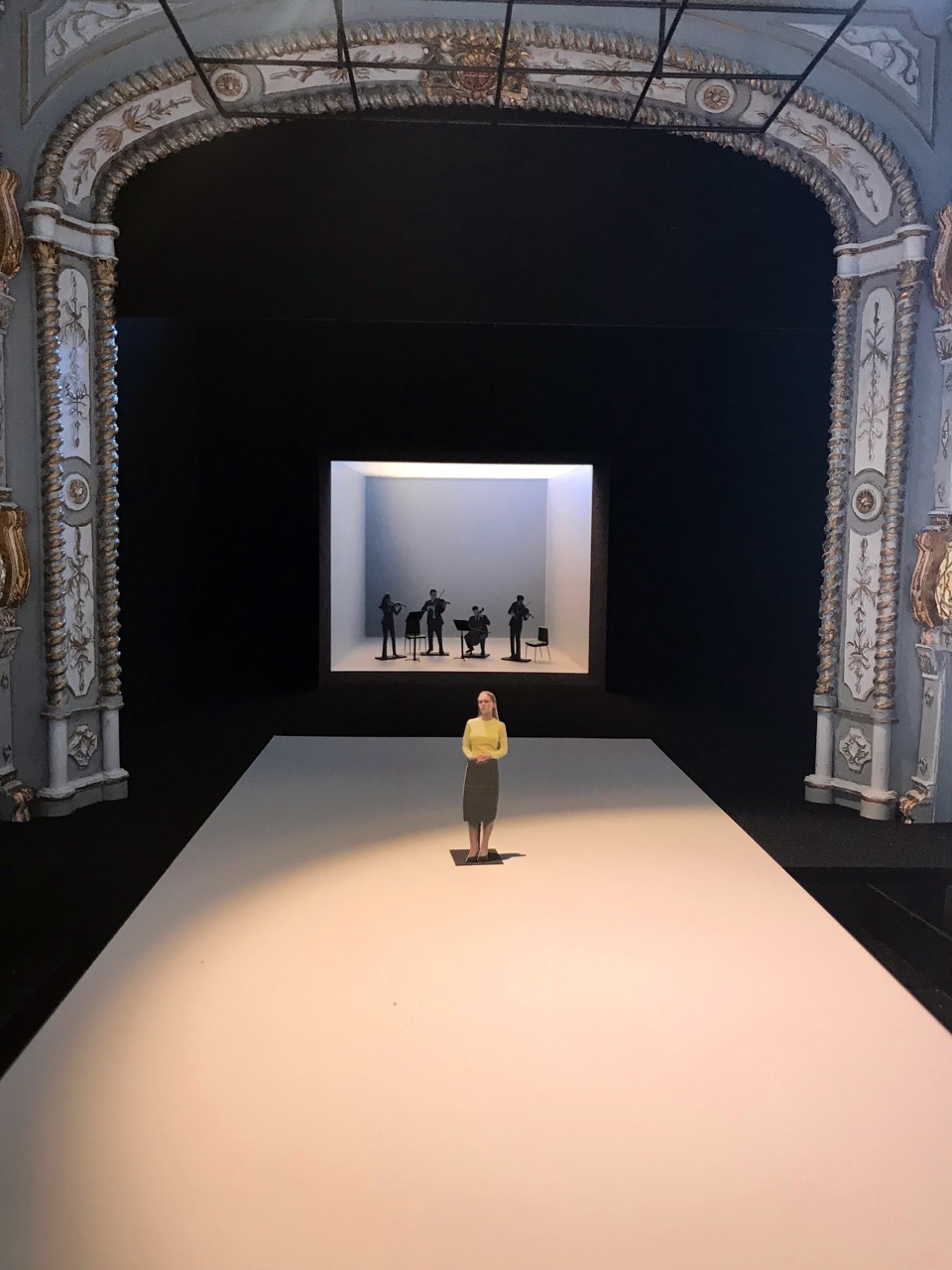 The music biz as a brutal battleground isn't a new premise, but it does feel sharply pertinent; modern superstars supposedly living the dream are all too often revealed as casualties of a hellish fame. In Mood Music, British-Australian writer Joe Penhall (whose stage/screen successes have ranged from 2000's Blue/Orange to the 2017 Netflix series Mindhunter) draws on his early experience as a music journalist—as well as, arguably, the "cancerous feud" Penhall says he experienced with the Kinks frontman Ray Davies while creating the hit 2014 musical, Sunny Afternoon.
Mood Music centres on a creative conflict between young Dublin-born singer-songwriter talent Cat (Seana Kerslake) and well-seasoned, rather unsavoury veteran producer Bernard (Ben Chaplin), who have collaborated on a smash hit record—and spins out into much darker territory that strikes a definite chord with the #metoo movement.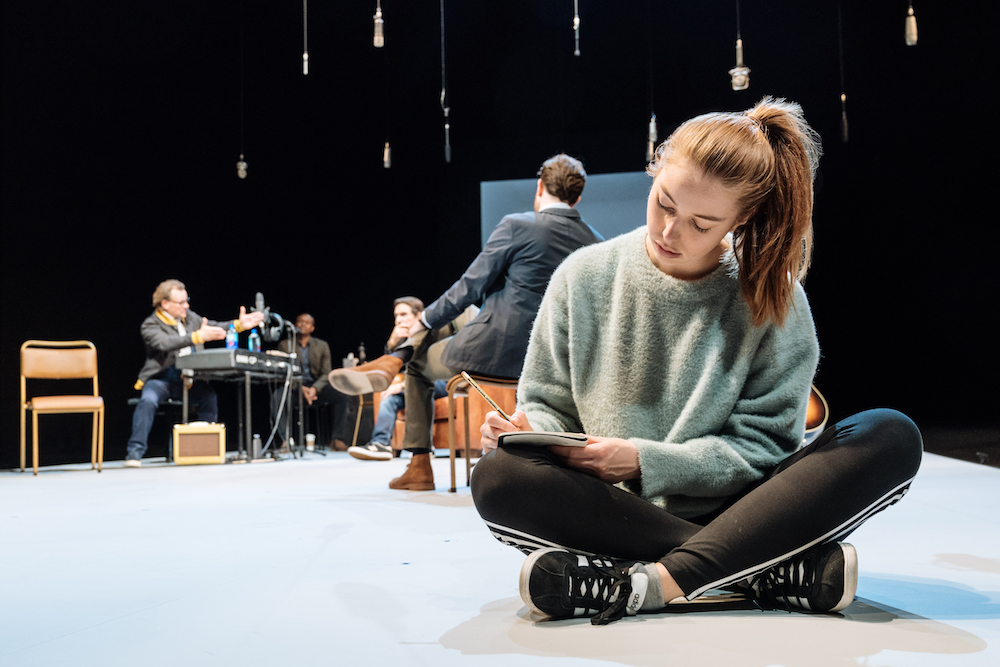 Kerslake's Cat exudes a fiery wit as well as a youthful vulnerability, while Chaplin pierces Bernard's boorish swagger with pathos and a weird charisma; both leads display snappy comic timing in director Roger Michell's deftly paced production, and the heavy themes are handled with an impressive sensitivity. The visual aesthetic of Mood Music is particularly captivating, due to the work of consistently innovative set designer Hildegard Bechtler, whose other projects with Michell include the current West End production Consent, and whose prolific catalogue includes the Olivier Award-winning After The Dance (2011) and The Royal Opera's The Exterminating Angel (2016).
"When Roger and I first worked together, I realized that we were very suited, in terms of using a language," Bechtler tells me. "Because he's a film director, he likes an ease of movement, without obstructions. He doesn't go for naturalism."
Bechtler had originally planned to study painting at Camberwell School of Art before being drawn to the more social/collaborative realms of set design. "I have a funny, slightly painterly approach, even though my style is very graphical," she says. She rose to the challenge of creating Mood Music's contemporary world within the Old Vic's cavernous proscenium theatre space.
"You start with the building and, in a way, the restriction is quite liberating," she explains. "We said that we could only do it if we could extend the stage into the audience and use all of the proscenium stage as well. We put side-seats in, then I ended up building something at the back of the Old Vic. It's a box that has no corners: very deep, an infinity space. At the beginning of the play, the movement of its six actors has to be so fluid and seamless that you couldn't wait for the door to open. These characters come in on top of each other's lives, even if they're not physically in the same space. We made the environment of the studio in a slightly abstracted way; the space beyond takes it somewhere else."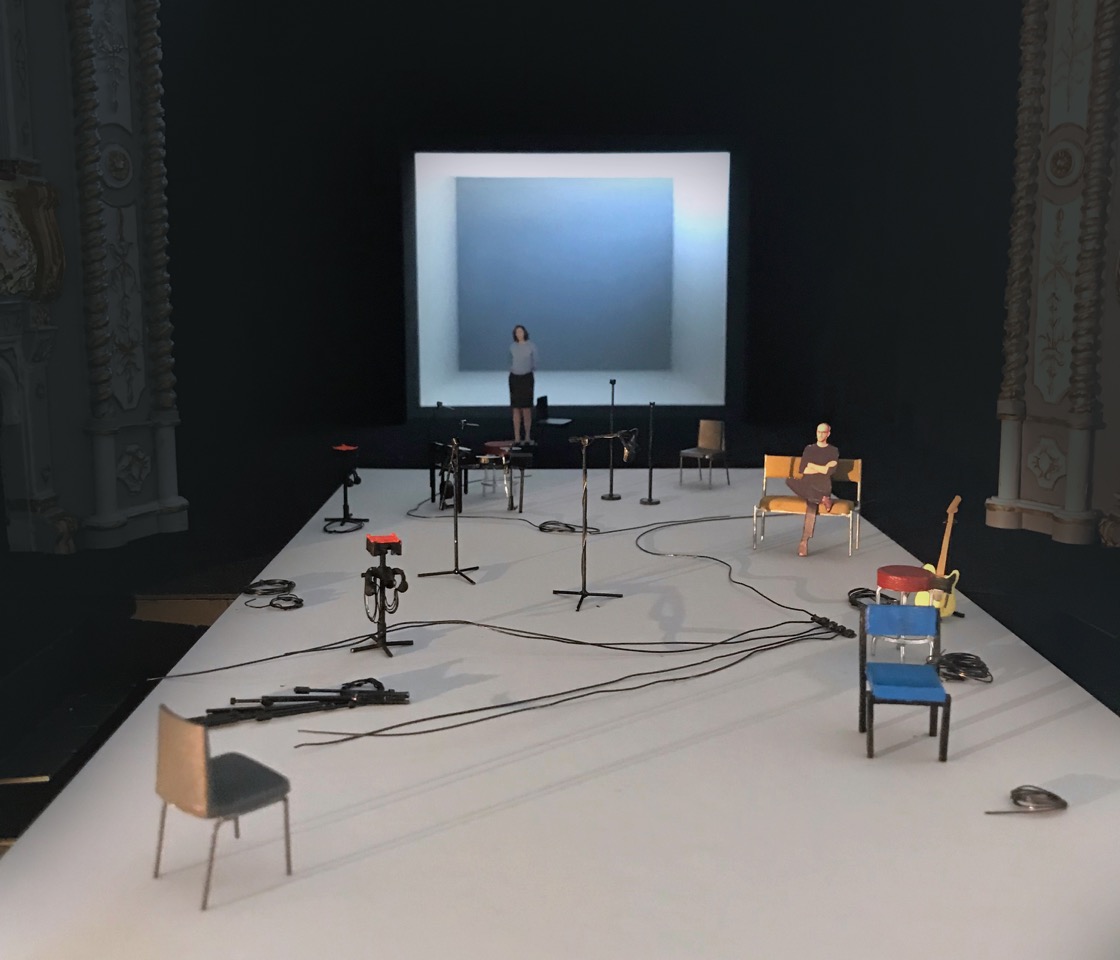 From Mood Music's opening scene, we feel a restless rhythm; lines of communication and conflict are mainly drawn through the conversations that Cat and Bernard have with their respective lawyers (Kurt Egyiawan and Neil Stuke) and psychotherapists (Jemma Redgrave and Pip Carter). These starchy consultations yield uneasy revelations—about loveless childhoods, aspiration and isolation, and the murky question of what happened to a heavily sedated Cat during her US tour. Penhall's script never lapses into sensationalism, and the set feels multi-layered, yet incredibly cluttered, from the masses of studio mics hanging ominously overhead to the luminous, enigmatic "box" which might reveal an observer's silhouette or a string quartet.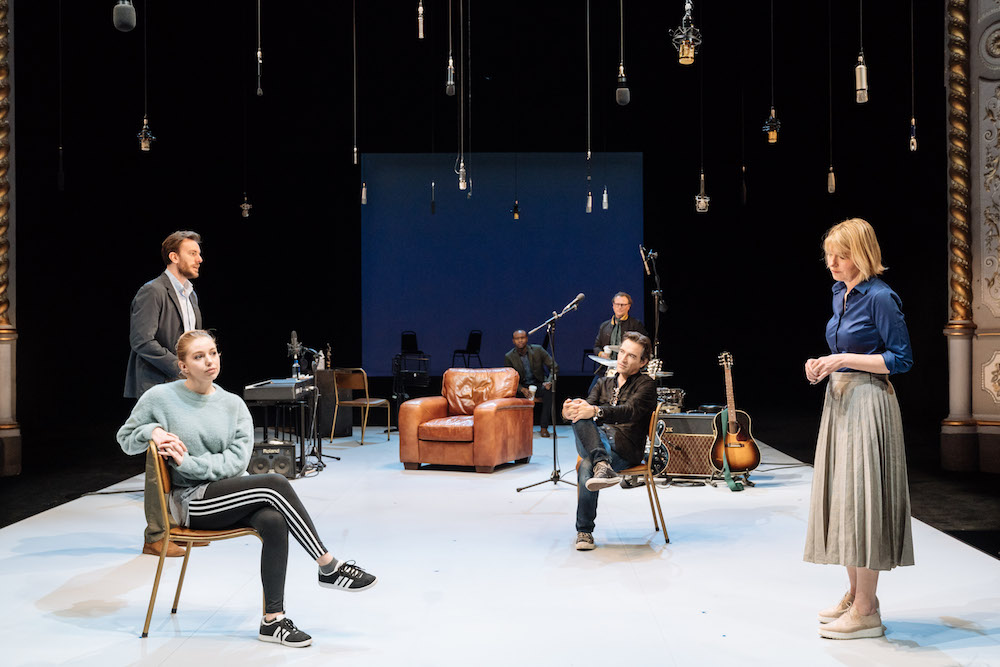 The tension is palpable, yet what is surprisingly lacking is the sense of a vital musical spark between Cat and Bernard, which drives them to win a prestigious Ivor Novello songwriting award (and wage war over the credits). Bernard might merely be using Cat to revive his own washed-up career, but in the studio flashback scenes she appears genuinely thrilled to be working with him—and he has apparently recorded with her hero, real-life jazz legend Sonny Rollins. This isn't a conventional musical, of course, but given that the play's composer and musical supervisor is modern maestro David Arnold (whose repertoire spans Bond films and rock collaborations), the studio noodlings we do hear sound oddly run-of-the-mill.
Ultimately, there is something frustratingly elusive about Mood Music, but the cast's delivery never misses a beat, and the space feels fascinatingly vast and intense, even as the end-note fades a little too soon.
Elephant Rating: 🐘🐘🐘 (3/5)