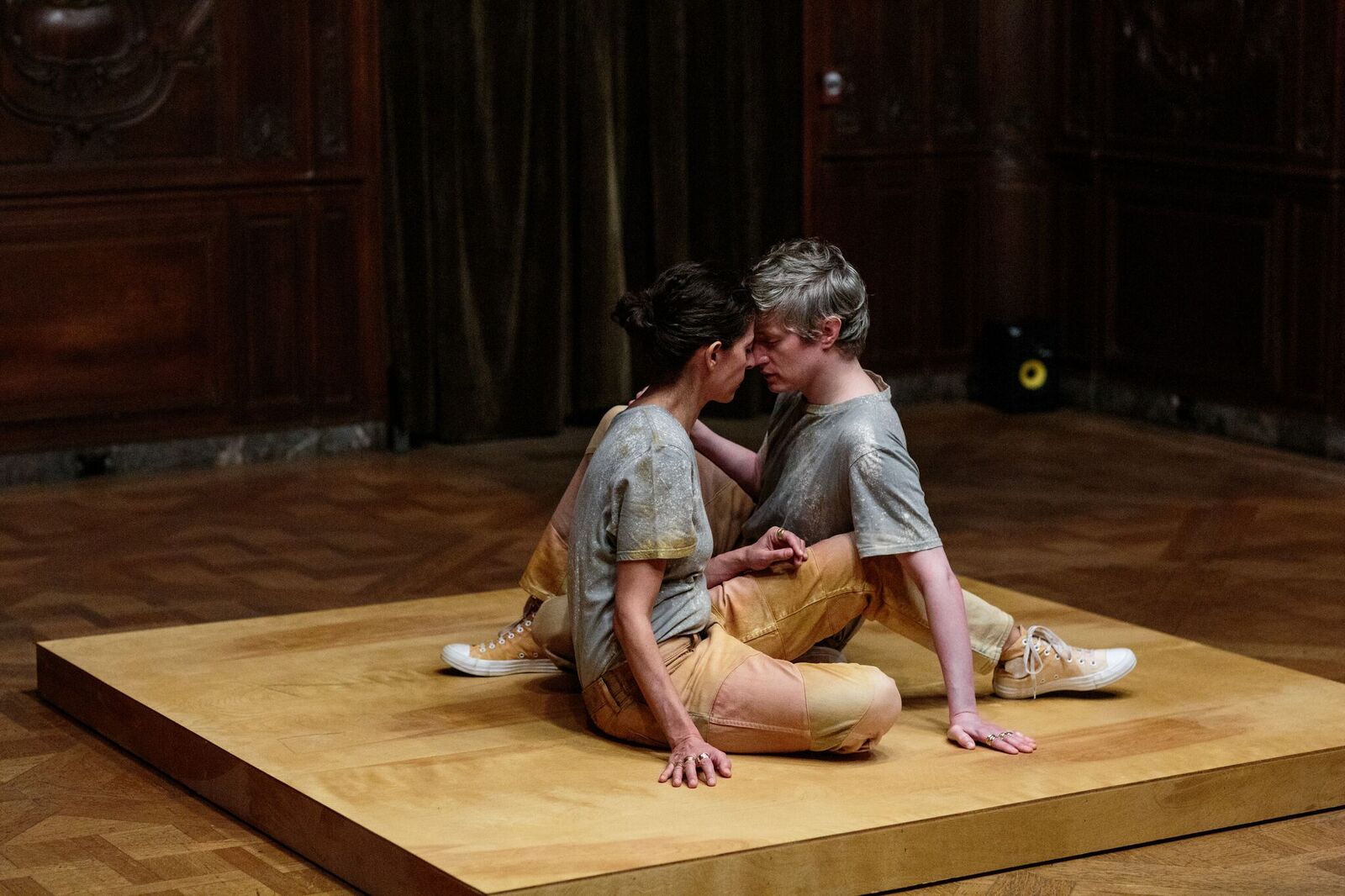 Standing next to an L-shaped glass wall dotted with shelves full of books and curiously-formed mirrors—including a rectilinear one which renders me strangely bulky—I am approached by Nairy Baghramian, yelling out my name in preparation for a hug.
The Berlin-based artist has had a hectic visit to New York. Within one week, she has wrapped up a five-night performance series, entitled Entre Deux Actes (Ménage à Quatre), as part of Performa 19, been honoured at the SculptureCenter Gala hosted by Carol Bove at her Brooklyn studio, and opened a solo exhibition at global powerhouse Marian Goodman Gallery—at this point, her Hugo Boss Prize nomination is yet to be announced.
She is softly spoken and engaging, pulling me into an impromptu walkthrough around one of the centerpieces of her exhibition, Work Desk for an Ambassador's Wife, interacting with objects the show's other star, late-designer Janette Laverrière, created with function considered after aesthetic statement. She opens the metal lid of La Commune, Hommage à Louise Michel (2001), one of many objects her long-time friend and close collaborator Laverrière created in a nod to highly influential figures—in this case, the anarchist and early feminist Louise Michel at the time of the French Commune.
"This in-betweenness of function and eccentricity, or familiarity and esotericism, permeates Baghramian's work"
Baghramian reminds me that the work served as a starting point for her La Colonne Cassée 1871 (2008), a large aluminum plaque standing vertical and gently folding, which she produced for the 2008 Berlin Biennale and has included in a mixed-media installation for this current show, with the addition of paper, glass, metal and Plexiglass. The inspiration that Baghramian found in Laverrière's modest-scale piece was prompted by a mirror that hides behind the lid, inside a rosewood lacquer frame. Its inclusion in the work is functional yet a little off. This in-betweenness of function and eccentricity, or familiarity and esotericism, permeates Baghramian's work throughout the exhibition at Marian Goodman Gallery. Many of her three-dimensional works seem to yearn for activation without actually revealing how this might come about.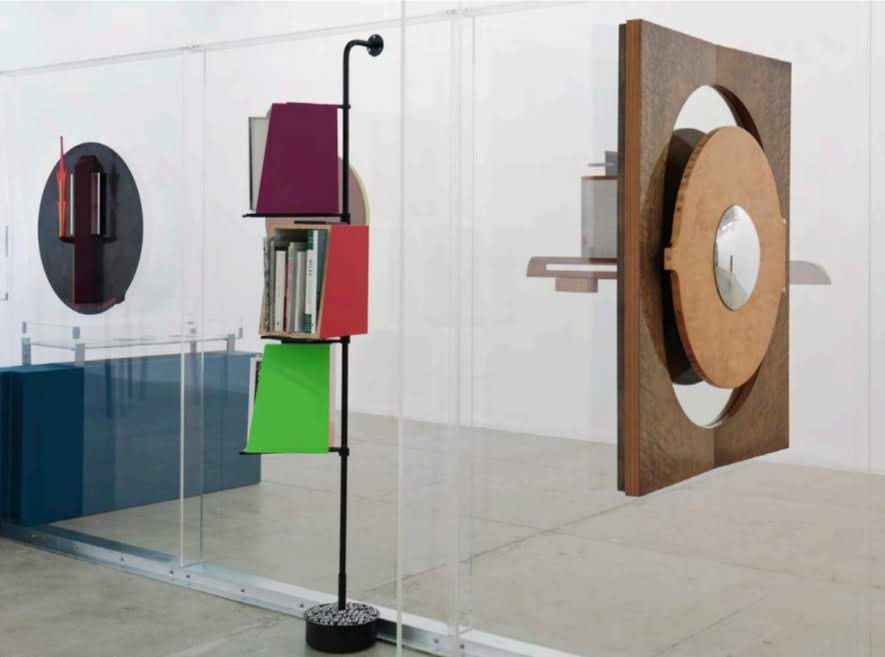 For her Performa 19 piece, she invited New-York based performance artist Maria Hassabi to collaborate. She occupied a two-storey townhouse in New York's Upper East Side, which, according to the performance's curator Charles Aubin, "was waiting for someone to open the door". Aubin brought Baghramian to the building, which formerly housed the Goethe Institute, for a site visit and it was clear to the artist that the space's ghostly vacancy was perfect for a hybrid of sculpture and movement to immerse audiences in a spectral experience. Hassabi and Baghramian both participated in Documenta in Kassel, Germany in 2017, yet never met in person, which stands in contrast with Baghramian's deep friendship with Laverrière, right up until the latter's passing in 2011.
For the performance installation, Baghramian interpreted Laverrière's 1947 design of a green room, entitled Entre Deux Actes – Loge de Comédienne, and furthered the designer's orchestration of a subverted domesticity. Like many of Laverrière's creations, the dressing room installation, in which a couch is crowned by striped fabric draping from the ceiling, was considered feminine and dysfunctional when it was unveiled mid-century. Baghramian found the perfect ground here to consider fluctuating notions of productivity, use and beauty across seven decades, between two women's works.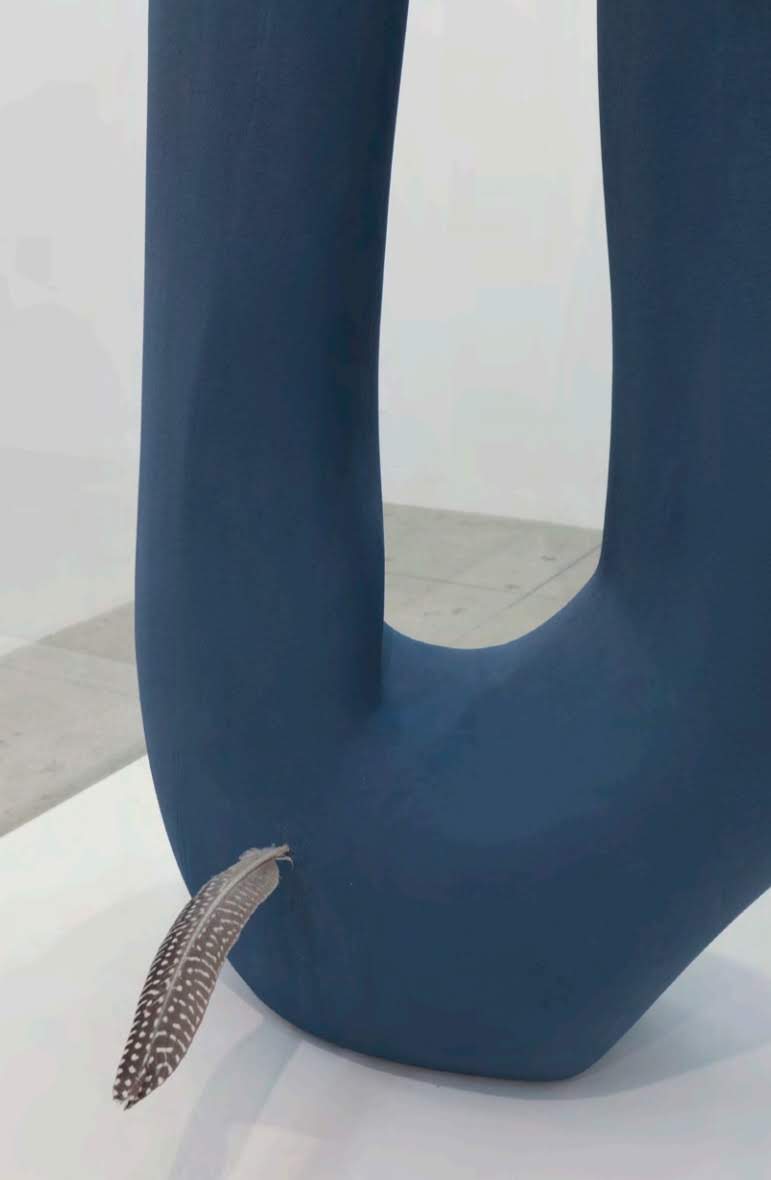 In this performance installation, erotic photographs of female nudes, which the twentieth-century Italian architect Carlo Mollino took in his Turin apartment, added the corporal veneer and exaggeration that Baghramian needed to complicate this ménage à trois between three women—by including a male gaze. The photographs adorned the building in frames Baghramian custom-designed to contribute to the theatrical domesticity suggested by Hassabi and her dancers' subtly passionate gestures—which Hassabi considers sculptural—and the intimacy of the dressing room installation.
Mollino took photographs of women in seductive costumes, using experimental lenses for his time, and the images only came to the public realm after his passing. This very idea of veiled erotic activity and architecture's role in concealing secret lives could be felt throughout the house, which "was altered with light touches", allowing "viewers' attention to catch the known and unknown", Aubin notes.
Baghramian had her first US solo exhibition, Retainer, at SculptureCenter in 2013, and the Guggenheim announced on 19 November that the artist—who is adept at crafting a thin line between the known and unknown—is one of six artists shortlisted for the prestigious Hugo Boss Prize, which will honour a selected artist with a solo exhibition in spring 2021 at the museum. The artist's grand New York moment culminated into an award speech on November 24, when her performance collaboration, Entre Deux Actes (Ménage à Quatre), with Maria Hassabi was honoured with the fifth Malcolm McLaren Award by Performa, following a commissioned performance David J, of post-punk band Bauhaus.