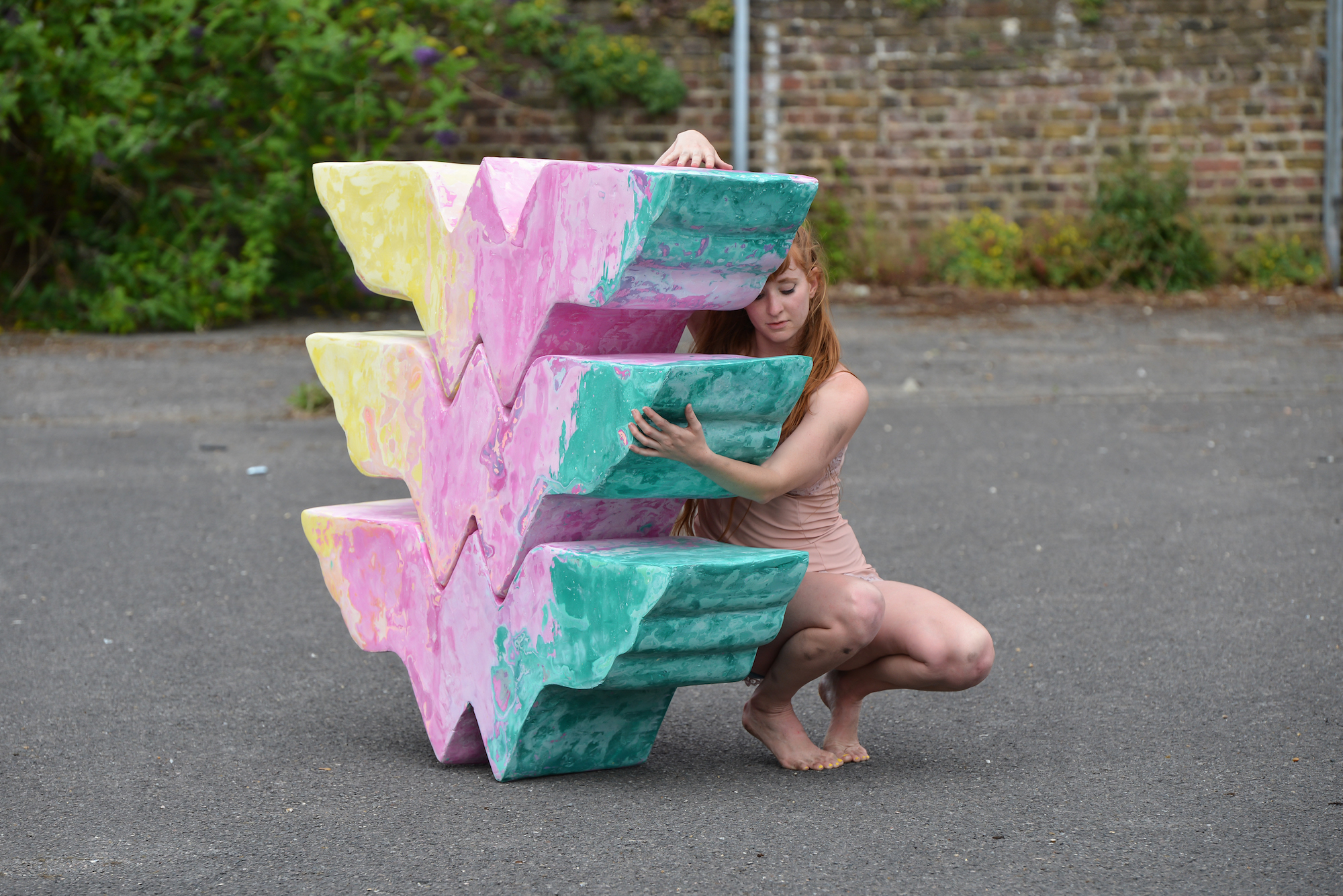 In 1986, the feminist speculative fiction author Ursula K. Le Guin published The Carrier Bag Theory of Fiction. In the essay, Le Guin argues that technology should be understood as a vessel that carries culture forward rather than a weapon of domination; this, she suggests, allows science fiction to be used "as less a mythological genre than a realistic one."
The bridge between science fiction and science fact feels particularly fluid in today's cultural climate, where the arrival of a mass pandemic has revealed that the inequitable superstructures holding up modern society—capitalism, colonialism, environmental destruction and political conservatism—are ripe for dismantling. What new world do we want to build together? How can we design and organise this future in a post-pandemic liminal zone, where lockdown regulations are beginning to lift? What is contemporary art's role in this conversation?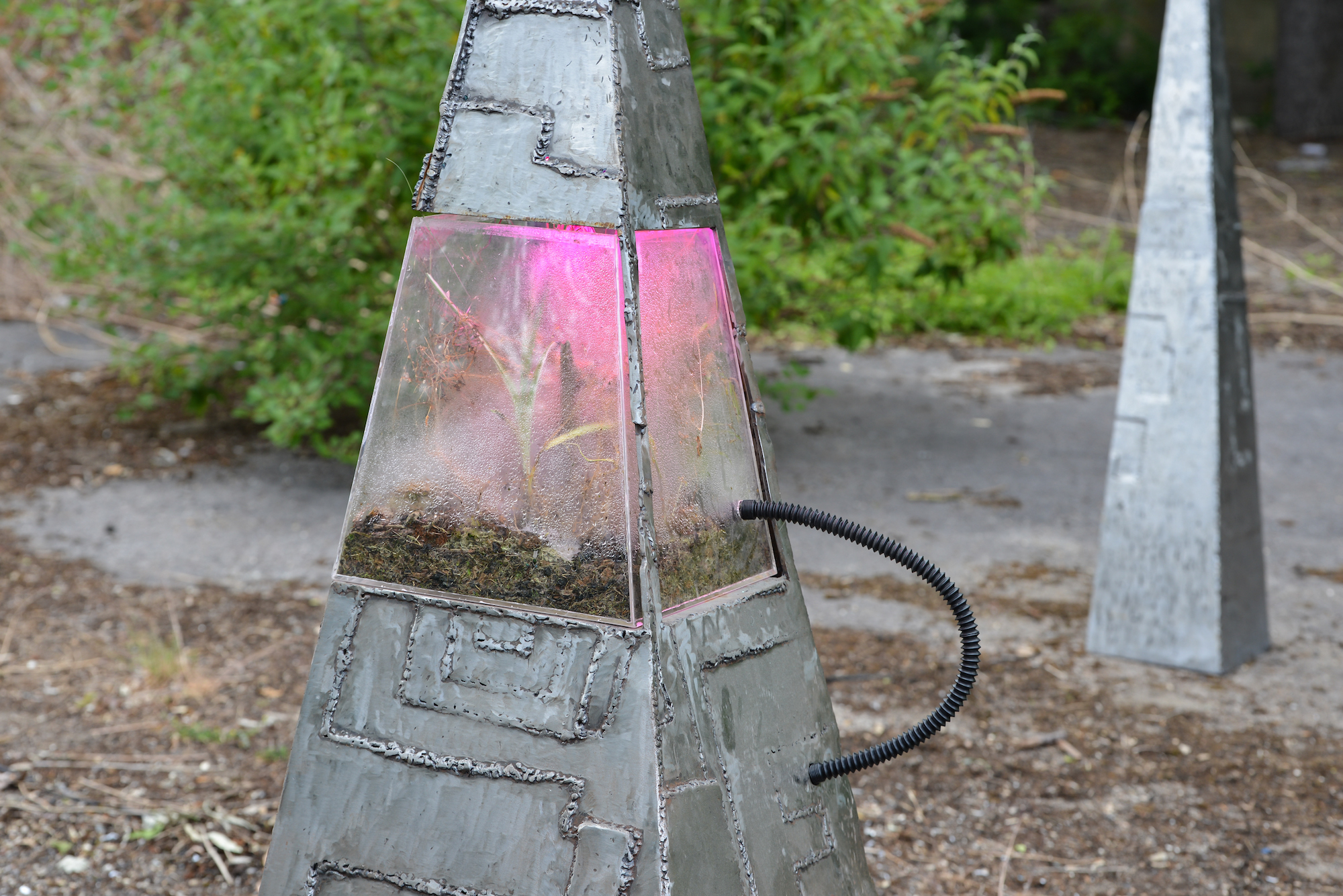 These questions are at the heart of Ritual for a New Regime, an exhibition curated by Camilla Cole of Cole Projects and featuring the work of four artists and artist duos: Sol Bailey Barker, Rebecca Bellantoni with Rowdy SS, Emma Fisher, and Candida Powell-Williams. Inverting the usual dialogue of the need to remain productive in such "strange" and "unusual" times, the exhibition—which spawned a one-day-only IRL event and a permanent digital twin—seeks out "alternatives to the current status quo," and asks after the role science fiction, mysticism, and ritual can play in building this new reality. Located at an ex-military base in North London, a outdoor space that will shortly sprout a new development of luxury flats, the show utilized its unique setting and context to disrupt traditional ways of exhibition organizing and viewing.
"Science fiction and science fact feel particularly fluid in today's cultural climate"
"Putting together this show in the middle of a pandemic meant stepping into uncharted territory," reflects Cole, who curated the project as it evolved and changed shape in the span of two weeks. "We couldn't become a gallery because that would be illegal. We couldn't have a legitimate address. We had to operate in this in-between space in every way: legal to illegal, real to virtual, exhibition set-up to the preview event, it all blurred together."
What began as a presentation of Bailey Barker's sculptures soon grew into a polyvocal and collaborative project. The artists had to work in entirely new parameters as they responded to the almost-daily changes in public health regulations. Shipping Powell-Williams's sculptures over from Hertfordshire was one battle of logistics. For the performers Fisher and Bellantoni with Rowdy SS, creating site-specific work without previously seeing the site and performing without an audience were unprecedented, but liberating, challenges. "It was a leap of faith for everyone involved," suggests Cole. "Doing a show from a distance, you can't micromanage people. You have to let them do what you want. Rebecca and Rowdy's performance was a particularly special experience, in that I had no idea what form it would take, I was watching as fresh and unknowing as everyone else."
Sol Bailey Barker, Hand Bags of the Gods, 2020 (left); Future Chimeral Entity, 2020 (right)
After three months spent in isolation, arriving at the physical exhibition this June was, in itself, a profound experience. People stood in loose clusters, making giddy and sporadic conversation, seemingly both surprised and overjoyed to be back in a social encounter. Netted in by a spiked metal fence on ex-military grounds, underneath a full-to-burst raincloud, the scene was sticky with humidity and anticipation. It felt like something illicit, both cautionary and inexplicably vital.
Scattered across the expansive outdoor space, Bailey Barker's towering technological totems faced off against Powell-Williams' candy-coloured symbols with palpable tension. Using a striking range of materials, including charred oak, welded and hammered steel, and even a tropical terrarium (at one point inhabited by live praying mantis), Bailey Barker creates large-scale forms that seem to lunge out of some primordial-futurist world. Both high-tech and arcane, conceived from a dizzying pool of references that spans ancient history to artificial intelligence, the works assert their own logic systems that can be listened to as well as felt. Bailey Barker has a music practice in which his sculptures serve as instruments; their materiality, while deeply symbolic, also generates a soundscape that's unique to each installation setting.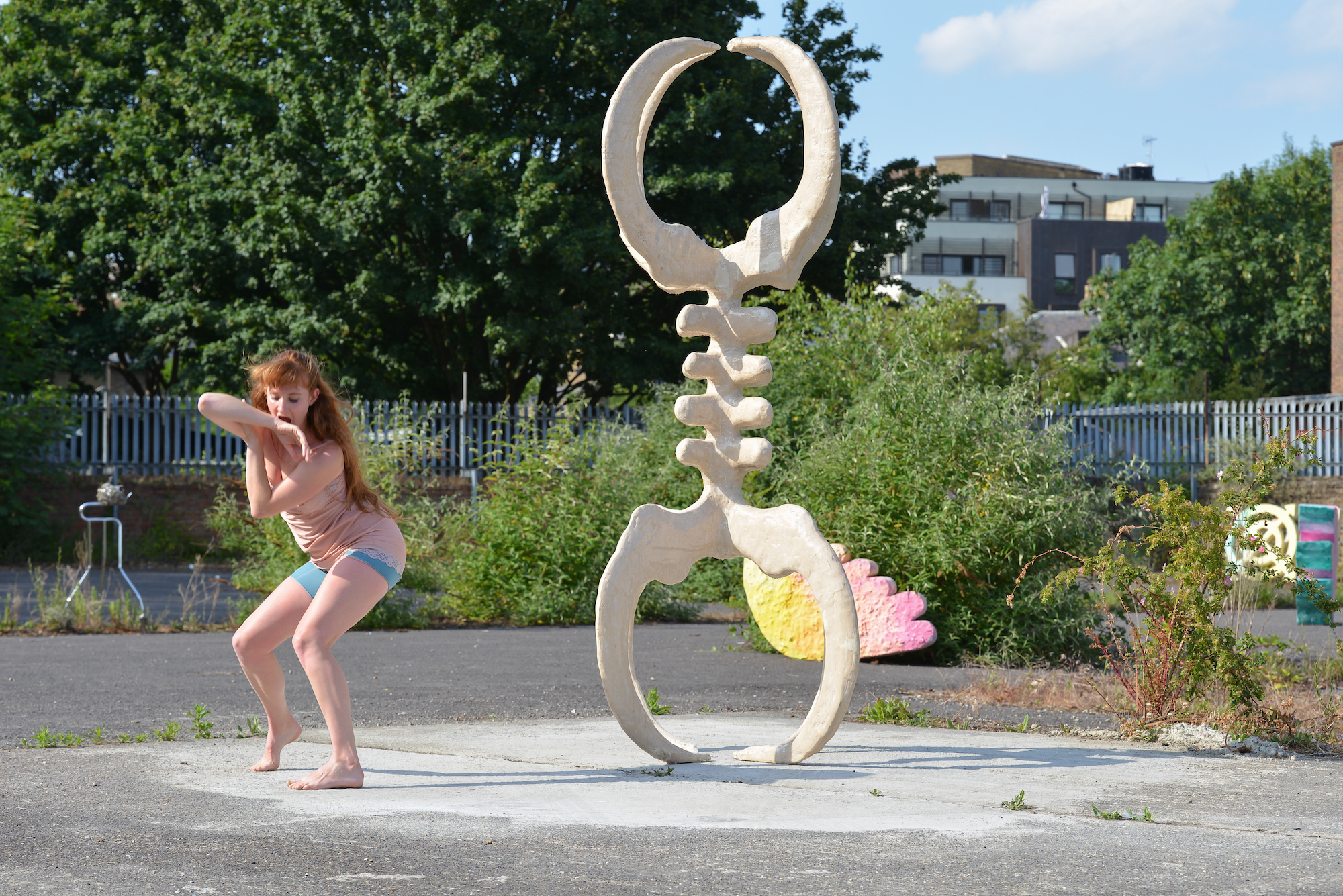 Powell-Williams' works, by contrast, seemed to revel in their own malleability. Described by the artist as "Disneyfied relics", her pastel jesmonite and resin sculptures offer up a mystic symbolism. Their woozy shapes and tactile surfaces often serve as a kind of sensual environment for playful performances that explore that soft spot where our bodies meet the external world. If the two artists' sculptures were speaking to each other in different languages, Fisher's performance, which was entirely improvised from when the artist first arrived on site, served as their translator. In Lamentation for the space between (2020), Fisher performs a solstice ritual dance on, around, and through the sculptures, to a score by Bailey Barker.
"We had to operate in this in-between space in every way: legal to illegal, real to virtual"
While these works detach themselves from a particular historical time to inhabit an alternative reality, Do I Worry? (MAMA) (2020), the collaborative performance and sound work by Bellantoni and Rowdy SS, is urgently rooted in the present. Its co-creators (siblings and long-term collaborators) produced the piece in just four days, in the wake of the tragedy of George Floyd's murder at the hands of police violence, which has sparked the largest wave of racial justice protests since the Civil Rights era. "This work talks about the plight of Black people in a moment where there are no words possible," shares Bellantoni. "It speaks to the courage we have and the protection we have for each other, in full, deep, unending Blackness."
Rebecca Bellantoni & Rowdy SS, Do I worry? (MAMA), 2020
The fifteen-minute-long performance begins with Bellantoni kneeling on a bed of charcoal pieces in front of a black flag made by the artist. Supported using sticks, twine, and other materials found on site, the flag is embroidered with phrases the artists including "no dust shall settle" and "joy abound" and cowrie shells—a protective amulet or talisman from Afro-Caribbean culture. Conceived in three acts and cut to a track by Rowdy SS that borrows from, among other sources, I Worry by Jamaican reggae singer and DJ Scotty, the work also invokes Bellantoni's own voice in reading passages from an Egyptian healer and priestess as she kneels, crawls, and dances around the field.
"I don't believe in linear time," says Bellantoni. "The idea that the past is inherently connected to the present is not a new concept to Black people; our everyday lives prove it. The strength we had in the past encourages strength now." Returning to Le Guin's text, which urges us to avoid the linear, techno-progressive reading of time, is helpful here. If we break away from our understanding of science fiction as a predictive field, and approach it as something that can help us redefine the parameters of our shared future, we can rethink the impetus to land in a new world order after lockdown. Maybe that familiar urge for a superstructure is precisely what should be left behind. As Bellantoni puts it: "The work speaks towards a way of thinking: no to new regimes. There is no such thing as a good regime."