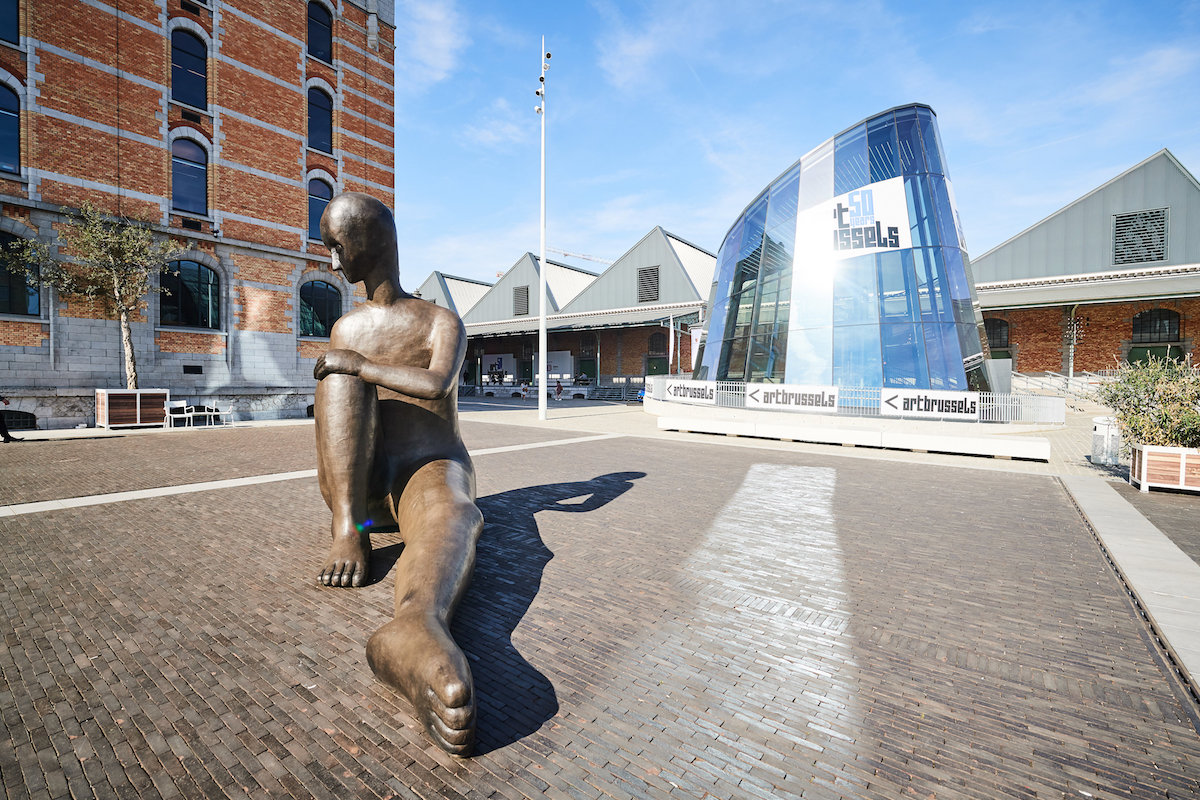 Brussels is experiencing a heatwave as I draw into the city's central station, where dust can be seen dancing in the sunlit strips of light that pour in from the clamour outside. It is my first time in the Belgian capital, and I emerge to find a joyful cacophony of architectural styles under a clear blue sky, art deco squished in next to red brick apartment blocks and austere modernist concrete constructions. The windows on most buildings are generous, offering a glimpse into the high-ceilinged interiors within. Many of the city's independent downtown galleries, such as Dauwens & Beernaert, Office Baroque and Mendes Wood DM, are housed within former homes, banks or other vernacular structures, adding to the sense that the art scene is naturally embedded within the quotidian comings and goings of city life itself. On my first night in Brussels, many galleries celebrate the upcoming opening of this year's Art Brussels, which is now in its fiftieth year, with late-night hours and parties. Students, curators and collectors alike congregate, spilling out onto the streets as the heat holds even whilst the sun goes down, smoking casually and lounging on the pavement as they sip their ubiquitous blonde beers.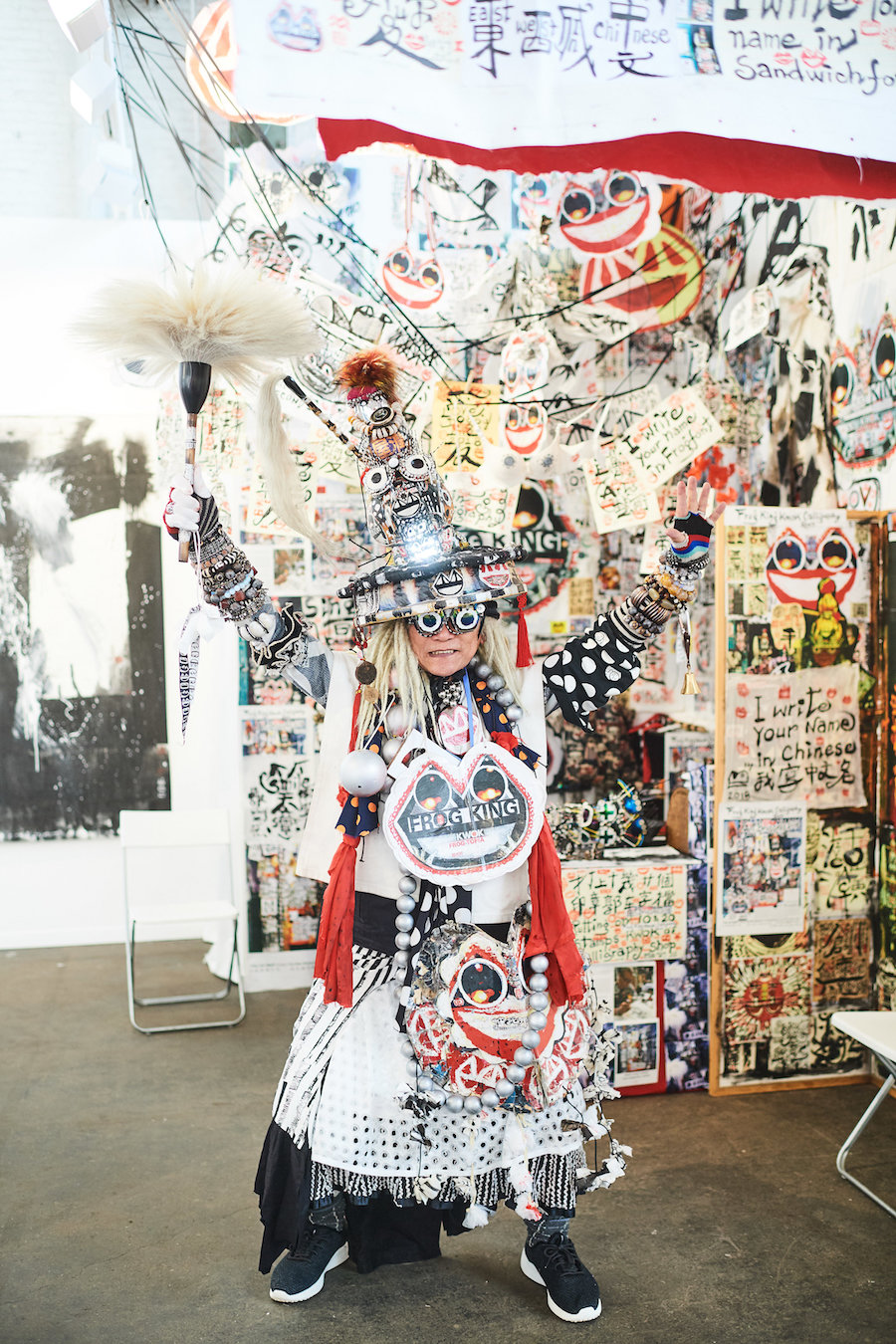 Belgian beers can be dangerously beguiling, and I blame the party at Sorry We're Closed, and the 2000-strong beer list at the iconic Delirium Bar, for my somewhat fuzzy head the next day. It is set to be another gloriously sunny day as I arrive early to Art Brussels, for which 147 galleries have travelled from thirty-two countries. Founded in 1968, the fair has played an important role in the growth of the city's art scene to become one of the most important hubs in Europe for independent and institutional exhibitions alike. It is housed each year in a former train station and a series of industrial warehouses, with swooping ceilings and immense windows. The atmosphere is relaxed and, as I begin to explore, it feels very much like a continuation of the previous evening, with gallerists and artists joking together, and speaking passionately and emphatically about the work on display.
Antoine Laurentin booth at Art Brussels 2018 in the Rediscovery section
The fair's flagship artistic project this year is titled Mystic Properties, an exhibition curated by Elena Sorokina of HISK (Higher Institute for Fine Arts) in Ghent, Belgium. It questions the power structures that have shaped the Western canon of art history for centuries, and which continue to govern the buying and selling of art today. The exhibition presents the challenges of owning intangible artworks that do not behave in expected ways: Almudena Lobera's work presents a mysterious wooden panel wrapped in brown paper, with a signed agreement that the buyer will not open it until the lost panel of the Ghent Alterpiece (stolen in 1934) is found. Meanwhile, Annie Vigier and Franck Apertet's "acquisition scores", containing instructions for dances and performances, may be activated by the buyer only seven times before the work is declared to no longer exist. The project raises the responsibility of a collector, and demonstrates the potential for a buyer to take ownership of an artwork in different and surprising ways, and to deepen their personal relationship with the piece.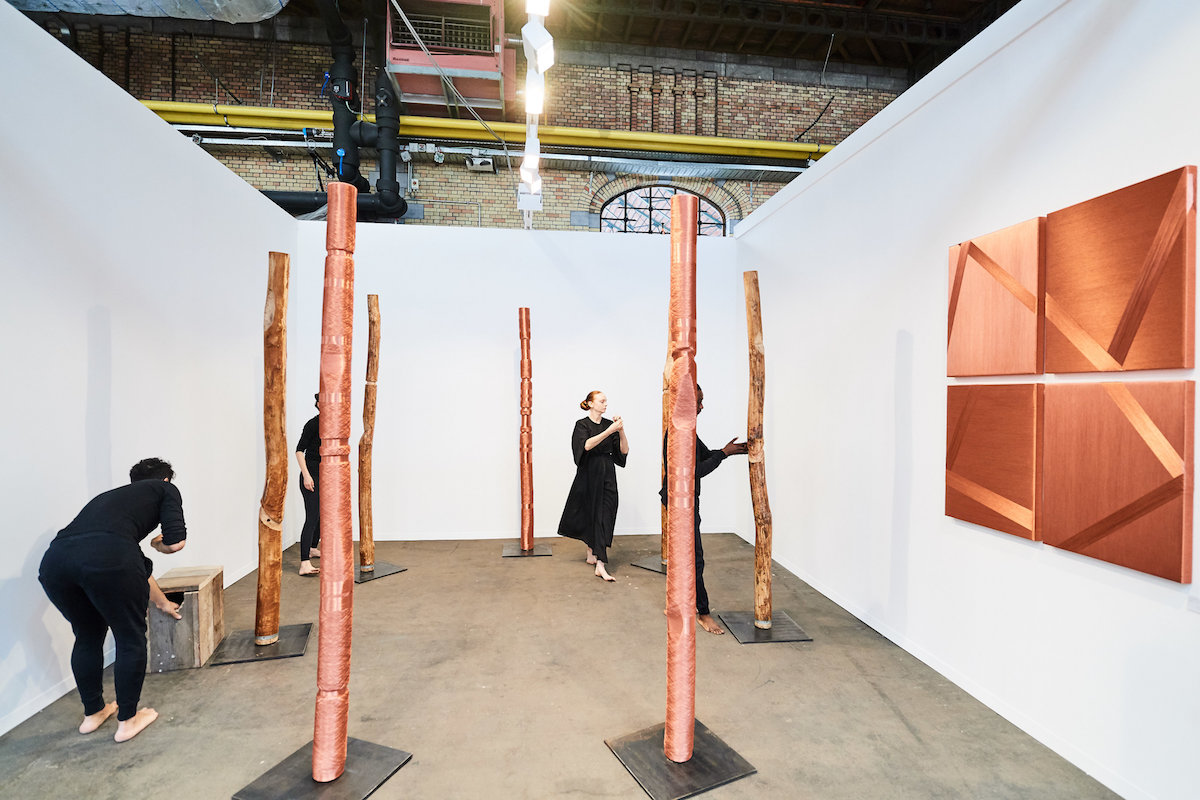 The complexities of possessing and exhibiting art resonate throughout Art Brussels, with many galleries choosing to show works beyond the traditional mediums of painting and sculpture. Performance is an unusual and prominent facet of this year's fair. Well-known Hong Kong performance artist Frog King (Kwok Mang Ho), active since the early 1970s, has set up shop at 10 Chancery Lane's booth, offering hand-drawn ink calligraphy to takers for €200 a pop, set within his chaotic installation of sketches, undergarments, newspaper clippings and other ephemera. Over at La Patinoire Royale, performers dressed in black are busy winding delicate copper-coloured threads around wooden totems, in a solo presentation by Alice Anderson. The threads recall copper wire, and suggest a concern with technology and the digital world, even as the meditative action of wrapping the thread around and around these poles roots the performance firmly in the tactile and the haptic.
"Art Brussels is a surprising and irresistible fair, characterized by its open-mindedness and the genuine, infectious enthusiasm of its exhibitors"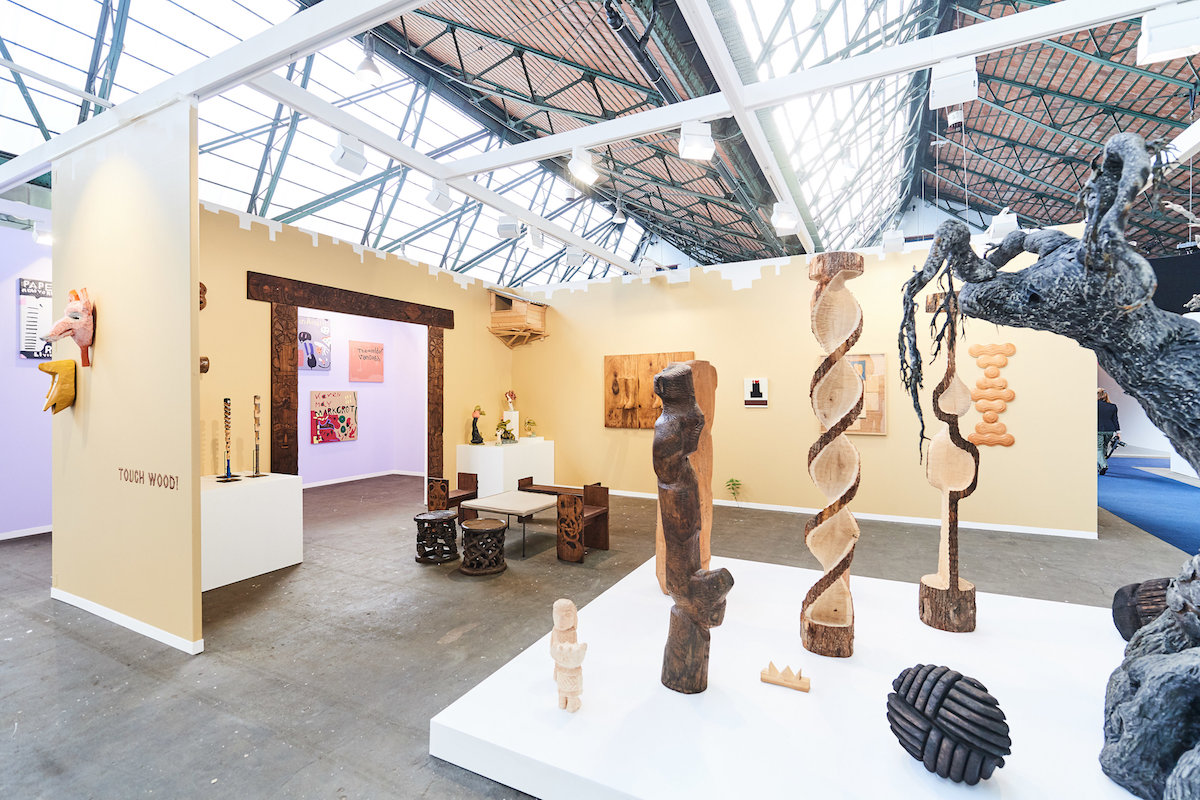 This playfulness abounds, as does a sensitivity to the suggestive and, at times, deceptive qualities of unusual materials. The Sorry We're Closed booth confronts this material ambiguity head-on, with a thematic group show wryly titled Touch Wood. All works connect to timber and trees, in what is a simple but highly effective premise. A series of miniature wooden figures by Stefan Rinck are carved in a tiki style that is both kitsch and poignant, while Chris Hammerlein takes a different direction with lumpy ceramics of trees and tropical palms in evocative, faded shades of mauve and khaki. Peter Schuyff's spiralled wooden helix structures dominate the booth, rising up above visitors and holding their own with a curiously personified presence, as if a series of surreal logs have come inquisitively to visit the fair.
Geukens & De Vil booth, Sofie Muller Solo show
Ceramics are a popular choice, notably at the New Art Centre, a gallery based in Salisbury, England. Enormous pots, titled Potential Vessels, are spaced across the booth, squatting and dominating the space with their bulbous forms. They are made by German artist Johannes Nagel, who experiments with improvised stoneware and porcelain pieces that often crack or collapse upon firing. Rather than dispose of the failed attempts, these are incorporated by Nagel into the final works, stacking pieces on top of one another in a balancing act that creates new shapes and outlines. Another unusual ceramicist on display is young Russian artist Evgeny Antufiev at Z20 Sara Zanin Gallery. His vessels explore the sculptural and aesthetic links between the female body and the form of the vase, carrying forward symbolic human figures who reveal themselves throughout his work. His practice makes use of traditional working methods from his hometown in Russia, using natural glazes such as milk and wine to deepen the earthy undertones of the terracotta browns and muddy hues of his organic pieces.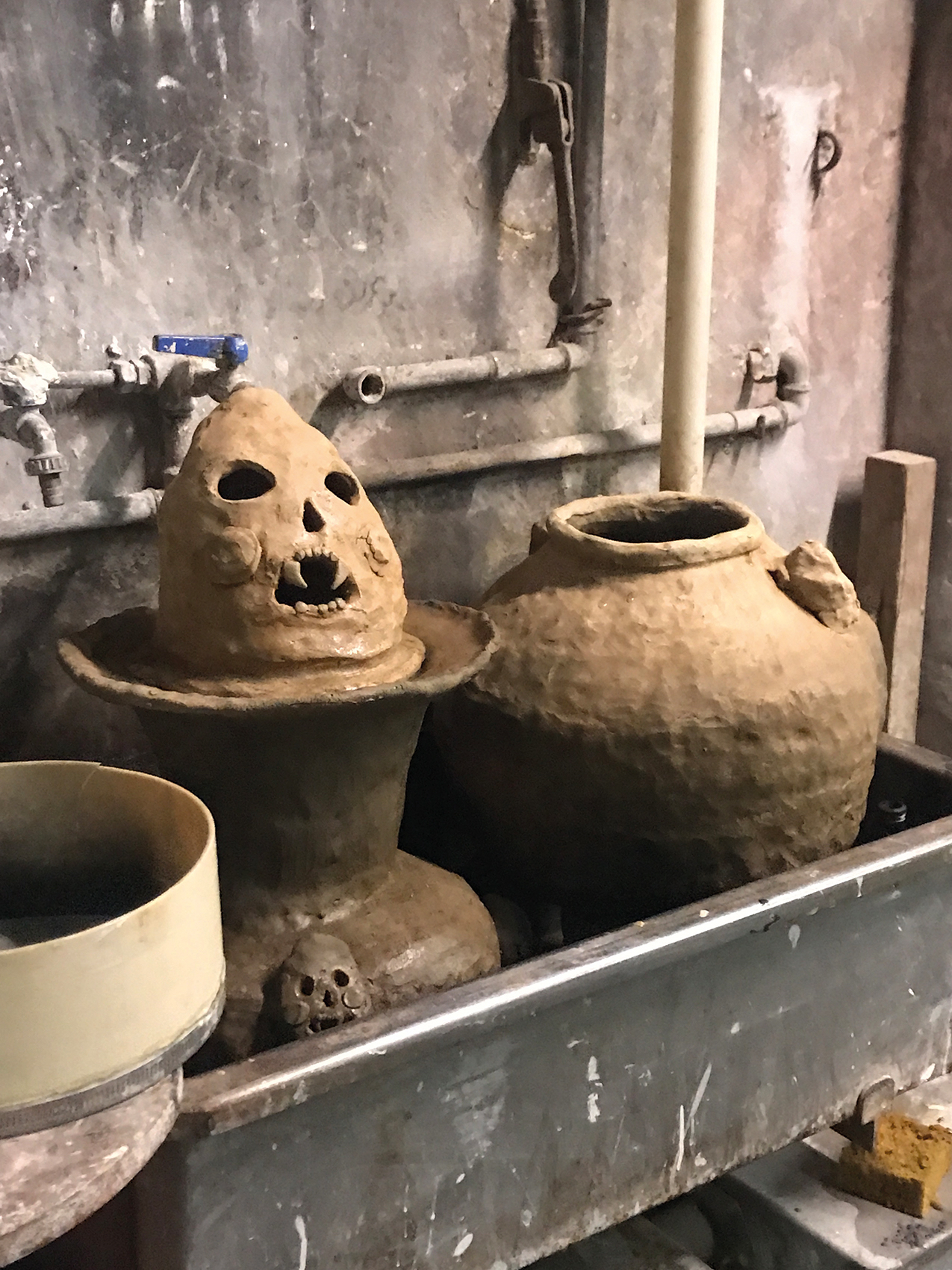 Art Brussels is a surprising and irresistible fair, characterized by its open-mindedness and the genuine, infectious enthusiasm of its exhibitors. Many galleries are showing younger and emerging artists, offering a rich opportunity for discovery amidst the bigger names and landmark pieces. It is reflective of a city that hums with the distinctive presence of its art scene, its streets embedded with galleries on what feels like every other corner. Brussels is a convivial city, full of spontaneous meetings and meandering conversations on the wide terraces of Saint Gilles and Sablon. It is a city alive with artists, and with the everyday pleasures of art and the processes of its making.
Photography by David Plas