Peter Blake needs little introduction. The veteran artist's work extends to sculpture and printmaking, though he remains best known for his collages and paintings during the Pop Art era of the 1950s and 1960s, culminating in his artwork for album cover of The Beatles' Sgt. Pepper's Lonely Hearts Club Band in 1967. His latest exhibition, Time Traveller, brings together works from across Blake's seven-decade career, with a focus on his varied collage techniques and assorted subject matter.  
The show at Waddington Custot also includes digital print photo-collages, works from his Alphabet and Museum of Black and White series, and homages to Sonia Delaunay, Kurt Schwitters and Robert Rauschenberg. His collages remain a melee of clashing and complementary references, from obscure found objects to totems of celebrity culture. In Mystery Tour £2. 10s. 0d (2005), Blake whimsically depicts Marcel Duchamp in a travelling bus alongside a host of singers and entertainers including Ian Dury, the Spice Girls and the cast of The Wizard of Oz.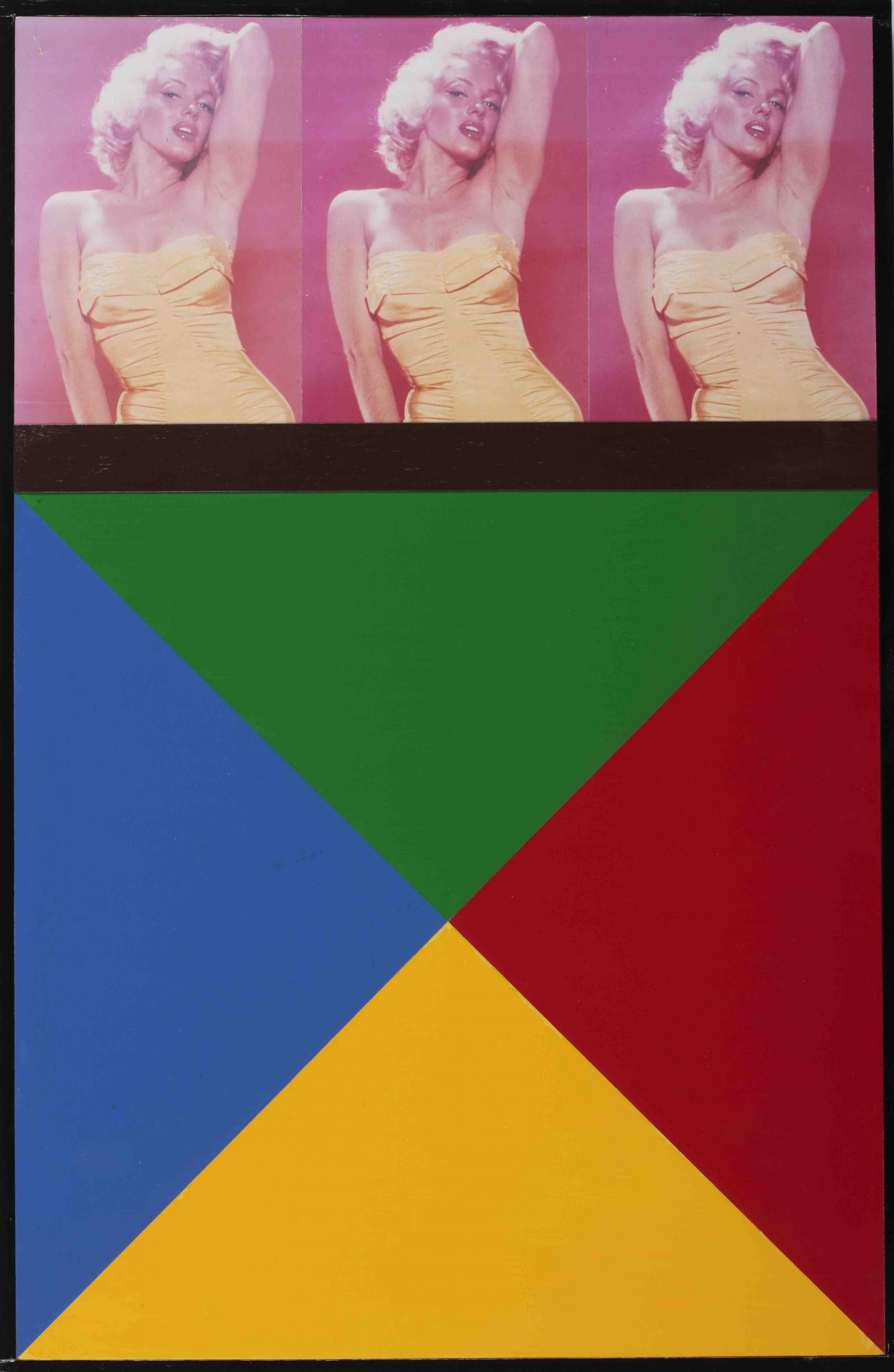 Blake began experimenting with layering and assemblage after encountering works by Schwitters in the 1950s. His own distinctive style allows for a fluid relationship between documentary subjects and fictions, often taking real people but reimagining the worlds around them. In The Meeting (1983), Blake depicted himself, Howard Hodgkin and David Hockney on a Venice Beach promenade, their status and dress in stark contrast to the scene of rollerbladers behind them, though host Hockney does appear slightly more relaxed in his surroundings.
In Joseph Cornell's Holiday, a series of nearly 100 original collages, Blake takes American Surrealist artist Cornell as his subject, transporting him to a variety of picture-perfect locations, including Venice, Capri and a meeting with American actress Lauren Bacall in Vienna. These are supported by more iterative treatments of celebrity in the show, in particular in Marilyn Monroe, Blue & Red (1990) and M, M (1997).
Elsewhere, this focus gives way to something more observational and peculiar: Aquarium (2009) sees hundreds of fish crowded together in a single plane while a patchwork of human figures line the collage's base. Here Blake's anonymous strangers appear alongside pleasantly oblivious animals, both necessary foils to the celebrity faces whose ubiquity has transported them beyond the human.
All images courtesy the artist and Waddington Crustot