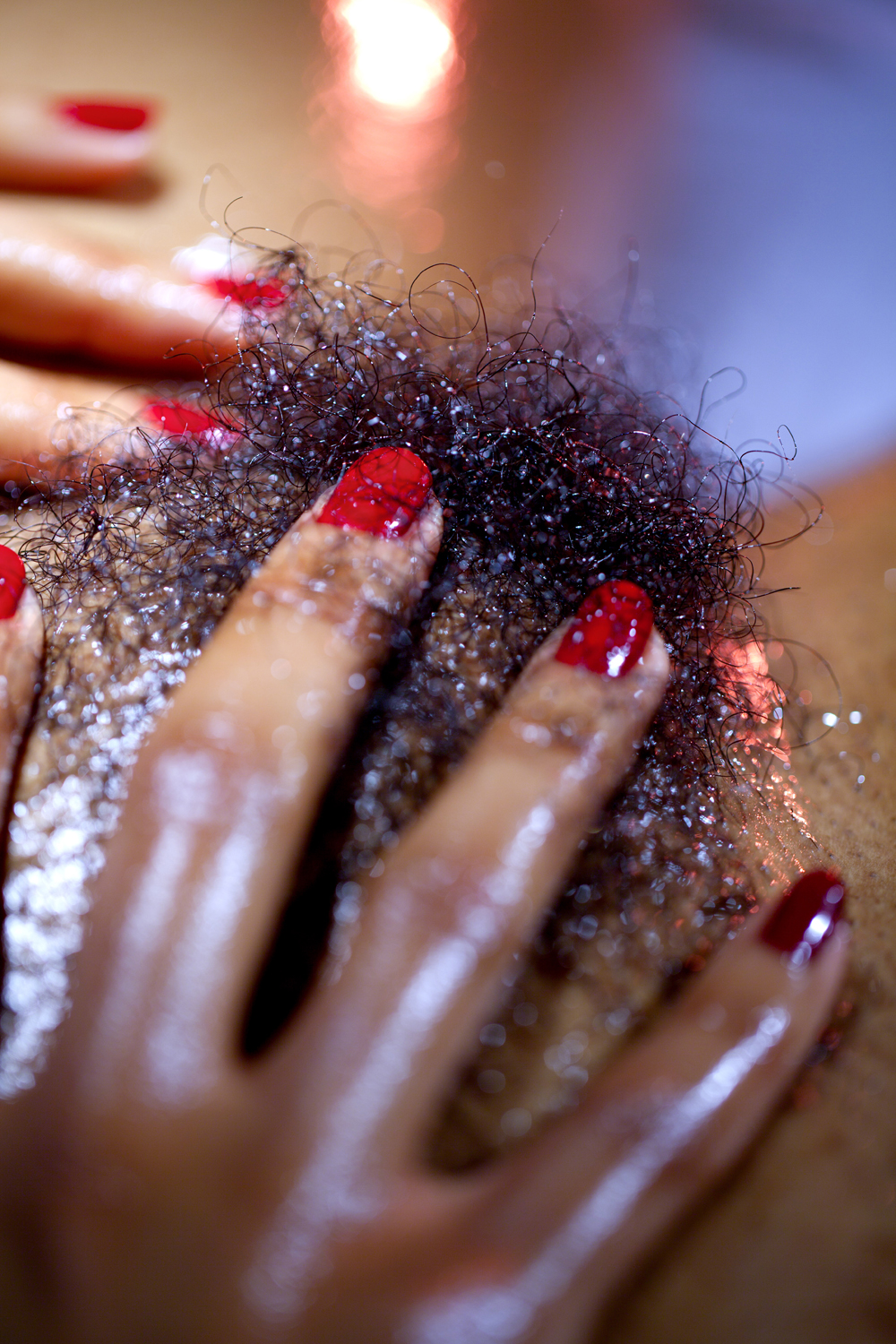 Gucci's 2003 "pubic hair" campaign made a permanent mark on me. Such was its impact on my impressionable teenage mind, that I remember not just the perfect "G" logo of hair in explicit detail, but the entire image: green kimono-inspired gown, silky embroidered bomber, awkward electric socket on the wall and all. The ad, styled by Carine Roitfeld and photographed by Mario Testino (now controversial for other reasons) was banned in the UK and labelled "extremely harmful" by media watchdogs. The sight of supermodel Carmen Kass's deeply tanned, toned, meticulously waxed body—everywhere except the focal "G"—was the height of aspiration for me at the tender age of thirteen. I didn't care that this woman didn't even have a head; she was who I wanted to be.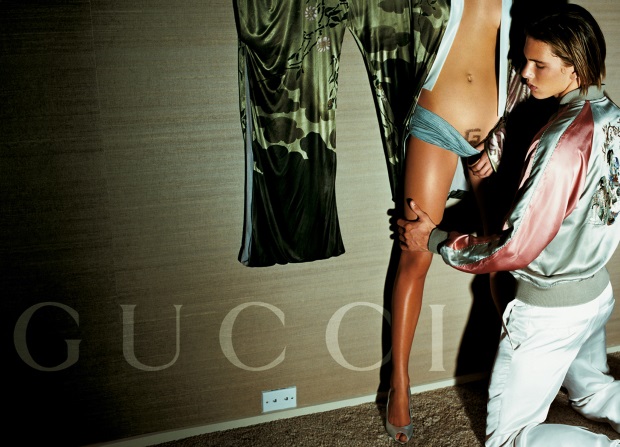 At the turn of the millennium, people were seemingly obsessed with female pubic hair. Equally as memorable as Gucci's G, was Sex & the City's Carrie accidentally opting for a full Brazilian wax on her trip to Los Angeles, and American Pie's stereotyped sexy Eastern European exchange student Nadia (played by American actress Shannon Elizabeth) pulling down her pants to say, "I believe 'shaved' is the expression."
"We wanted to show that body hair is a choice; shave it, grow it, or do a bit of both. All are valid"
Back then pubic hair, and the removal thereof, felt cheeky. It was something to gossip about with friends and read about in women's magazines. "Down there" hair styling was presented as empowering. Why not dye it a fun colour? Or cut it into a crazy shape? Or stick diamantés all over the bare skin? Behind all of this was one main goal: be seductive; attract your desired sex.
View this post on Instagram
In the years since, things have taken a completely new course. Women's personal relationship with body hair is exactly that: personal. Advertisers now love to include a full bush in their photography, even when they're selling the products with which to remove it. Female-first shave and body brand Billie have shown visible pubic hair in their campaigns.
"This summer, you do you. Let your hair down, maybe even out… we hope you'll enjoy the breeze," Billie stated in their Red, White and You Do You video campaign, which showed models walking along the beach and relaxing poolside with hair emerging from their bikini bottoms. "We wanted to show that body hair is a choice; shave it, wax it, grow it, or do a bit of both. All are valid," said Ashley Armitage, who directed the advert.
View this post on Instagram
Artists have long explored the empowering possibilities of pubes. Marilyn Minter's 2014 book, Plush, features close-up images of grown-out vagina hair. Initially the artist was photographing different women for a magazine by Neville Wakefield which didn't end up making it to publication.
"We asked models of all races, all colours, to grow out their pubic hair. I got inspired to make photos and paintings from some of those images, and I'm still shooting them," the artist said at the time of the book's release. "The word [Plush] itself is lush in its sound, and the images and feelings it provokes are charged with power. The term dates back to the sixteenth-century French word Pluche & Peluche, a smooth or shaggy/hairy fabric."
In Minter's work, the soft twists and turns of curled hair, the moisture of a glass foreground or wet skin, and the intimacy of the viewpoint both play into and subvert the typical visual signifiers of mainstream sexiness.
Marilyn Minter, Plush 1 (left), Plush 3 (right), 2014. Courtesy Marilyn Minter studio and Salon 94
In 2016, designer Sarah Louise Bryan hit the headlines in the UK when she attempted to make a garment which would outdo Lady Gaga's 2010 meat dress. She called out for donations of pubes via her Twitter page, and created a matching skirt and top covered in those sent by mostly male followers. "I really wanted the world's most unique and disgusting design, so when someone sees it, they know it [is mine] instantly," she said at the time. Despite the playful and visibly light-hearted tone of the outfit, this was not intended as a celebration of pubes in all their glory. "I thought of the design because of how gross it is. I thought, 'What would be the worst thing to have on your dress?'"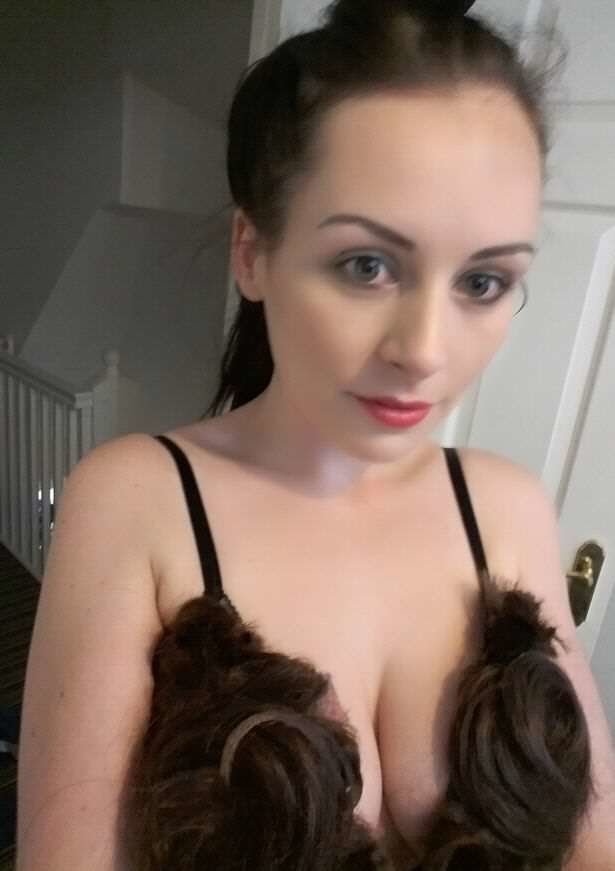 Faith Holland also uses pubes as a material, as she explained to Elephant in 2017. One of her works features an iPad covered in the artist's hairs, with a pale skin-like background on screen. "I wanted to create a screen that would glow under a mass of pubic hair, and so I set out to build a collection of pubes," she said. "I would, for about a year, gently comb for loose pubes and collect them in a baggie that lived next to my side of the bed (much to my partner's chagrin)." Holland seems to revel in both the playfulness of working with body hairs as a material, and in the discomfort it might provoke in other people.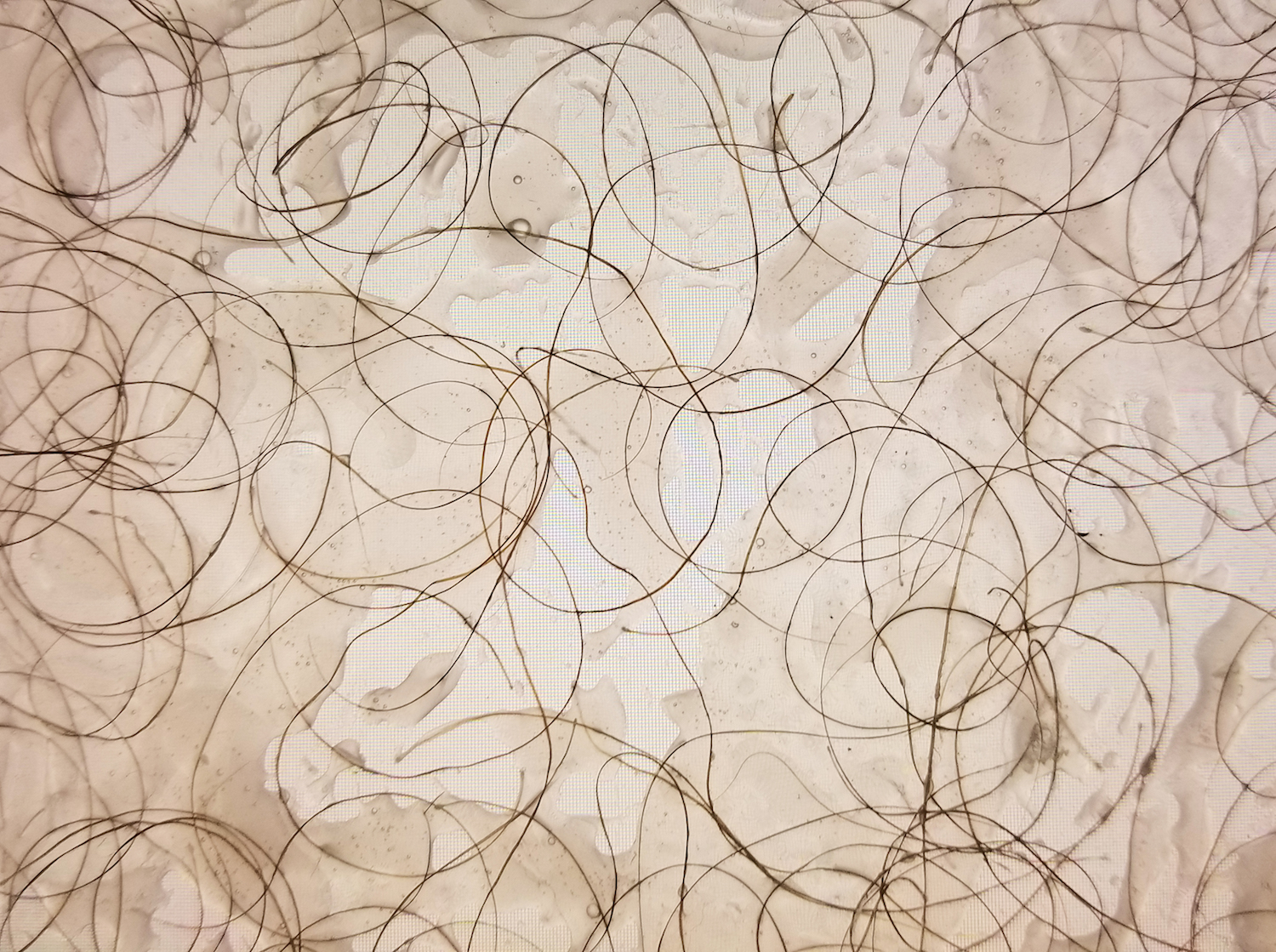 Wangechi Mutu's work often confronts social expectations of the female form, and in some images, body hair is the vessel with which to do this. Her etching The Original Nine Daughters features a figure shown from the waist up, with long-fingered hands waving in the air, and the head replaced by a vaginal-like sprouting of hair standing on end and reaching up almost to the elbows, as well as trailing down the chest area. Elsewhere in the work, a female figure is covered head to toe in long body hair, thickly surrounding the buttocks and inner legs. It is a visceral piece, pulsing with energy, and combining moments of heightened femininity (such as the talon-like red nails on the hands) with joyful abandon.
"The Nine Daughters are part of the Kenyan creation myth, our Adam and Eve," the artist has said. "The nine original tribes and clans come from there. They are all freakish poetic hybrids, not literal. Some prints make connections between Renaissance and Victorian etchings, but they are all esoteric."
Marilyn Minter, (left) Plush 24, (right) Plush 5, 2014. Courtesy Marilyn Minter studio and Salon 94.
One of the most famous historical depictions of abundant pubic hair, Gustave Courbet's 1866 The Origin of the World, has also been subverted and altered for political commentary. Mickalene Thomas' 2012 painting Origin of the Universe I depicts a black female body, the artist's own, in the same pose as Courbet's: legs spread open, with pubic hair and the shadows of folded flesh depicted in black rhinestones.
"The vagina and pubic hair that surrounds it are turned into something beyond practical or beautiful: they are pure, powerful glamour"
"The artist has transformed the French Realist's white subject into a black woman…" wrote Desi Gonzalez for the Brooklyn Rail, when the work showed at the Brooklyn Museum in 2013. "To make the painting, Thomas photographed herself assuming the same position and then transferred the image onto a canvas, studding pubic hair and labial folds with dark rhinestones. By including her own body in the image, she's converted Courbet's crude example of female objectification into an image of feminine agency."
In this work, the vagina and pubic hair that surrounds it are turned into something beyond practical or beautiful: they are pure, powerful glamour. Where Courbet's subject appears like a slab of meat chucked down on a table, Thomas' holds strength. After all, what greater honour and pride can you bestow on your own full-bushed vagina than to depict it, far greater than life size, covered in rhinestones?