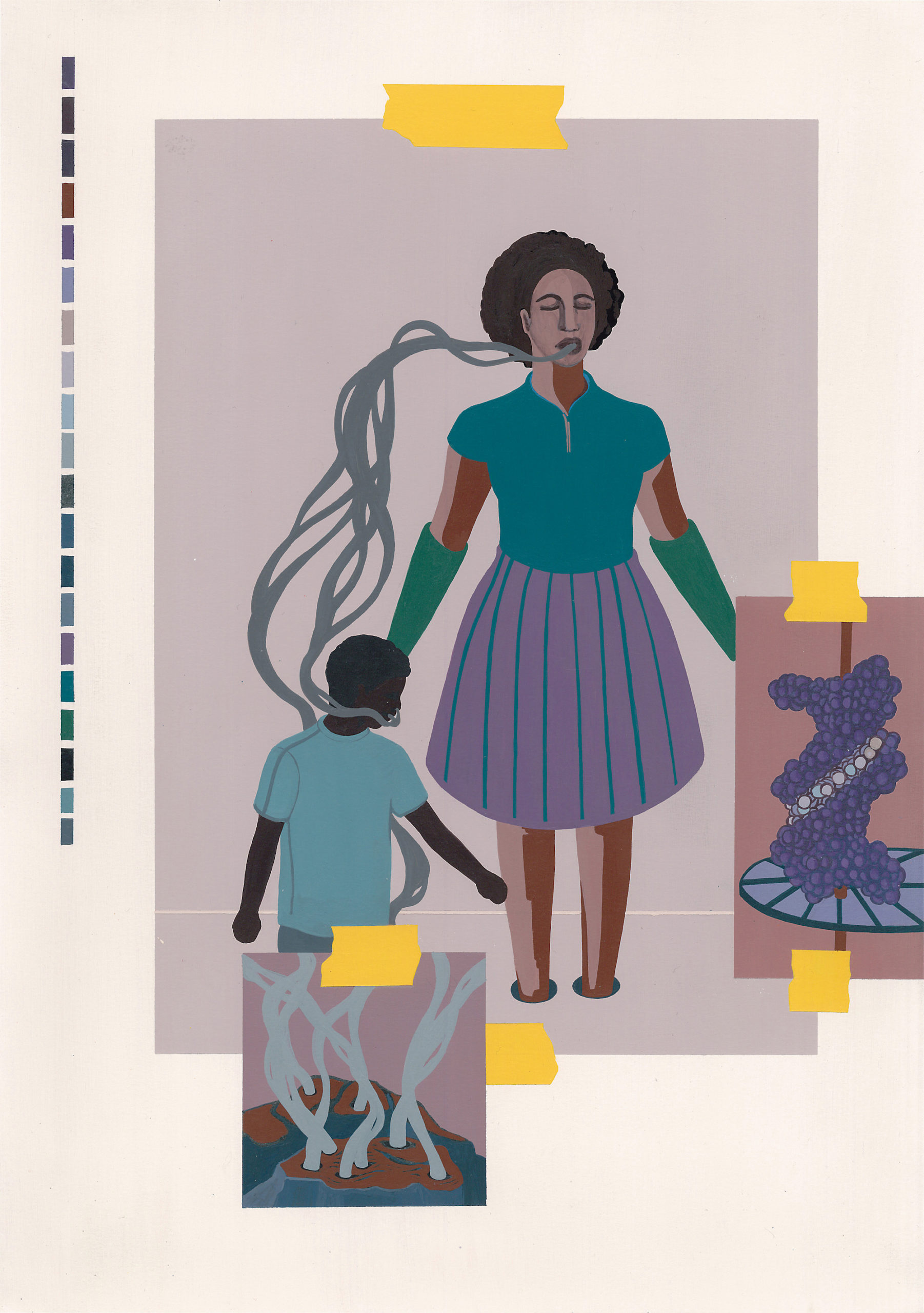 Drawing occupies a troubled position within the art world, often relegated to the status of preliminary sketches or doodles. It's seen by many as a secondary, supporting mode of production rather than as a primary medium, inhabiting a perpetual state of becoming rather than being. Vitamin D3, published by Phaidon, sets out to radically change that perspective. The third since 2005 in an ongoing series focused on the creative possibilities of drawing, the book surveys the contemporary scene to recognise and establish the medium as one of the most diverse, accessible and exciting art forms of today.
Throughout the last year drawing has assumed new status as a creative outlet and therapeutic pursuit, writes Anna Lovatt in her introduction to Vitamin D3. "During the pandemic, artists, nurses, journalists, teachers and schoolchildren began to draw," she reflects, pointing to the drawings that appeared on pavements, in windows, on walls and online. She notes the particular prevalence of these drawings in spaces such as doorways, porches and balconies, areas that span the boundary between public and private, where frustration, hope or solidarity could be expressed to passers-by.
The immediacy of drawing is key here, with its ability to convey a message in just a few strokes upon the page. Displayed in windows across the country during the pandemic, the rainbows for the National Health Service in the UK saw the colourful symbol of optimism rendered in careful pencils, elaborate sequins or scrawled felt-tips. The nation's rainbows demonstrated the creative potential of drawing, as well as its ability to transcend age, class, race and language in the communication of a simple message.
"Throughout the last year drawing has assumed new status as a creative outlet and therapeutic pursuit"
Similarly for the artists included in Vitamin D3, drawing is a means of immediate personal expression. In excess of 100 artists were selected for inclusion in the book by more than 70 nominators from all over the world, from curators and academics to gallery directors and writers. Chosen for their significant contributions to the medium of drawing, the artists range from Robert Crumb, with his iconic countercultural cartoons and satirical take on American society, to Rashid Johnson and his "anxious drawings" rendered in vivid swirls of red and black oil pastels.
The drawing styles on display on these pages even unpick the essence of the medium at times, stripping it right back to the materials that form the basis of the craft. Take the minimal works of Sheroanawe Hakihiiwe, an indigenous artist who lives in the remote Yanomami community of Pori Pori in the Venezuelan Amazon: he fabricates artisanal paper with native fibres and works with vegetable inks, creating delicate works with an intuitive yet almost geometric precision.
For French artist Marie Jacotey, drawing is an instinctively chosen tool, whether it employs a pastel-coloured pencil or a felt-tip pen. "It has been a very soothing practice to me for as long as I can remember," she told Elephant last year during the first UK lockdown. "It's super spontaneous, intimate and low-key in its making. In many ways, I find it very comparable to writing, to taking notes." Jacotey's work focuses on intimate relationships between people, depicting scenes of closeness and domesticity, highlighting the smaller details of everyday life that often go unnoticed. She sketches the detritus of a messy desk, or the rumpled sheets of a bed left unmade. Drawing allows for that immediacy, she argues.
Chicago-born Christina Quarles uses drawing to capture the in-between state that she experiences as a biracial artist, using the monochrome of ink on paper to definitively express a delineation between black and white. The figures in her work contort with elongated limbs, overlapping across each other in a heady expression of simultaneous physical proximity and distance. "I literally bisect and fragment and cut these bodies into multiple sections," she told Elephant in 2019. Quarles also creates paintings, where she leaves the canvas exposed and raw, but continues to make space for her roots in drawing, where the flowing line of the pen allows for intuitive, unplanned compositions.
Toyin Ojih Odutola, Anchor, 2018 © the artist / Courtesy Toyin Ojih Odutola and Jack Shainman Gallery, New York (left) Sheroanawe Hakihiiwe, Yaro Shinaki (Parrot's Feather), 2018 © the artist / Photo: Julio Osorio, Maria Teresa Hamon and Renato Ghiazza (right)
"The drawing styles on display on these pages even unpick the essence of the medium at times"
Following a year of living under the restricted conditions of the pandemic, the straightforward pleasures of drawing continue to offer solace even under the most difficult of circumstances. It also provides an opportunity for personal documentation during one of the most turbulent periods in recent memory, as a means not just of therapeutic comfort but of diaristic record. Many artists not previously active in the medium have newly embraced drawing as their access to studios, materials and fabricators has been limited by lockdown.
"Once history holds your hand, it never lets go," cultural critic Lynne Tillman once wrote. "But it has an anxious grip and takes you places you couldn't expect." Those featured in Vitamin D3 prove that the scratch of pencil on paper can surpass even rapid advances in technology as artists connect with one of the oldest forms of expression in the world.