Last March, ahead of the first UK lockdown, I took a walk through London's Chinatown on a Friday evening, one of the busiest nights for trade. Instead, its many noodle shops, dim sum restaurants and tea cafes were empty, suited waiters hovering anxiously by the door. Diners had chosen to stay away, a trend that many connected not just to legitimate pandemic fears but to racist associations with the virus, which was first identified in Wuhan, China.
The London Chinese Community Centre, first opened in 1980, remains a mainstay of the community in the city today, sharing meals and advice with a focus on keeping Chinese culture alive. An important hub in the heart of Chinatown, it offers particular support to the city's elderly, with 52% of members over the age of 65. Following the devastating economic effects of the pandemic, the LCCC faces the threat of permanent closure.
"A lot of people see tea as a British thing when in reality it's about as Chinese as it gets"
More than 50 artists have come together to save the centre through a new fundraising initiative named Communitea. The print sale takes as its theme an age-old tradition: tea drinking. "A lot of people see tea as a British thing when in reality it's about as Chinese as it gets," says Conrad Haddaway, a member of the Communitea team. "It's a ritual of welcome and unitea (sorry) that we felt was a great tool for connecting people around the world. It's been working well enough since 200BC!"
The prints on sale are richly varied, from Danielle Rhoda's whimsical sketch of a chef preparing crispy duck to the perfectly airbrushed rendition of a pair of Korean pears by Cha, which highlights one of the greatest common denominators of East Asian culture:  the cutting of fruit for loved ones. Muhammad Fatchurofi's Humilitea, which imagines a tea pot pouring its contents down a mountainside. "Just like water always seeking low places," he says, "I hope that people will do so in terms of interacting with others, to be humble and respectful."
Kenn Lam, one of the organisers behind the fundraiser, presents a print depicting a majestic tiger, titled Strength & Resilience. "Strength is symbolised by the great Asian tiger, king of all animals. Resilience is depicted by the leaves of Ginkgo Biloba, which is known for its hardiness and longevity," he explains. Thomas Hedger's Hope Cookie takes on the motif of the fortune cookie, an American invention, to reveal a message that reads 想, "a wish, to think, to want, transforming the blessing for a friendlier, hopeful future," in the words of the artist.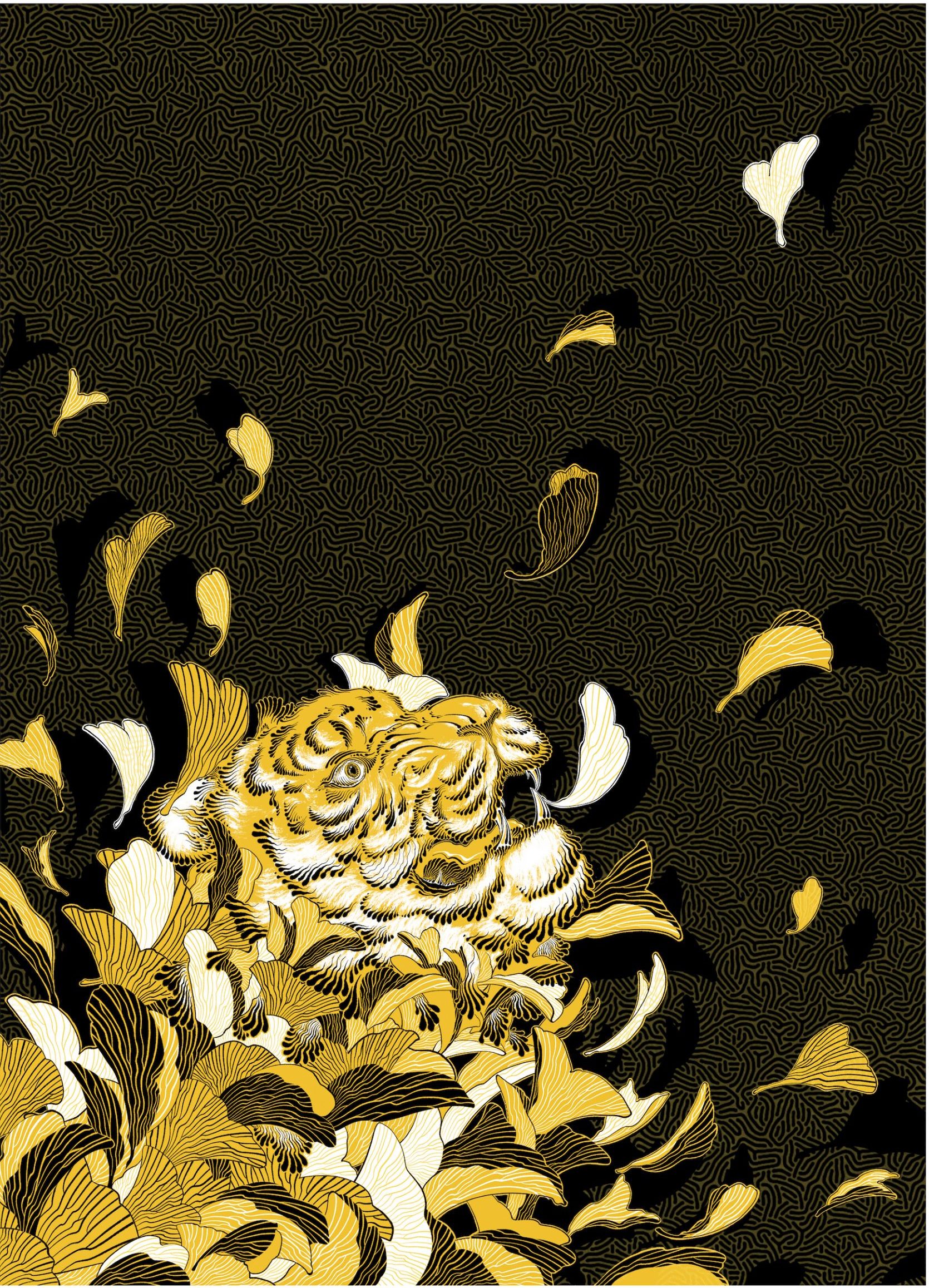 "We made it a point to include artists from all ethnicities, all over the world. Anyone can have a connection with these cultures"
During the pandemic, hate crimes towards east and southeast Asians tripled, according to a report published in Huffington Post. It was the Atlanta spa shootings this March that propelled these attacks into the mainstream, with Stop Asian Hate rallies taking to the streets in response across the United States. Community is vital in this growing movement, not only in mass protest but in day-to-day support.
Diversity and solidarity is at the heart of Communitea's ethos. "We made it a point to include artists from all ethnicities, all over the world," Lam explains. "This approach echoes our brief, which is for artists to visualise their connection to Chinese/ESEA culture. We wanted to drive the point that anyone can have a connection with these cultures and that if an ESEA person is hurting, we all hurt."