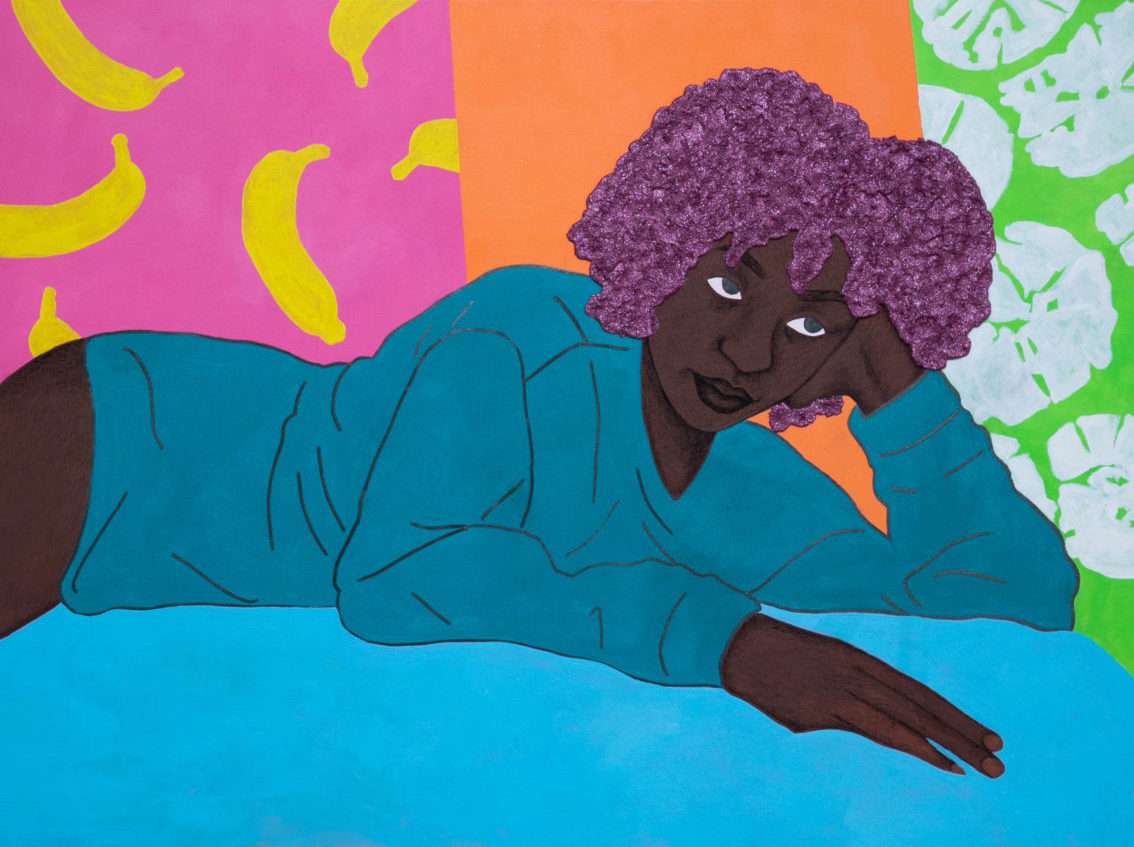 With the aims and suitability of Black history months under increasing scrutiny with each iteration, a way that programmers and curators are able to re-affirm their relevance is to present a range of emerging Black artists from underrepresented nations, splintering Anglo-American dominance. That is the thinking behind The Medium is the Message, a group exhibition at Unit London which brings together the work of 18 practitioners from Africa and the Black diaspora, with a special focus on Nigerian and South African artists.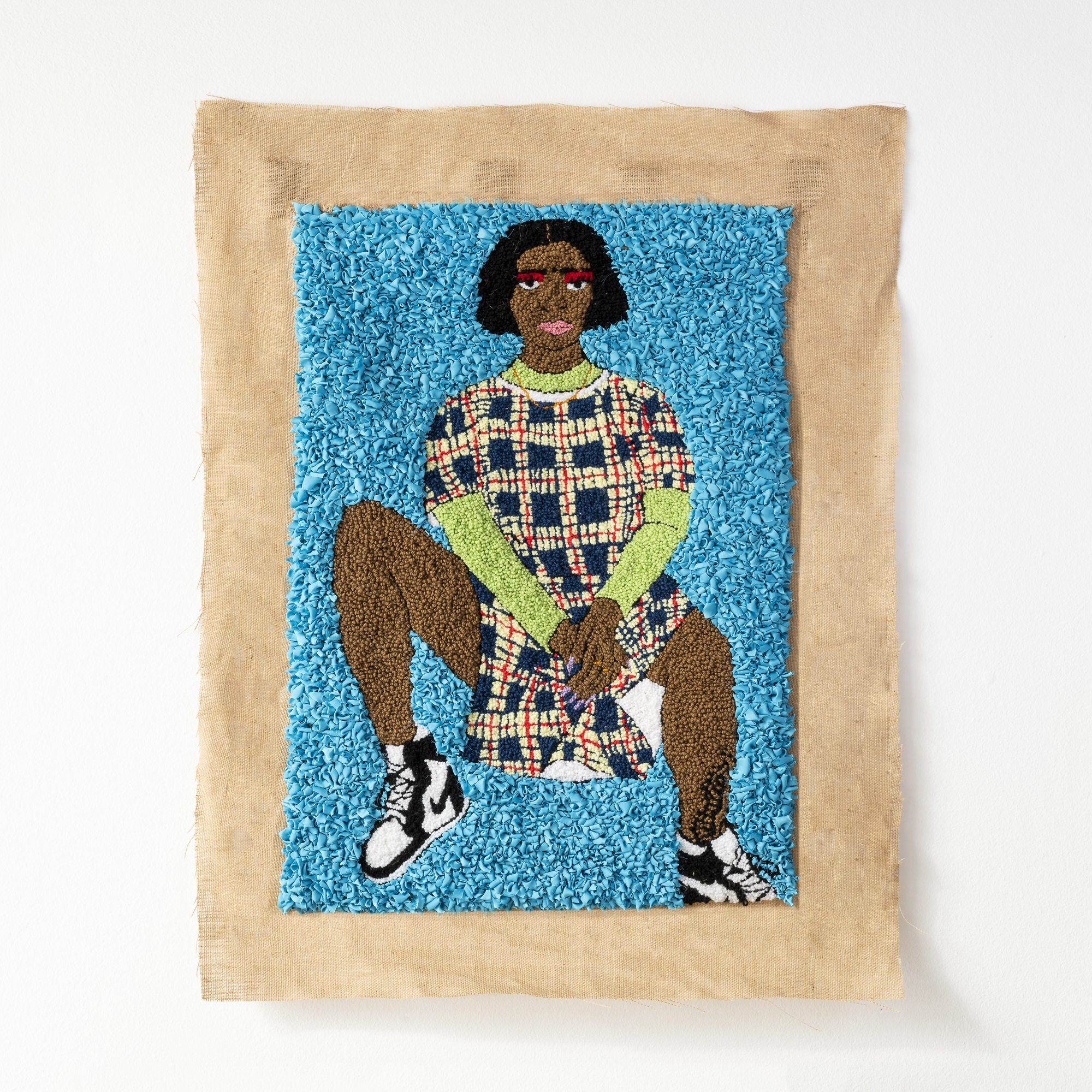 What stands out immediately is the vibrancy of the acrylic work in particular. Subjects are presented in animated forms, their own bodies a site for further interaction—whether with clothing, prop or elaborate backdrops—rather than resting in isolation. For Katlego Tlabela, this freedom allows his work to respond directly to contemporary Black figurative painting. Tableau Vivant II: Step Ya Money Up! is an imagined sequel to Kerry James Marshall's Club Couple (2014), and another similar work, Black Owned Property IV (2020), uses figures from Noah Davis' Single Mother with Father out of the Picture (2008).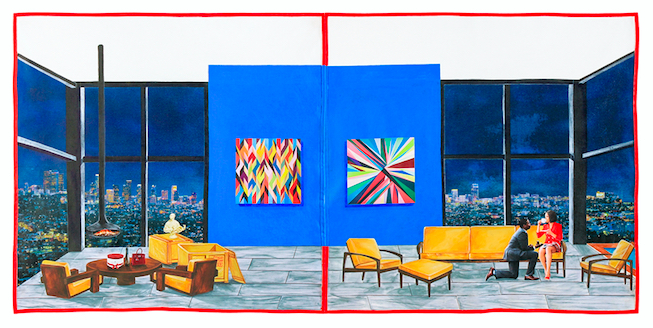 "Subjects are animated, their bodies a site for further interaction—whether with clothing, prop or elaborate backdrops—rather than resting in isolation"
In both, Tlabela transposes his predecessors' subjects into expansive, elaborate settings, at once decentring them from focus while also highlighting the material implications of their relocation. His paintings are often split into two separate canvases, meaning that the subjects are absent from a portion of the work. In this sense, their presence is more incidental—in their original settings, they are seen to be occupying the space; Tlabela relieves them of this pressure.
South African Sthenjwa Luthuli's work uses painted hand carved woodcuts to depict fluid silhouettes, again drawing attention away from more austere, overbearing representations of Black subjects, which can often crowd out movement. His energetic partial bodies dance and drift across the stricter patterns of their backgrounds. In Saved Soul, two figures are captured just before the moment of contact in what resembles an acrobatic routine. Also working on wood, Dawn Okoro's Doing It continues this theme of incomplete bodies, using gold leaf to overwhelm the central figure, her enlarged lower half giving the impression that the viewer is standing over her, watching the gold wave spread across the work.
Left: Sthenjwa Luthuli, Saved Soul, 2020. Courtesy the artist
Right: Positive Fear, 2020.
Where figures are more dominant within single canvases, such as in Wonder Buhle Mbambo's works, cloud-like patterns spread from the clothes onto the skin, evoking body art associations, as well as raising questions about pigmentation and colouring. The exhibition claims to present "a reclamation of the self, challenging the assumption of what it means to be a Black body in a contested space." The technical range and playfulness with which bodies are rendered by the artists is the main way of doing this. Even in what appears to be the most obviously representational work, Sungi Mlengeya's Kaa, the subject's surroundings and clothing are one, lending the piece—and the body, especially—an abstracted, yet beautifully simple dimension.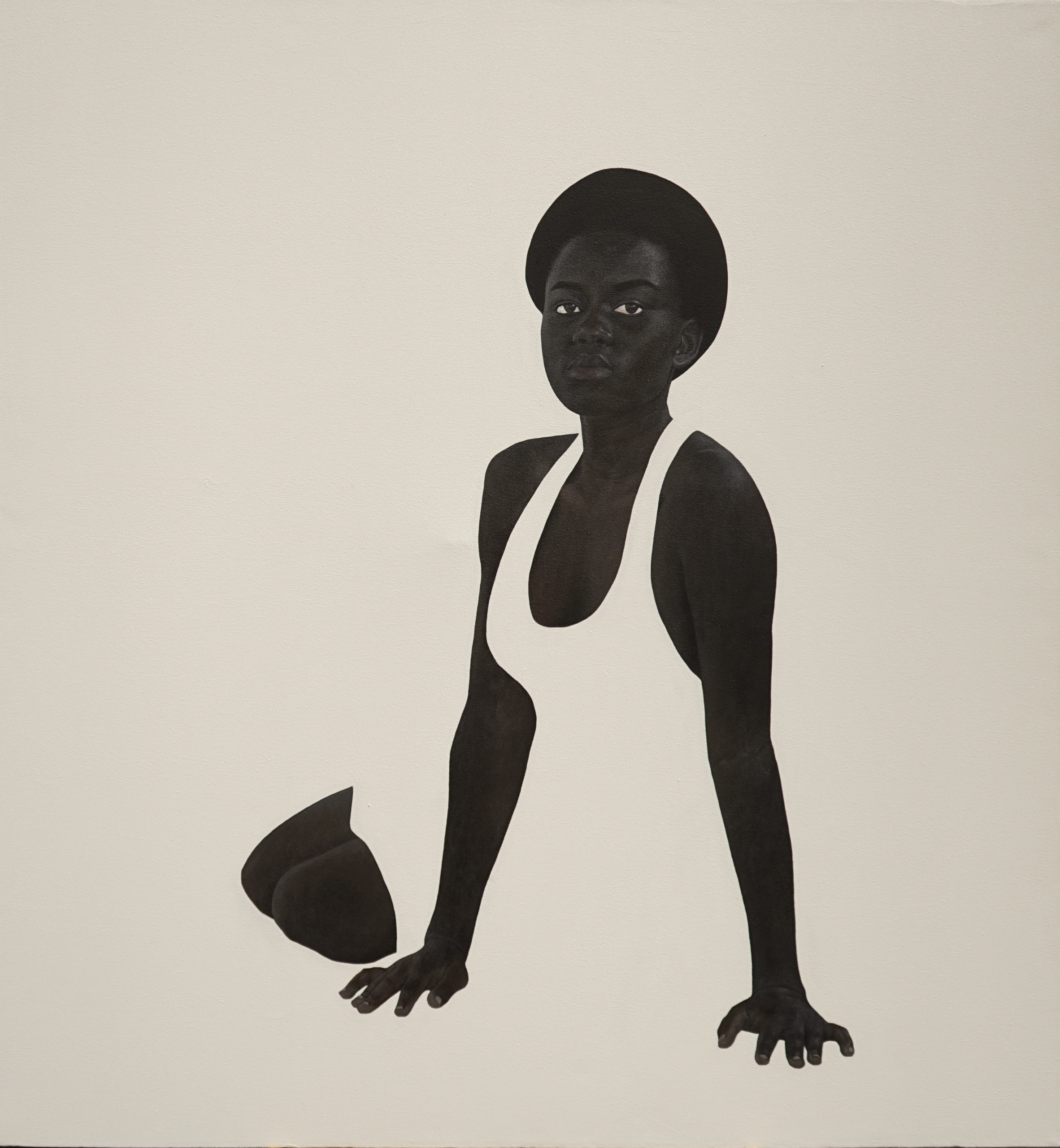 Manyaku Mashilo's work is another highlight, her subjects elevated with a near Afrofuturistic sensibility. They pose in powerful portrait style, while inky dark backgrounds and simple circles evoke faraway galactic worlds. Mashilo's work epitomises the imagination that is allowed to flourish in The Medium is the Message. The setting is a pliable, ever-expanding aspect of these new works; instead of enclosing Black subjects, dialogue between the two is created on each canvas. We only have to listen in.