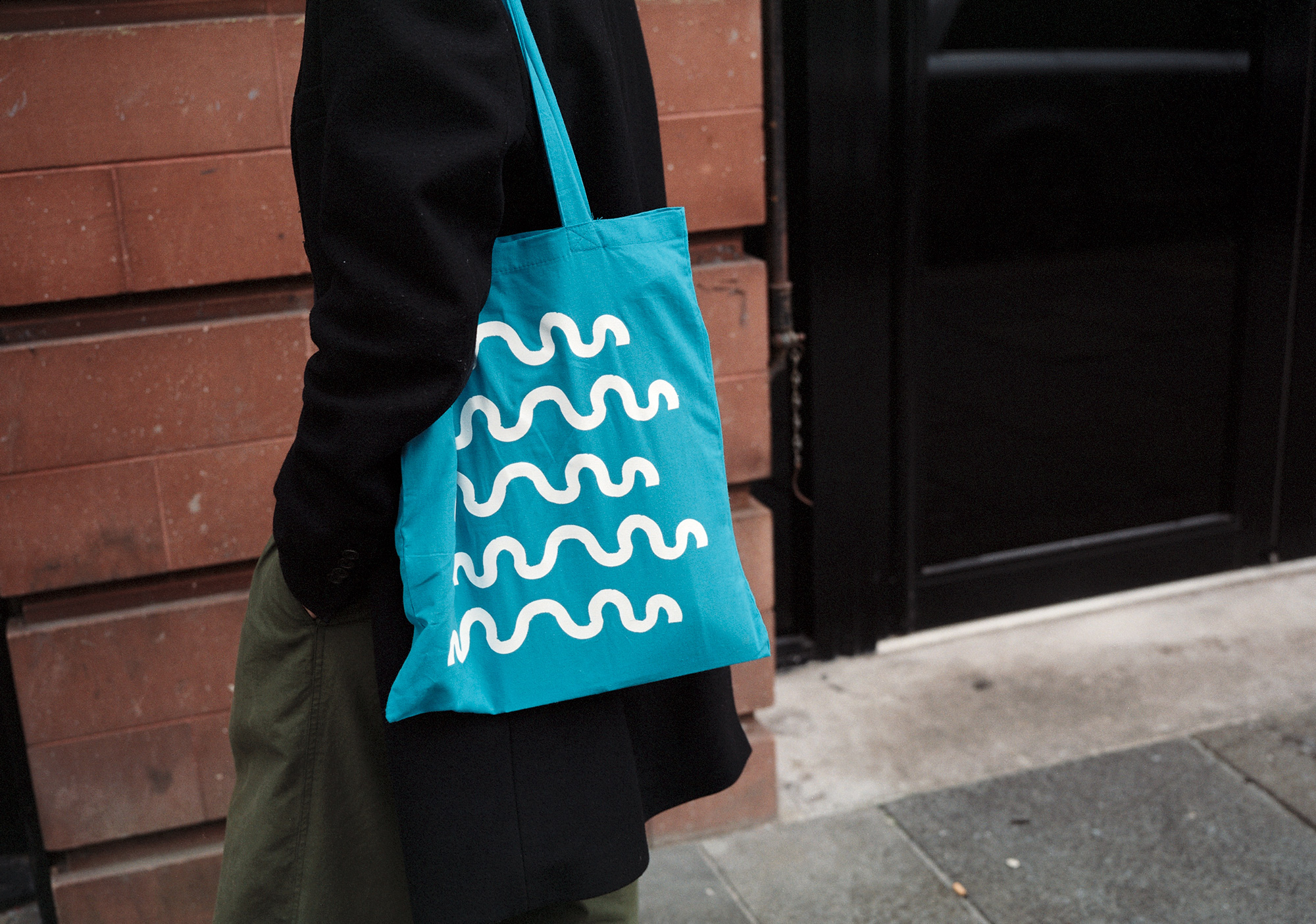 When did you notice your first tote bag? Was it colourful or muted, sturdy or soft? Did you spot the logo on the side, or the person holding it? In the art and design worlds, few items are more ubiquitous than the humble tote. Galleries, publishers, architecture and design studios and magazines have each staked their claim on the simple cloth bag, with fierce competition driving ever more ambitious and outlandish variations. While digital marketing has brought rapid change to communications in the cultural sector, the tote has remained an enduring physical presence. Dangling casually on one arm, it offers a reminder that even the most subtle of signifiers can still hold sway in an increasingly saturated, highly visual industry.
"I first came across tote bags at the Venice Biennale, and I remember just being shocked by the sight of grown adults racing to get them before they run out. It wasn't the books they wanted, it was the bags," Oliver Wainwright, design and architecture critic at the Guardian exclaims over the phone. "You see people dashing around the Giardini trying to grab them, and it seems to have only become more and more insane over the years. The bags themselves began as a simple printed cotton affair, and now you see more textiles being used, braided straps, pockets… the PR companies are desperately trying to be more noticed than the others."
Clearly, not all totes are born equal. From the flimsy to the over-designed, they have become a phenomenon in their own right. Just last week, the New York Times ran an article with the headline "What to Do With All Those Tote Bags"; adding, "It's O.K., we all have a problem with them." Previously the preserve of the middle class eco-conscious shopper, the tote bag has entered new territory. A crucial weapon in the marketing arsenal of art and design institutions all over the world, their appeal lies not only in their visual allure but in their simple practicality. Easily foldable and compact, they encourage regular use. "It's not quite a branded pen, but it's really useful for shopping and carrying something around in," Kirsty Carter and Emma Thomas, co-founders of London-based design agency A Practice For Everyday Life (APFEL), point out.
"The tote is a more widespread version of the poster; it's not just stuck on one wall"
There is also the mobility of the tote bag, peeking out from under strangers' arms on public transport, in the street and at the shops. "It's like a poster that can move around," they reflect. "In a way, the tote is a more widespread version of the poster; it's not just stuck on one wall that relies on someone walking past it." Moreover, the tote successfully navigates the line between straight-up advertising and subtler product placement, and remains just innocuous enough as to avoid brashness. "It's a funny one, they're almost seen as an acceptable thing to be branded. Someone wouldn't buy a t-shirt from a gallery, but they would use the tote bag," graphic designer Theo Inglis muses.
Left: APFEL Performa tote bag design, 2011. Right: Stephen Friedman Gallery tote bag by APFEL
Tom Joyes of London-based graphic design consultancy Kellenberger White tells me that, increasingly, the tote bag is a standard part of the marketing pack when working with arts institutions. However, budgets on these projects are often tight, which can lead to corners being cut on the quality and materials of the bag. How much can clients afford to compromise on their tote? "You can really go down different routes with how you want to make them, and be creative. We've used this company called Baggu, which are a bit like a reusable version of the plastic shopping bags you would get from the newsagent. They're made from a PVC material and they fold up very small, and we've tried screen printing on top of these," Joyes explains.
"People think it's quite easy to design a tote, but it's not," Carter and Thomas of APFEL say. "It took us quite a long time to figure out the best way of doing it, in terms of production. Most of our clients want a few hundred rather than a few thousand bags, as it's a giveaway for a one-off launch. We found the best way of doing it is to get an off-the-shelf bag and then ask a local screen printer to print on it." They also point out the long lead times if you want to do something more unique than an off-the-shelf bag, which can lead to the tote setting a precedent for the project in its entirety. "They can take up to eight weeks if you want to make them all from scratch. You start developing a whole project identity, and the first thing you are working on is the tote bag."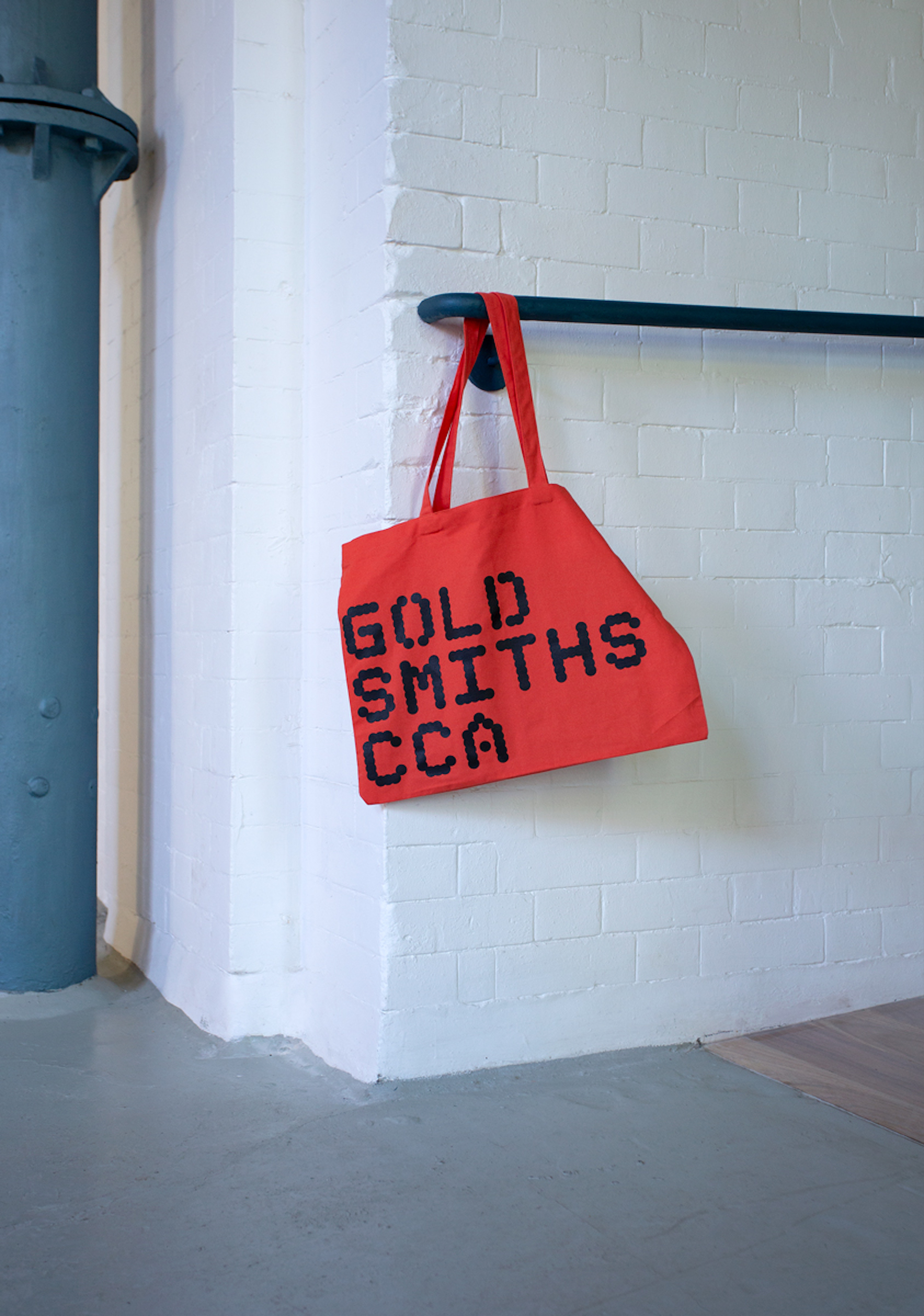 When designing a tote bag that needs to be noticed, what are some of the elements that make it stand out? "I do think a very distinctive colour makes it a bit out of the norm. I also think there is a practical element to the colour too, and generally you want to steer clear of canvas and white as you just use it twice and then it's dirty. Although, only a few clients can afford to pay for a custom dye," Carter and Thomas say. "You don't want it to be over-designed, with buckles and bells and whistles. You don't want it to be an actual bag. We get into big debates on the length of the handle or on the gusset," they laugh.  
"Someone wouldn't buy a t-shirt from a gallery, but they would use the tote bag"
"Personally when I am looking at tote bags, I like something that's a bit more than just a logo for an institution, because then it becomes a superior thing; like, I'm affiliated with this, I'm part of this club. I like it when it's a bit more fun and playful." Joyes of Kellenberger White argues. Institutions must also strike a balance between brand recognition and logo visibility, all while ensuring that people actually want to wear the thing. "Ironically, I think the ones with the least obvious banding and sponsorship that you're probably going to hold onto," Wainwright of the Guardian remarks.
Left: Anti-London Olympics tote bag by APFEL. Right: Hostem bag designed by APFEL
It might seem surprising that the timeless tote bag, surely the antithesis of modern-day digital marketing, has in fact gained ground in recent years. If anything, it would seem that the online realm has actually amplified their reach. "On social media you'll see someone walking around with an object attached to them, and you notice it." And when a tote bag successfully delivers its message, it has the power to resonate far beyond the original ambitions of the institution in question. "You see them everywhere, from events many years ago; they're such a successful marketing strategy," Wainwright confirms.  
Which iconic bags, then, have stood the test of time? "One of the first tote bags that we saw was for Ridinghouse, and within the art world you still see it everywhere. It had red handles, and it was one of the first I'd seen that I really noticed. It was heavy canvas and very practical, and so people walk around advertising it," Carter and Thomas say. "The ICA currently have some great bags made by Bless, kind of double-sized bags that fold in the middle; they have four straps, and when you wear them they're a bit like a backpack," Joyes offers. "It's interesting to rethink how tote bags work. I also love that you can buy that one; it's more accessible."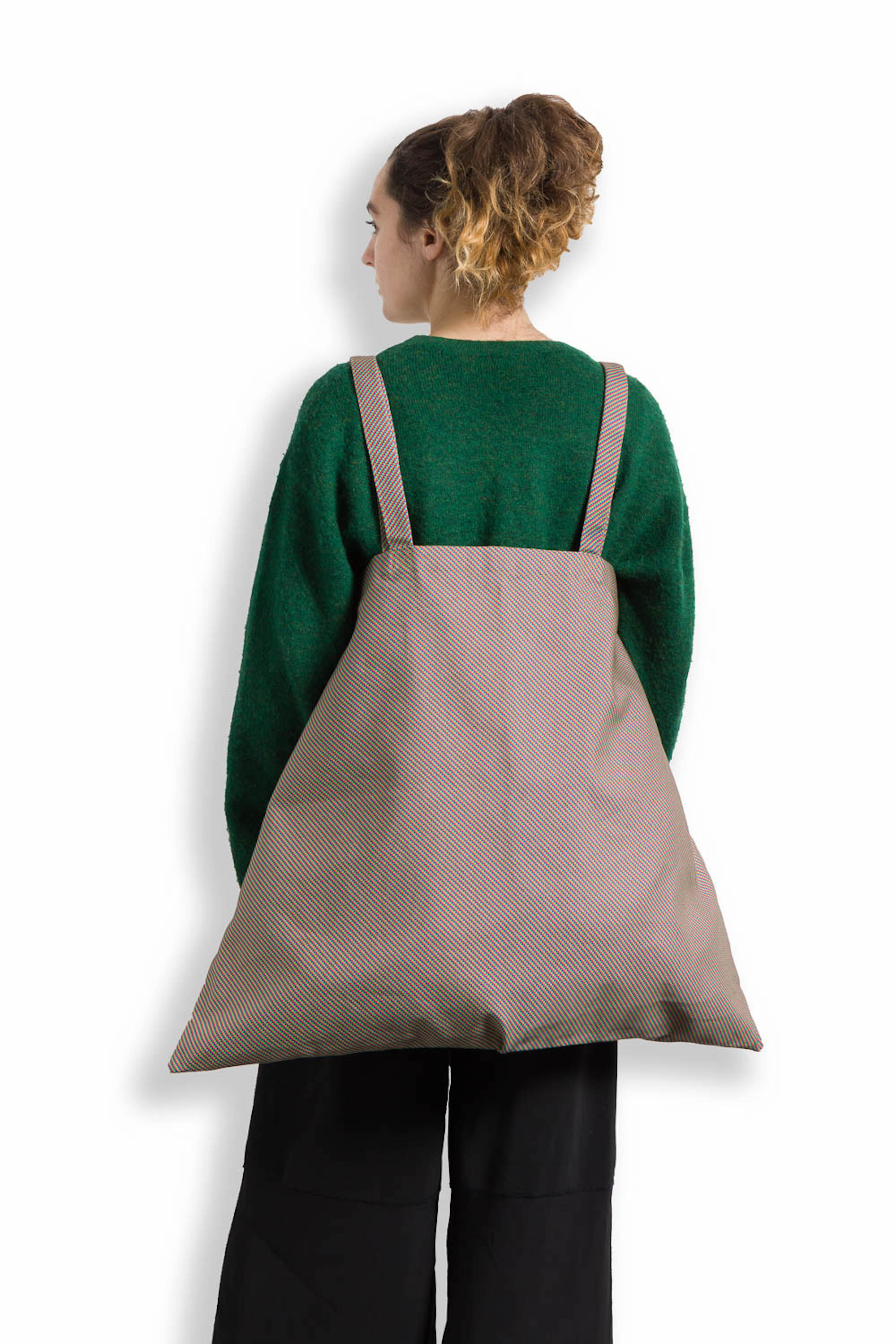 Undoubtedly, the exclusivity of the tote is one of the driving forces behind their desirability. Frequently given away at invitation-only events, whether that is an art fair, club night, book launch or exhibition opening, the majority of tote bags are never intended for sale. "It becomes a souvenir, a way of identifying that you're part of a club," Joyes says. Carter and Thomas agree: "It's definitely brand association: I'm cool because I'm wearing this obscure tote given to the VIPs." But why does the creative industry specifically find itself so head-over-heels for a simple bag, with no signs of the tote's widespread influence waning? "I think because it's such a materially driven and image conscious sector, anyone working in design is going to be the kind of person obsessed with being seen with the most rare and exotic tote bag," Wainwright suggests.
"It becomes a souvenir, a way of identifying that you're part of a club"
The eco appeal of the reusable bag also cannot be overlooked. In 2019, awareness around plastic waste is greater than ever before, and the introduction of a new five pence charge for plastic bags has influenced behaviour. "Tote bags have become even more ubiquitous in the last five years as we've all become more socially conscious. We always have one on us in case we pick up something from the shops," Wainwright says. It would seem that the tote bag has come full-circle, from grocery store staple to design item and back again. Popular with graphic design geeks and retirees alike, the tote adapts easily to different registers, from art fair to allotment. "It's funny, I hand on totes to my mum sometimes, and then imagine her walking around a provincial town advertising the Hepworth Wakefield," Carter laughs.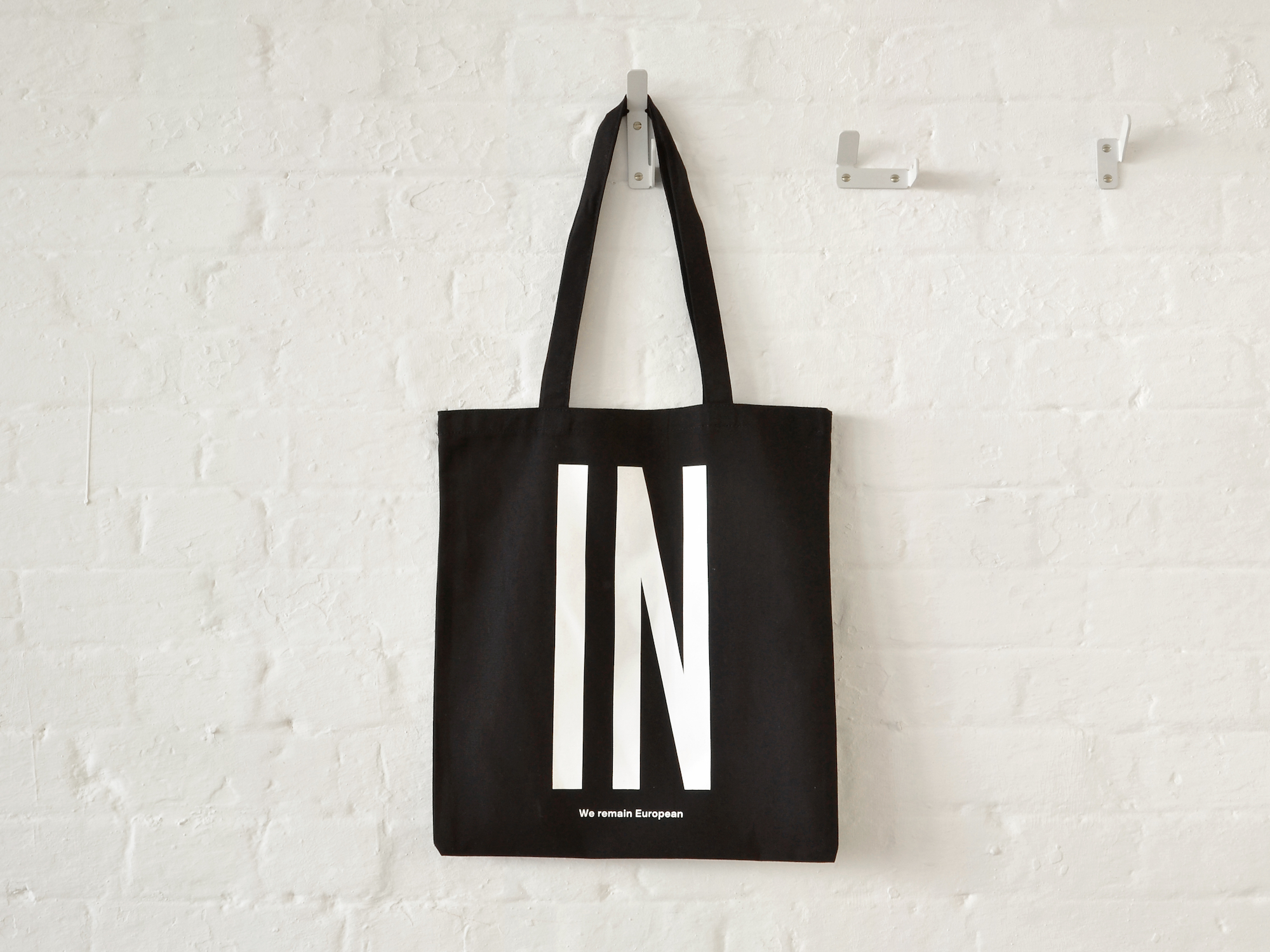 With its clever mix of branding and usability, the tote is here to stay. If anything, many in the art and design world now face the fresh challenge of storing all their bags, acquired over the years of launches, openings and private views. The struggle is real. With so many out in the world already, designers will need to be increasingly savvy if they are to strike a winning note with their tote. As ever, simplicity is key in the race to the top. Next time you see a tote slung over a stranger's arm, take a moment to appraise its quality and design. For an item so seemingly innocuous, the tote bag can hold a vast influence far beyond its humble origins.