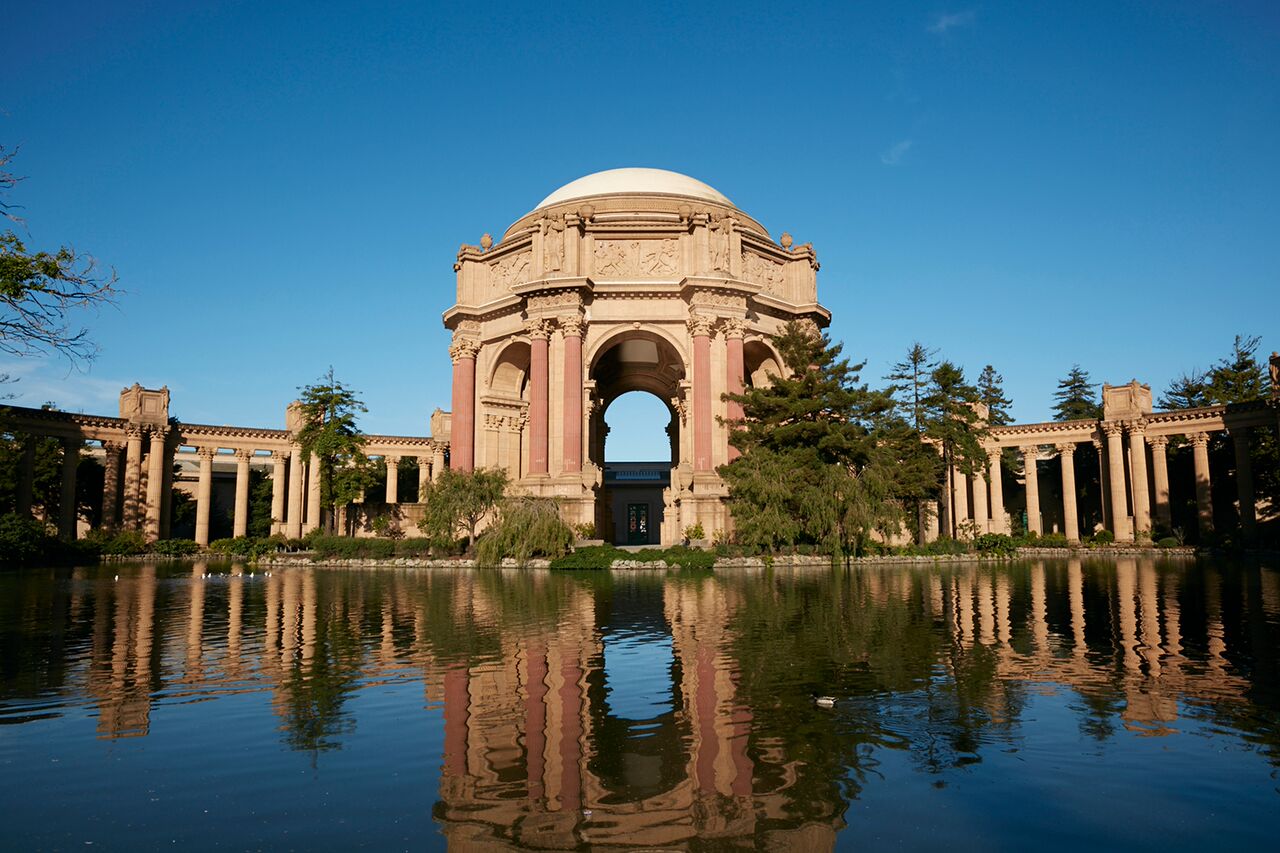 Walking around the overwhelmingly massive and extravagant Palace of Fine Arts in all its classical Roman-inspired glory, I found myself wondering why an art fair so focused on values around innovation and untraditional approaches decided to locate directly across from a space that screams classic and prestigious in a very traditional way. Perhaps this was such an obvious point for me because I walked around the indoor building twice, somehow failing to find the entrance to the fair. Its location started to make sense, however, at the end of my long but scenic walk; the entrance and architecture of the inner space is in stark minimal contrast to the ornate detailing of the rotunda and the columns of the Palace, yet just as strikingly beautiful.
Taking place at the aforementioned, iconic Palace of Fine Arts, the second iteration of Untitled Art Fair in San Francisco opened to the public yesterday, with fifty-one international exhibitors from eleven countries and twenty-one cities. Founded in 2012 and initially opened in Miami Beach (where the curated fair still runs each year; this week's is the second San Francisco iteration, which launched last year), Untitled includes a mix of galleries, non-profit institutions and artist-run spaces. This year's fair includes a new film section, Untitled, Cinema, with a selection of new and historical films; Untitled, Radio—a panel and a lecture series that is also aired on Wynwood radio; and special projects by artists such as Judith Scott, Lynn Hershman Leeson and Summer Mei-Ling Lee.
Inside, despite being the opening day, the crowd was equally minimal, allowing the sense of horde-induced anxiety that often accompanies art fairs to dissipate quickly. Immediately upon entering the spacious area, free posters by artists Matt Copson, Seth Price, Eileen Quinlan and Matthew Ronay were available from the Untitled posters series. A good start.
While adhering to most of the traditional aspects of an art fair, what is so unique about Untitled is its inclusion of the San Francisco art scene into a larger, international context and conversation, featuring galleries from other countries such as Spain, Turkey and Norway. San Francisco, a city known for its radical political history and DIY-friendly arts community, often focuses on localized shows and fairs. It's interesting to see how it engages in a larger, critical context with the international arts community.
A prime example of this engagement is the Oscar Murillo solo presentation at New York-based David Zwirner gallery. The solo presentation places the Colombian artist's works in conversation with Palestinian artist Abdul Hay Mosallam Zarara, who has been an influence on Murillo since the Sharjah Biennale in 2015. Murillo's works intentionally omit any visual references to the Zarara works he was influenced by, leaving the correlation to the imagination of the viewer. There is a repetitious "Syria" written across several canvases, overlaid with images of migration, puzzle pieces or outlines of various countries—all uniformly characterized by a generous amount of sprawling, heavy brushwork. I found myself overwhelmed by Murillo's canvases. I saw people come, peer at the titles, some linger and maybe ask a question, while most left quickly as per usual custom at art fairs.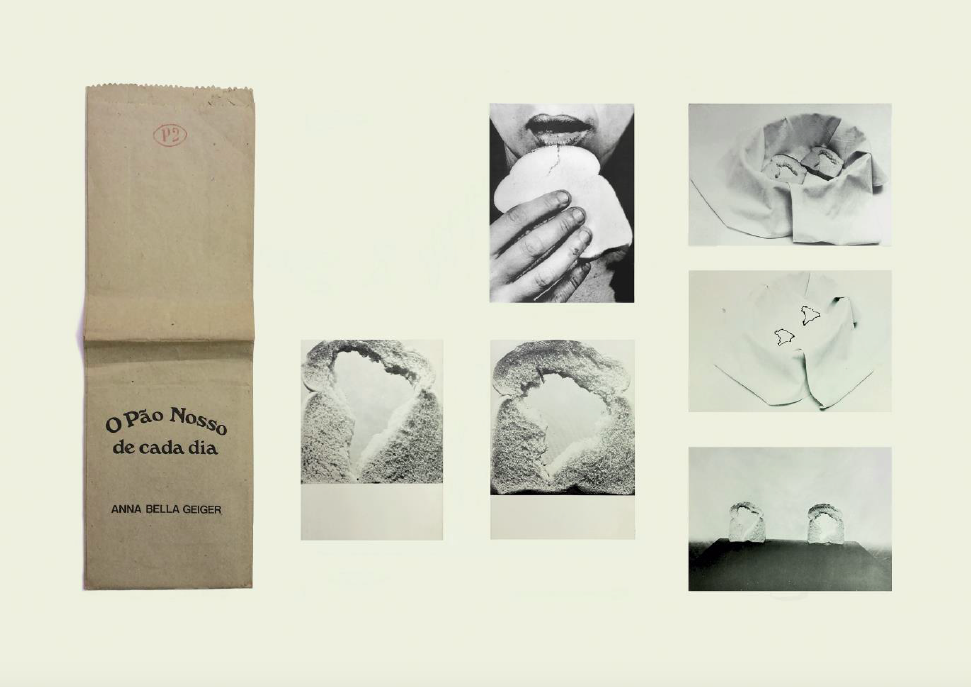 Still thinking about the "Syria, Syria, Syria, Syria" embellishing Murillo's works I coincidentally (or not?) walked into the Galeria Aural booth, which is hosting another solo presentation, this time by Brazilian conceptual artist Anna Bella Geiger, whose highly experimental works emphasize decolonial ideas, particularly through maps.
O Pão Nosso de cada dia—Our Daily Bread—(1978), in the centre of the booth's wall, frames a paper bag typically used for bread in Brazil with six postcards which show the shape of Latin America and Brazil bitten out of slices of bread. The images and bag document Geiger's performance on poverty in Brazil and Latin America, in which she ate bread and distributed postcards. Next to it is her Brasil Nativo/Brasil Alienigena—Native Brazil, Alien Brazil—(1977) where postcards of indigenous people are displayed next to restaged photos, by Geiger, of Brazilians mirroring their poses. These ideas of ingesting cultures, othering people and restaging, manipulating and decolonizing identity brought the "Syria" text back to mind and, on a lesser scale, the local area—ideas of cultural imperialism are prevalent in discussions around the gentrification in San Francisco and the East Bay area.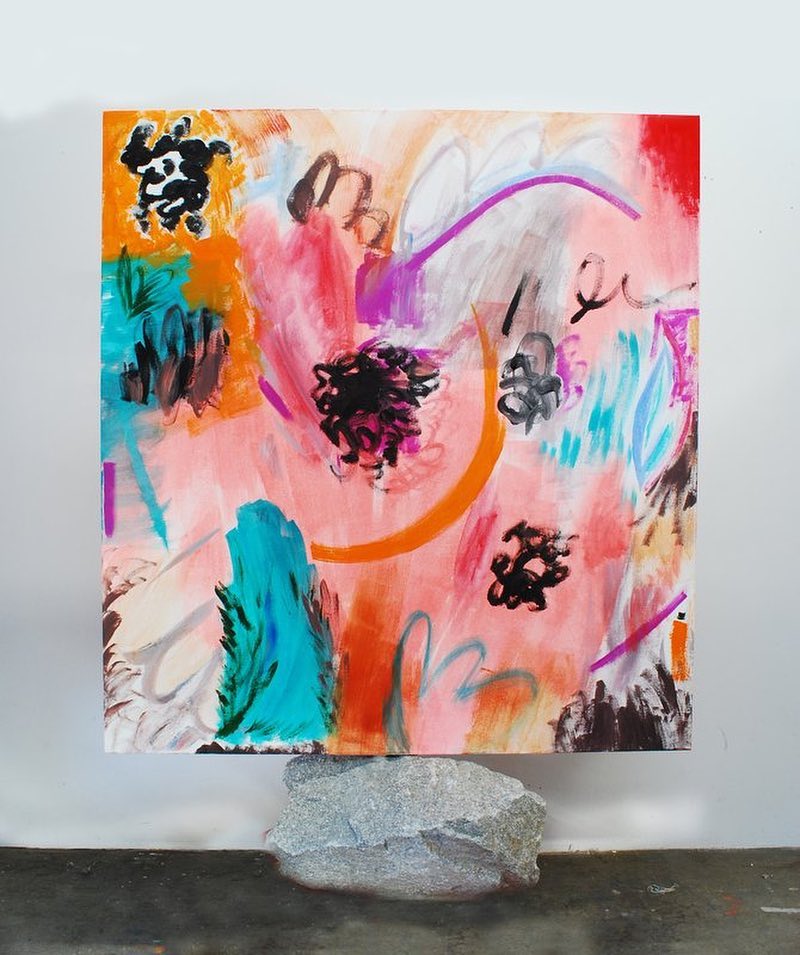 These international conversations around the fair don't always create a direct connection with the Bay Area, but there is also a huge sense of dialogue from gallery to gallery. Even in its name, Untitled seems to suggest an openness of context and conversation. This rings true from the whimsical paintings by collaborative trio Bonanza at Interface Gallery in Oakland, and in Lina Viste Grønli's Time Pieces, where everyday items are turned into time-measuring devices highlighting the transitory functions of objects, for Norwegian gallery Kunsthall Stavanger. While Untitled may not be the most experimental and exciting art fair of its time, it is an art fair in San Francisco to be reckoned with on a larger, international art context, and indeed, untitled—rife with potential to become more and rejecting any set definition.
SaveSave
SaveSave