"This is Istanbul––everything is possible. You see a thousand crazy things. It's inspiring, somehow." Turkish artist Volkan Aslan is telling me about the things that have influenced his new solo show, Shoot Me! Don't Turn Me Over!, the inaugural exhibition at Pi Artworks's small, new gallery in Karaköy. One gallery wall is entirely made from glass and bathes the artworks in spring sunlight; outside, cars are being washed, people are drinking coffee and traffic is zipping along the busy main road. Five minutes into our conversation, the call to prayer blares out. It's fitting, as this show is very much about what is happening out there in the city.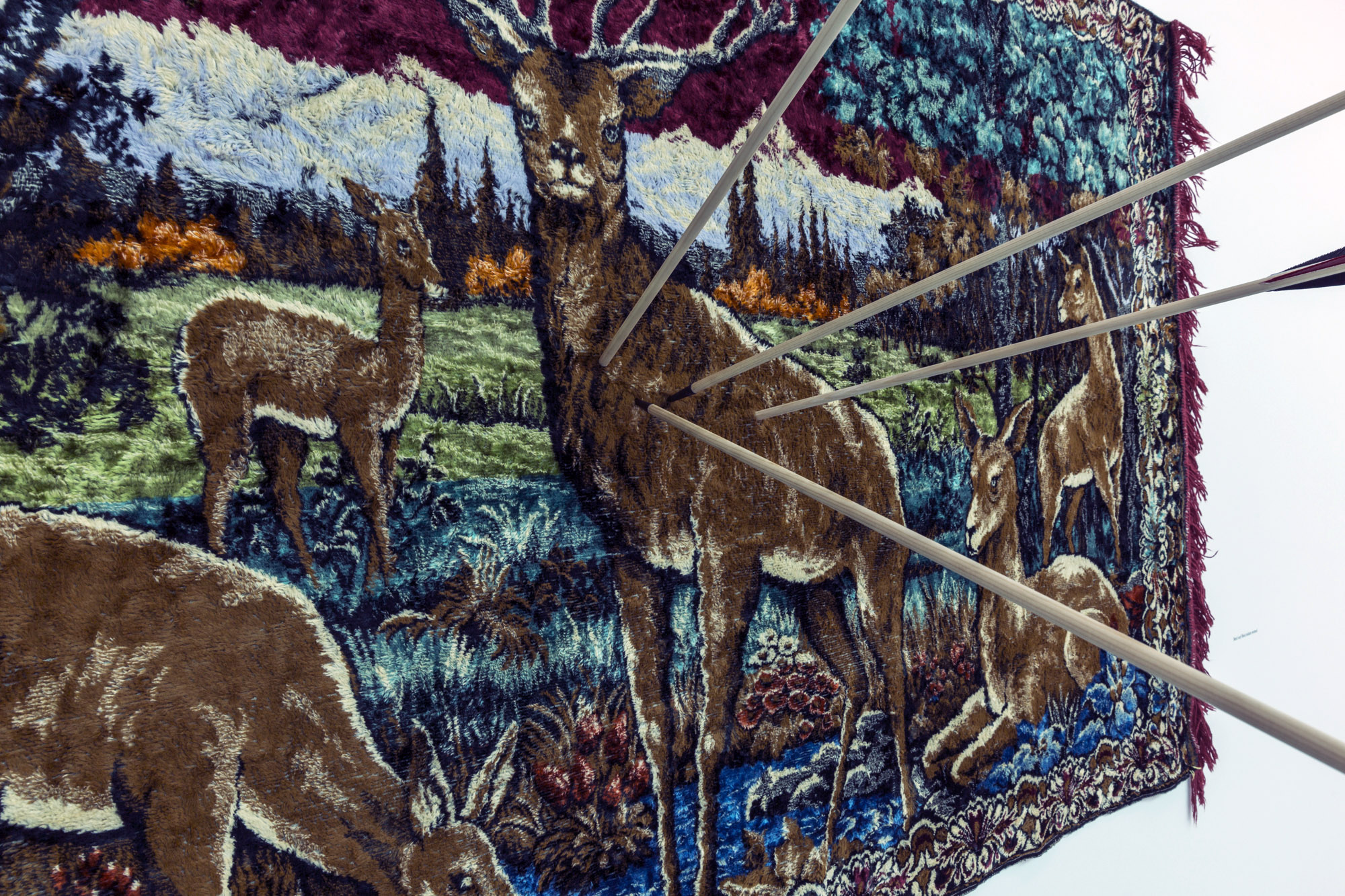 The clues are in the title: a plea or a challenge, however you want to look at it, alludes to violence. But if you are expecting confrontational visuals, you won't find any. Aslan's artworks are quiet and unassuming, with perhaps the exception of the feature work which shares the show's title. It's a wall-mounted tapestry decorated with deer, impaled by four arrows. This is a textile that could feature in a home setting, but it has been subverted into unexpected, domestic aggression. In the corner, an enlarged iPhone-shaped screen shows a rose being washed under running water, entitled Ölüye Ağlayamayan Insanların Huzursuzluğu Içindeyim [I Am Troubled Like the People Who Cannot Weep for the Dead].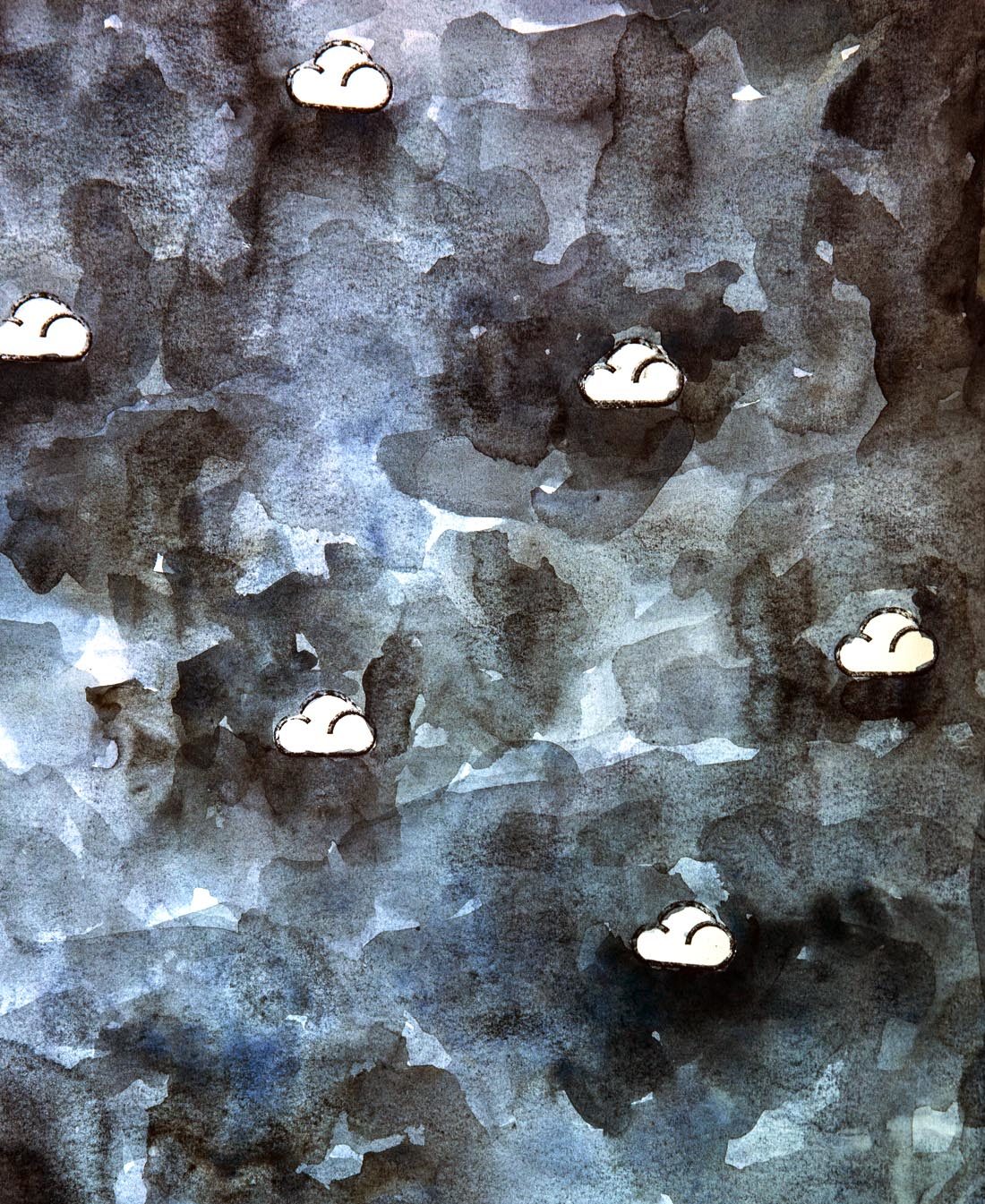 Then there's A Memory of Some Things: a stormy watercolour depicting cartoonish clouds, much like the iCloud icon, or the symbols used on TV weather maps. It's initially a confusing triptych. Just what is going on? The longer I stay to watch and consider these headings, the more anxious I feel. Aslan's video of repetitive washing suggests the cleansing of bodies, or the attempt to erode stains from blood-soaked hands.
"Water hides, and it cleans, and we see better", he says. "It is also representing my healing: I'm washing the roses, over and over, like meditation. My motivation was not making a painting for this show."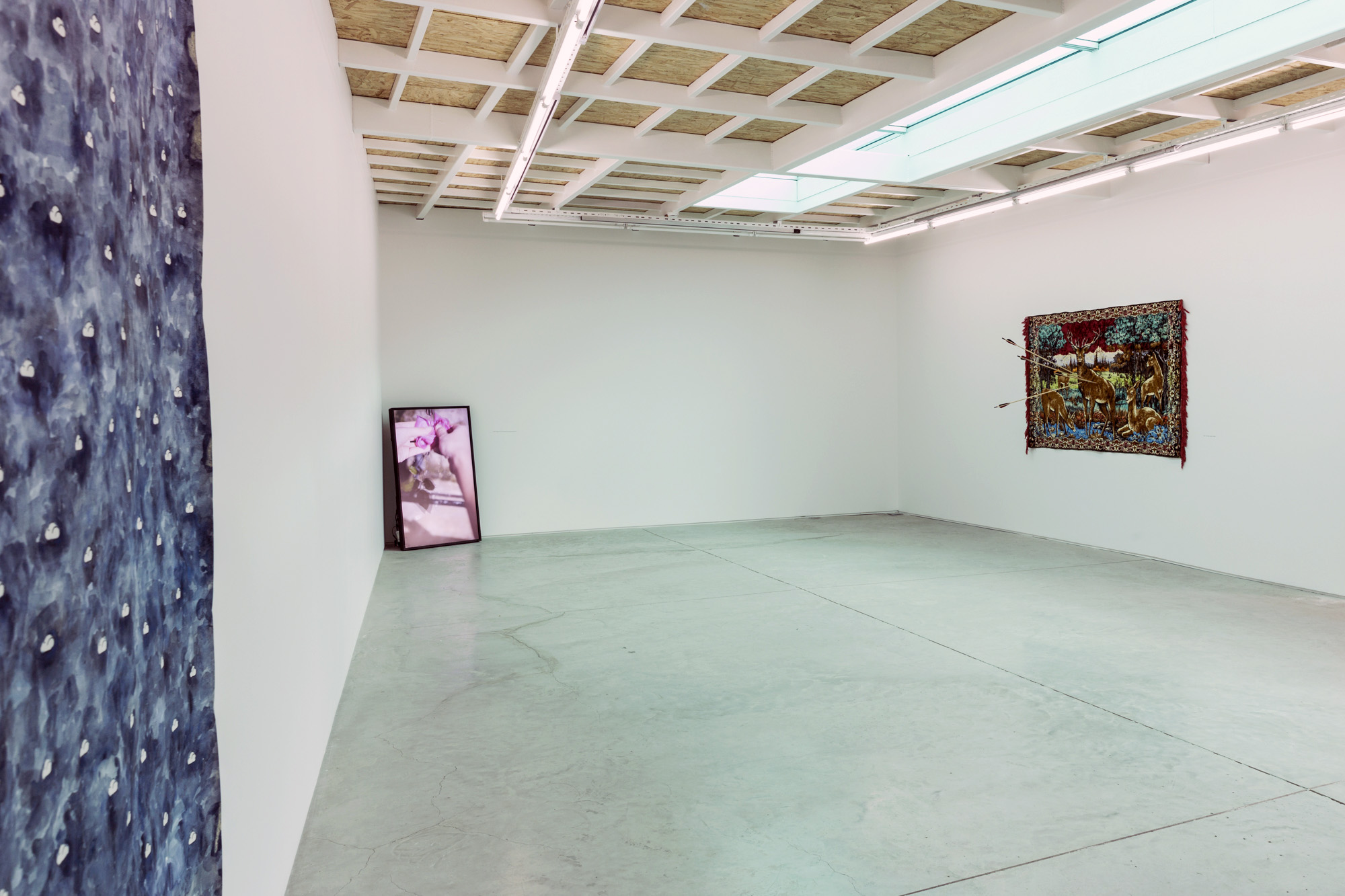 So what was his motivation? We discuss the deliberate restlessness that infiltrates Shoot Me! Don't Turn Me Over! as a reflection of what is happening outside."Things are getting worse and worse each day, in the world, everywhere," Aslan says. "But here especially, it is tougher because of the conditions, the coup attempt, Gezi Park protests [an environmental sit-in turned anti-government demonstration in 2013, which saw eleven people die], the emerging state, huge censorship. People are scared. Crazy things happen. But mostly my motivation is wanting to do a political show, but not being able to express myself clearly. The statements and the restlessness, the trauma, the healing, all stuck in a never-ending loop."
"This still life […] shows police and protestors frozen in time. The resulting photograph hangs in the gallery like a Renaissance painting"
Aslan continues to make the personal political. In the past he has taped himself to the floor, like a fly trapped in a web (Self-Portrait, 2003-5); set up a photoshoot with his "family" of superheroes (Saturday: Family Picture, 2013), which alluded to the prized comics he would wait by the letterbox for as a child in his remote village of Mersin; and created an artificial archaeological site in a car park that was constructed on top of a public park (Dear Ugly Future, 2014).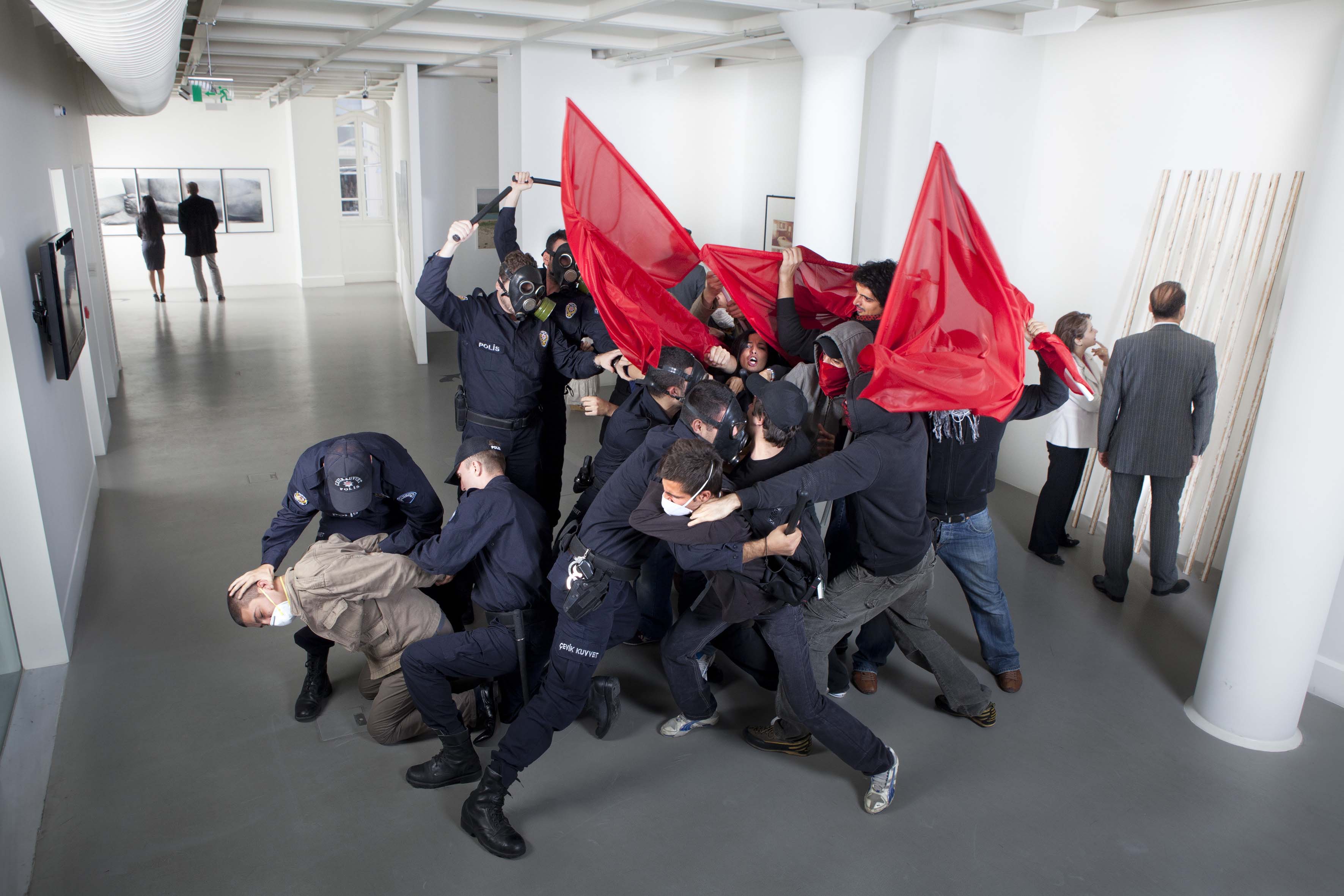 It is his 2010 work Any Given Day that resonates with me most. This still life, which was originally performed by actors at Arter, shows police and protestors frozen in time. The resulting photograph hangs in the gallery like a Renaissance painting. "The show was about institutional critics," he explains. "Arter is on a main street, like Salt, which is also a gallery famous for demonstration and protest. So I thought, if those institutions described themselves as a public space, what would happen if the demonstrators decided to move into the gallery?"
In an uncanny twist of fate, three years after the performance, a real rally spilled into Arter, from the boulevard outside. "There were protests nearly every day, especially after Gezi. I saw security footage similar to my scene happening in Arter, in real life: the police followed the protestors into the gallery. When you look at the photographs from Any Given Day, there are artworks on the walls, and visitors are looking at them and they didn't care about the performance. It was the same in real life; during the protests, people carried on shopping and looking through the windows. I didn't expect the scene to become true one day. It was surreal."
Aslan is currently making a new film with producer Diloy Gülün, which looks to be a continuation of a piece made for the 15th Istanbul Biennial. Entitled Home Sweet Home, it's a slow burn that reveals glimpses of two lives lived side-by-side, on a boat on the Bosporus strait. Here, Aslan describes himself as a "witness". With rising sea levels and the millions of people currently displaced from Syria and Iraq, does this indicate our future? Aslan and I discuss how things have changed since we were born in the early 1980s (him 1982, me 1983); how we now have 24-hour breaking news, manipulated news, online news, and a constant waterfall of information to digest. It's overwhelming.
"Have you ever imagined there will be a Third World War?", he asks. "Now, we think we will be a witness to it. If it was a fiction in a movie, people would say it was too much. Shoot Me! Don't Turn Me Over! is a statement show. I focus on people's trauma, and how we survive."
Images courtesy Pi Artworks unless otherwise stated
Shoot Me! Don't Turn Me Over!
Until 5 May at Pi Artworks, Istanbul 
VISIT WEBSITE