Adam Cruces Pastel, 2016 Installation view  Courtesy Joseph Tang, Paris
Can you tell me a bit about ART-O-RAMA?
Before ART-O-RAMA there was an art fair in Marseille called Art Dealers, which was created in 1996 by Roger Pailhas, the most important Marseille-based gallery at the time, and a national and international figure. Gaïd Beaulieu-Lambert (co-founder of ART-O-RAMA) and I used to work there. The gallery and the fair ceased to exist when Roger passed away in 2005. Gaïd and I decided to continue and create our own project and launched the first edition in 2007. Gaïd left the fair a few years later, in 2011.
When we started ART-O-RAMA — due to our experience with Roger — we knew that despite (or because of) a lack of art market, Marseille was a good place to experiment with new formats. And despite this lack of art market, Marseille had one of the most vibrant art scenes in France and some of the most active French collectors too. Back then, people started to get bored with the traditional art fair format, even the gallerists. Therefore, we understood that if we could offer large booths with a focus on the artistic project, at a very reasonable price, we would be able to convince good galleries to come and present works they would not have been able to present in any other fair. By extension, we knew that bringing good galleries would attract good collectors and professionals. This is what happened.
Our goal has always been to mix the local with the international art scene. This is why each year we invite a selection of young artists based in our region to the Show Room section, which is curated this year by Luigi Fassi. We support one of them more specifically with a production grant and the publishing of their first ever monograph. To aid the professionalisation of those young artists is absolutely essential to us.
How do you select the galleries for the fair? Is there a type of gallery — perhaps their interests, size, age or audience — that you particularly look for?
The selection is made by an artistic committee that gathers 7 members who are: Davide Bertocchi, artist (Paris), Marta Fontolan, gallerist (Gavin Brown's enterprise, New-York), Josée Gensollen, art collector (Marseille), Stefan Kalmár, director of Artists Space (New-York), Joseph Kouli, art collector (Paris), Antoine Levi, Galerie Antoine Levi (Paris) and Olivier Millagou, artist (Sanary-Sur-Mer).
It is important to have different kind of professional in the committee, not only gallerists. Artists bring another point of view. Galleries are selected upon a curatorial project. We choose to keep a very small format, around 20 each year. The selection is then very drastic and brings a lot of discussions and debates between us. Of course, even if the galleries are selected upon the project, we pay attention to the artistic line of the gallery, artists represented and the relevance of the annual programme. The knowledge of the gallery is important. Also because we have few galleries, we have to be careful that all the exhibitors match. We cannot say that we want a type of gallery; even if obviously there is a certain type, there is no defined criteria. What is certain is that we pay more attention to young positions in general.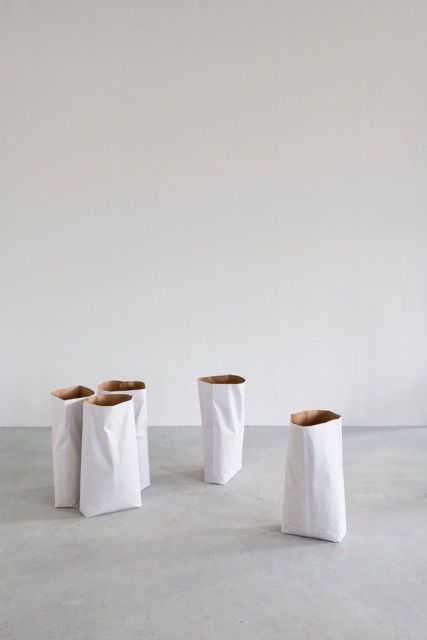 You invite galleries to design their booths in line with their projects, leading to a less regimented format than many other fairs. How do you work with the galleries on this? Is there an overall sense of curation to ensure that booths are working alongside one another? 
As we have always wanted to focus on the artistic project and the quality of the presentation we decided since the first edition to let the exhibitor design their own space as a part of their project. We try to impose as little constraint as possible. Each exhibitor sends us a plan and we try to organise each request as best as we can. Usually it fits. If we have to modify the booth plan we ask the exhibitor if we can. If it's not possible we try to find another solution. But it's very rare. Then we pay attention to the main layout and organise the space in order to have interesting circulations and perspectives for the general audience. It is not a curated art fair — by the way, I think curated art fairs do not really work. Each gallery needs to be identified and to have their own space. Obviously visitors are able to make visual or intellectual connections between the different proposals.
Which new galleries are you particularly excited by right now?
I'm really curious to see the booths of Madragoa (Lisbon) and Pact (Paris) that have both opened in April. We will be their first art fair and we are very thrilled. Otherwise I'm excited to see all the proposals from each gallery and each artist. 
And finally, how has the fair changed in the 10 years it has now been running?
The core of the fair has been there since the very first edition; the attention paid to the artistic project, the booth design according to the project, the programme made for both collectors and gallerists. What changes is the number of participants. We started with 5 galleries and 1 guest artist. This year we welcome 20 galleries, 7 editors, 2 partners' booths, 2 non-profits and 7 region-based artists, there is a bookshop and a media section, we'll run 2 conversations curated by Cédric Aurelle. We've expanded our programme and our collaborations with the Marseille-based and region-based institutions, private initiatives, local non-profits. The city has changed, mostly in 2013 when Marseille was the European Capital of Culture, but it continues to change and to improve itself with Manifesta being hosted in Marseille in 2020.
ART-O-RAMA runs 26, 27 & 28 August 2016