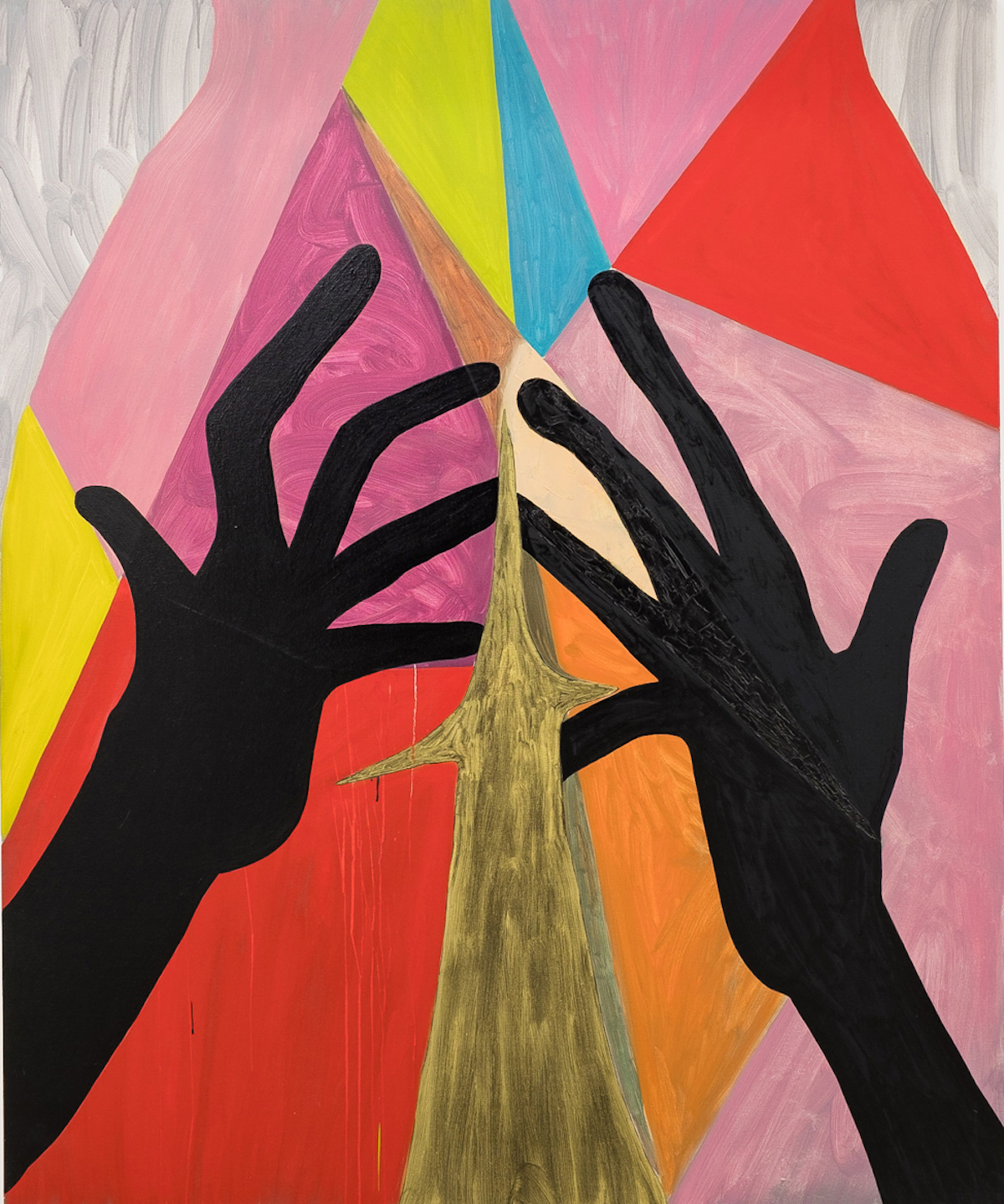 With much deliberation the panel of judges—Shezad Dawood, Jenny Lindén Urnes, Becca Pelly-Fry and Robert Shore—have selected a final shortlist of eleven artists from a longlist of twenty for the Elephant x Griffin Art Prize. Each artist brings something different to the table, whether that be a sense of fun, an exploration of history, material innovation, collaboration, nature and or a challenge to tradition. The eleven artists will take over Elephant West project space between December and January, when the final winner will be announced.
Congratulations to all the longlisted and shortlisted artists! You can see the full shortlist, and read the judges comments below.  
Elephant x Griffin Art Prize – The Shortlist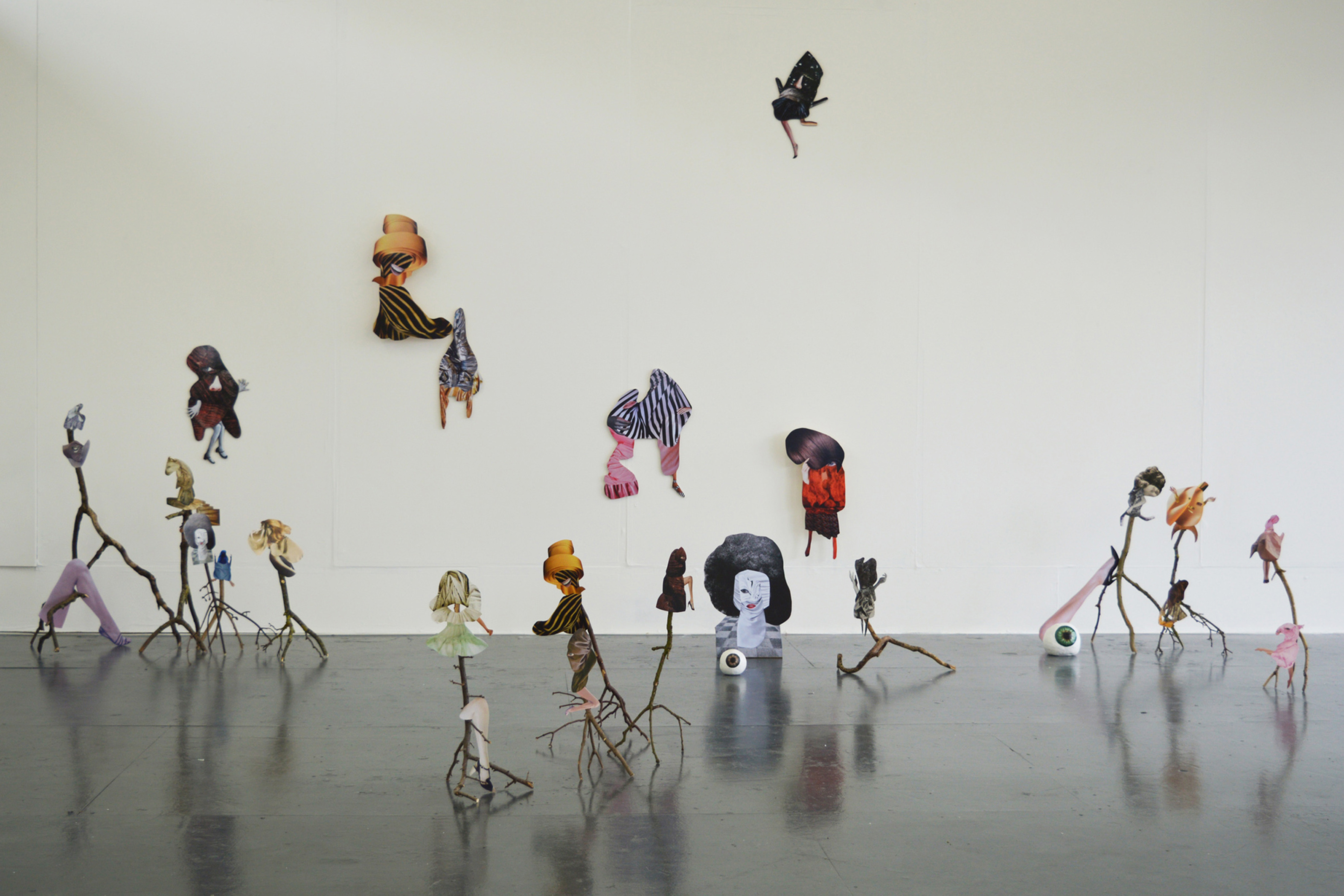 Naomi Avsec
Naomi's wobbly, anthropomorphic beings beguiled us with their goggly eyes and spindly twig-legs skittering across the floor. The collaged creatures are simultaneously relatable and otherworldly, and they make us smile from ear to ear.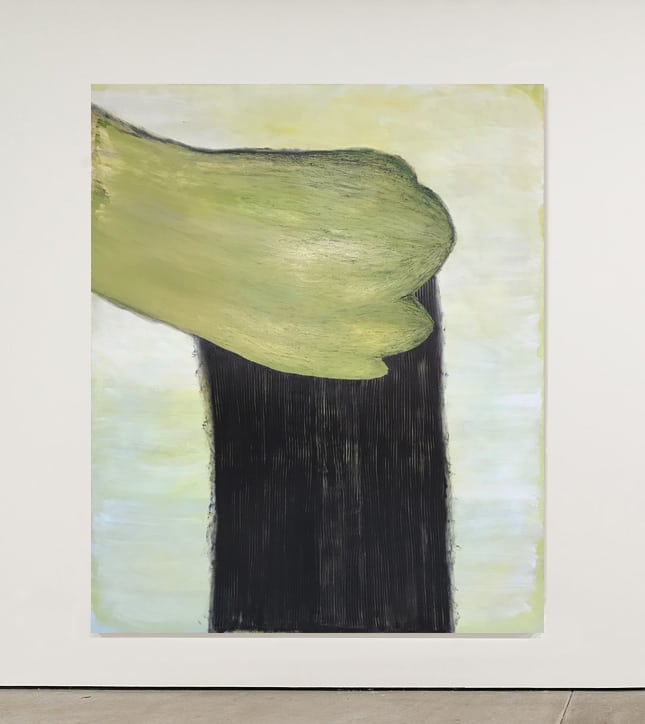 Gabriela Giroletti
Gabriela's paintings hover between abstract and figurative, hinting at limbs of an unknown creature or the rolling hills of a far off country. The surface shimmers and ripples, drawing you close and making you feel like you want to rub your face on the soft fur of a semi-abstracted animal.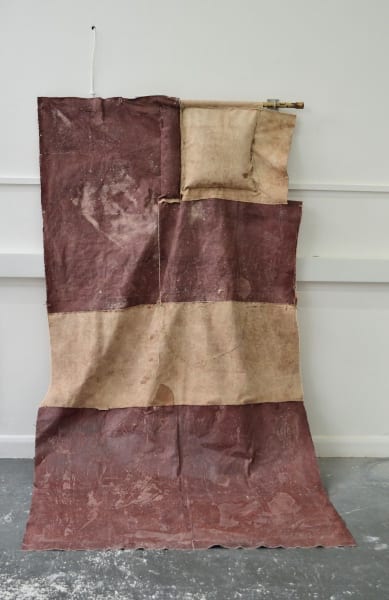 Ana Clara Goncalves Dias
Ana Clara treats her canvases as if they were responsible for the entire world's ills; tearing, ripping, staining and stitching until they carry an almost human presence. They are undoubtedly stand-ins for human trauma, but are also representative of the extraordinary potential for healing and repair.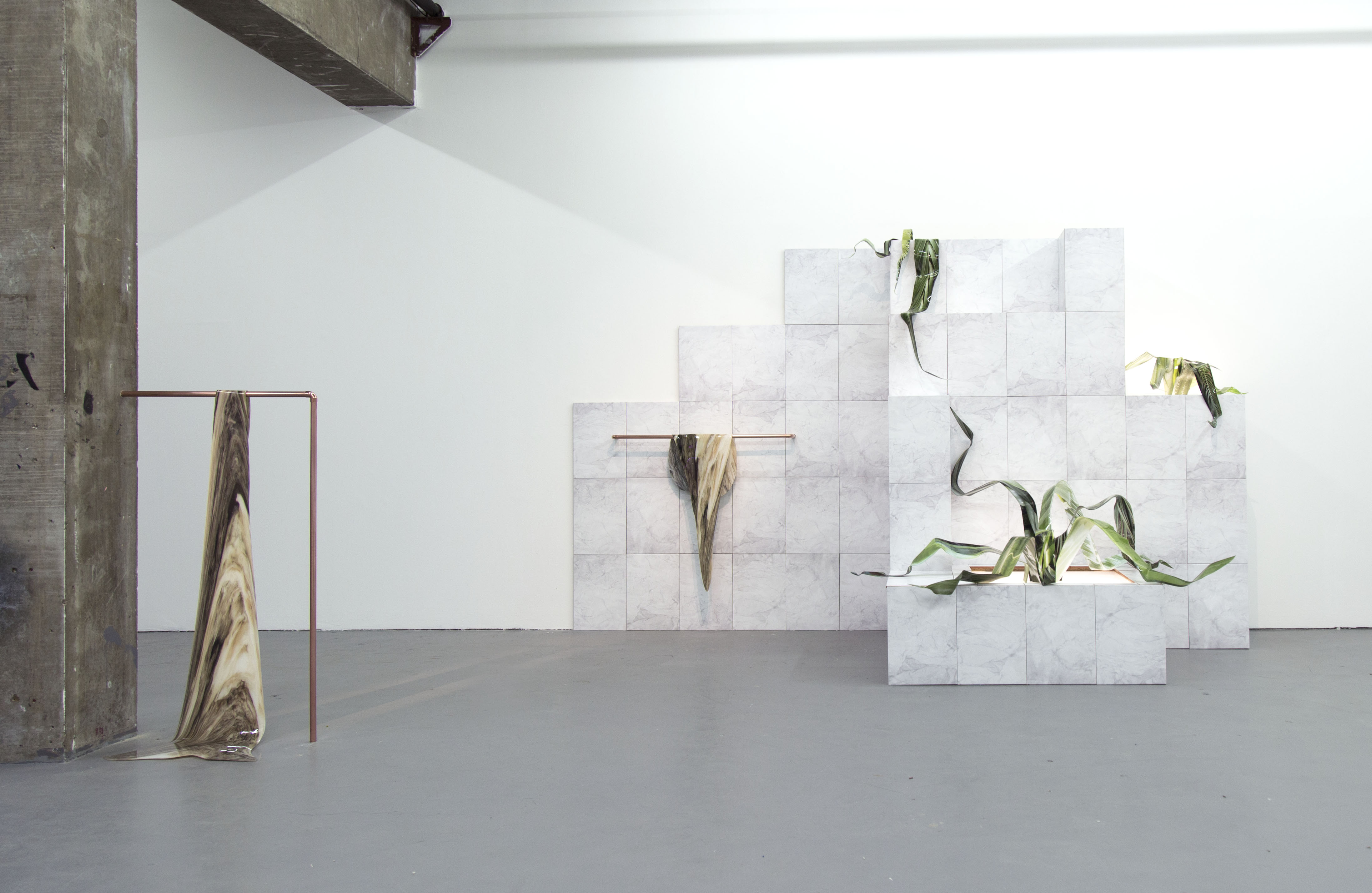 Felicity Hammond
The creepy, overly sanitized shininess of Felicity's sculptural installations instantly bring to mind the strangeness of a marketing suite of a new-build development. They capture that unsettling feeling of cognitive dissonance between digital promise and physical reality.
Realf Heygate
Realf's work is not only meticulously executed, but also precisely conceptually targeted towards the idea of the archival object and its value in the digital age. He takes the notions of the reproduced and disseminated object of Walter Benjamin, followed by John Berger, right up to the twenty-first century, and asks how we value cultural heritage in today's world.
Catherine Howell
Catherine's strange, layered map bleeds out onto the floor in puddles of coloured resin, where the previously hard lines of borders between countries bleed into one another. With distorted faces and mysterious annotations, the map makes reference to complex layers of history, of movement of people and goods, of cultural displacement and trauma.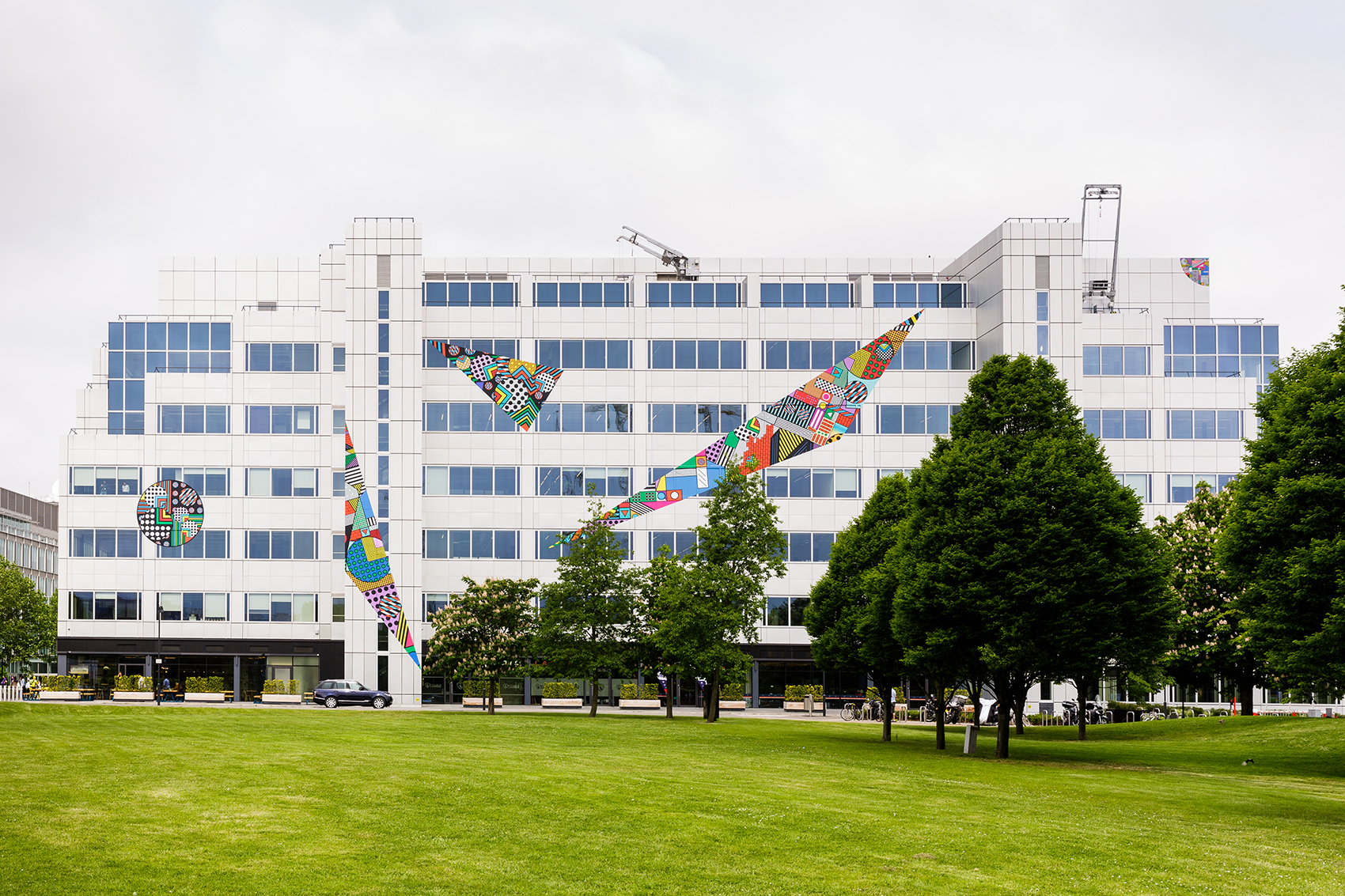 Kyung Hwa Shon
Large, coloured vinyls render vast graphic glitches in the surface of the shiny new façade of White City Place, just around the corner from Elephant West. Using a "phantom" named Stillman, Kyung Hwa Shon intervenes in the urban landscape with fragmented imagery, offering moments of uncertainty and surprise.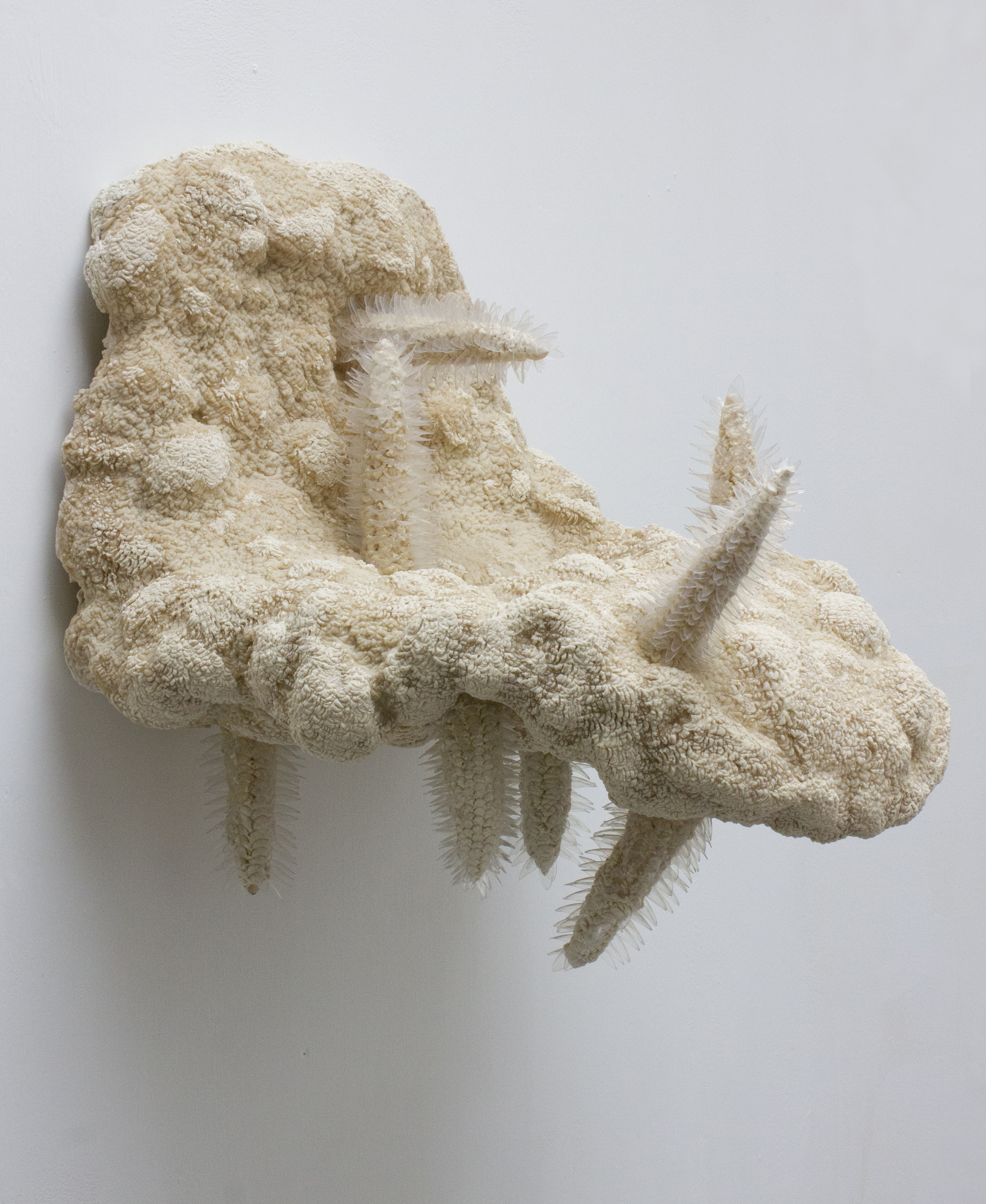 Gwenllian Spink
Gwenllian's strange oversized tongue, studded with acrylic nails, protrudes ostentatiously from the wall. Monumental and somewhat grotesque, its texture is crystalline and reminiscent of something edible. We want to lick it.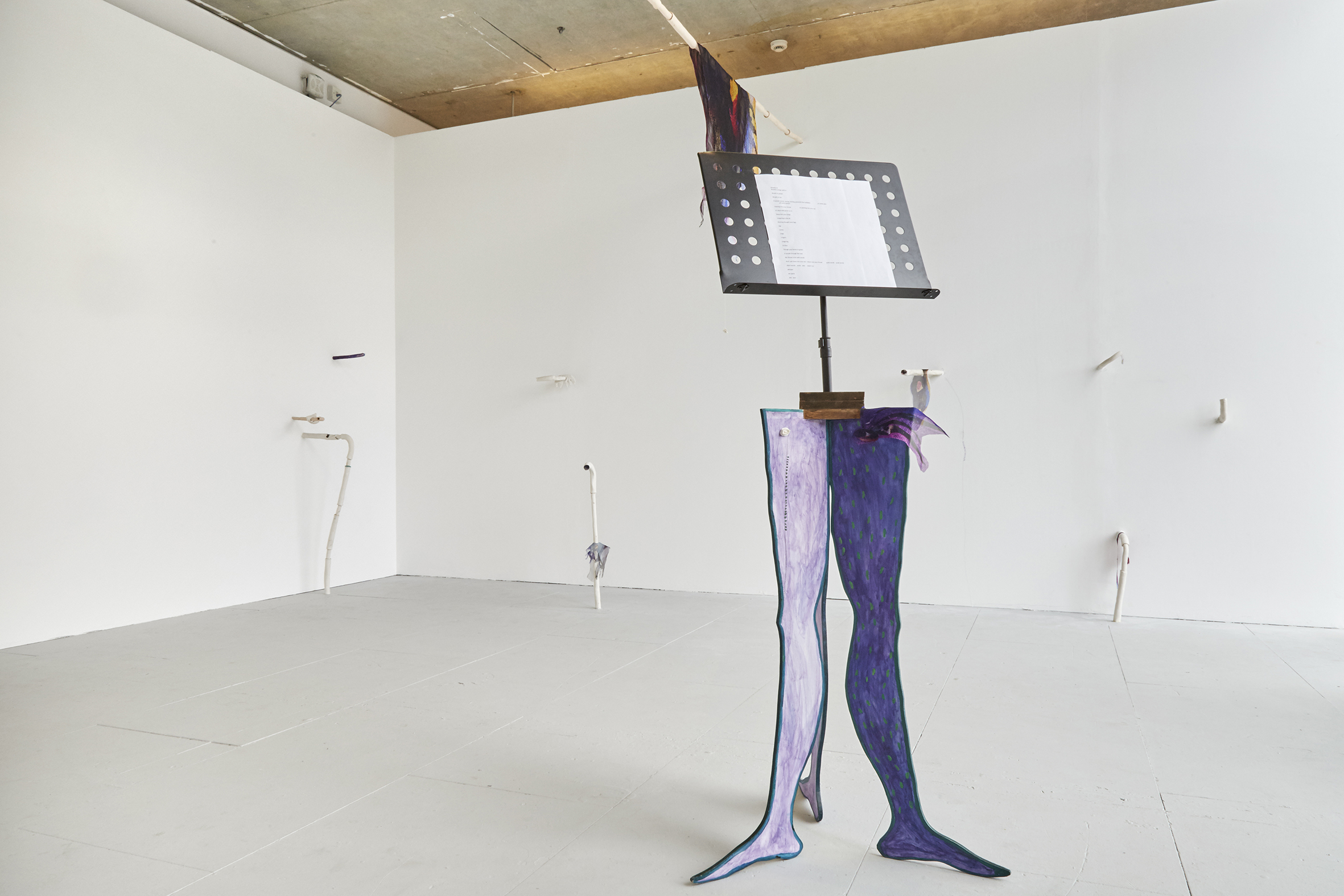 Louisa Stylianidi
Watching Louisa perform her sound pieces is quite mesmerizing. She fully immerses herself into the bodily production of the sound, moving into it and around it. Alongside the performance are odd little objects that entice us to draw close and listen to them.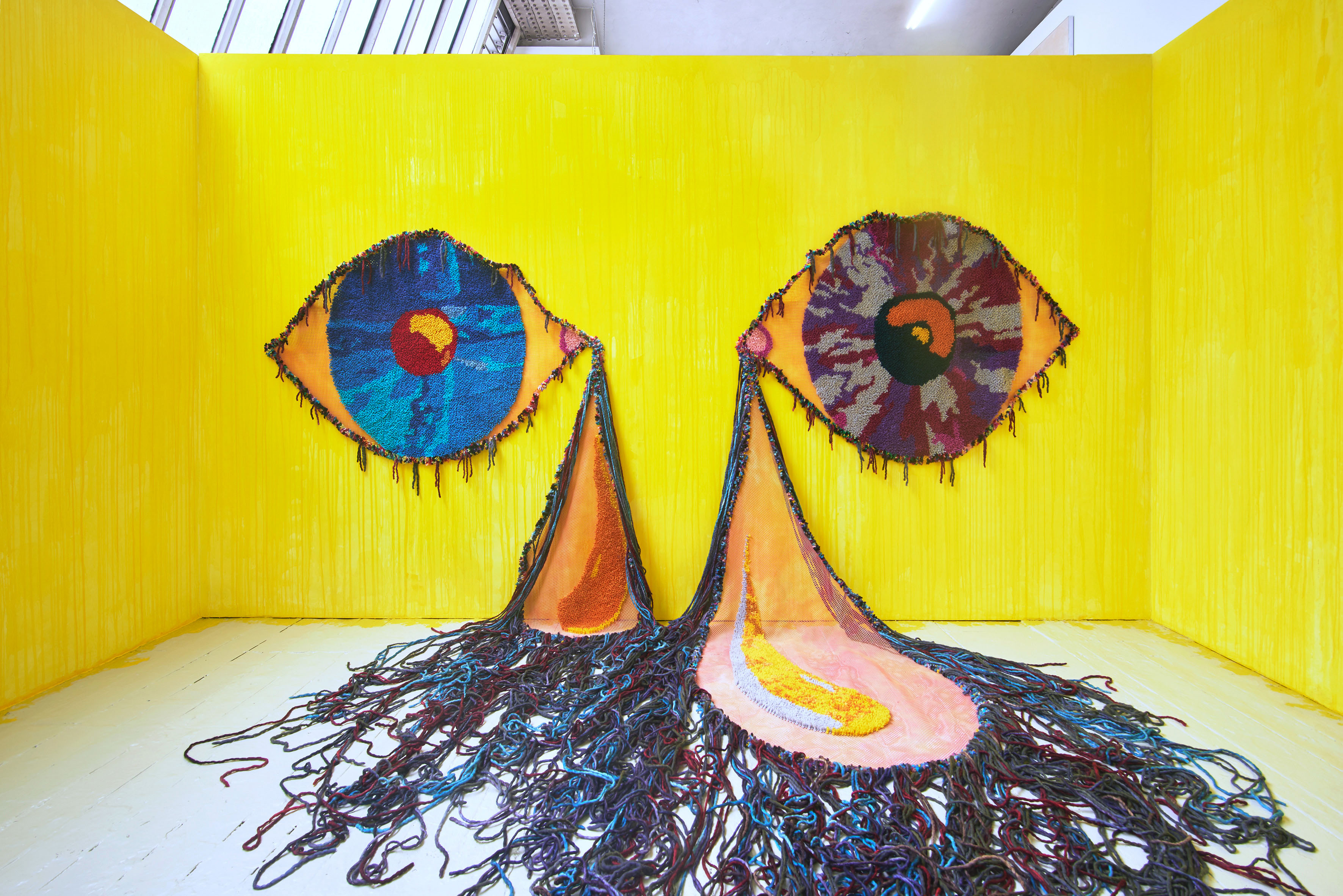 Marianne Thoermer
Large, unblinking carpeted eyes tumble their woollen tears onto the floor below. Beautiful and beguiling, they speak of sadness and joy, craft and manual labour, the woes and wonder of the human experience.
Ramona Zoladek
Ramona's sculptures have a life of their own; quite literally. Left in place for a few days, once unpacked, tendrils and leaves start to appear, taking over the fractured sculptural form underneath. At once manmade and organic, static and moving, these sculptural objects occupy space with an ever-changing energy.