Once upon a time (not so long ago) the art world declared painting dead. The allure of conceptualism and 'new media' had drawn many artists away from the canvas, seemingly frustrated with its limitations, not to mention the medium's enormous historical baggage. Some diehards held out, but for many, painting simply fell out of fashion.
Luckily, the death knell was premature, and a vital, vibrant new discourse around what it means to paint a picture has reemerged. Hayward Gallery's Mixing it Up: Painting Today is a testament to these ideas, bringing together 31 artists who have used the form to interrogate everything from the male gaze to the visual language of the internet. Here are a few of the highlights.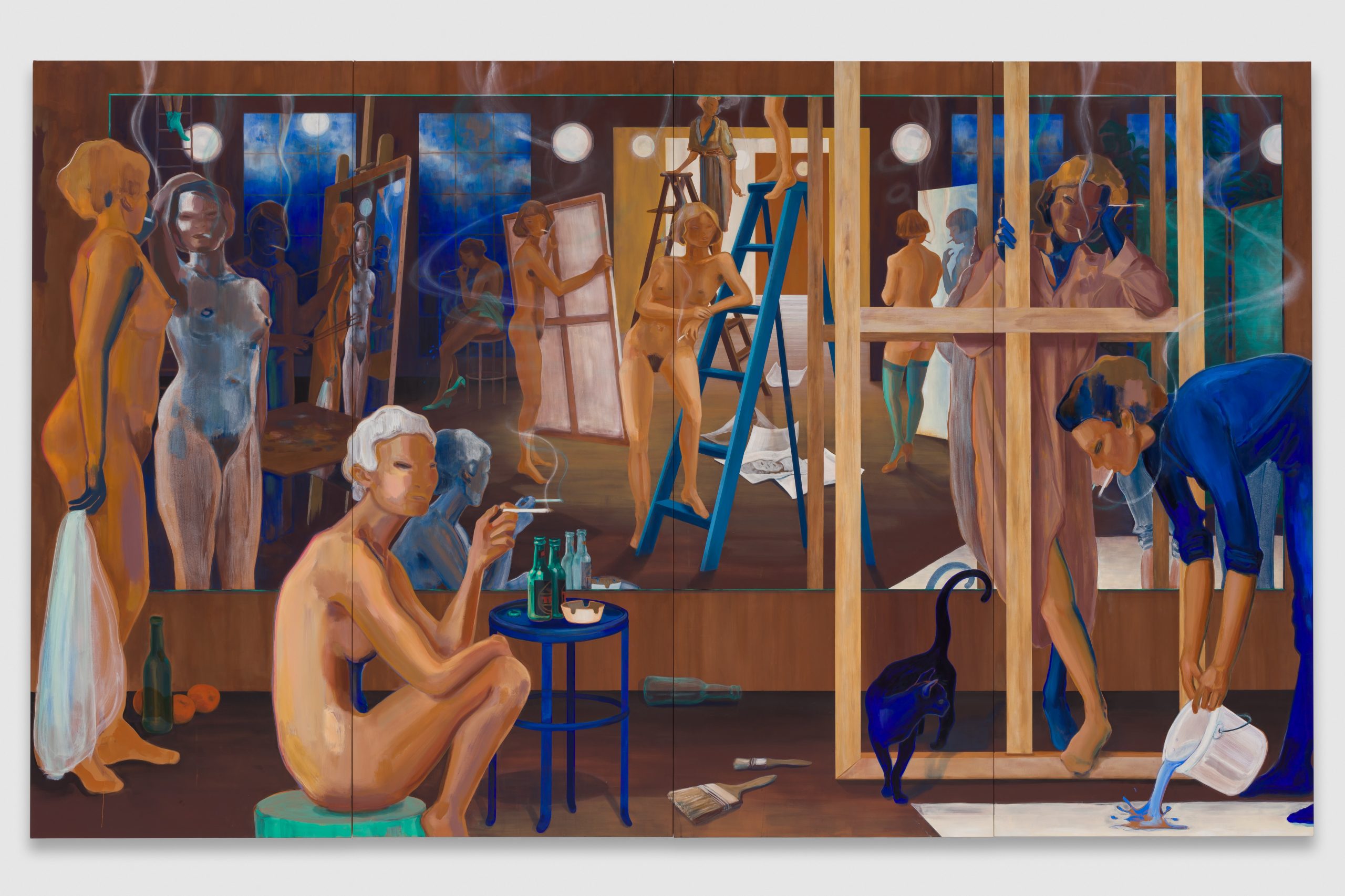 Lisa Brice, Smoke and Mirrors, 2020
Challenging the tropes of historical painting, particularly in relationship to the gaze, is what Lisa Brice is known for. This is keenly felt in this enormous work, where the almost life-sized women fulfil not only the role of subject, but artist. As Brice explains: "Sometimes the simple act of repainting an image of a woman previously painted by a man can be a potent shift."
Jadé Fadojutimi, Cavernous Resonance, 2020
This densely layered image displays an emotionally rooted conceptualism. Rather than seeking any deliberate pictorial representation, Jadé Fadojutimi creates what she describes as "conversations" between line, colour, texture and rhythm, to explore her own psyche and broader notions of identity. That being said, the vibrant, shimmering hues seen here are scored with marks that could allude to flower petals, or even animalistic claws.
Lubaina Himid, The Captain and The Mate, 2017-8
Despite their embraces, each figure in this painting carries a worried expression. The scene is based on a work of the same name by the Victorian painter James Tissot, yet Lubaina Himid's version subverts the romantic mood entirely and collapses any definitive sense of time. The painting is filled with allusions to the atrocities of colonialism and empire, addressing painful legacies still felt today.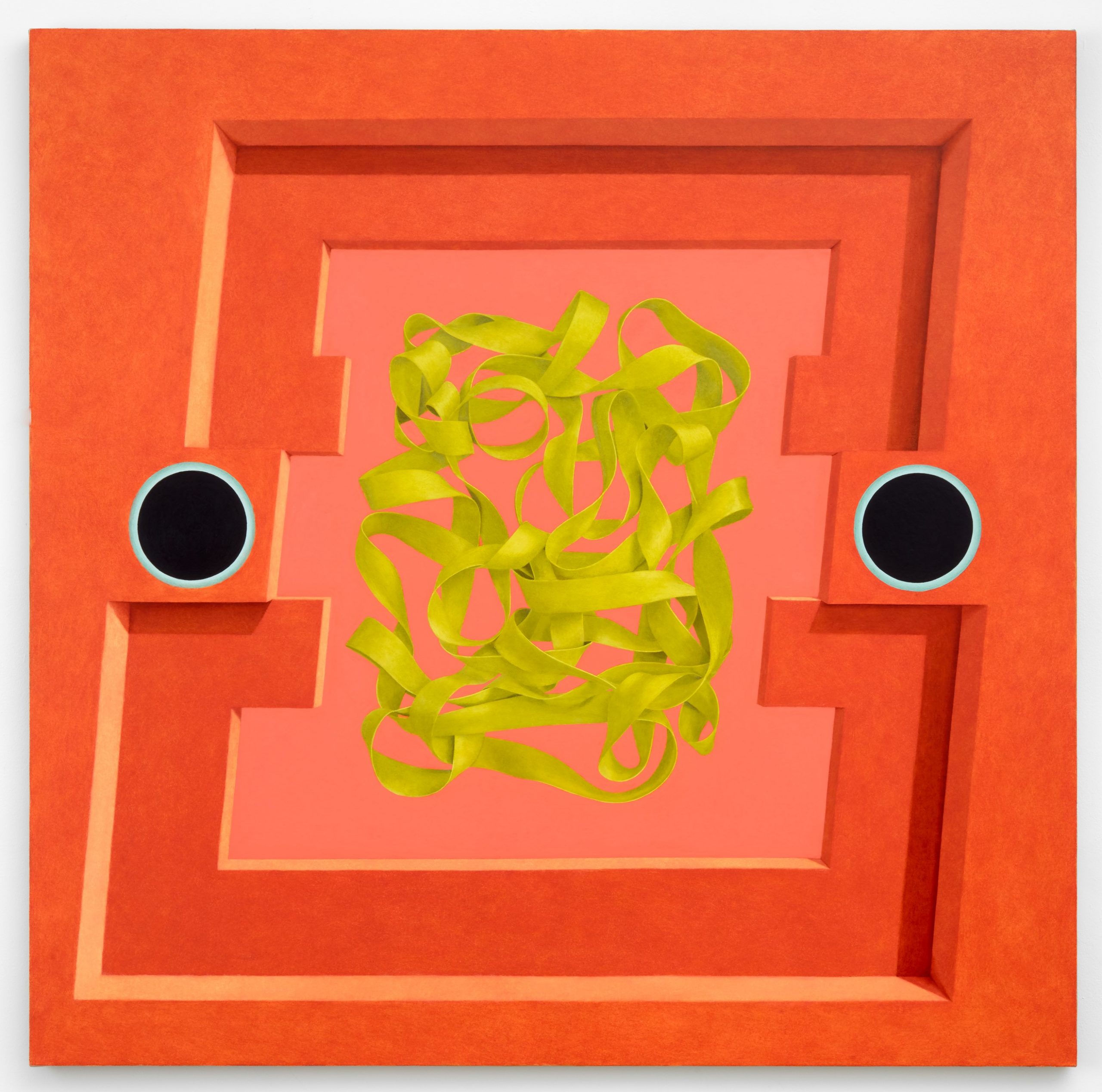 Daniel Sinsel, Untitled, 2021
Featuring some fantastic trompe l'oeil, this work by Daniel Sinsel is as much about technical precision as it is commanding a surreal, futuristic, and possibly rather tasty space. His contemporary interpretation of the still life recalls the subliminal messaging often hidden within the genre: erotic illusions may often be at the forefront of his work, but this tangle of pasta remains open to interpretation.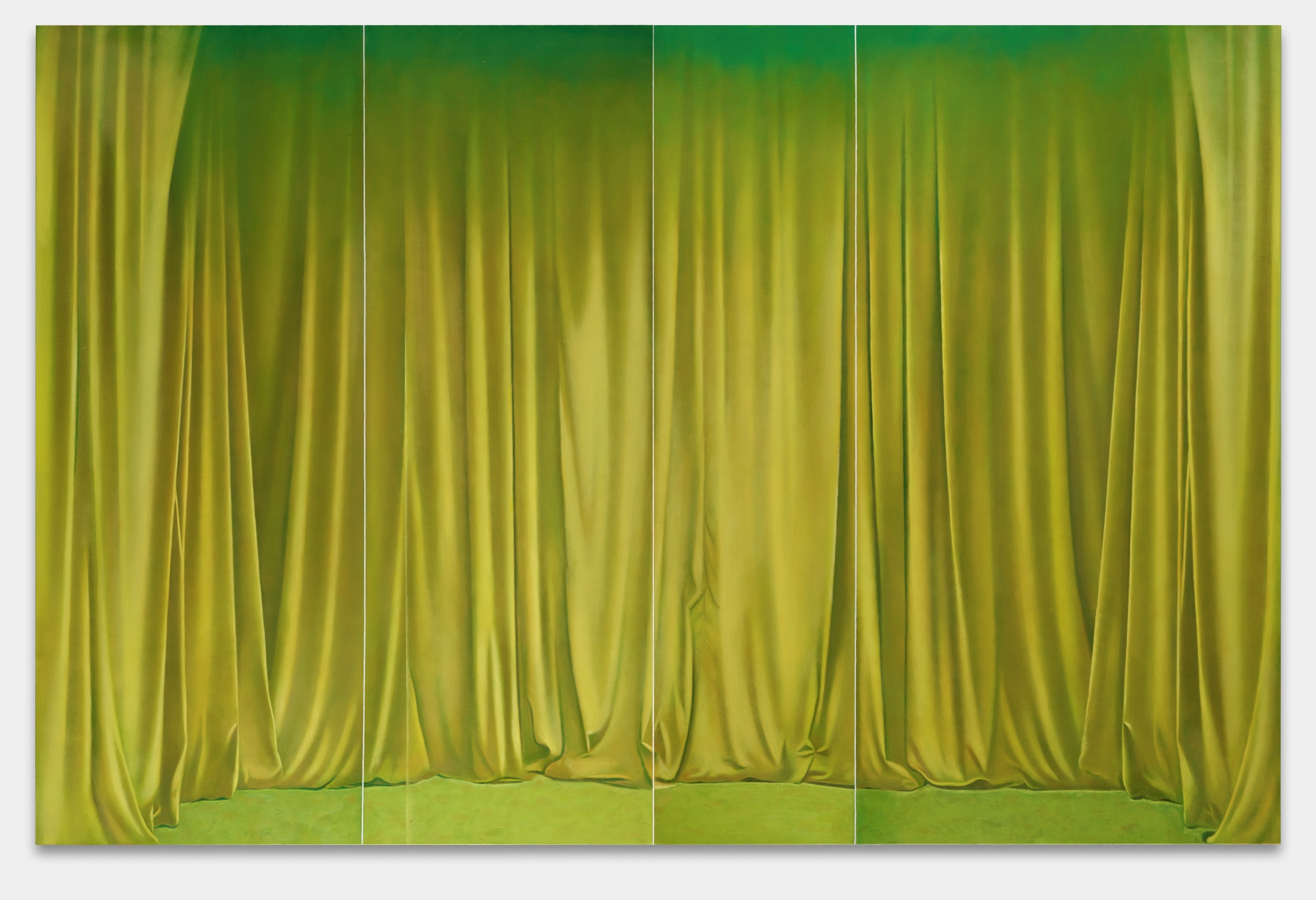 Louise Giovanelli, Prairie, 2021
This enormous diptych immediately alludes to what is hidden as much as what is seen. Louise Giovanelli loves to suggest what is just beyond the plane of the picture (in this case what lies behind the curtain), sending viewers' imaginations racing. The photorealistic qualities seen here are undercut by an eerie haze of green, which compounds a sense of cinematic drama.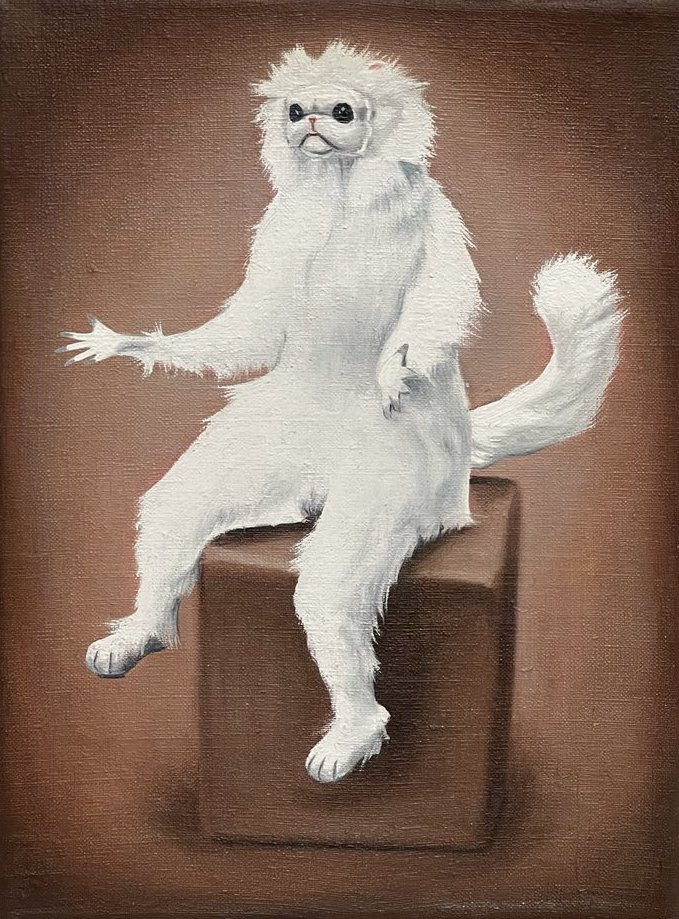 Lydia Blakeley, Is This Internet Art?, Exchange 2, 2021
Deifying meme culture forms the crux of Lydia Blakeley's practice. She collects source materials through thousands of snapshots and screengrabs saved while scrolling through the internet. This painting pays homage to the Persian Cat Room Guardian, whose exasperated demeanour has served as meme fodder since 2015. Rather satisfyingly, she manages to preserve all the frustrated nuance of the original.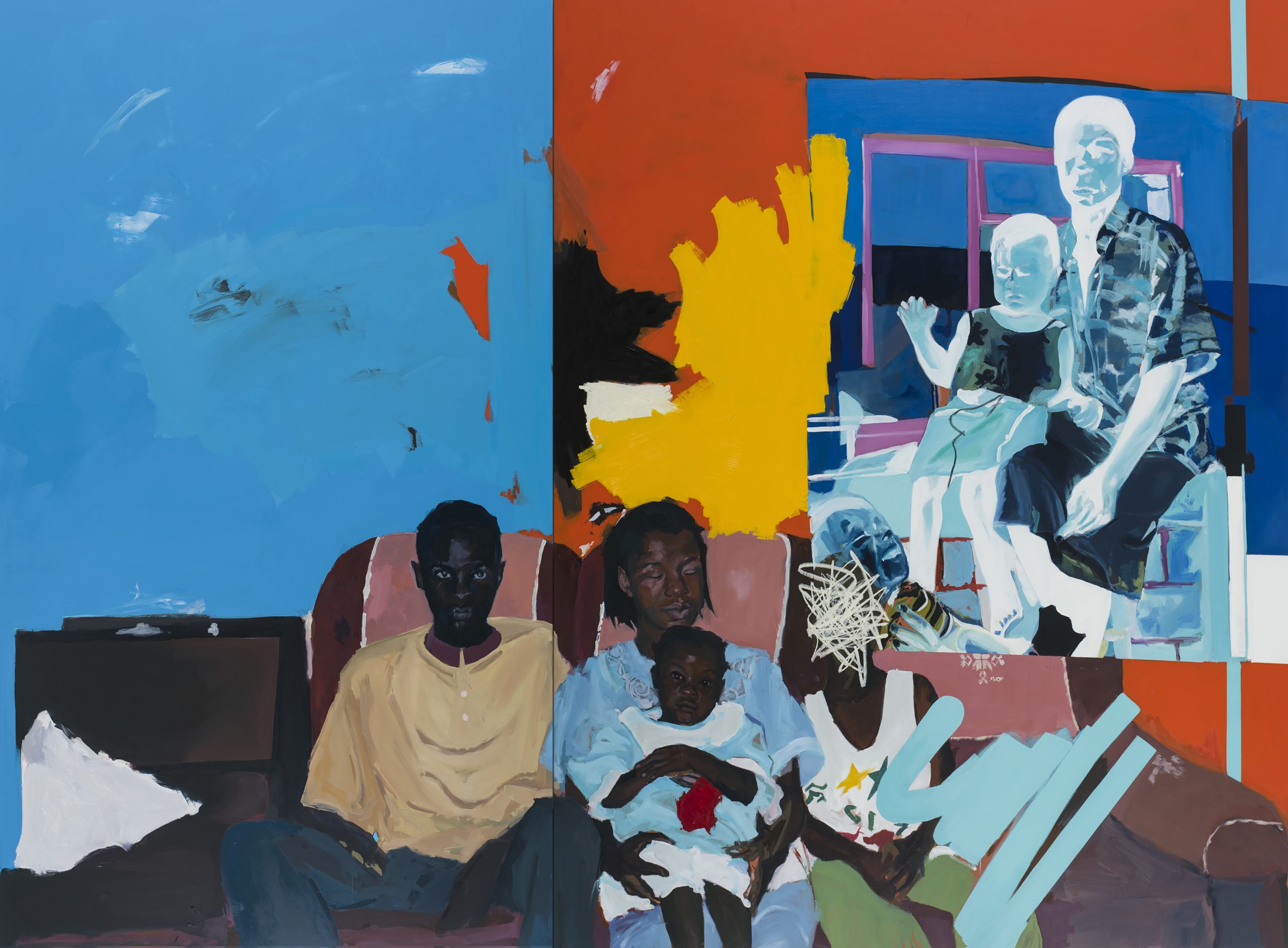 Kudzanai-Violet Hwami, Family Portrait, 2017
Usually beginning digitally, Kudzanai-Violet Hwami works with found and original photos to collage fragments that speak to intimate connections but also feelings of isolation. The result when committed to canvas is deft brushwork, interrupted by intense ruptures: in this 'portrait', a typical family scene is carved up and partially obliterated, accompanied by a shadowy, reversed-out image that speaks to a complex, possibly painful truth.
Holly Black is Elephant's managing editor